Background
PCI-32765, also named as Ibrutinib, is a Bruton tyrosine kinase inhibitor which is used to study the biological effects of Bruton tyrosine kinase inhibition on mature B-cell function and the progression of B cell-associated diseases in vivo. The Bruton tyrosine kinase is specifically necessary for BCR signaling as demonstrated by human and mouse mutations that disrupt Bruton tyrosine kinase function and prevent B-cell maturation at steps which need a functional BCR pathway. PCI-32765 also inhibited autoantibody production. Occupancy of the Bruton tyrosine kinase active site by PCI-32765 was monitored in vitro and in vivo using a fluorescent affinity probe for Bruton tyrosine kinase.
Reference
Lee A. Honigberga, Ashley M. Smitha, Mint Sirisawada, Erik Vernera, David Lourya, Betty Changa, Shyr Lib, Zhengying Panb,d, Douglas H. Thamme, Richard A. Millera, and Joseph J. Buggya. The Bruton tyrosine kinase inhibitor PCI-32765 blocks B-cell activation and is efficacious in models of autoimmune disease and B-cell malignancy. PNAS. 2010; 107(29): 13075 – 80.
Product Citation
Chemical Properties
| | |
| --- | --- |
| Physical Appearance | A solid |
| Storage | Desiccate at -20°C |
| M.Wt | 440.5 |
| Cas No. | 936563-96-1 |
| Formula | C25H24N6O2 |
| Synonyms | PCI-32765,Ibrutinib,CRA-032765 |
| Solubility | ≥22.02 mg/mL in DMSO; insoluble in H2O; ≥10.4 mg/mL in EtOH with ultrasonic |
| Chemical Name | 2-[(2R)-2-methylpyrrolidin-2-yl]-1H-benzimidazole-4-carboxamide |
| SDF | Download SDF |
| Canonical SMILES | C=CC(=O)N1CCCC(C1)N2C3=C(C(=N2)C4=CC=C(C=C4)OC5=CC=CC=C5)C(=NC=N3)N |
| Shipping Condition | Ship with blue ice, or upon other requests. |
| General tips | For obtaining a higher solubility, please warm the tube at 37°C and shake it in the ultrasonic bath for a while. |
Protocol
Cell experiment:

Cell lines

CLL cell lines

Preparation method

The solubility of this compound in DMSO is >10 mM. General tips for obtaining a higher concentration: Please warm the tube at 37 °C for 10 minutes and/or shake it in the ultrasonic bath for a while.Stock solution can be stored below -20°C for several months.

Reaction Conditions

24 h,48 h and 72 h; 1 μM.

Applications

Anti-IgM–supported CLL cell viability was reduced in the presence of PCI-32765 from 69% to 33% at 24 hours, and to 31% and 29% after 48 and 72 hours, respectively. Anti-IgM stimulation induced an average 27%±12% increase in viability after 24 hours compared with unstimulated controls. Preincubation with 1 μM PCI-32765 before anti-IgM stimulation significantly reduced CLL cell viability to 98%±8% of unstimulated controls. Survival signals from NLCs were also effectively inhibited by PCI-32765.

Animal experiment:

Animal models

CB17 SCID mice and Eμ-TCL1 transgenic (Tg) mice on a C3H/BL6 background

Dosage form

Suboptimal (2.5 mg/kg/d); optimal (25 mg/kg/d)

Applications

In the adoptive transfer TCL1 mouse model, animals treated PCI-32765 at 2 weeks post cell transfer with the suboptimal (2.5 mg/kg/d) and optimal (25 mg/kg/d) doses exhibited a transient lymphocytosis at day 4, with an average of 7- and 10-fold increases in circulating TCL1 leukemia cells, respectively.

Other notes

Please test the solubility of all compounds indoor, and the actual solubility may slightly differ with the theoretical value. This is caused by an experimental system error and it is normal.

References:

[1] Ponader S, Chen S S, Buggy J J, et al. The Bruton tyrosine kinase inhibitor PCI-32765 thwarts chronic lymphocytic leukemia cell survival and tissue homing in vitro and in vivo[J]. Blood, 2012, 119(5): 1182-1189.
Biological Activity
Description
Ibrutinib is a potent and highly selective inhibitor of Btk with IC50 of 0.5 nM, modestly potent to Bmx, CSK, FGR, BRK, HCK, less potent to EGFR, Yes, ErbB2, JAK3, etc.
Targets
Btk
IC50
0.5 nM
Quality Control
Quality Control & MSDS
View current batch:
Chemical structure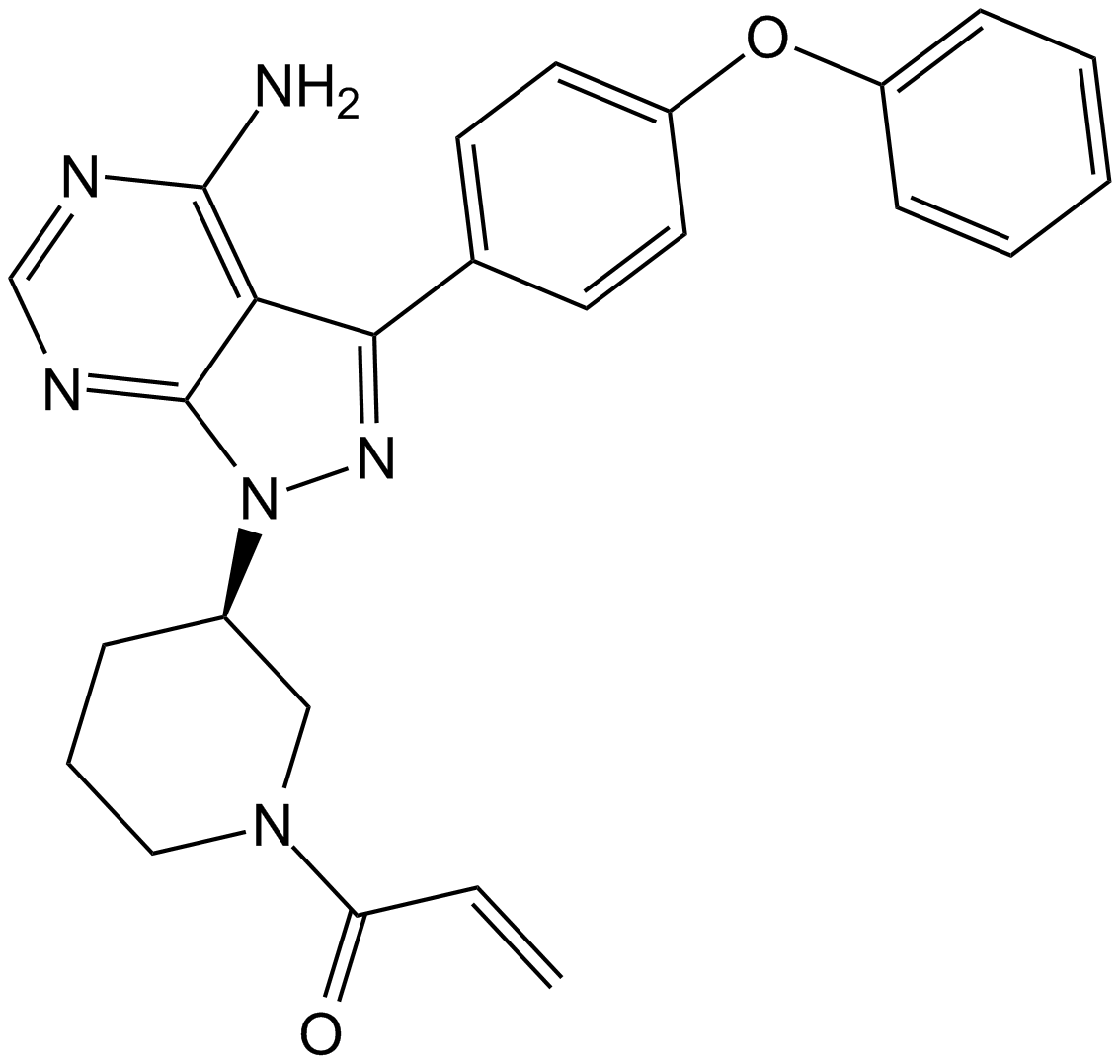 Related Biological Data

In the Burkitt lymphoma cell line Namalwa, the anti-IgM–induced phosphorylation of protein kinase B (PKB/AKT) and ERK were inhibited by PCI-32765 , whereas phosphorylation of the activating LYN/SYK substrate site Y551 of BTK was actually upregulated.
Review (University of Minnesota)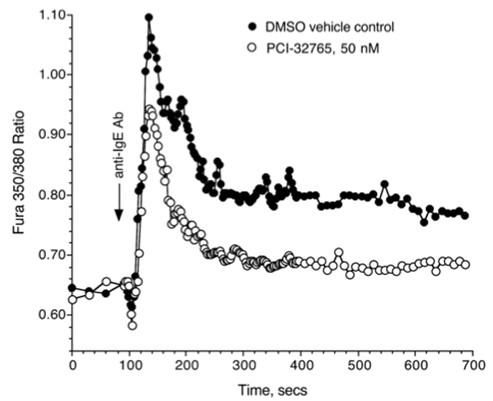 Fura-2 loaded purified basophils were incubated with vehicle control (0.0005% DMSO) or 50 nM PCI-32765 for 10 minutes prior to the addition of 0.5 μg/ml anti-IgE antibody and the cytosolic calcium response monitored. The 350/380 excitation ratio is plotted for the average of two experiments.
Review (Thomas Jefferson University)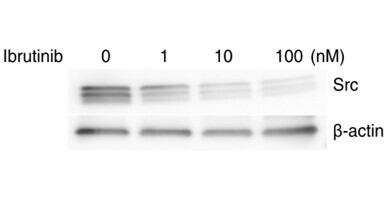 Src expression in BMMs cultured with RANKL and M-CSF for 3 days in the presence of ibrutinib at indicated concentration.
Related Biological Data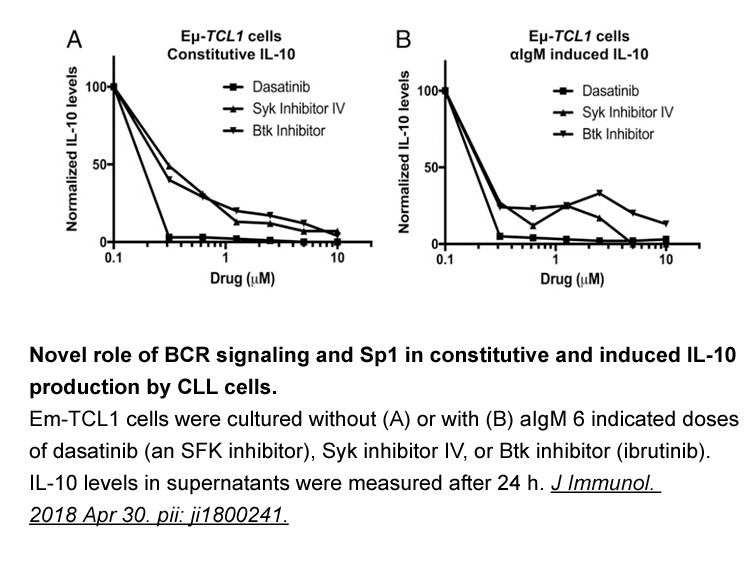 Related Biological Data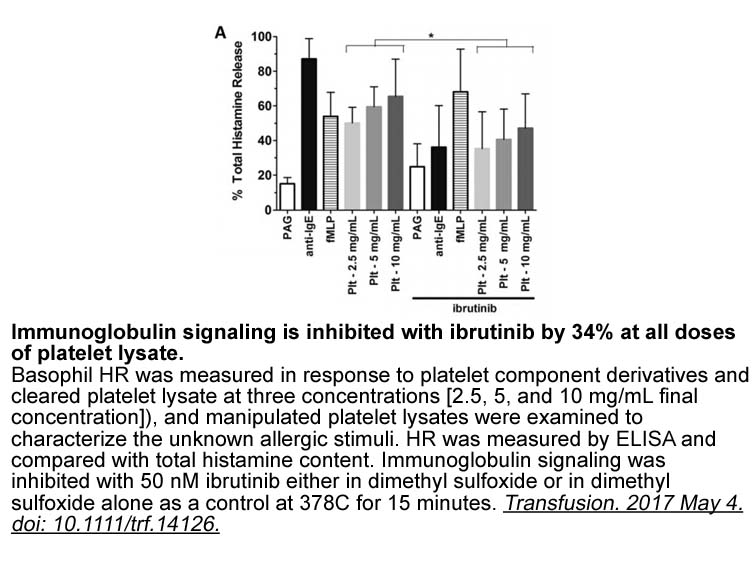 Related Biological Data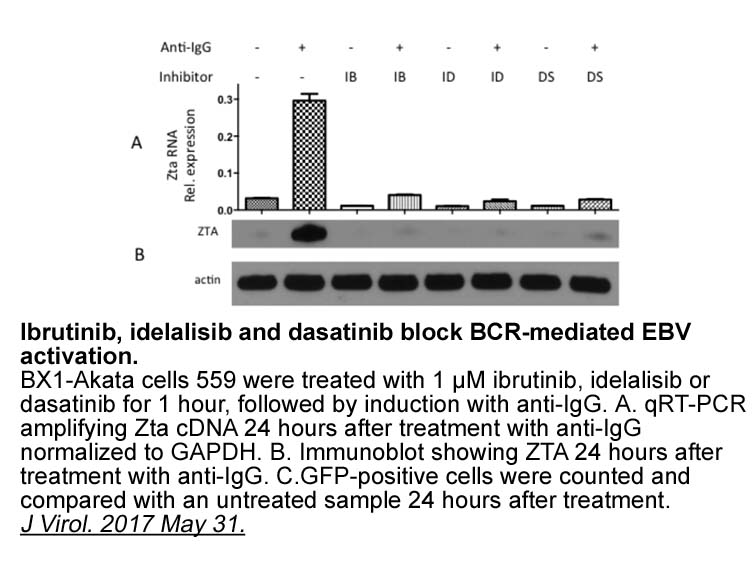 Related Biological Data