Camptothecin
Topoisomerase I inhibitor,prototypic
Sample solution is provided at 25 µL, 10mM.
Related Compound Libraries
Quality Control
Quality Control & MSDS
View current batch:
Chemical structure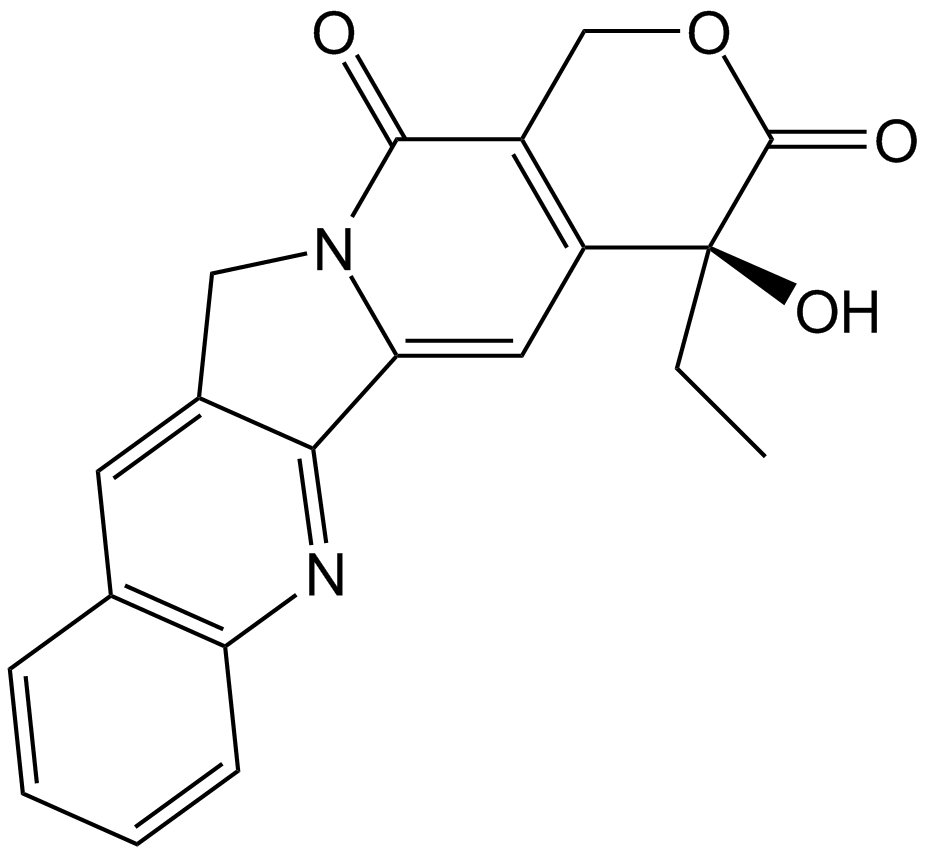 Related Biological Data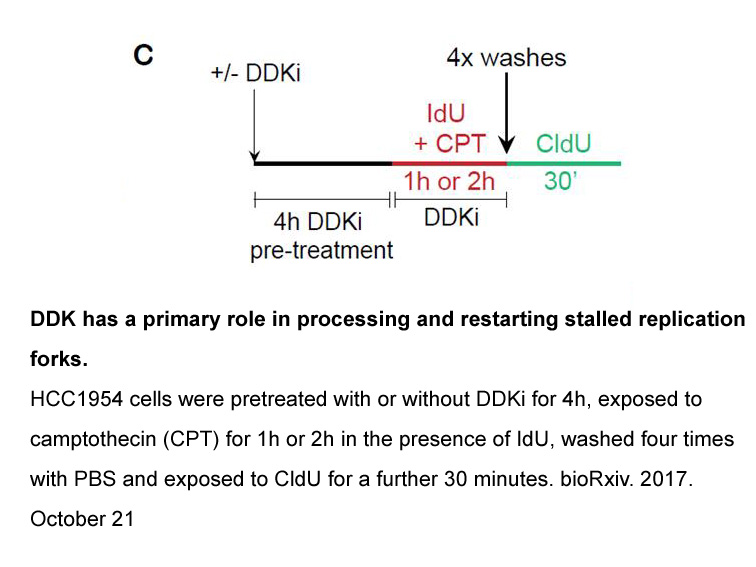 Protocol
Kinase experiment [1]:

Topoisomerase I cleavable complex assay

Topoisomerase I was isolated from calf thymus and was devoid of topoisomerase II. All reactions were carried out in 10 mL volumes of reaction buffer (50 mM Tris-HCl, pH 7.5, 100 mM KCl, 0.5 mM EDTA, and 30 μg/mL BSA) in microtiter plates. Camptothecin was dissolved in DMSO at 10 mg/mL and serially diluted in 96-well microtiter plates to which the 32P end-labeled pBR322 DNA and topoisomerase enzyme were added. The reaction mixture was incubated at room temperature for 30 mins and then the reaction stopped by adding 2 mL of a mixture of sodium dodecyl sulfate and proteinase K (1.6% and 0.14 mg/mL final concentrations, respectively). The plates were heated at 50°C for 30 mins, 10 mL of standard stop mixture containing 0.45 N NaOH was added in order to generate single-stranded DNA, and the samples were electrophoresed in 1.5% agarose gels in TBE buffer. Gels were blotted on nitrocellulose paper, dried, and exposed to X-ray film. The units of cleavage were calculated from the autoradiographs and plotted against the log drug concentration. The IC50 values were then obtained.

Cell experiment [2]:

Cell lines

HCT116 and RKO colorectal cancer (CRC) cells

Preparation method

Limited solubility in DMSO. General tips for obtaining a higher concentration: Please warm the tube at 37℃ for 10 minutes and/or shake it in the ultrasonic bath for a while. Stock solution can be stored below -20℃ for several months.

Reaction Conditions

20 and 50 nM; 72 hrs

Applications

The low doses of Camptothecin for HCT116 and RKO CRC cells were 20 nM and 50 nM, respectively, both of which induced the least detectable cell death. Low-dose Camptothecin induced autophagy via AMPK-TSC2-mTOR pathway and premature senescence by ATM-Chk2-p53-p21 pathway.

Animal experiment [3]:

Animal models

Nude mice bearing xenografts of CASE, SW48, DOY, SPA, and CLO cells

Dosage form

0 ~ 8 mg/kg; i.m. or i.v.; twice a week

Applications

In mice xenografts of various tumors, including colon, lung, breast, stomach and ovary tumors, Camptothecin treatment (8 mg/kg) exhibited complete growth inhibition and regression.

Other notes

Please test the solubility of all compounds indoor, and the actual solubility may slightly differ with the theoretical value. This is caused by an experimental system error and it is normal.

References:

[1]. Luzzio MJ, Besterman JM, Emerson DL, Evans MG, Lackey K, Leitner PL, McIntyre G, Morton B, Myers PL, Peel M, et al. Synthesis and antitumor activity of novel water soluble derivatives of camptothecin as specific inhibitors of topoisomerase I. J Med Chem. 1995 Feb 3;38(3):395-401.

[2]. Zhang JW, Zhang SS, Song JR, Sun K, Zong C, Zhao QD, Liu WT, Li R, Wu MC, Wei LX. Autophagy inhibition switches low-dose camptothecin-induced premature senescence to apoptosis in human colorectal cancer cells. Biochem Pharmacol. 2014 May 22. pii: S0006-2952(14)00286-X.

[3] Giovanella BC, Hinz HR, Kozielski AJ, Stehlin JS Jr, Silber R, Potmesil M. Complete growth inhibition of human cancer xenografts in nude mice by treatment with 20-(S)-camptothecin. Cancer Res. 1991 Jun 1;51(11):3052-5.
Chemical Properties
Cas No.
7689-03-4
SDF
Download SDF
Synonyms
N/A
Chemical Name
(S)-4-ethyl-4-hydroxy-1H-pyrano[3',4':6,7]indolizino[1,2-b]quinoline-3,14(4H,12H)-dione
Canonical SMILES
O=C(N(CC1=CC(C=CC=C2)=C2N=C13)C3=C4)C(CO5)=C4[[email protected]@](O)(CC)C5=O
Formula
C20H16N2O4
M.Wt

348.35

Solubility
≥8.7mg/mL in DMSO
Storage
Store at -20°C
Shipping Condition
Evaluation sample solution : ship with blue ice.All other available size: ship with RT , or blue ice upon request
General tips
For obtaining a higher solubility , please warm the tube at 37 ℃ and shake it in the ultrasonic bath for a while.Stock solution can be stored below -20℃ for several months.
Background
Camptothecin is a selective inhibitor of topoisomerase I with IC50 value of 679 nM [1].
Camptothecin could induce cell death in SMMC-7721, MCF-7, and HCT-116 tumor cells. Camptothecin has been reported to induce autophagy via AMPK-TSC2-mTOR pathway, at the mean time, induce premature senescence by ATM-Chk2-p53-p21 pathway [2].
Studies indicated that camptothecin had anti-tumor activity in (non-small cell lung cancer) NSCLC xenografts. Camptothecin -induced DNA damage has revealed to cause phosphorylation of H2AX (γH2AX). Previous studies have also demonstrated to reduce the expression of Top1 in cancer cells treated with camptothecins [3].
References:
[1] Luzzio MJ1, Besterman JM, Emerson DL, Evans MG, Lackey K, Leitner PL, McIntyre G, Morton B, Myers PL, Peel M, et al. Synthesis and antitumor activity of novel water soluble derivatives of camptothecin as specific inhibitors of topoisomerase I. J Med Chem. 1995 Feb 3;38(3):395-401.
[2] Zhang JW1, Zhang SS1, Song JR2, Sun K3, Zong C1, Zhao QD1, Liu WT1, Li R1, Wu MC1, Wei LX4. Autophagy inhibition switches low-dose camptothecin-induced premature senescence to apoptosis in human colorectal cancer cells. Biochem Pharmacol. 2014 May 22. pii: S0006-2952(14)00286-X.
[3] Tsakalozou E1, Adane ED, Liang Y, Arnold SM, Leggas M. Protracted dosing of the lipophilic camptothecin analogue AR-67 in non-small cell lung cancer xenografts and humans. Cancer Chemother Pharmacol. 2014 May 8. [Epub ahead of print]