AMG837
GPR40 agonist,orally bioavailable
Sample solution is provided at 25 µL, 10mM.
Publications citing ApexBio Products
Quality Control
Quality Control & MSDS
View current batch:
Chemical structure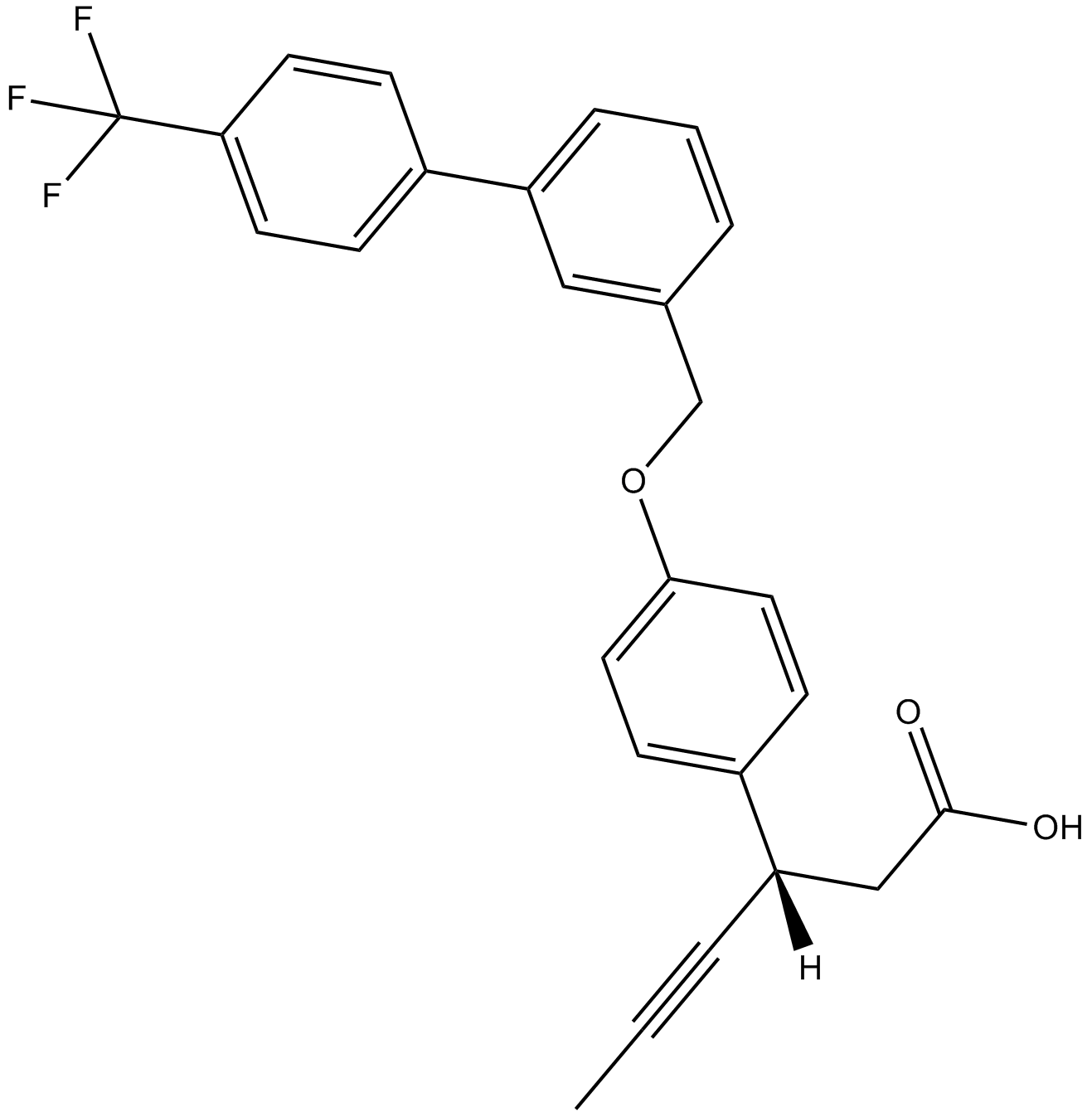 Chemical Properties
Cas No.
865231-46-5
SDF
Download SDF
Chemical Name
(S)-3-(4-((4'-(trifluoromethyl)-[1,1'-biphenyl]-3-yl)methoxy)phenyl)hex-4-ynoic acid
Canonical SMILES
CC#C[C@@](C1=CC=C(OCC2=CC(C3=CC=C(C(F)(F)F)C=C3)=CC=C2)C=C1)([H])CC(O)=O
Formula
C26H21F3O3
M.Wt

438.44

Solubility
Soluble in DMSO
Storage
Store at -20°C
General tips
N/A
Shipping Condition
N/A
Background
AMG 837 is a potent and orally bioavailable GPR40 agonist (EC50=14nM). [1]
GPR40 is a G protein-coupled receptor that is activated by free fatty acid. It is located on the cell surface of pancreatic beta-cells, gastrointestinal enteroendocrine cells and immune cells etc. GPR40 is reported to be related the stimulation effects of fatty acids on insulin and incretin secretion. [2]
AMG 837 treatment on GPR40 containing cell membrane increases [35S]-GTPγ binding (EC=1.5±0.1 nM). AMG 837 also stimulates Ca2+ influx (EC50 = 13.5±0.8 nM) in CHO cells transfected with GPR40 and aequorin. [2]
The insulin secretion is stimulated and the postprandial glucose level is lowered in 8-week old Sprague-Dawley rats orally treated with AMG 837. In Zucker fatty rats treated with AMG 837 daily for 21-days shows decreased glucose excursions and elevated glucose stimulated insulin secretion in glucose tolerance tests. [2]
References:
1. Houze JB, Zhu L, Sun Y et al. AMG 837: a potent, orally bioavailable GPR40 agonist. Bioorg Med Chem Lett. 2012 Jan 15;22(2):1267-70.
2. Lin DC, Zhang J, Zhuang R et al. AMG 837: a novel GPR40/FFA1 agonist that enhances insulin secretion and lowers glucose levels in rodents. PLoS One. 2011;6(11):e27270.