Z-VDVAD-FMK
Caspase-2 inhibitor
Sample solution is provided at 25 µL, 10mM.
Publications citing ApexBio Products
Quality Control
Quality Control & MSDS
View current batch:
Chemical structure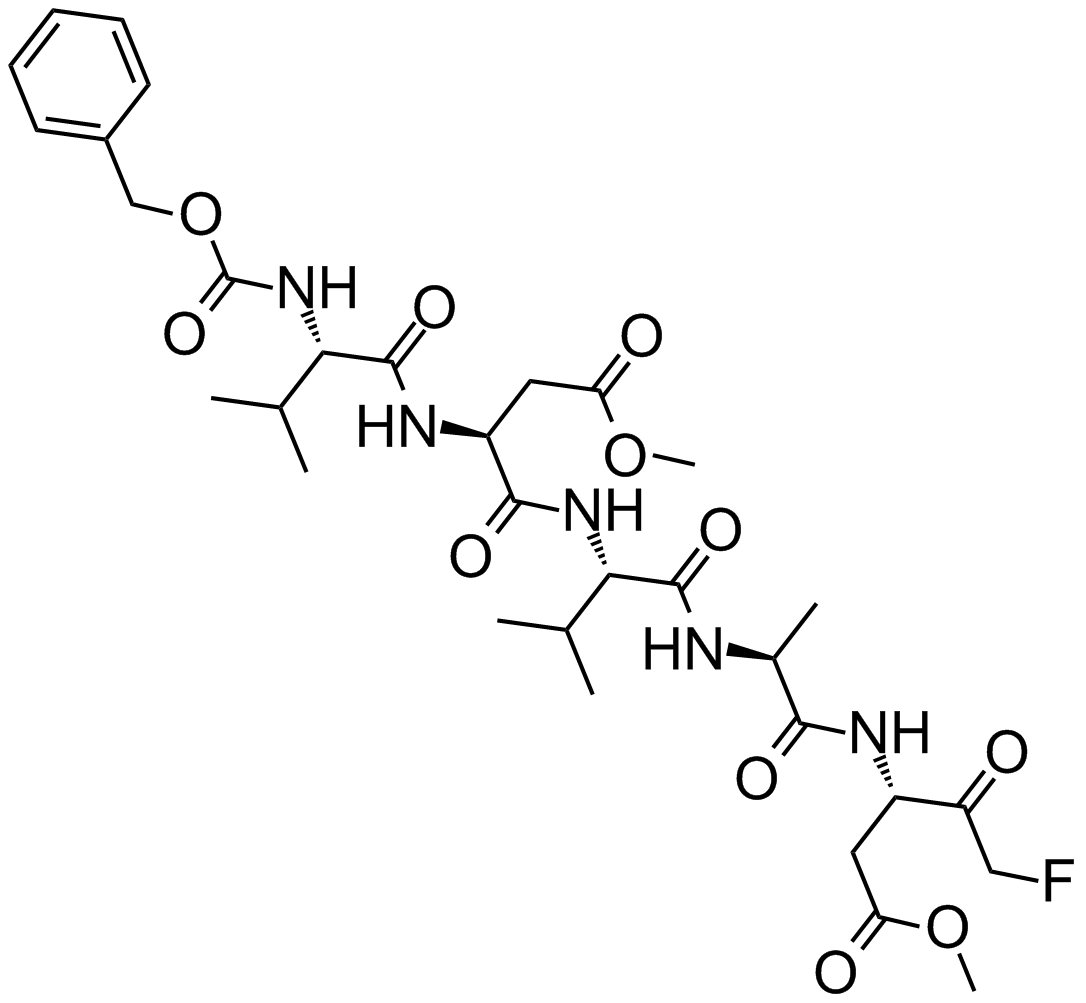 Biological Activity
Irreversible caspase-2 inhibitor. Attenuates oxyhemoglobin-induced cleavage of PARP and apoptosis in endothelial cells.
Targets
Caspase-2
IC50
Chemical Properties
Cas No.
N/A
SDF
Download SDF
Synonyms
Z-VDVAD-fluoromethylketone, Caspase-2 Inhibitor (fluoromethylketone),Z-Val-Asp(OMe)-Val-Ala-Asp(OMe)-FMK
Chemical Name
methyl (3S)-5-fluoro-3-[[(2S)-2-[[(2S)-2-[[(2S)-4-methoxy-2-[[(2S)-3-methyl-2-(phenylmethoxycarbonylamino)butanoyl]amino]-4-oxobutanoyl]amino]-3-methylbutanoyl]amino]propanoyl]amino]-4-oxopentanoate
Canonical SMILES
CC(C)C(C(=O)NC(C)C(=O)NC(CC(=O)OC)C(=O)CF)NC(=O)C(CC(=O)OC)NC(=O)C(C(C)C)NC(=O)OCC1=CC=CC=C1
Formula
C32H46N5O11F
M.Wt

695.73

Solubility
Soluble in DMSO > 10 mM
Storage
Store at -20°C
General tips
For obtaining a higher solubility , please warm the tube at 37 ℃ and shake it in the ultrasonic bath for a while.Stock solution can be stored below -20℃ for several months.
Shipping Condition
Evaluation sample solution : ship with blue ice
All other available size: ship with RT , or blue ice upon request
View Related Products By Research Topics
Background
Jurkat T-lymphocytes treated with an irreversible caspase-2 inhibitor, benzyloxycarbonyl-Val-Asp(OMe)-Val-Ala-Asp(OMe)-fluoromethyl ketone (Z-VDVAD-FMK), or stably transfected with pro-caspase-2 antisense (Casp-2/AS) are refractory to cytochrome c release stimulated by etoposide1.
When etoposide-induced activation of pro-caspase-2 is subverted by Z-VDVAD-FMK or stable transfection of pro-caspase-2 antisense, cytochrome c release and other manifestations of apoptosis are attenuated.
OxyHb significantly activated both caspase-2 and caspase-3 in bovine brain microvessel endothelial cells. The irreversible caspase inhibitors Z-VDVAD-FMK (caspse-2 inhibitor) and Z-DEVD-FMK (caspase-3 inhibitor) significantly reduced cell detachment, caspase-2 and -3 activities, DNA ladders, and proteolytic cleavage of PARP2. Activation of caspase-2 and caspase-3 is essential for OxyHb induced apoptosis in endothelial cells, and Z-VDVAD-FMK and Z-DEVD-FMK have the potential to protect cells.
The minimal-length inhibitor of caspase-2, Z-VDVAD-fmk, which also inhibits caspases 3 and 73, prevented doxorubicin-induced nuclear apoptosis, but not cell death4.
References:
1. J. D. Robertson, M. Enoksson et al. Caspase-2 Acts Upstream of Mitochondria to Promote Cytochrome c Release during Etoposide-induced Apoptosis. The Journal of Biological Chemistry. 277, :29803–29809, 2002
2. T. Meguro, B. Chen et al. Caspase Inhibitors Attenuate Oxyhemoglobin-Induced Apoptosis in Endothelial Cells, Stroke. 2001; 32:561-566.
3. Talanian, R. V., Quinlan, C., Trautz, S., Hackett, M. C., Mankovich, J. A., Banach, D., Ghayur, T., Brady, K. D., and Wong, W. W. (1997). Substrate specificity of caspase family proteases. J. Biol. Chem. 272, 9677–9682.
4. Gamen et al (2000) Doxorubicin treatment activates a Z-VAD-sensitive caspase, which causes Dym loss, caspase-9 activity, and apoptosis in Jurkat cells. Exp.Cell Res. 258 223.