Z-VAD-FMK
Cell-permeable, irreversible pan-caspase inhibitor
Sample solution is provided at 25 µL, 10mM.
Related Compound Libraries
Quality Control
Quality Control & MSDS
View current batch:
Related Biological Data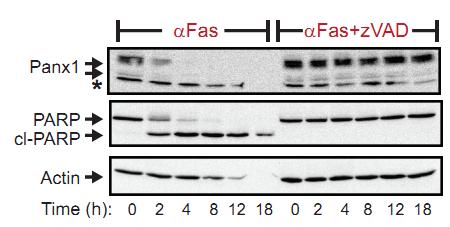 zVAD was able to completely suppress the proteolytic processing of Panx1 at each incubation time point in the anti-Fas treated Jurkat cells [1].
1. Boyd-Tressler A, Penuela S, Laird D W, et al. Chemotherapeutic Drugs Induce ATP Release via Caspase-gated Pannexin-1 Channels and a Caspase/Pannexin-1-Independent Mechanism. Journal of Biological Chemistry, 2014: jbc. M114. 590240.
Related Biological Data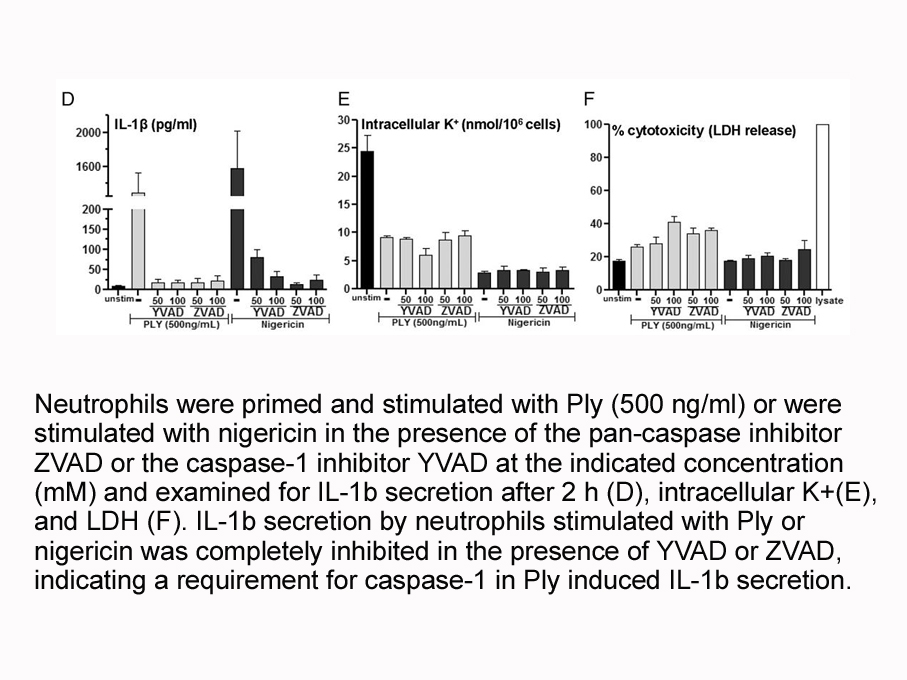 Related Biological Data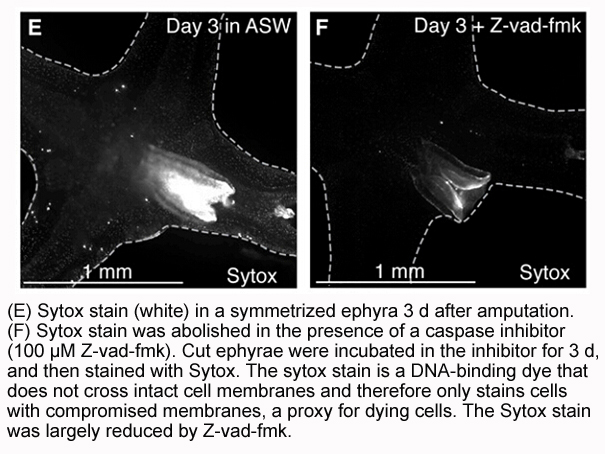 Related Biological Data
Related Biological Data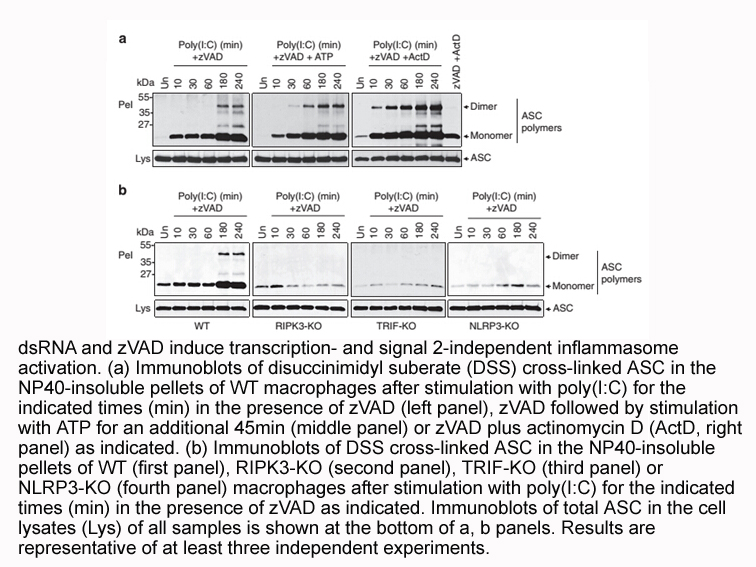 Related Biological Data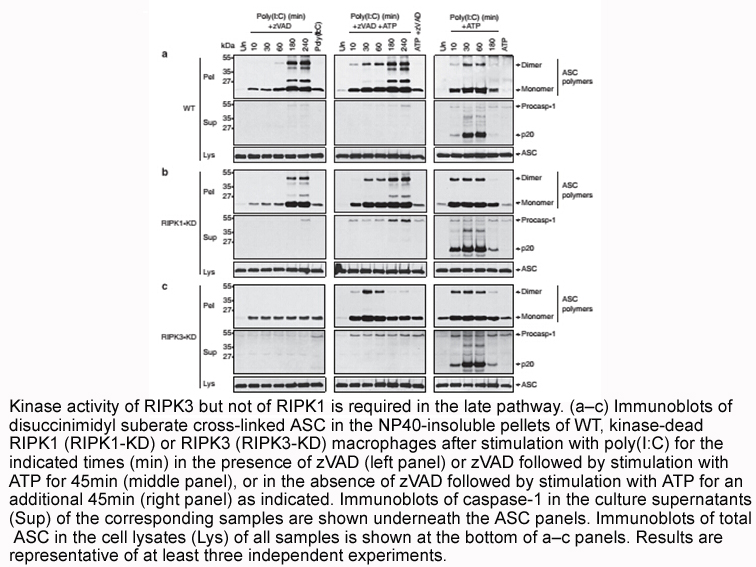 Related Biological Data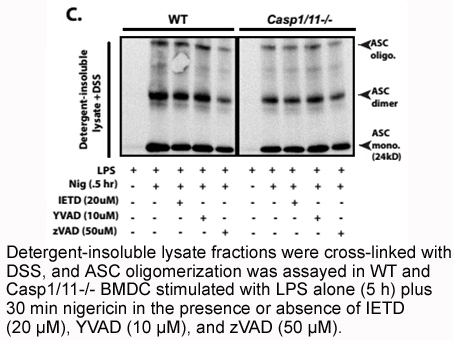 Related Biological Data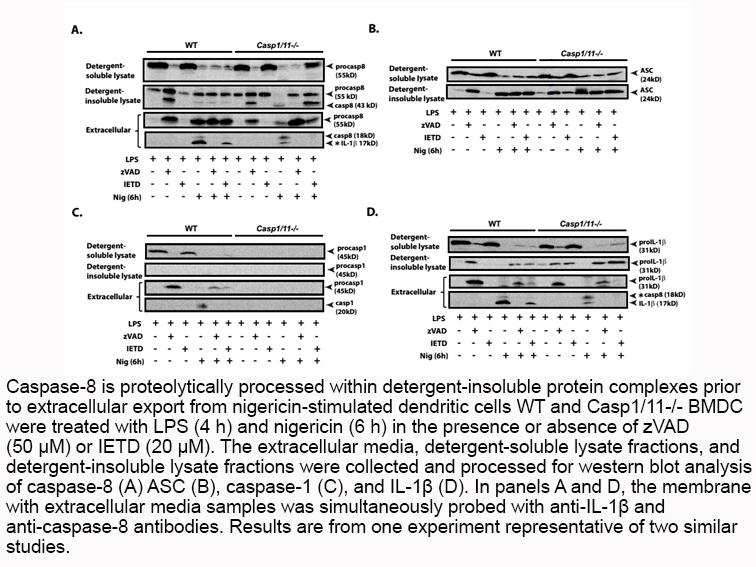 Biological Activity
Cell-permeable, irreversible pan-caspase inhibitor. Inhibits caspase processing and apoptosis induction in tumor cells in vitro (IC50 = 0.0015 - 5.8 mM). Active in vivo.
Targets
Caspase
IC50
0.0015 - 5.8 mM
Protocol
Kinase experiment [1]:

Preventing the processing of CPP32 to its active form

Z-VAD-FMK inhibits apoptosis by inhibiting the activation of CPP32, which presumably blocked the process by interfering directly with the processing of CPP32.

Cell experiment [2]:

Cell lines

Human CD4+ (~ 97%) and CD8+ T (~ 98%) cells

Preparation method

The solubility of this compound in DMSO is >10 mM. General tips for obtaining a higher concentration: Please warm the tube at 37 °C for 10 minutes and/or shake it in the ultrasonic bath for a while.Stock solution can be stored below -20°C for several months.

Reaction Conditions

24 h

Applications

Z-VAD-FMK dose-dependently inhibited T cell proliferation mediated through the co-stimulation with anti-CD3 and anti-CD28. Z-IETD-FMK was less effective at 25 and 50 μM, but inhibited T cell proliferation at the 100 μM concentration.

Animal experiment [3]:

Animal models

C57BL mice

Dosage form

1.25 mM, ear provocation

Applications

The right ear swelling degree, weight differences and thickness between two ears in the 1.25 mML Z-VAD-FMK group were significantly lower than those of the negative control (NC). The levels of INF-γ and IL-2 in the ear skin lesions, the mean intensity of BrdU in T lymphocytes, and the percent of activation markers-positive T lymphocytes were all lower than those of NC.

Other notes

Please test the solubility of all compounds indoor, and the actual solubility may slightly differ with the theoretical value. This is caused by an experimental system error and it is normal.

References:

[1]. Slee EA1, Zhu H, Chow SC et al. Benzyloxycarbonyl-Val-Ala-Asp (OMe) fluoromethylketone (Z-VAD.FMK) inhibits apoptosis by blocking the processing of CPP32. Biochem J. 1996 Apr 1;315 ( Pt 1):21-4.

[2]. Lawrence CP1, Chow SC. Suppression of human T cell proliferation by the caspase inhibitors, z-VAD-FMK and z-IETD-FMK is independent of their caspase inhibition properties. Toxicol Appl Pharmacol. 2012 Nov 15;265(1):103-12.

[3]. Li YY, Yan CL. Inhibition of elicitation of allergic contact dermatitis by topical use of Z-VAD-FMK, a broad caspase inhibitor: experiment in mice. Zhonghua Yi Xue Za Zhi. 2012 Jul 24;92(28):1992-6.
Chemical Properties
Cas No.
187389-52-2
SDF
Download SDF
Synonyms
Benzyloxycarbonyl-Val-Ala-Asp(OMe)-fluoromethylketone,Z-Val-Ala-Asp(OMe)-FMK
Chemical Name
methyl (3S)-5-fluoro-3-[[(2S)-2-[[(2S)-3-methyl-2-(phenylmethoxycarbonylamino)butanoyl]amino]propanoyl]amino]-4-oxopentanoate
Canonical SMILES
CC(C)C(C(=O)NC(C)C(=O)NC(CC(=O)OC)C(=O)CF)NC(=O)OCC1=CC=CC=C1
Formula
C22H30FN3O7
M.Wt

467.49

Solubility
>23.4mg/mL in DMSO
Storage
Store at -20°C
General tips
No
Shipping Condition
No
View Related Products By Research Topics
Background
Z-VAD-FMK, an inhibitor of ICE-like proteases, inhibits apoptosis in THP.1 cells induced by diverse stimuli1 and Fas antigen-induced apoptosis in Jurkat T-cells2. It inhibits apoptosis by blocking the activation of proCPP32 into its active form, rather than by preventing the proteolytic action of CPP32 directly.
Z- VAD-FMK inhibits the formation of large kilobasepair fragments of DNA induced by diverse stimuli. Z-VAD-FMK had little or no effect on STS-induced necrotic cell death suggesting that the ICE-like protease activity was not involved in necrosis3.
Z-VAD-FMK almost completely inhibited the formation of large kilobasepair induced by all four stimuli. Similarly Z-VAD-FMK almost completely inhibited the enhanced formation of large kilobasepair fragments induced by thapsigargin or cycloheximide in the presence of TLCK, in good agreement with its ability to inhibit apoptosis induced by these treatments. These stimuli also induced internucleosomal cleavage of DNA, which was inhibited by Z-VAD-FMK. These results suggested that an ICE-like protease(s) acts at a stage prior to the formation of large kilobasepair fragments of DNA3.
References:
1. Darmon, A.J., Ehrman, N., Caputo, A., Fujinaga, J. and Bleackley, R.C. (1994) J. Biol. Chem. 269, 32043-32046.
2. Chow, S. C., Weis M., Kass, G. E. N., Holmstrom, T. H., Eriksson, J. E. and Orrenius S. (1995) FEBS Lett. 364, 134±138
3. H. Zhu et al./FEBS Letters 374 (1995) 303-308