Sample solution is provided at 25 µL, 10mM.
Publications citing ApexBio Products
Related Compound Libraries
Quality Control
Quality Control & MSDS
View current batch:
Chemical structure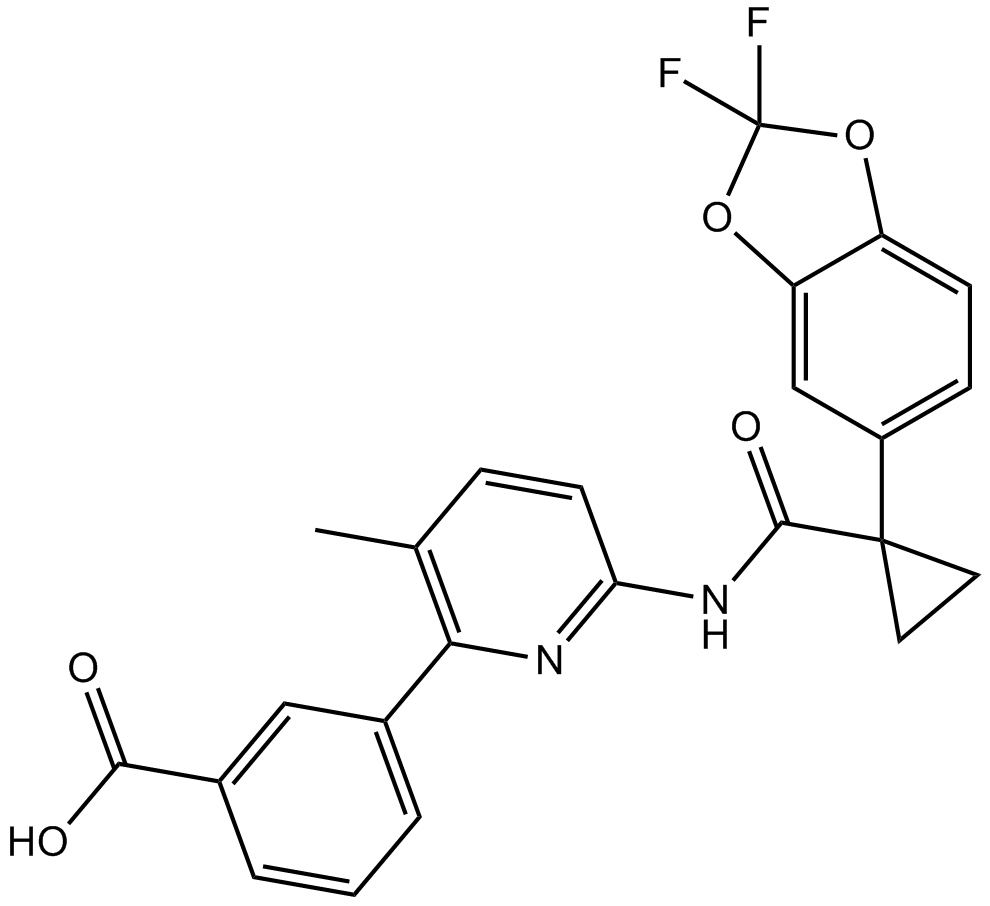 Related Biological Data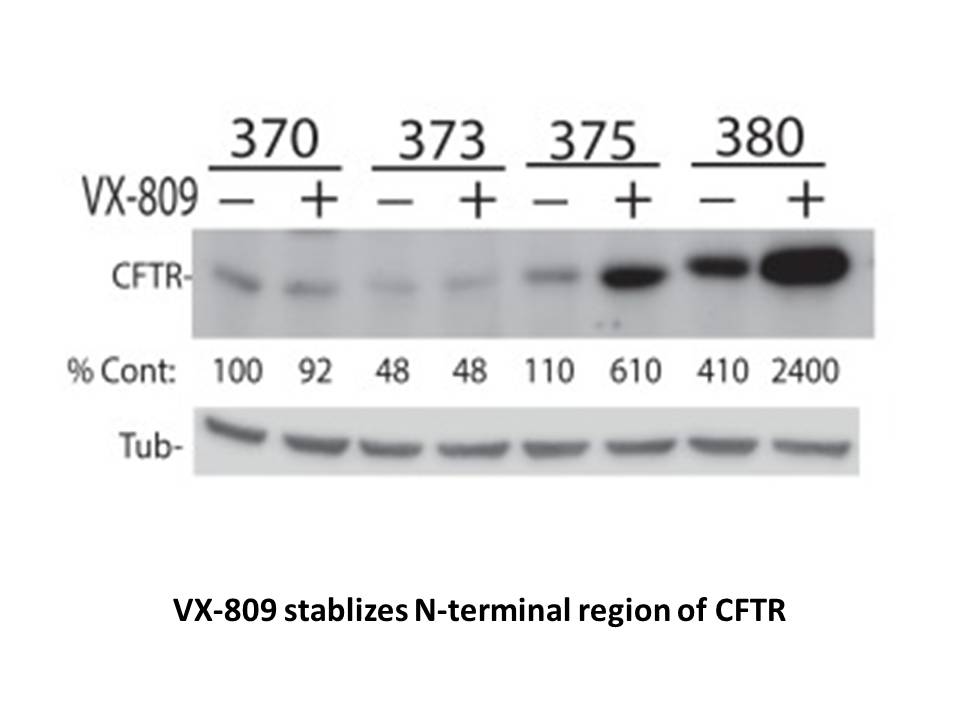 Related Biological Data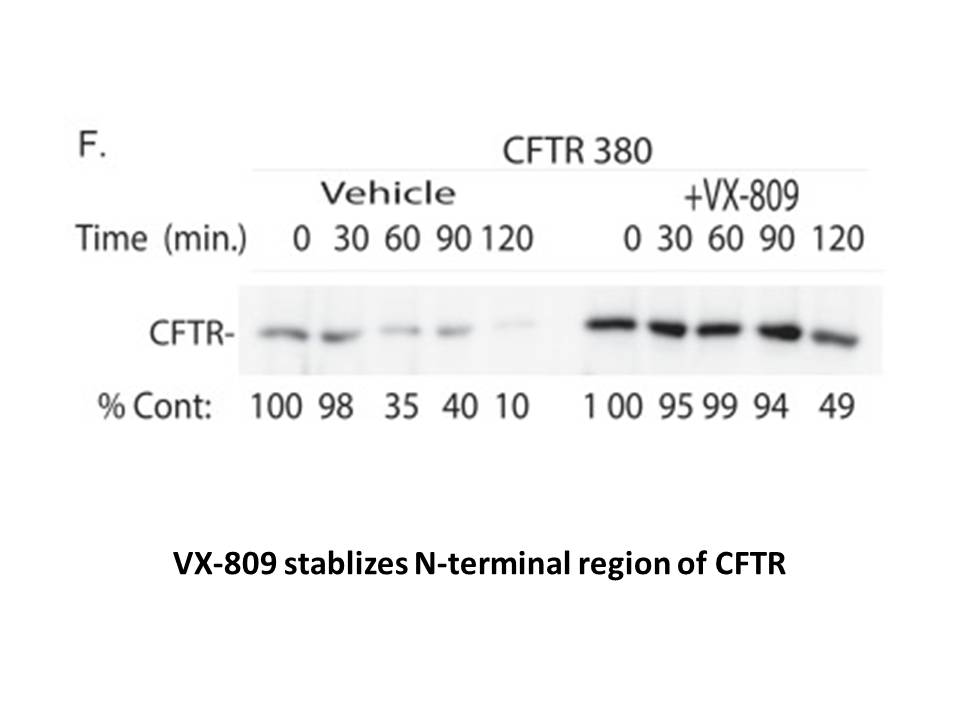 Biological Activity
Description
VX-809 (Lumacaftor) acts to correct CFTR mutations common in cystic fibrosis by increasing mutant CFTR (F508del-CFTR) maturation,EC50. of 0.1 μM
Targets
CFTR
IC50
0.1 μM
Protocol
Kinase experiment [1]:

Inhibitory activities

Lumacaftor(VX-809), succeeded in a Phase III clinical trial, is a cystic fibrosis transmembrane conductance regulator (CFTR) corrector. VX-809 had been shown to increase membrane expression of mutant channels and cell surface density of functional F508del-CFTR in vitro.

Cell experiment [2]:

Cell

Human bronchial epithelial (HBE) cells, F508del-CFBE cells, CF-HBE cells (F508del/F508del) and A549 cells.

Preparation method

The solubility of this compound in DMSO is >10 mM. General tips for obtaining a higher concentration: Please warm the tube at 37℃ for 10 minutes and/or shake it in the ultrasonic bath for a while. Stock solution can be stored below -20℃ for several months.

Reaction Conditions

Expose time: 48 h.

Applications

In human bronchial epithelial (HBE) cells, VX-809 could increase F508del-CFTR Cl secretion, and increase FEV1 by an average of 3-5% in CF patients with homozygous for the F508del-CFTR mutation in combination with VX-770.

Human experiment [1]:

Patients model

Patients with Cystic Fibrosis Homozygous

Dosage form

600 mg once daily or 400 mg every 12 hours

Preparation method

orally administered

Applications

At the plasma membrane, it increased F508del-CFTR levels. Alone or in combination with ivacaftor improved clinical outcome in patients with homozygous for the F508del mutation, Lumacaftor acted an key role in the treatment of biochemical abnormalities in CF.

Other notes

Please test the solubility of all compounds indoor, and the actual solubility may slightly differ with the theoretical value. The actual solubility may slightly differ with the theoretical value.

References:

[1]. Wainwright CE, Elborn JS, Ramsey BW, et al. Lumacaftor-Ivacaftor in Patients with Cystic Fibrosis Homozygous for Phe508del CFTR. N Engl J Med. 2015 Jul 16;373(3):220-31.

[2] Stanton BA, Coutermarsh B, Barnaby R, et al. Pseudomonas aeruginosa Reduces VX-809 Stimulated F508del-CFTR Chloride Secretion by Airway Epithelial Cells. PLoS One. 2015 May 27;10(5)
Chemical Properties
Cas No.
936727-05-8
SDF
Download SDF
Synonyms
VX 809; VX809; Lumacaftor; VRT 826809
Chemical Name
3-[6-[[1-(2,2-difluoro-1,3-benzodioxol-5-yl)cyclopropanecarbonyl]amino]-3-methylpyridin-2-yl]benzoic acid
Canonical SMILES
CC1=C(N=C(C=C1)NC(=O)C2(CC2)C3=CC4=C(C=C3)OC(O4)(F)F)C5=CC(=CC=C5)C(=O)O
Formula
C24H18F2N2O5
M.Wt

452.41

Solubility
>22.6mg/mL in DMSO
Storage
Store at -20°C
General tips
No
Shipping Condition
No
Background
VX-809 is a CFTR corrector that partially restores the function of F508del-CFTR. In Fischer rat thyroid (FRT) cells, it increases F508del-CFTR maturation at EC50 of 0.1 μM, and elevates F508del-CFTR–mediated chloride transport at EC50 of 0.5 μM [1]. It has no effect of other ion channels (hERG), transporter (P-gp) and disease-causing mislocalized proteins (α1-antitrypsin Z mutant) [1]. VX-809 stabilizes N-terminal fragment of CFTR that contain MSD1 by altering its protein conformation [2, 3].
Homozygous F508del-CFTR is the most common mutation in cystic fibrosis (CF) patients, accounting for 66–70% of CF cases worldwide. In cultured human bronchial epithelial cells that are homozygous for F508del, VX-809 restored the CFTR function and improved chloride and fluid Transport [1]. The combination of CFTR potentiators and VX-809 further improved the function of F508del-CFTR [4].
VX-809 has been tested in several clinical trials. Although it had minimal benefit to F508del-CFTR homozygous patients as a monotherapy [4], the result of Phase 2 study of VX-809 and KALYDECO combination showed significant improvements in lung function in CF patients with homozygous F508del-CFTR [5]. VX-809 is currently under investigation in two phase 3 trials.
References:
[1]Van Goor F, Hadida S, Grootenhuis PD et al. Correction of the F508del-CFTR protein processing defect in vitro by the investigational drug VX-809. Proc Natl Acad Sci U S A 2011; 108: 18843-18848.[2] Ren HY, Grove DE, De La Rosa O et al. VX-809 corrects folding defects in cystic fibrosis transmembrane conductance regulator protein through action on membrane-spanning domain 1. Mol Biol Cell 2013; 24: 3016-3024.[3]Loo TW, Bartlett MC, Clarke DM. Corrector VX-809 stabilizes the first transmembrane domain of CFTR. Biochem Pharmacol 2013; 86: 612-619.[4]Clancy JP, Rowe SM, Accurso FJ et al. Results of a phase IIa study of VX-809, an investigational CFTR corrector compound, in subjects with cystic fibrosis homozygous for the F508del-CFTR mutation. Thorax 2012; 67: 12-18.[5]http://investors.vrtx.com/releasedetail.cfm?releaseid=687394