Trichostatin A (TSA)
HDAC inhibitor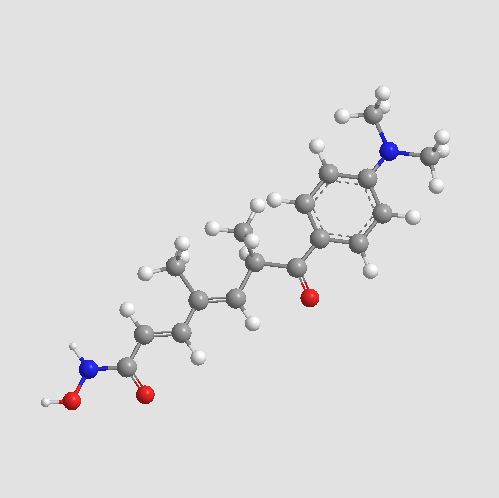 Sample solution is provided at 25 µL, 10mM.
Related Compound Libraries
Quality Control
Quality Control & MSDS
View current batch:
Chemical structure
Related Biological Data
RPE cells were treated with TSA at various concentrations (0.2, 0.4, 0.8 and 1.0 μM). The protein expression levels of cyclinD1, CDK4 and CDK6, p-Rb, P21 and P27 were detected by western blot.
Related Biological Data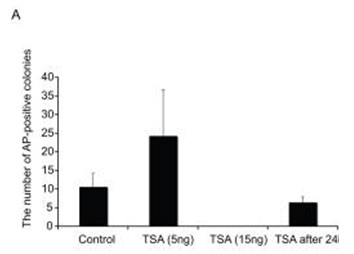 TSA replaces FGF-2 in the reprogramming process
Related Biological Data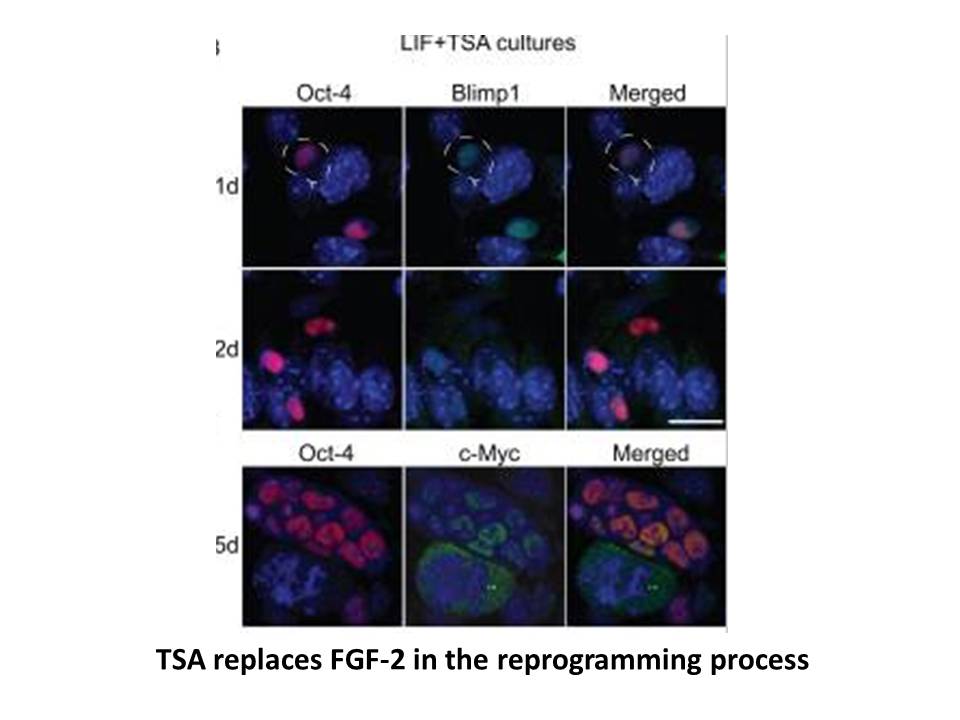 Related Biological Data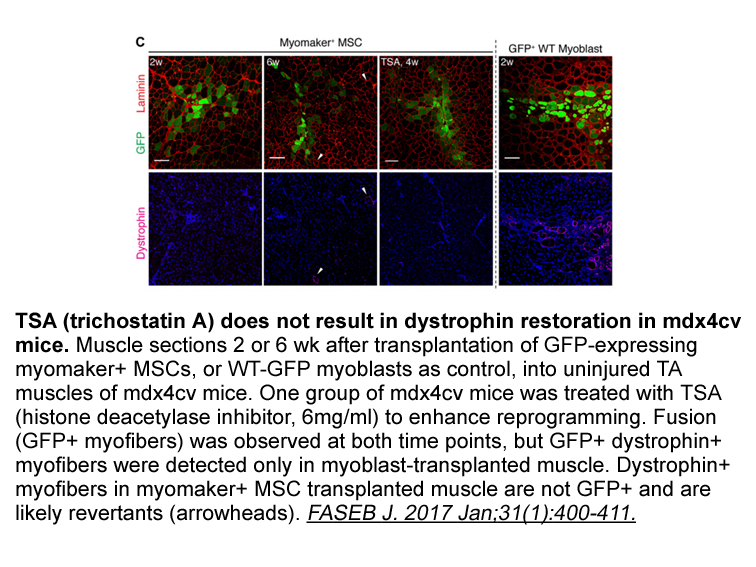 Biological Activity
| | | | | | | |
| --- | --- | --- | --- | --- | --- | --- |
| Targets | HDAC | | | | | |
| IC50 | ~1.8 nM | | | | | |
Protocol
Cell experiment[1]:

Cell lines

Human breast cancer cell line

Preparation method

The solubility of this compound in DMSO is <10 mM. General tips for obtaining a higher concentration: Please warm the tube at 37 °C for 10 minutes and/or shake it in the ultrasonic bath for a while.Stock solution can be stored below -20°C for several months.

Reaction Conditions

10 μM TSA solved in growth medium containing 0.1% (v/v) ethanol for 96 h incubation

Applications

TSA inhibited proliferation of eight breast carcinoma cell lines with mean ± SD IC50 of 124.4 ± 120.4 nM (range, 26.4–308.1 nM). TSA treatment resulted in pronounced histone H4 hyperacetylation.

Animal experiment [1]:

Animal models

Inbred virgin female (Ludwig/Wistar/Olac) rats bearing tumors induced with NMU

Dosage form

500 μg/kg by injection daily for 4 weeks

Applications

TSA had pronounced antitumor activity in vivo. that The antitumor activity of TSA attributabled to induction of differentiation.

Other notes

Please test the solubility of all compounds indoor, and the actual solubility may slightly differ with the theoretical value. This is caused by an experimental system error and it is normal.

References:

1. Vigushin DM1, Ali S, Pace PE et al. Trichostatin A is a histone deacetylase inhibitor with potent antitumor activity against breast cancer in vivo. Clin Cancer Res. 2001 Apr;7(4):971-6.
Chemical Properties
Cas No.
58880-19-6
SDF
Download SDF
Synonyms
Trichostatin A,TSA
Chemical Name
(2E,4E,6R)-7-[4-(dimethylamino)phenyl]-N-hydroxy-4,6-dimethyl-7-oxohepta-2,4-dienamide
Canonical SMILES
CC(C=C(C)C=CC(=O)NO)C(=O)C1=CC=C(C=C1)N(C)C
Formula
C17H22N2O3
M.Wt

302.37

Solubility
>15.1mg/mL in DMSO
Storage
Desiccate at -20°C
General tips
No
Shipping Condition
No
Background
Trichostatin A (TSA) is a potent inhibitor of histone deacetylase (HDAC) as well as an antifungal antibiotic with cytostatic and differentiating properties that noncompetivively and reversibly inhibits HDAC, at low nanomolar concentrations, in both cultured mammalian cells and fractionated cell nuclear extracts. It is capable of arresting cells in G1 and G2 phases of the cell cycle, inducing differentiation and reverting the transformed morphology of cells in culture. According to a study investigating the effect of TSA in human breast cancer cell lines, TSA inhibited proliferation of breast carcinoma cell lines (IC50 124.4 ± 120.4 nM), comparing to all cell lines (IC50 2.4 ± 0.5 nM), and resulted in pronounced histone H4 hyperacetylation.
Reference
David M. Vigushin, Simak Ali, Paul E. Pace, Nina Mirsaidi, Kazuhiro Ito, Ian Adcock, and R. Charles Coombes. Trichostatin A is a histone deacetylase inhibitor with potent antitumot activity against breast cancer in vivo. Clin Cancer Res 2001;7:971-976