Background
Thrombopoietin (TPO), also known as megakaryocyte growth and development factor (MGDF), is a membrane-bound glycoprotein produced in the liver, kidney and skeletal muscle. TPO plays important roles in megakaryocytopoiesis and thrombopoiesis. TPO stimulates the proliferation and maturation of megakaryocytes and promotes increased circulating levels of platelets in vivo. TPO signals through the c-mpl receptor.
The human TPO gene encodes a 353 aa protein contains a 21 aa signal sequence, a 15 amino acid erythropoietin-like domain, and a highly glycosylated 179 amino acid C-terminal domain. Recombinant human TPO is a fully biologically active 174 amino acid polypeptide (18.6 kDa), which contains the erythropoietin-like domain of the full length TPO protein.
Biological Activity
Determined by the dose-dependent stimulation of the proliferation of human MO7e cells.
ED50
< 1 ng/ml.
Specific activity
> 1*106 units/mg.
Quality Control
Quality Control & DataSheet
View current batch:
Purity: ≥98%, by SDS-PAGE and HPLC.
Endotoxin Level:<0.1 ng/μg
Related Biological Data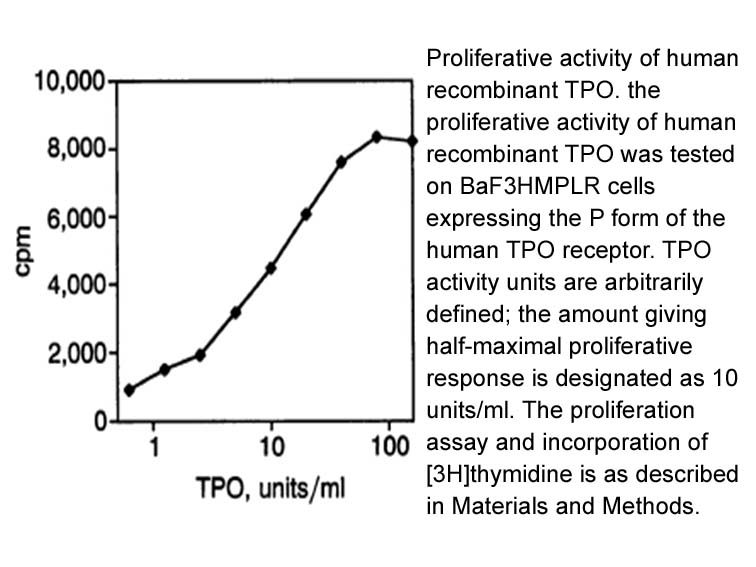 Description
Gene ID:
7173
Accession #:
P07202
Alternate Names:
Thrombopoietin, Megakaryocyte colony-stimulating factor, c-MPL Ligand, MGDF.
Source:
Escherichia Coli.
M.Wt:
18.6 kDa
Appearance:
Lyophilized protein
Storage:
Store at -20°C
Formulation:
Lyophilized with no additives.
Solubility:
Reconstitution in purified water to a concentration of 0.1-1.0 mg/ml. The solution can then be diluted into other aqueous buffers and stored at 4°C for 1 week or -20°C for future use. For long term storage it is recommended to add a carrier protein (0.1% HAS or BSA).
Shipping Condition:
Gel pack.
Handling:
Centrifuge the vial prior to opening.
Usage:
For Research Use Only! Not to be used in humans.