Background
Torin2 is a potent, selective and orally available inhibitor of mTOR with EC50 value of 0.25nM [1].
Torin2 is a highly potent and selective mTOR inhibitor. It is easier to produce than its lead compound Torin1 and displays improved pharmacokinetic properties. Torin2 is predicted to engage in hydrogen bonds with V2240 and Y2225 of a homology model of mTOR. It also form two hydrogen bonds between the aniline amino group of it with D2195 and D2357, making it more potent than Torin1. Besides that, Torin2 shows excellent overall selectivity and has strong binding to mTOR, CSNK1E, several PI3Ks, CSF1R and MKNK2. Torin2 exerts 800-fold cellular selectivity relative to inhibition of PI3K and other protein kinases. Moreover, Torin2 shows good bioavailability and exposure in vivo [1].
References:
[1] Liu Q, Wang J, Kang S A, et al. Discovery of 9-(6-Aminopyridin-3-yl)-1-(3-(trifluoromethyl) phenyl) benzo [h][1, 6] naphthyridin-2 (1 H)-one (Torin2) as a Potent, Selective, and Orally Available Mammalian Target of Rapamycin (mTOR) Inhibitor for Treatment of Cancer. Journal of medicinal chemistry, 2011, 54(5): 1473-1480.

Product Citation
Chemical Properties
| | |
| --- | --- |
| Physical Appearance | A solid |
| Storage | Store at -20°C |
| M.Wt | 432.41 |
| Cas No. | 1223001-51-1 |
| Formula | C24H15F3N4O |
| Solubility | ≥21.6mg/mL in DMSO |
| Chemical Name | 9-(6-aminopyridin-3-yl)-1-[3-(trifluoromethyl)phenyl]benzo[h][1,6]naphthyridin-2-one |
| SDF | Download SDF |
| Canonical SMILES | C1=CC(=CC(=C1)N2C(=O)C=CC3=CN=C4C=CC(=CC4=C32)C5=CN=C(C=C5)N)C(F)(F)F |
| Shipping Condition | Evaluation sample solution : ship with blue ice.All other available size: ship with RT , or blue ice upon request |
| General tips | For obtaining a higher solubility , please warm the tube at 37 ℃ and shake it in the ultrasonic bath for a while.Stock solution can be stored below -20℃ for several months. |
Protocol
Kinase experiment [1]:

mTOR and PI3K Cellular Assays

Cellular IC50 values for mTOR are determined using p53-/- MEFs. Cells are treated with vehicle or increasing concentrations of Torin 2 for 1 h and then lyse. Phosphorylation of S6K1 Thr-389 is monitored by immunoblotting using a phospho-specific antibody. Meanwhile, cellular IC50 values for PI3Ka are determined based on phosphorylation of Akt Thr-308 in p53-/-/mLST8-/- MEFs or human PC3 cells expressing the S473D mutant of Akt1.

Cell experiment:

Cell lines

Human medullary thyroid carcinoma (MTC) cell lines (MZ-CRC-1 and TT cells)

Preparation method

The solubility of this compound in DMSO is >10 mM. General tips for obtaining a higher concentration: Please warm the tube at 37℃ for 10 minutes and/or shake it in the ultrasonic bath for a while. Stock solution can be stored below -20℃ for several months.

Reacting condition

50, 100 nM; 3 days or 5 days;

Applications

Torin2 exhibited a 0.25 nM EC50 for inhibiting cellular mTOR activity while maintaining 800-fold cellular selectivity over inhibition of PI3K and most other protein kinases [1]. Moreover, Torin2 induced a significant reduction in viability and migration of both MZ-CRC-1 and TT cells [2].

Animal experiment:

Animal models

Male C57BL/6 mice model; female nude mice model

Dosage form

20 mg/kg; oral gavage; for 6 hours; or 2 mg/kg, intraperitoneal injection, twice weekly for 5 weeks

Applications

Torin2 (20 mg/kg) showed good bioavailability and exposure and maintained strong inhibition of mTOR activity in lung and liver to at least 6 hours [1]. Moreover, the combination of Torin2 and cisplatin synergistically inhibited tumor growth in nude mice [3].

Other notes

Please test the solubility of all compounds indoor, and the actual solubility may slightly differ with the theoretical value. This is caused by an experimental system error and it is normal.

References:

1. Liu, Q., Wang, J., Kang, S. A., Thoreen, C. C., Hur, W., Ahmed, T., Sabatini, D. M. and Gray, N. S. (2011) Discovery of 9-(6-aminopyridin-3-yl)-1-(3-(trifluoromethyl)phenyl)benzo[h][1,6]naphthyridin-2( 1H)-one (Torin2) as a potent, selective, and orally available mammalian target of rapamycin (mTOR) inhibitor for treatment of cancer. J Med Chem. 54, 1473-1480

2. Tamburrino, A., Molinolo, A. A., Salerno, P., Chernock, R. D., Raffeld, M., Xi, L., Gutkind, J. S., Moley, J. F., Wells, S. A., Jr. and Santoro, M. (2012) Activation of the mTOR pathway in primary medullary thyroid carcinoma and lymph node metastases. Clin Cancer Res. 18, 3532-3540

3. Hussain, A. R., Al-Romaizan, M., Ahmed, M., Thangavel, S., Al-Dayel, F., Beg, S., Uddin, S., Siraj, A. K. and Al-Kuraya, K. S. (2015) Dual Targeting of mTOR Activity with Torin2 Potentiates Anticancer Effects of Cisplatin in Epithelial Ovarian Cancer. Mol Med. 21, 466-478
Biological Activity
Description
Torin 2 is a potent and selective inhibitor of mTOR with an IC50 value of 0.25 nM.
Targets
mTOR
ATM
ATR
DNA-PK
IC50
0.25 nM
28 nM(EC50)
35 nM(EC50)
118 nM(EC50)
Quality Control
Quality Control & MSDS
View current batch:
Chemical structure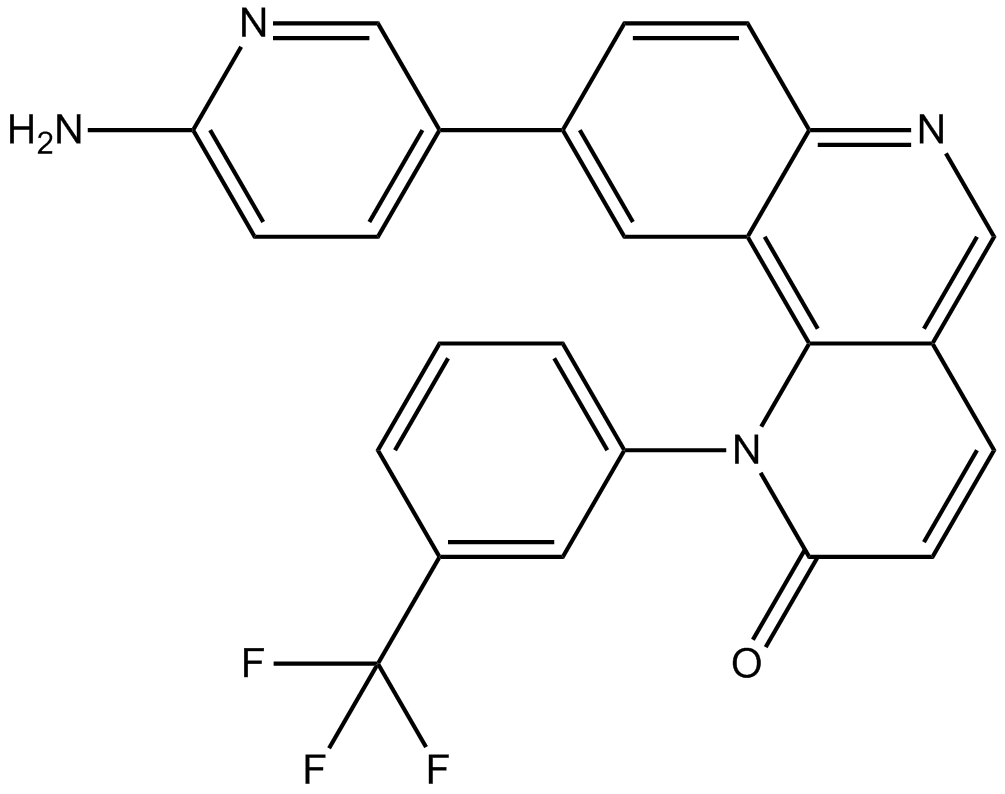 Related Biological Data