Background
Tofacitinib, also named CP-690550 orTasocitinib, is a novel oral Janus kinase inhibitor which is being used as a targeted immune-modulator. It primarily inhibits signaling through heterodimeric receptors associated with JAK3, JAK1, or both of them, with functional selectivity over JAK2-paired receptors. Inhibition of JAK1 and JAK3 by tofacitinib blocks signaling for several cytokines, including interleukins 2, 4, 7, 9, 15, and 21. These cytokines are integral to lymphocyte activation, function, and proliferation. Tofacitinib is also an inhibitor of STAT molecules. Recent efforts to investigate the mechanism of action have shown that tofacitinib interacts with multiple JAKs and presumably other kinases
References
Roy Fleischmann, Joel Kremer, John Cush, Hendrik Schulze-Koops, Carol A. Connell, John D. Bradley, David Gruben, Gene V. Wallenstein, Samuel H. Zwillich, and Keith S. Kanik. Placebo-Controlled Trial of Tofacitinib Monotherapy in Rheumatoid Arthritis. N Engl J Med 2012; 367:495-507
William J. Sandborn, Subrata Ghosh, Julian Panes, Ivana Vranic, Chinyu Su, Samantha Rousell, Wojciech Niezychowski. Tofacitinib, an Oral Janus Kinase Inhibitor, in Active Ulcerative Colitis. N Engl J Med 2012; 367:616-624.
Keisuke Maeshima, Kunihiro Yamaoka, Satoshi Kubo, Kazuhisa Nakano, Shigeru Iwata, Kazuyoshi Saito, Masanobu Ohishi, Hisaaki Miyahara, Shinya Tanaka, Koji Ishii, Hironobu Yoshimatsu, Yoshiya Tanaka. The JAK Inhibitor Tofacitinib Regulates Synovitis Through Inhibition of Interferon- and Interleukin-17 Production by Human CD4 T Cells. Arthritis & Rheumatism. 2012. 64(6): 1790–1798.
Product Citation
Chemical Properties
| | |
| --- | --- |
| Physical Appearance | A solid |
| Storage | Store at -20°C |
| M.Wt | 312.37 |
| Cas No. | 477600-75-2 |
| Formula | C16H20N6O |
| Solubility | ≥15.6 mg/mL in DMSO,insoluble in EtOH,insoluble in H2O |
| Chemical Name | 3-[(3R,4R)-4-methyl-3-[methyl(7H-pyrrolo[2,3-d]pyrimidin-4-yl)amino]piperidin-1-yl]-3-oxopropanenitrile |
| SDF | Download SDF |
| Canonical SMILES | CC1CCN(CC1N(C)C2=NC=NC3=C2C=CN3)C(=O)CC#N |
| Shipping Condition | Evaluation sample solution: ship with blue ice. All other available sizes: ship with RT, or blue ice upon request. |
| General tips | For obtaining a higher solubility, please warm the tube at 37°C and shake it in the ultrasonic bath for a while. Stock solution can be stored below -20°C for several months. |
Protocol
Cell experiment [1]:

Cell lines

Human T cells and human myelomonocytic cell line HUO3

Preparation method

The solubility of this compound in DMSO is > 15.6 mg/mL. General tips for obtaining a higher concentration: Please warm the tube at 37 °C for 10 minutes and/or shake it in the ultrasonic bath for a while. Stock solution can be stored below - 20 °C for several months.

Reacting condition

0 ~ 4000 nM; 4 days

Applications

In human T cell blasts induced by IL-2, CP-690550 inhibited cell proliferation with an IC50 value of 11 nM. In human myelomonocytic HUO3 cells induced by GM-CSF, CP-690550 inhibited cell proliferation with an IC50 value of 324 nM.

Animal experiment [1]:

Animal models

Heterotopic heart transplantation mouse model

Dosage form

0 ~ 136 ng/mL; osmotic minipump infusion

Applications

In a heterotopic heart transplantation mouse model, CP-690550 dose-dependently increased survival of transplanted hearts. Mice received CP-690550 at the concentration of ~ 60 ng/mL maintained their grafts for > 28 days.

Other notes

Please test the solubility of all compounds indoor, and the actual solubility may slightly differ with the theoretical value. This is caused by an experimental system error and it is normal.

References:

[1]. Changelian PS, Flanagan ME, Ball DJ, Kent CR, Magnuson KS, Martin WH, Rizzuti BJ, Sawyer PS, Perry BD, Brissette WH, McCurdy SP, Kudlacz EM, Conklyn MJ, Elliott EA, Koslov ER, Fisher MB, Strelevitz TJ, Yoon K, Whipple DA, Sun J, Munchhof MJ, Doty JL, Casavant JM, Blumenkopf TA, Hines M, Brown MF, Lillie BM, Subramanyam C, Shang-Poa C, Milici AJ, Beckius GE, Moyer JD, Su C, Woodworth TG, Gaweco AS, Beals CR, Littman BH, Fisher DA, Smith JF, Zagouras P, Magna HA, Saltarelli MJ, Johnson KS, Nelms LF, Des Etages SG, Hayes LS, Kawabata TT, Finco-Kent D, Baker DL, Larson M, Si MS, Paniagua R, Higgins J, Holm B, Reitz B, Zhou YJ, Morris RE, O'Shea JJ, Borie DC. Prevention of organ allograft rejection by a specific Janus kinase 3 inhibitor. Science. 2003 Oct 31;302(5646):875-8.
Quality Control
Quality Control & MSDS
View current batch:
Chemical structure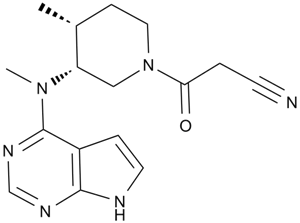 Related Biological Data