Background
Tofacitinib citrate, also known as CP-690550 citrate, is a potent inhibitor of janus kinase 3 (JAK3), a hematopoetic cell-restricted tyrosine kinase involved in signal transduction regulating lymphocyte survival, proliferation, differentiation, and apoptosis.  The inhibition is JAK3 specific with a selectivity 1000-fold more than other non-JAK family kinases. Besides inhibiting JAKS (IC50 = 1 nM), tofacitinib citrate also inhibits janus kinase 2 (JAK2) and janus kinase 1 (JAK1) with 20- and 100-fold less in potency respectively. However, in a recent study, the binding affinities (Ki) of tofacitinib citrate towards JAK1, JAK2, and JAK3 were reported to be 1.6 nM, 21.7 nM, and 6.5 nM respectively.
Reference
Lalitha Vijayakrishnan, R. Venkataramanan and Palak Gulati. Treating inflammation with the janus kinase inhibitor CP-690,550. Trends in Pharmacological Sciences 2011: 32 (1); 25-34
Product Citation
Chemical Properties
| | |
| --- | --- |
| Physical Appearance | A solid |
| Storage | Store at -20°C |
| M.Wt | 504.49 |
| Cas No. | 540737-29-9 |
| Formula | C16H20N6O·C6H8O7 |
| Synonyms | Tasocitinib citrate,CP 690550 citrate |
| Solubility | ≥25.22 mg/mL in DMSO, insoluble in EtOH, ≥3.4 mg/mL in H2O with ultrasonic and warming |
| Chemical Name | 2-hydroxypropane-1,2,3-tricarboxylic acid;3-[(3R,4R)-4-methyl-3-[methyl(7H-pyrrolo[2,3-d]pyrimidin-4-yl)amino]piperidin-1-yl]-3-oxopropanenitrile |
| SDF | Download SDF |
| Canonical SMILES | CC1CCN(CC1N(C)C2=NC=NC3=C2C=CN3)C(=O)CC#N.C(C(=O)O)C(CC(=O)O)(C(=O)O)O |
| Shipping Condition | Evaluation sample solution: ship with blue ice. All other available sizes: ship with RT, or blue ice upon request. |
| General tips | For obtaining a higher solubility, please warm the tube at 37°C and shake it in the ultrasonic bath for a while. Stock solution can be stored below -20°C for several months. |
Protocol
Cell experiment [1]:

Cell lines

Naïve T cell

Preparation method

The solubility of this compound in DMSO is >10 mM. General tips for obtaining a higher concentration: Please warm the tube at 37 °C for 10 minutes and/or shake it in the ultrasonic bath for a while.Stock solution can be stored below -20°C for several months.

Reaction Conditions

16h; 50 nM

Applications

A concentration of 100 nM. 50 nM, but not 10 nM, CP-690,550 suppressed IFN- c production 4 days after Th1 differentiation conditions were established, while both 10 nM and 50 nM CP-690,550 strongly suppressed IL-4 production under Th2 differentiation conditions. This suggests that CP-690,550 inhibits both Th1 and Th2 differentiation, and that Th2 is more sensitive than Th1 to this drug. We then examined the effect of CP-690,550 on Th17 and induced T regulatory (iTreg) cells. CP-690,550 enhanced IL-17 production while suppressing Foxp3 and IL-10 induction in a dose-dependent manner under Th17 differentiation conditions. These data indicate that

Animal experiment [1]:

Animal models

C57BL6/J mice and DBA/1J mice

Dosage form

30 nM; intraperitoneal injection

Applications

Naïve CD4+T cells isolated from mice were stimulated with various cytokines in the presence of various concentrations of CP-690,550. CP-690,550 selectively inhibited IFN c -induced STAT1, IL-4-induced STAT6, and IL-2-induced STAT5 at 3–30 nM, while 30 nM CP-690,550 did not suppress IL-6-induced STAT3 phosphorylation. A concentration greater than 100 nM was required for the partial suppression of STAT3

Other notes

Please test the solubility of all compounds indoor, and the actual solubility may slightly differ with the theoretical value. This is caused by an experimental system error and it is normal.

References:

[1] Yoshida H, Kimura A, Fukaya T, et al. Low dose CP-690,550 (tofacitinib), a pan-JAK inhibitor, accelerates the onset of experimental autoimmune encephalomyelitis by potentiating Th17 differentiation[J]. Biochemical and biophysical research communications, 2012, 418(2): 234-240.
Biological Activity
Description
Tofacitinib (CP-690550) Citrate is a novel inhibitor of JAK3 with IC50 of 1 nM, 20- to 100-fold less potent against JAK2 and JAK1.
Targets
JAK3
IC50
1 nM
Quality Control
Quality Control & MSDS
View current batch:
Chemical structure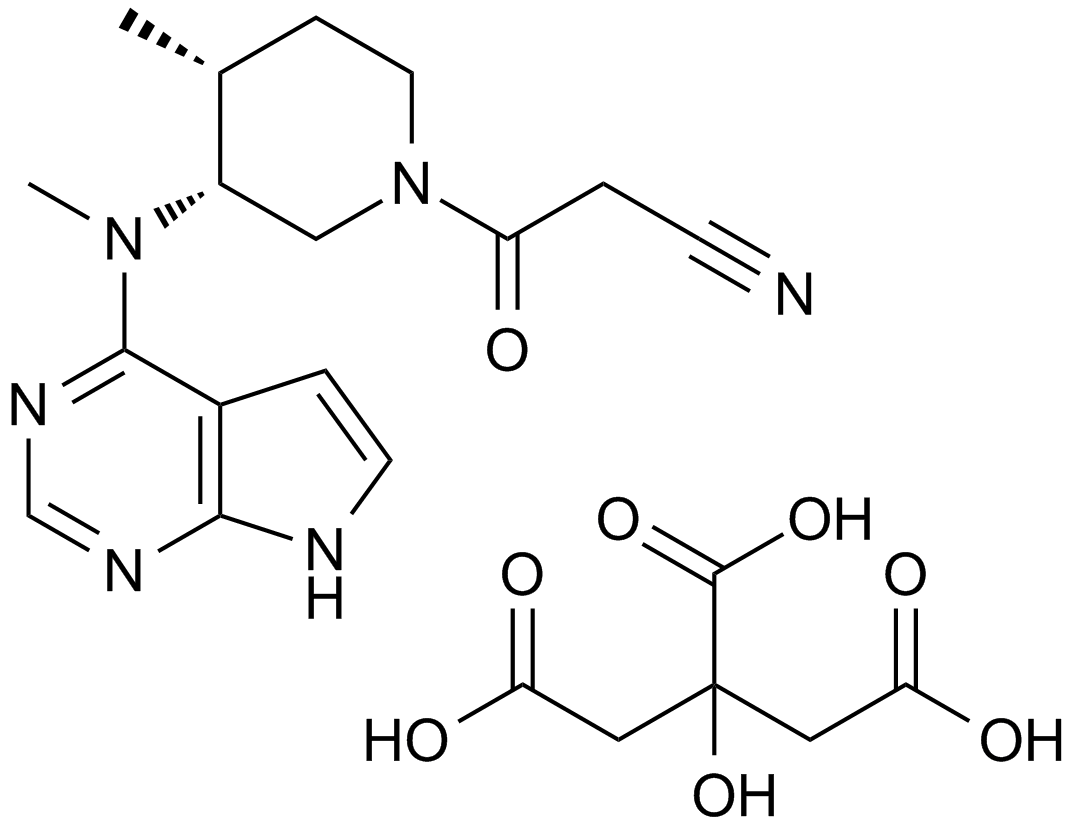 Related Biological Data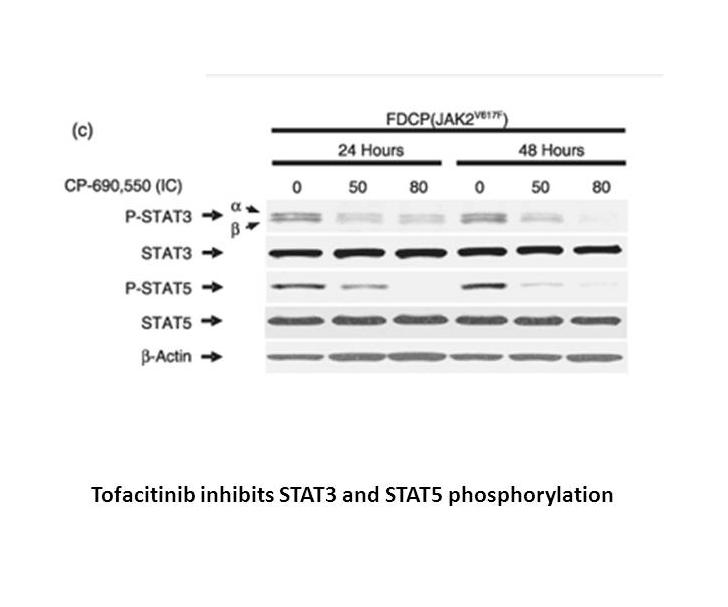 Related Biological Data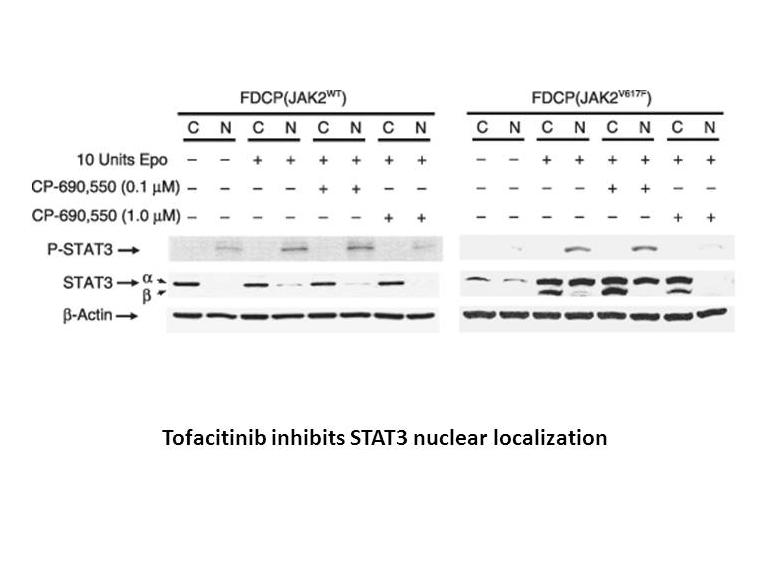 Related Biological Data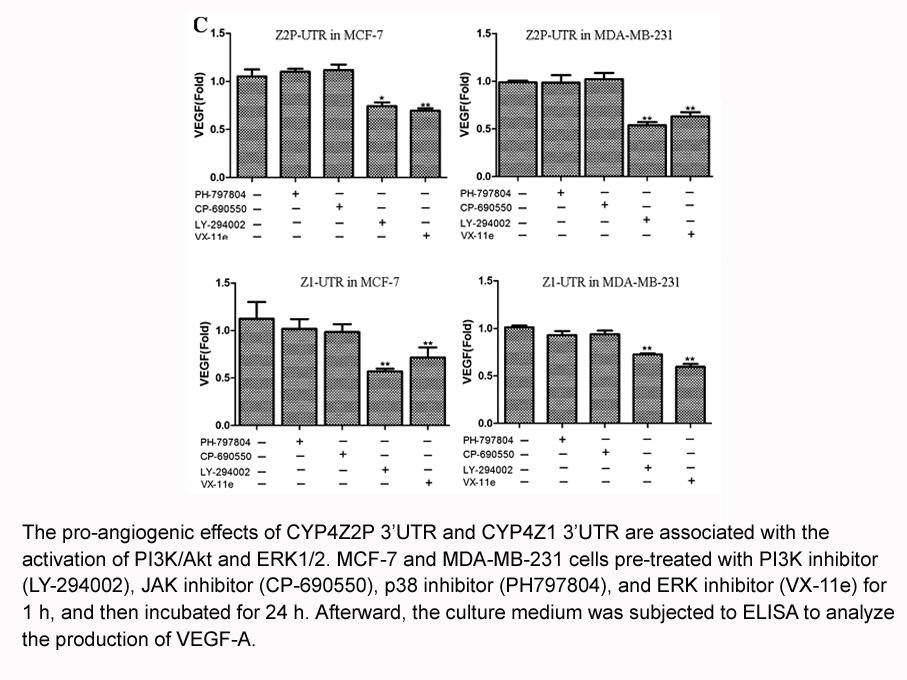 Related Biological Data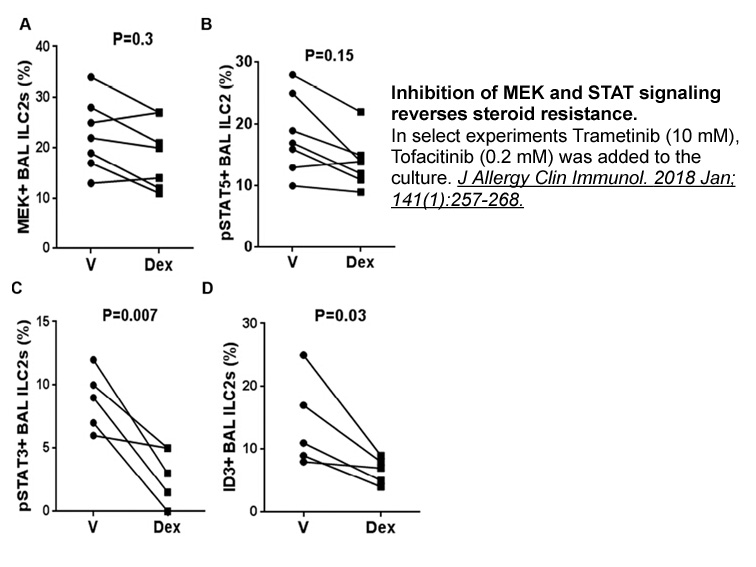 Related Biological Data