Background
TAK-632 is a selective inhibitor of BRAF, CRAF and BRAF-V600E kinase with IC50 value of 8.3 nM, 1.4 nM and 2.4 nM [1].
RAF kinases are a family of three serine/threonine-specific protein kinases and play an important role in the RAS-RAF-MEK-ERK signal transduction cascade, as well as the mitogen-activated protein kinase (MAPK) cascade [2].
TAK-632 is a potent pan-RAF kinase inhibitor and has a higher selectivity compared with the reported pan-RAF kinase inhibitor vemurafenib. When tested with SK-MEL-2 cells, TAK-632 showed induction on the BRAF-CRAF dimmers formation in a dose-dependent manner. In melanoma cell lines A375 and SK-MEL-2, TAK-632 exhibited significant antiproliferative effects with GI50 value of 6 nom/L and 11 nom/L, respectively [1].
In mouse model with SK-MEL-2 subcutaneous xenograft, oral administration of TAK-632 caused significant reduction of phosphorylated ERK and tumor growth at the dose of 60 or 120 mg/kg/d once daily for 21 days without severe toxicity [1].
It is also reported that TAK-632 is a potent inhibitor of pERK with IC50 value of 25 nM [1].
References:
[1]. Nakamura, A., et al., Antitumor activity of the selective pan-RAF inhibitor TAK-632 in BRAF inhibitor-resistant melanoma. Cancer Res, 2013. 73(23): p. 7043-55.
[2]. Korkut, A., et al., Perturbation biology nominates upstream-downstream drug combinations in RAF inhibitor resistant melanoma cells. Elife, 2015. 4.
Product Citation
Chemical Properties
| | |
| --- | --- |
| Physical Appearance | A solid |
| Storage | Store at -20°C |
| M.Wt | 554.52 |
| Cas No. | 1228591-30-7 |
| Formula | C27H18F4N4O3S |
| Solubility | ≥27.75mg/mL in DMSO, ≥2.23 mg/mL in EtOH with ultrasonic and warming,insoluble in H2O |
| Chemical Name | N-[7-cyano-6-[4-fluoro-3-[[2-[3-(trifluoromethyl)phenyl]acetyl]amino]phenoxy]-1,3-benzothiazol-2-yl]cyclopropanecarboxamide |
| SDF | Download SDF |
| Canonical SMILES | C1CC1C(=O)NC2=NC3=C(S2)C(=C(C=C3)OC4=CC(=C(C=C4)F)NC(=O)CC5=CC(=CC=C5)C(F)(F)F)C#N |
| Shipping Condition | Evaluation sample solution: ship with blue ice. All other available sizes: ship with RT, or blue ice upon request. |
| General tips | For obtaining a higher solubility, please warm the tube at 37°C and shake it in the ultrasonic bath for a while. Stock solution can be stored below -20°C for several months. |
Biological Activity
Description
TAK-632 is a potent inhibitor of Raf with IC50 of 8.3 nM and 1.4 nM for B-Raf(wt) and C-Raf, respectively.
Targets
B-Raf
C-Raf
IC50
8.3 nM
1.4 nM
Quality Control
Quality Control & MSDS
View current batch:
Chemical structure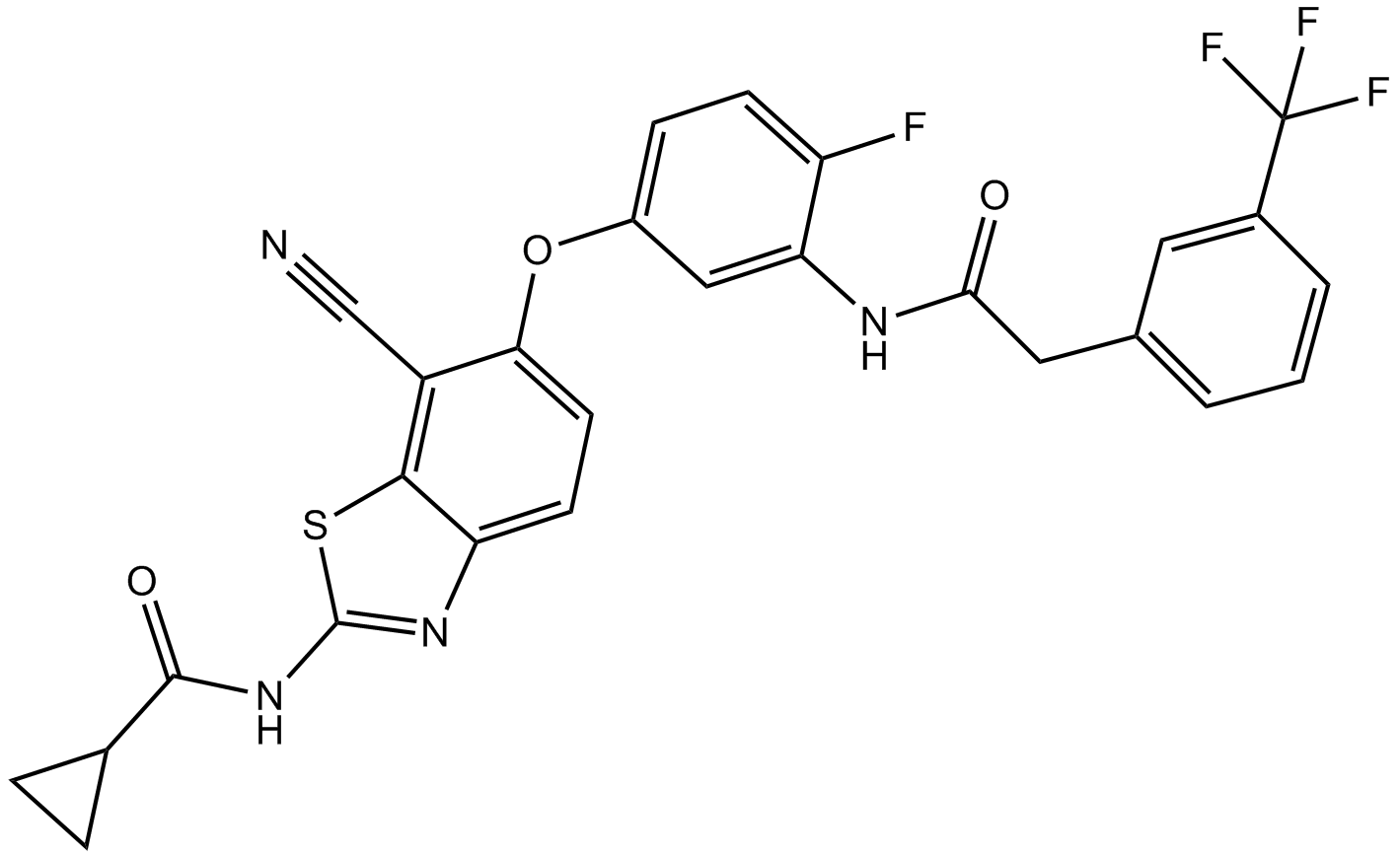 Related Biological Data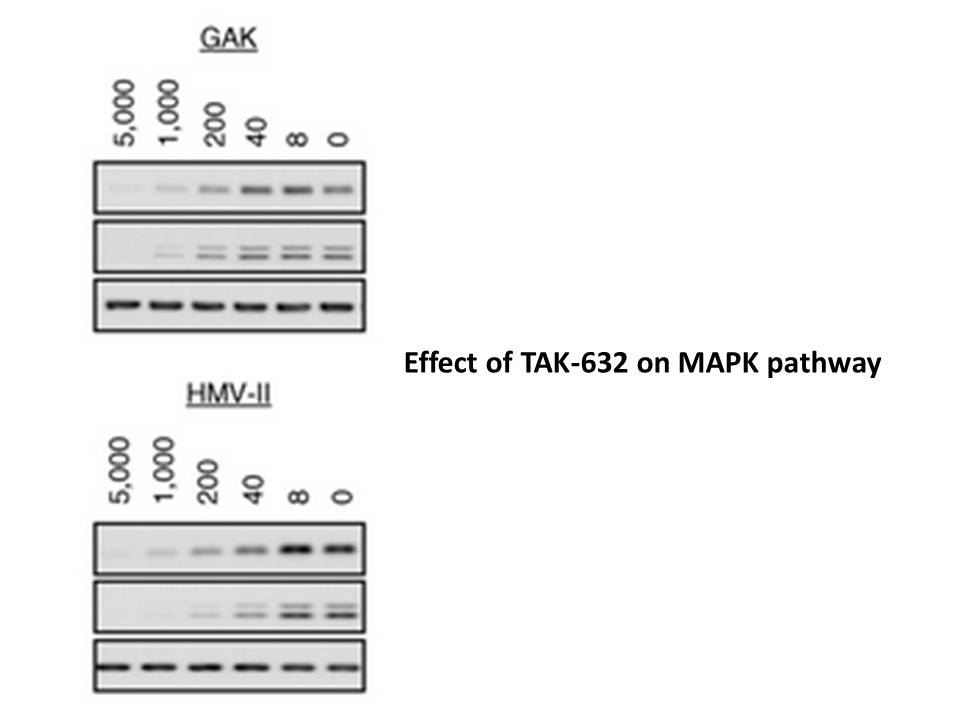 Related Biological Data