DiscoveryProbe™ Apoptosis-related Compounds Panel
Sample solution is provided at 25 µL, 10mM.
Click and Customize the Panel
with your own choices of compounds/size/quantities/chemical forms etc.
Publications citing ApexBio Products
HTS Facility Partners
Featured Products of the Panel
Catalog No.
Product Name
Summary
Targets
CAS Number
Smiles
A3007
ABT-263 (Navitoclax)
Potent Bcl-2 family inhibitor, inhibits Bcl-2, Bcl-xL, and Bcl-w
Apoptosis|Bcl-2 Family
923564-51-6
CC1(CCC(=C(C1)CN2CCN(CC2)C3=CC=C(C=C3)C(=O)NS(=O)(=O)C4=CC(=C(C=C4)NC(CCN5CCOCC5)CSC6=CC=CC=C6)S(=O)(=O)C(F)(F)F)C7=CC=C(C=C7)Cl)C
A4465
MIM1
Mcl-1 Inhibitor
Apoptosis|Bcl-2 Family
OC1=CC=C(/C=N/N2C(C)=CS/C2=N\C3CCCCC3)C(O)=C1O
A8194
ABT-199
Bcl-2 inhibitor,potent and selective
Apoptosis|Bcl-2 Family
1257044-40-8
CC1(CCC(=C(C1)C2=CC=C(C=C2)Cl)CN3CCN(CC3)C4=CC(=C(C=C4)C(=O)NS(=O)(=O)C5=CC(=C(C=C5)NCC6CCOCC6)[N+](=O)[O-])OC7=CN=C8C(=C7)C=CN8)C
B4881
UMI-77
Mcl-1 inhibitor
Apoptosis|Bcl-2 Family
518303-20-3
C1=CC=C2C(=C1)C(=CC(=C2O)SCC(=O)O)NS(=O)(=O)C3=CC=C(C=C3)Br
A1901
Q-VD-OPh hydrate
Cell-permeable, irreversible pan-caspase inhibitor
Apoptosis|Caspase
1135695-98-5
CC(C)C(C(=O)NC(CC(=O)O)C(=O)COC1=C(C=CC=C1F)F)NC(=O)C2=NC3=CC=CC=C3C=C2
A1902
Z-VAD-FMK
Cell-permeable, irreversible pan-caspase inhibitor
Apoptosis|Caspase
187389-52-2
CC(C)C(C(=O)NC(C)C(=O)NC(CC(=O)OC)C(=O)CF)NC(=O)OCC1=CC=CC=C1
Download the Apoptosis related Compounds Panel - XLSX Download the Apoptosis related Compounds Panel - SDF
Quality Control
Related Biological Data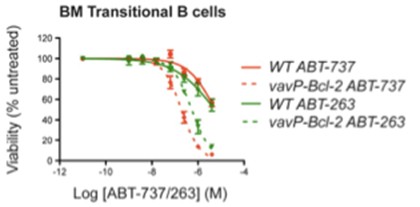 ABT-737, or ABT-263 at the indicated doses for 24 hours. Survival data are shown for transitional B cells (n = 3 mice for each genotype) and are the results of 3 independent experiments, each performed in triplicate. Experiments depicted in panels C and D were performed concurrently. Values represent mean ± SEM.
Related Biological Data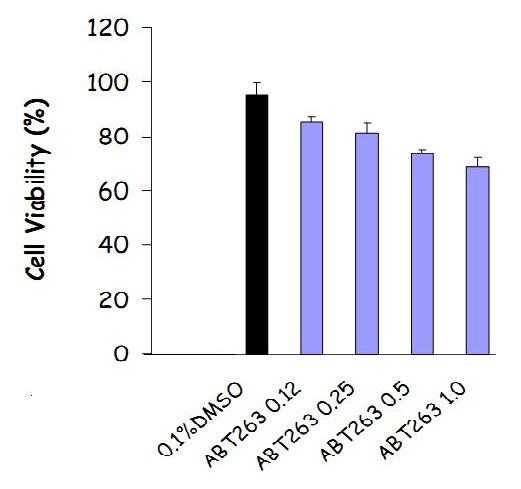 As an inhibitor of Bcl-2, ABT263 is effective to reduce cell viability in HG3-CLL cells. Incubating the cells with ABT263 in 96 well plates (3×104 cells per well) for 24h shows a dose-dependent inhibition of cell viability with EC50 value of 2μM.[Source: Istituto di Scienze dell' Alimentazione]
Related Biological Data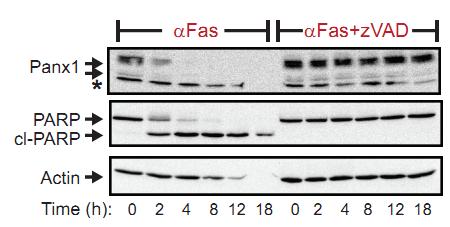 zVAD was able to completely suppress the proteolytic processing of Panx1 at each incubation time point in the anti-Fas treated Jurkat cells [1].
1. Boyd-Tressler A, Penuela S, Laird D W, et al. Chemotherapeutic Drugs Induce ATP Release via Caspase-gated Pannexin-1 Channels and a Caspase/Pannexin-1-Independent Mechanism. Journal of Biological Chemistry, 2014: jbc. M114. 590240.
Related Biological Data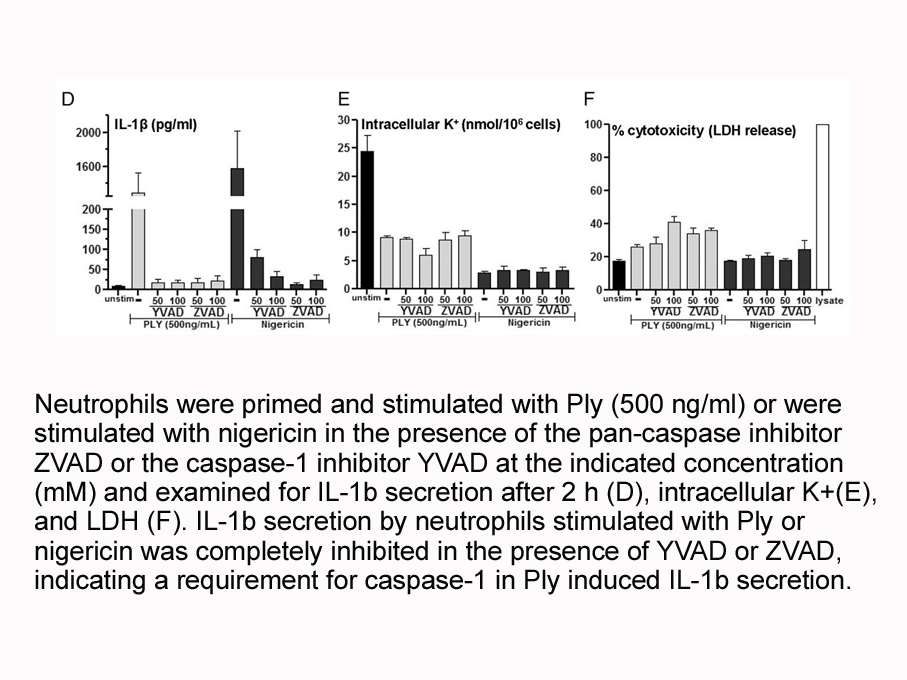 Related Biological Data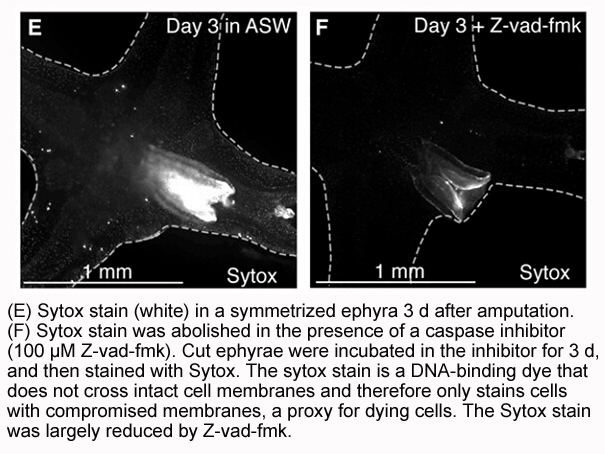 Related Biological Data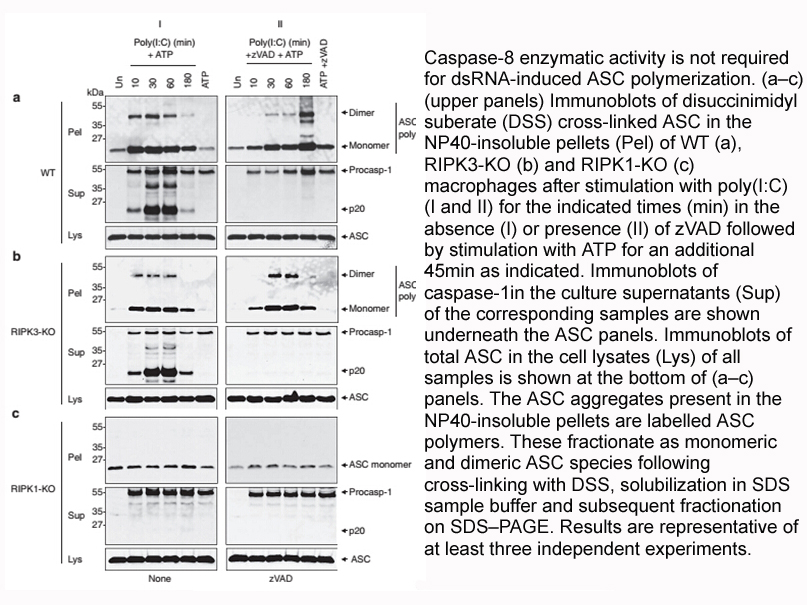 Advantages
Available in stock with overnight delivery and free shipping over $500
Cost-effective and competitive price to save your findings
Potent, selective and cell-permeable in inhibiting or activating target molecules
Diverse in chemical structure and route of administration (oral/i.m/i.v injection etc.)
Detailed files describing potency, selectivity and applications etc.
Supported by published data from top peer-reviewed journals
Guaranteed high quality with NMR and HPLC validation
Storage and Shipping Information
Solubility
Soluble in DMSO
Storage
Desiccate at -20°C
Packaging
96 well plate
Form
Powder
General tips
For obtaining a higher solubility , please warm the tube at 37°C and shake it in the ultrasonic bath for a while.Stock solution can be stored below -20°C for several months.
Shipping Condition
Evaluation sample solution : ship with blue ice
All other available size: ship with RT , or blue ice upon request
Background
A wide range of well-characterized bioactive molecules that covers various targets related to apoptosis, including caspase, MDM2 and Bcl-2 etc. Facilitate your research towards the insights of cancer, degenerative diseases and autoimmunity etc. Applicable in cellular assays, animal models and drug screenings etc.
References
1. Fuchs Y, Steller H. Programmed cell death in animal development and disease. Cell. 2011 Nov 11;147(4):742-58. doi: 10.1016/j.cell.2011.10.033. Review. Erratum in: Cell. 2011 Dec 23;147(7):1640.
Abstract
Programmed Cell Death (PCD) plays a fundamental role in animal development and tissue homeostasis. We focus on the function and regulation of apoptotic proteins, including caspases, the key executioners of apoptosis, highlighting the functions of these proteins in cell differentiation and tissue remodeling. Finally, we explore the connections between apoptosis, stem cells and cancer, focusing on how apoptotic cells release a variety of signals to communicate with their cellular environment, including factors that promote cell division, tissue regeneration, and wound healing.
2. Abrams MJ, Basinger T, Yuan W, Guo CL, Goentoro L. Self-repairing symmetry in jellyfish through mechanically driven reorganization. Proc Natl Acad Sci U S A. 2015 Jun 30;112(26):E3365-73.
Abstract
In this study, we report a previously unidentified strategy of self-repair, where moon jellyfish respond to injuries by reorganizing existing parts, and rebuilding essential body symmetry, without regenerating what is lost. we find that forces generated by the muscular network are essential for symmetrization. Furthermore, decreasing pulse frequency using muscle relaxants slowed symmetrization, whereas increasing pulse frequency by lowering the magnesium concentration in seawater accelerated symmetrization. Self-repair in Aurelia proceeds through the reorganization of existing parts, and is driven by forces generated by its own propulsion machinery.