Roscovitine (Seliciclib,CYC202)
CDK inhibitor,potent and selective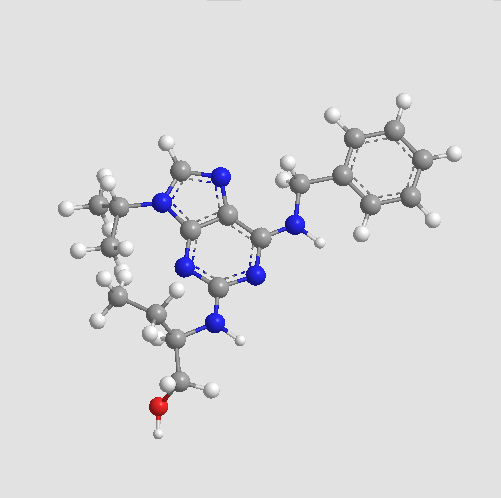 Sample solution is provided at 25 µL, 10mM.
Related Compound Libraries
Quality Control
Quality Control & MSDS
View current batch:
Chemical structure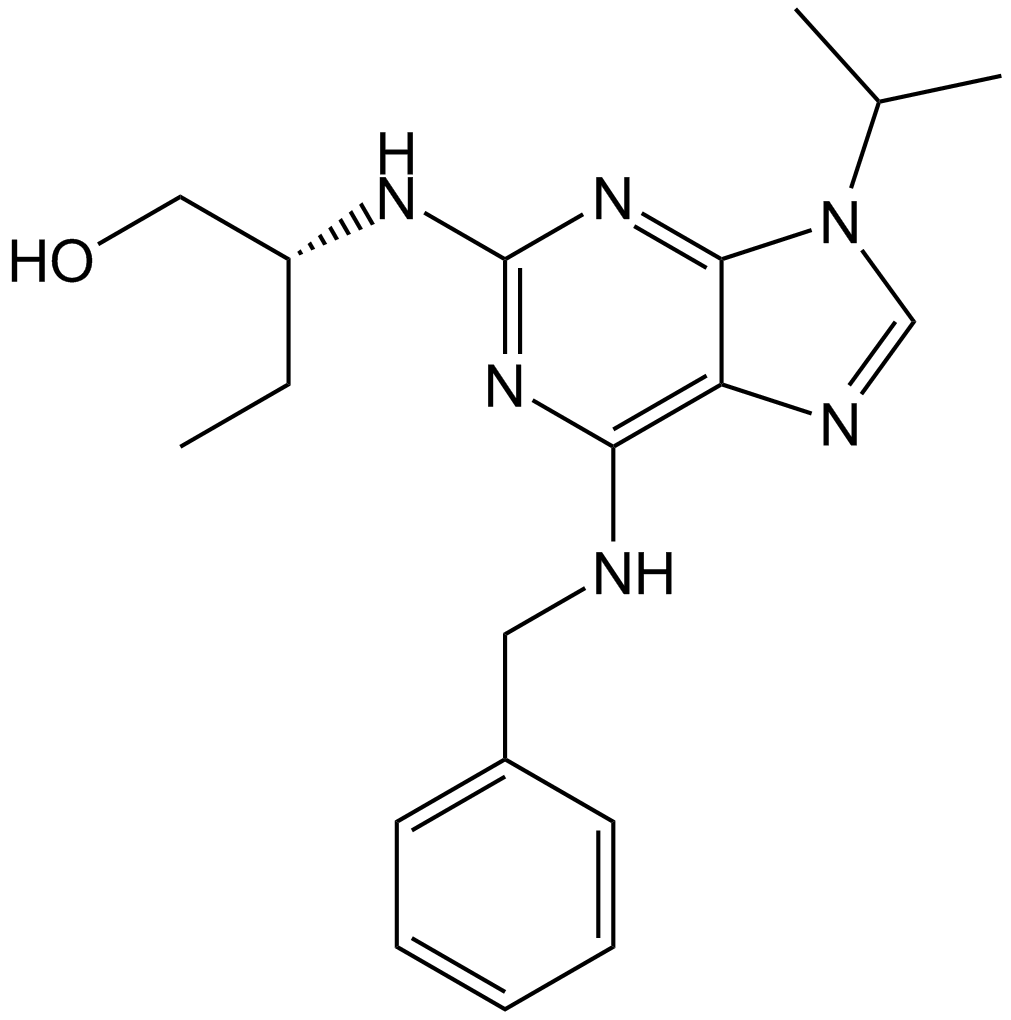 Related Biological Data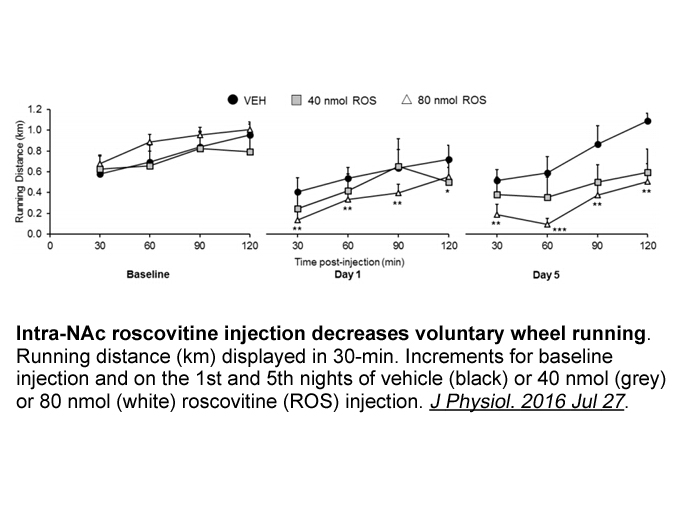 Biological Activity
Description
Roscovitine is a potent inhibitor of Cdk2/cyclin E, Cdk7/cyclin H, Cdk5/p35 and cdc/cyclin B with IC50 values of 0.1, 0.49, 0.16 and 0.65 µM, respectively.
Targets
Cdk2/cyclin E
Cdk7/cyclin H
Cdk5/p35
cdc/cyclin B
IC50
0.1 µM
0.49 µM
0.16 µM
0.65 µM
Protocol
Cell experiment: [1]

Cell lines

Mitotic sea urchin embryos

Preparation method

The solubility of this compound in DMSO is >10 mM. General tips for obtaining a higher concentration: Please warm the tube at 37 °C for 10 minutes and/or shake it in the ultrasonic bath for a while.Stock solution can be stored below -20°C for several months.

Reaction Conditions

IC50: 10 μM, 60 min

Applications

When added 60 min after fertilisation, roscovitine was found to arrest cells in late prophase in a dose-dependent manner. A large nucleus could be observed in the roscovitine arrested eggs. This arrest was completely reversible: following washing with sea water, the eggs re-entered mitotic cycles and developed into normal plutei. This was observed even with highest concentration of roscovitme, 100 μM.

Animal experiment: [2]

Animal models

Male athymic nude mice injected with A4573 cells

Dosage form

Intraperitoneal injection, 50 mg/kg, daily, for either 5 days or two 5-day series with a 2-day break in between.

Applications

Tumor growth was significantly slower in roscovitine-treated mice than in control animals, as a reflection of the markedly smaller size of individual tumors observed after excision. One day after completion of the first 5-day treatment series, tumors in roscovitine-treated animals had grown only f1.25-fold relative to their size at the time of treatment initiation, whereas tumors in untreated mice had already attained a volume 14.5-fold their original size. These values represented a difference of 11.5-fold in tumor volume. Counting from day 1 of roscovitine treatment, tumors in control animals reached a volume thrice the original in 2 days, whereas it took 10 days for the tumors in treated animals to triplicate their initial volume.

Other notes

Please test the solubility of all compounds indoor, and the actual solubility may slightly differ with the theoretical value. This is caused by an experimental system error and it is normal.

References:

[1] Meijer L, Borgne A, Mulner O, et al. Biochemical and cellular effects of roscovitine, a potent and selective inhibitor of the cyclin-dependent kinases cdc2, cdk2 and cdk5. European Journal of Biochemistry, 1997, 243(1-2): 527-536.

[2] Tirado O M, Mateo-Lozano S, Notario V. Roscovitine is an effective inducer of apoptosis of Ewing's sarcoma family tumor cells in vitro and in vivo. Cancer Research, 2005, 65(20): 9320-9327.
Chemical Properties
Cas No.
186692-46-6
SDF
Download SDF
Chemical Name
(2R)-2-[[6-(benzylamino)-9-propan-2-ylpurin-2-yl]amino]butan-1-ol
Canonical SMILES
CCC(CO)NC1=NC2=C(C(=N1)NCC3=CC=CC=C3)N=CN2C(C)C
Formula
C19H26N6O
M.Wt

354.45

Solubility
>17.7mg/mL in DMSO
Storage
Store at -20°C
General tips
No
Shipping Condition
No
Background
Roscovitine, also known as seliciclib or CYC202, is a selective cyclin-dependent kinases (cdk), which are essential cell cycle regulators frequently involved in the deregulation of human tumors, inhibitor that potently inhibits cdc2 (cdc2/cyclin B), cdk2 (cdk2/cyclin A and cdk2/cyclin E) and cdk5 (cdk5/p35) with half maximal inhibition concentration IC50 of 0.65 μM, 0.7 μM, 0.7 μM and 0.16 μM respectively [1].
Roscovitine has been found to inhibit cellular prophase/metaphase transition at micromolar concentrations, where it inhibits progesterone-induced oocyte maturation of Xenopus oocytes and arrests starfish oocytes and sea urchin embryos in late prophase [1].
Additionally, roscovitine is capable of inhibiting extracelluar regulated kinases, erk1 and erk2, with IC50 of 34 μM and 14 μM respectively [1].
References:
[1] Meijer L, Borgne A, Mulner O, Chong JP, Blow JJ, Inagaki N, Inagaki M, Delcros JG, Moulinoux JP. Biochemical and cellular effects of roscovitine, a potent and selective inhibitor of the cyclin-dependent kinases cdc2, cdk2 and cdk5. Eur J Biochem. 1997 Jan 15;243(1-2):527-36.