Romidepsin (FK228, depsipeptide)
HDAC1/HDAC2 inhibitor,potent and selective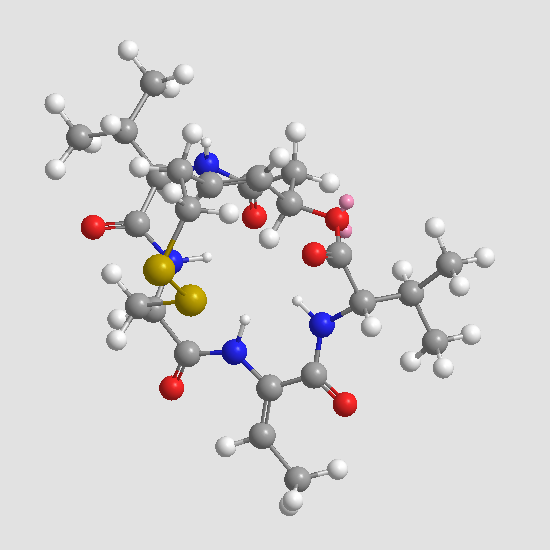 Sample solution is provided at 25 µL, 10mM.
Publications citing ApexBio Products
Related Compound Libraries
Quality Control
Quality Control & MSDS
View current batch:
Chemical structure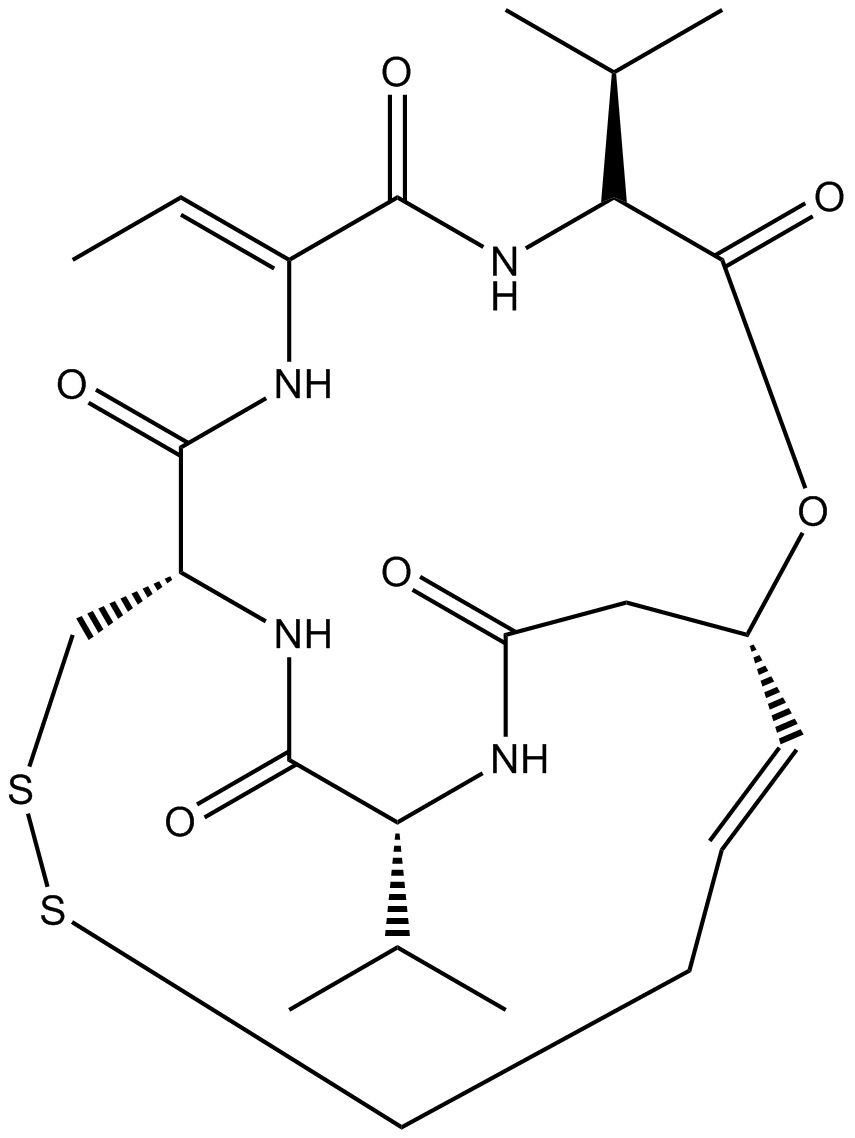 Related Biological Data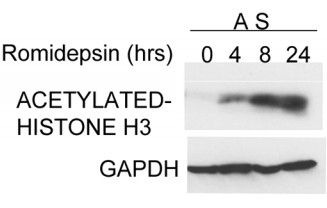 NB cell lines were treated with IC80 concentration of romidepsin for 4, 8 and 24 h, protein was extracted and analyzed for Ac-H3 analysis by immunoblot assay. Blots were reprobed for glyceraldehyde-3-phosphate dehydrogenase (GAPDH) levels as loading controls.
Related Biological Data
Related Biological Data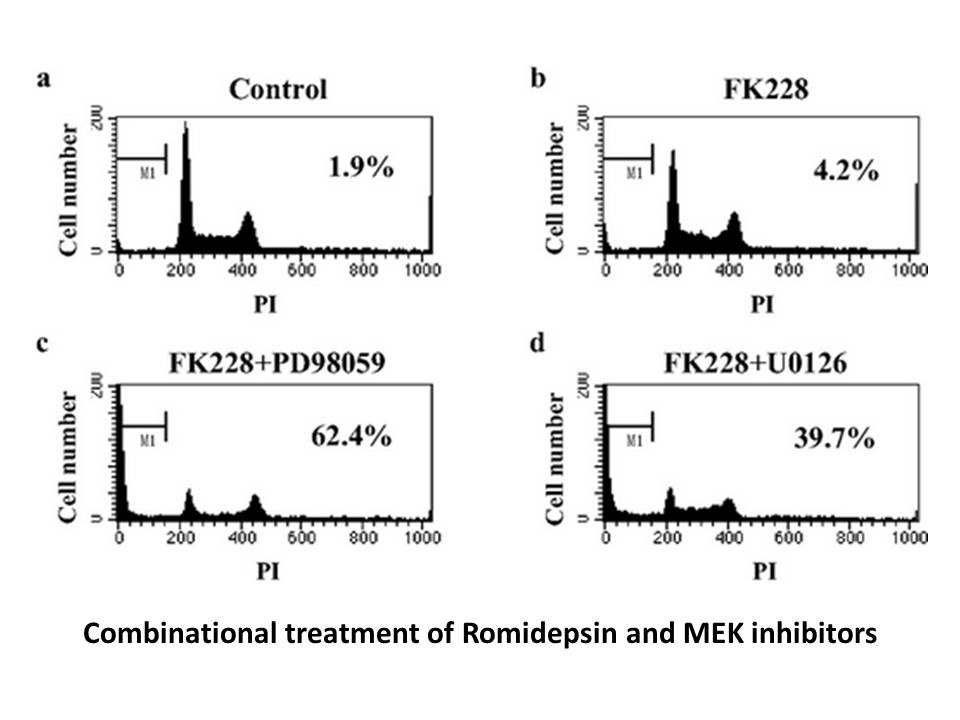 Biological Activity
Description
Romidepsin (FK228, depsipeptide) is a potent and selective inhibitor of class I histone deacetylases (HDACs) with IC50 values of 36, 47, 510 and 14,000 nM for HDAC1, HDAC2, HDAC4 and HDAC6, respectively.
Targets
HDAC1
HDAC2
IC50
36 nM
47 nM
Protocol
Cell experiment:

Cell lines

Human NB cell ( SMS-KCNR, SK-N-BE2, SH-SY5Y, SK-N-AS, L A1-15N, SH-SHEP and IMR32 lines)

Preparation method

The solubility of this compound in DMSO is >10 mM. General tips for obtaining a higher concentration: Please warm the tube at 37 °C for 10 minutes and/or shake it in the ultrasonic bath for a while.Stock solution can be stored below -20°C for several months.

Reaction Conditions

72h; IC50 ranged from 1–6.5 ng/ml

Applications

Romidepsin (0.5–30 ng/mL) resulted in a dose-dependent decrease in cell viability of all NB cell lines as measured by the MTT or MTS assay. The romidepsin IC50 ranged from 1–6.5 ng/ml in different NB cell lines. Morphological examination by light microscopy revealed that all of the NB cell lines treated with romidepsin had a dose-dependent decrease in cell number and extensive change in morphology to rounded, denser and non-adherent cells.

Animal experiment:

Animal models

Normal and nude mice

Dosage form

1.0-10kg/mL; i.v.; the tail injection

Applications

Clolon 38 and Colon 26 were implanted sc and M5076 and Meth A were implanted id in mice on Day 0. When the drug were given beginning on Day 1. romidepsin markedly inhibited the growth of Colon 38 and M5076, but not Colon26 or Meth A. In addition, when the drug were given beginning on Day 4, or on 7 or 8, romidepsin potently inhibited the growth of Colon 38, M5076 and Meth A, and its activities against M5076 and Meth A were potent than when it was given beginning on Day 1.

Other notes

Please test the solubility of all compounds indoor, and the actual solubility may slightly differ with the theoretical value. This is caused by an experimental system error and it is normal.

References:

[1] Panicker J, Li Z, McMahon C, et al. Romidepsin (FK228/depsipeptide) controls growth and induces apoptosis in neuroblastoma tumor cells[J]. Cell Cycle, 2010, 9(9): 1830-1838.

[2] Ueda H1, Manda T, Matsumoto S, Mukumoto S, Nishigaki F, Kawamura I, Shimomura K. FR901228, a novel antitumor bicyclic depsipeptide produced by Chromobacterium violaceum No. 968. III. Antitumor activities on experimental tumors in mice. J Antibiot (Tokyo). 1994 Mar;47(3):315-23.
Chemical Properties
Cas No.
128517-07-7
SDF
Download SDF
Synonyms
Istodax, Antibiotic FR 901228, FK228, FR 901228, FK-228,Romidepsin
Chemical Name
(1S,4S,7Z,10S,16E,21R)-7-ethylidene-4,21-di(propan-2-yl)-2-oxa-12,13-dithia-5,8,20,23-tetrazabicyclo[8.7.6]tricos-16-ene-3,6,9,19,22-pentone
Canonical SMILES
CC=C1C(=O)NC(C(=O)OC2CC(=O)NC(C(=O)NC(CSSCCC=C2)C(=O)N1)C(C)C)C(C)C
Formula
C24H36N4O6S2
M.Wt

540.7

Solubility
>27mg/mL in DMSO
Storage
Store at -20°C
General tips
No
Shipping Condition
No
View Related Products By Research Topics
Background
Romidepsin, also known as FK228 or depsipeptide, is potent and selective inhibitor of histone deacetylases (HDACs) which are associated with the regulation of re-expression of silenced tumor suppressor genes. It was the first HDAC inhibitor to manifest anti-tumor activity and originally isolated from a rod-shaped Gram-negative bacterium, Chromobacterium violaceum, found in a Japanese soil sample. Romidepsin exhibits a stronger inhibition towards HDAC1 and HDAC2 enzymes (class I), removing acetyl groups from the lysine residues of N-terminal histone tails and maintaining a more open and transcriptionally active chromatin state, than HDAC4 and HDAC6 enzymes (class II). Besides HDAC inhibition, romidepsin is also able to induce cell cycle arrest, cellular differentiation, apoptosis and alteration of gene expression in adult malignancies.
Reference
Karen M VanderMolen, William McCulloch, Cedric J Pearce and Nicholas H Oberlies. Romidepsin (Istodax, NSC 630176, FR901228, FK228, depsipeptide): a natural product recently approved for cutaneous T-cell lymphoma. The Journal of Antibiotics 2011: 64, 525-531
Jyoti Panicker, Zhijie Li, Christine McMahon, Caroline Sizer, Kenneth Steadman, Richard Piekarz, Susan E. Bates and Carol J. Thiele. Romidepsin (FK228/depsipeptide) controls growth and induces apoptosis in neuroblastoma tumor cells. Cell Cycle 2010 9:9, 1830-1838