Regorafenib
Inhibitor of VEGFR/PDGFR/FGFR/mutant kit/RET/Raf-1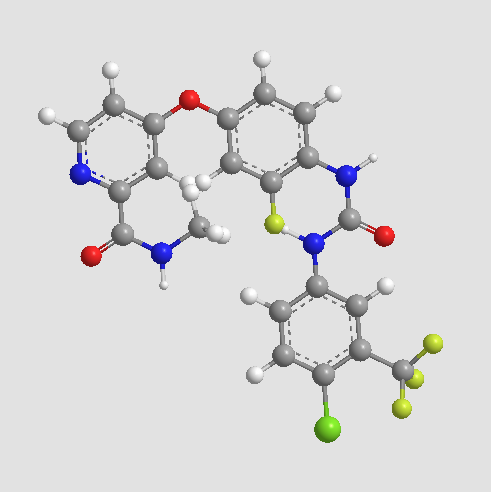 Sample solution is provided at 25 µL, 10mM.
Publications citing ApexBio Products
Quality Control
Quality Control & MSDS
View current batch:
Chemical structure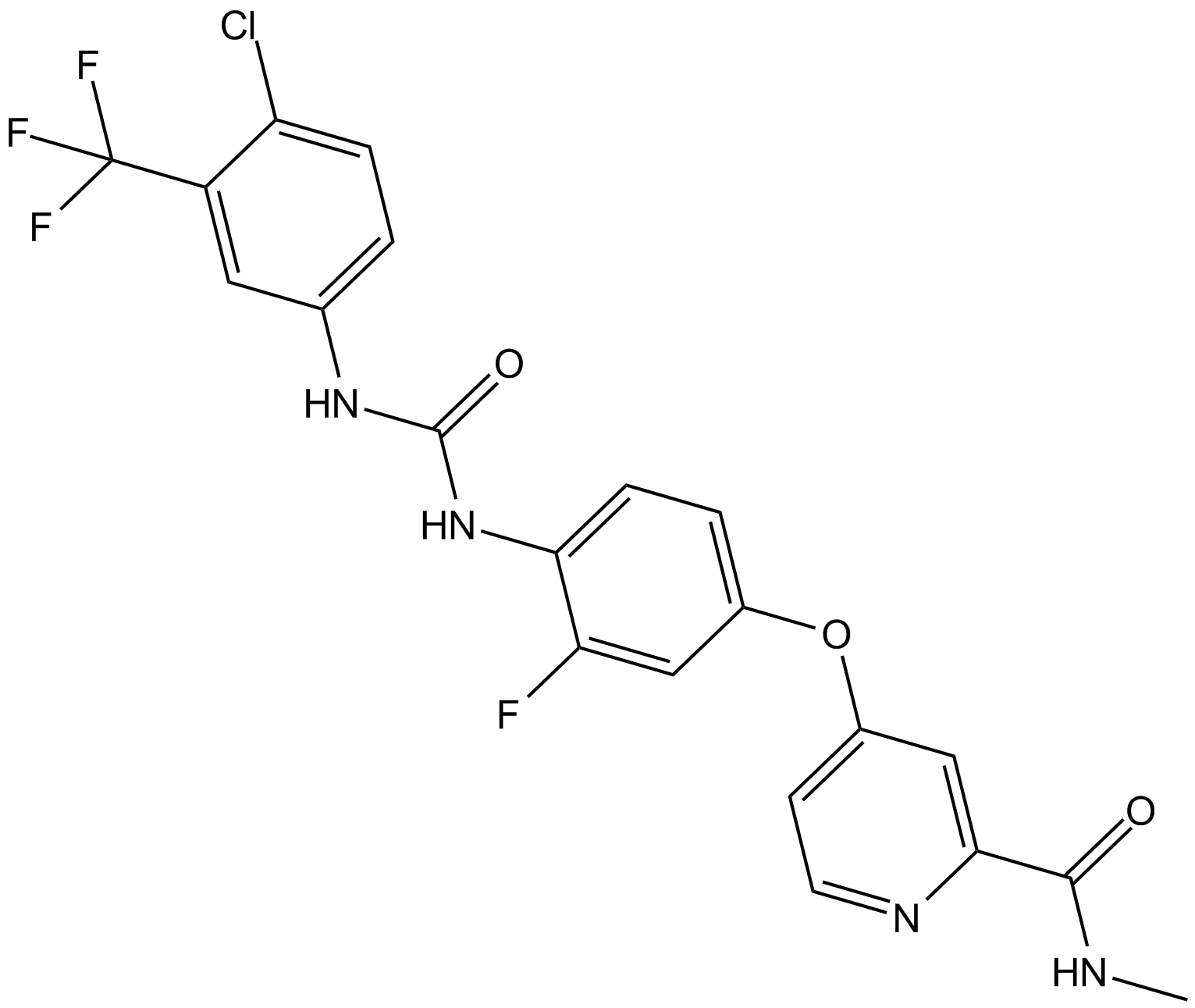 Related Biological Data
Regorafenib inhibits growth-factor-stimulated VEGFR2 and VEGFR3 autophosphorylation in human umbilical vascular endothelialcells (HuVECs) and intracellular signaling and migration in lymphatic endothelial cells (LECs). Western blot analysis of (a) VEGFR2 and (b) VEGFR3, ERK1/2 and AKT from total cell lysates from (a) HuVECs and (b) LECs. All cells were treated with the indicated concentrations of regorafenib and subsequently stimulated with (a) VEGF-A or (b) VEGF-C. * indicates nonspecific signals.
Related Biological Data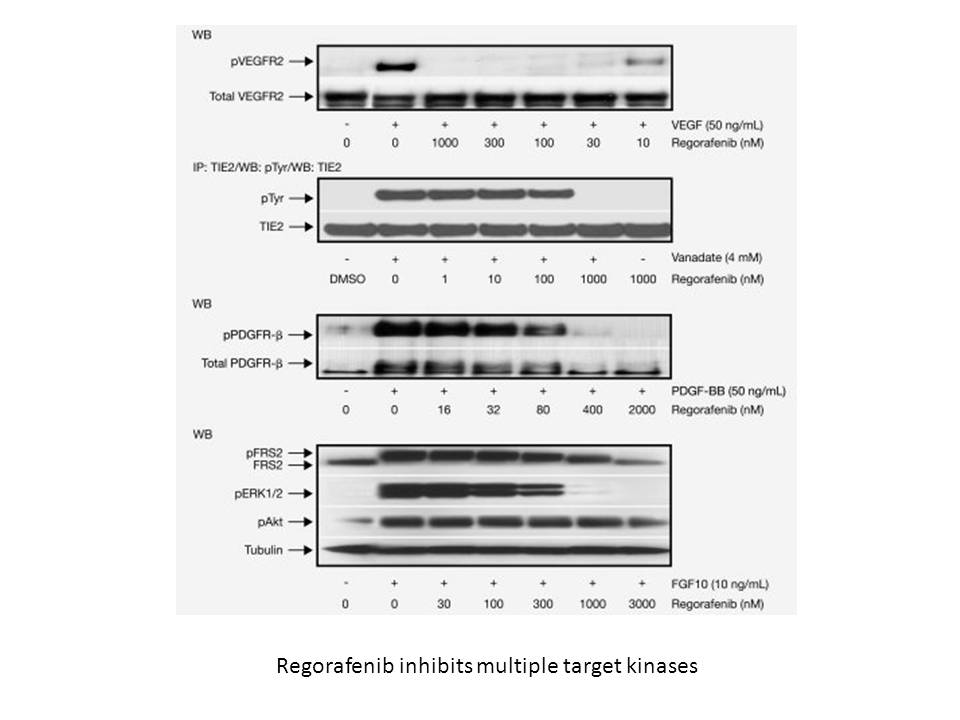 Related Biological Data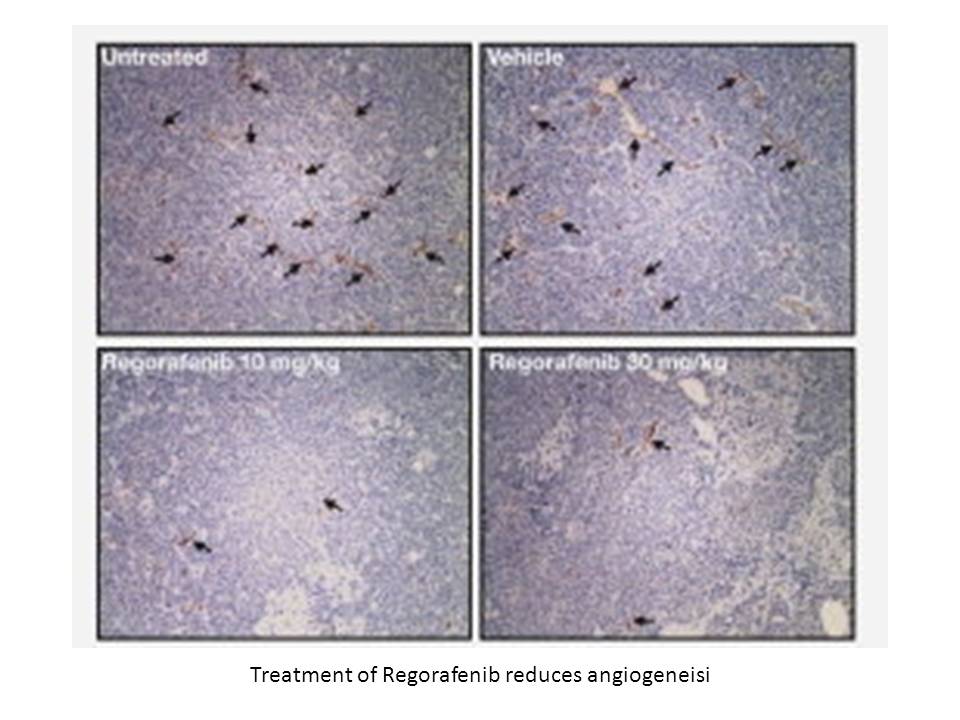 Biological Activity
Description
Regorafenib (BAY 73-4506) is a multi-target inhibitor of VEGFR1, VEGFR2, VEGFR3, PDGFRβ, Kit, RET and Raf-1 with IC50 of 13 nM/4.2 nM/46 nM, 22 nM, 7 nM, 1.5 nM and 2.5 nM, respectively.
Targets
VEGFR1/2/3
PDGFRβ
Kit
RET
Raf-1
IC50
13 nM/4.2 nM/46 nM
22 nM
7 nM
1.5 nM
2.5 nM
Protocol
Cell experiment: [1]

Cell lines

PLC/PRF/5 cells

Preparation method

The solubility of this compound in DMSO is >10 mM. General tips for obtaining a higher concentration: Please warm the tube at 37 °C for 10 minutes and/or shake it in the ultrasonic bath for a while.Stock solution can be stored below -20°C for several months.

Reacting condition

1 μM, 72 hours for migration assay 5 μM, 24 hours for invasion assay

Applications

For the migration assay, PLC/PRF/5 cells were treated with the drugs and microscopically analyzed at the time of the scratch (T0) and after 48 and 72 hours. For the invasion assay, invading PLC/PRF/5 cells were treated with different drug concentrations (0.5, 1, 2.5 and 5 μM). Invasion was calculated as a percentage of the invading drug-treated cells compared to drug-untreated control cells. Regorafenib inhibited HCC cell migration in both AFP-positive and AFP-negative cells at the same low concentration range as inhibited AFP levels. Similar results were found in a cell invasion assay, at almost identical drug concentrations.

Animal experiment: [2]

Animal models

Female athymic NCr nu/nu mice injected with Colo-205, MDA-MB-231 or 786-O xenografts

Dosage form

Oral administration; 100, 30, 10, and 3 mg/kg

Application

Regorafenib dosed qd orally inhibited tumor growth in a dose-dependent manner in multiple xenograft models, including models derived from CRC (Colo-205), BC (MDA-MB-231) and RCC (786-O) tumors. Regorafenib effectively inhibited growth of the Colo-205 xenografts in the dose range of 10-100 mg/kg, reaching a TGI of about 75% at day 14 at the 10 mg/kg dose. A slow regrowth was observed at all doses when treatment was terminated after 9 days. In the MDA-MB-231 model, regorafenib was highly efficacious at a dose as low as 3 mg/kg, resulting in a significant TGI of 81%, which increased to ~ 93% at doses of 10 and 30 mg/kg, where tumor stasis was reached. Regorafenib also very efficiently inhibited the growth of the 786-O RCC model. TGI >90% was observed at the end of a 21-day dosing period with regorafenib 10 and 30 mg/kg.

Other notes

Please test the solubility of all compounds indoor, and the actual solubility may slightly differ with the theoretical value. This is caused by an experimental system error and it is normal.

References:

[1] Carr B I, D'Alessandro R, Refolo M G, et al. Effects of low concentrations of regorafenib and sorafenib on human HCC cell AFP, migration, invasion, and growth in vitro. Journal of cellular physiology, 2013, 228(6): 1344-1350.

[2] Wilhelm S M, Dumas J, Adnane L, et al. Regorafenib (BAY 73‐4506): A new oral multikinase inhibitor of angiogenic, stromal and oncogenic receptor tyrosine kinases with potent preclinical antitumor activity. International Journal of Cancer, 2011, 129(1): 245-255.
Chemical Properties
Cas No.
755037-03-7
SDF
Download SDF
Synonyms
BAY 73-4506
Chemical Name
4-[4-[[4-chloro-3-(trifluoromethyl)phenyl]carbamoylamino]-3-fluorophenoxy]-N-methylpyridine-2-carboxamide
Canonical SMILES
CNC(=O)C1=NC=CC(=C1)OC2=CC(=C(C=C2)NC(=O)NC3=CC(=C(C=C3)Cl)C(F)(F)F)F
Formula
C21H15ClF4N4O3.H2O
M.Wt

500.83

Solubility
Soluble in DMSO > 10 mM
Storage
Desiccate at -20°C
General tips
For obtaining a higher solubility , please warm the tube at 37 ℃ and shake it in the ultrasonic bath for a while.Stock solution can be stored below -20℃ for several months.
Shipping Condition
Evaluation sample solution : ship with blue ice
All other available size: ship with RT , or blue ice upon request
Background
Regorafenib is an orally active multi-kinase inhibitor targeting angiogenic (VEGFR, TIE-2), stromal (PDGFR-β) and oncogenic (RAF, RET and c-KIT) receptor tyrosine kinases, with IC50s of 17, 40 and 69 nM for c-KIT, VEGFR2, B-Raf, respectively.