HIV-1 integrase inhibitor
Background
Raltegravir, formerly named MK-0518, is an HIV-1 integrase strand transfer inhibitor which has been shown to have activity against multidrug-resistant HIV-1 and both CCR5-trophic and CXCR4-trophic HIV-1 in vitro. Structural modifications on these molecules are made in order to maximize potency as HIV-integrase inhibitors against the wild type virus, a selection of mutants, and optimize the selectivity, pharmacokinetic, and metabolic profiles in preclinical species. Raltegravir derives from the evolution of 5,6-dihydroxypyrimidine-4-carboxamides and N-methyl-4-hydroxypyrimidinone-carboxamides. It has been shown to have potent antiretroviral effects, with a mean decrease from baseline in HIV-1 RNA concentrations of about 2 log10 copies per mL after 10 days of monotherapy.
References
Beatriz Grinsztejn, Dr Bach-Yen Nguyen, Christine Katlama, Jose M Gatell, Adriano Lazzarin, Daniel Vittecoq, Charles J Gonzalez, Joshua Chen, Charlotte M Harvey, Robin D Isaacs. Safety and efficacy of the HIV-1 integrase inhibitor raltegravir (MK-0518) in treatment-experienced patients with multidrug-resistant virus: a phase II randomised controlled trial. Then Lancet. 2007. 369(9569): 1261–1269.
Vincenzo Summa, Alessia Petrocchi, Fabio Bonelli, Benedetta Crescenzi, Monica Donghi, Marco Ferrara, Fabrizio Fiore, Cristina Gardelli, Odalys Gonzalez Paz, Daria J. Hazuda, Philip Jones, Olaf Kinzel, Ralph Laufer, Edith Monteagudo, Ester Muraglia, Emanuela Nizi, Federica Orvieto, Paola Pace, Giovanna Pescatore, Rita Scarpelli, Kara Stillmock, Marc V. Witmer, Michael Rowley. Discovery of Raltegravir, a Potent, Selective Orally Bioavailable HIV-Integrase Inhibitor for the Treatment of HIV-AIDS Infection. J. Med. Chem., 2008, 51 (18), pp 5843–5855.
Chemical Properties
| | |
| --- | --- |
| Physical Appearance | A solid |
| Storage | Store at -20°C |
| M.Wt | 444.4 |
| Cas No. | 518048-05-0 |
| Formula | C20H21FN6O5 |
| Synonyms | Raltegravir,MK0518 |
| Solubility | ≥19.95 mg/mL in DMSO, <2.45 mg/mL in EtOH, <2.67 mg/mL in H2O |
| Chemical Name | N-[2-[4-[(4-fluorophenyl)methylcarbamoyl]-5-hydroxy-1-methyl-6-oxopyrimidin-2-yl]propan-2-yl]-5-methyl-1,3,4-oxadiazole-2-carboxamide |
| SDF | Download SDF |
| Canonical SMILES | CC1=NN=C(O1)C(=O)NC(C)(C)C2=NC(=C(C(=O)N2C)O)C(=O)NCC3=CC=C(C=C3)F |
| Shipping Condition | Evaluation sample solution : ship with blue ice.All other available size: ship with RT , or blue ice upon request |
| General tips | For obtaining a higher solubility , please warm the tube at 37 ℃ and shake it in the ultrasonic bath for a while.Stock solution can be stored below -20℃ for several months. |
Protocol
Cell experiment [1]:

Cell lines

MT-4 cells

Preparation method

The solubility of this compound in DMSO is > 20 mg/mL. General tips for obtaining a higher concentration: Please warm the tube at 37 °C for 10 minutes and/or shake it in the ultrasonic bath for a while. Stock solution can be stored below - 20 °C for several months.

Reacting condition

0.0001 ~ 1 μM; 5 days

Applications

Raltegravir inhibited SIVmac251 replication at the low nanomolar, the EC50 value of which was approximately one order of magnitude lower than that of HIV-1 IIIB. However, HIV-1 exhibited faster cytopathogenicity kinetics than SIVmac251. The results of antigen-capture ELISA assays demonstrated that in human T-cell lines, Raltegravir exhibited similar inhibition on SIVmac251 and HIV-1 replication.

Animal experiment [1]:

Animal models

SIVmac251-infected rhesus macaques

Dosage form

100 mg; p.o.; b.i.d.

Applications

In SIVmac251-infected rhesus macaques, Raltegravir significantly decreased the viral load, but only in seven days of treatment. One non-human primate showed an undetectable viral load after Raltegravir monotherapy. However, this primate had a low viral load before treatment was initiated. In addition, The combination of two NRTIs/NtRTIs plus Raltegravir stably suppressed SIVmac251 viral load, but not the proviral DNA, in non-human primates.

Other notes

Please test the solubility of all compounds indoor, and the actual solubility may slightly differ with the theoretical value. This is caused by an experimental system error and it is normal.

References:

[1]. Lewis MG1, Norelli S, Collins M, Barreca ML, Iraci N, Chirullo B, Yalley-Ogunro J, Greenhouse J, Titti F, Garaci E, Savarino A. Response of a simian immunodeficiency virus (SIVmac251) to raltegravir: a basis for a new treatment for simian AIDS and an animal model for studying lentiviral persistence during antiretroviral therapy. Retrovirology. 2010 Mar 16;7:21.
Quality Control
Quality Control & MSDS
View current batch:
Chemical structure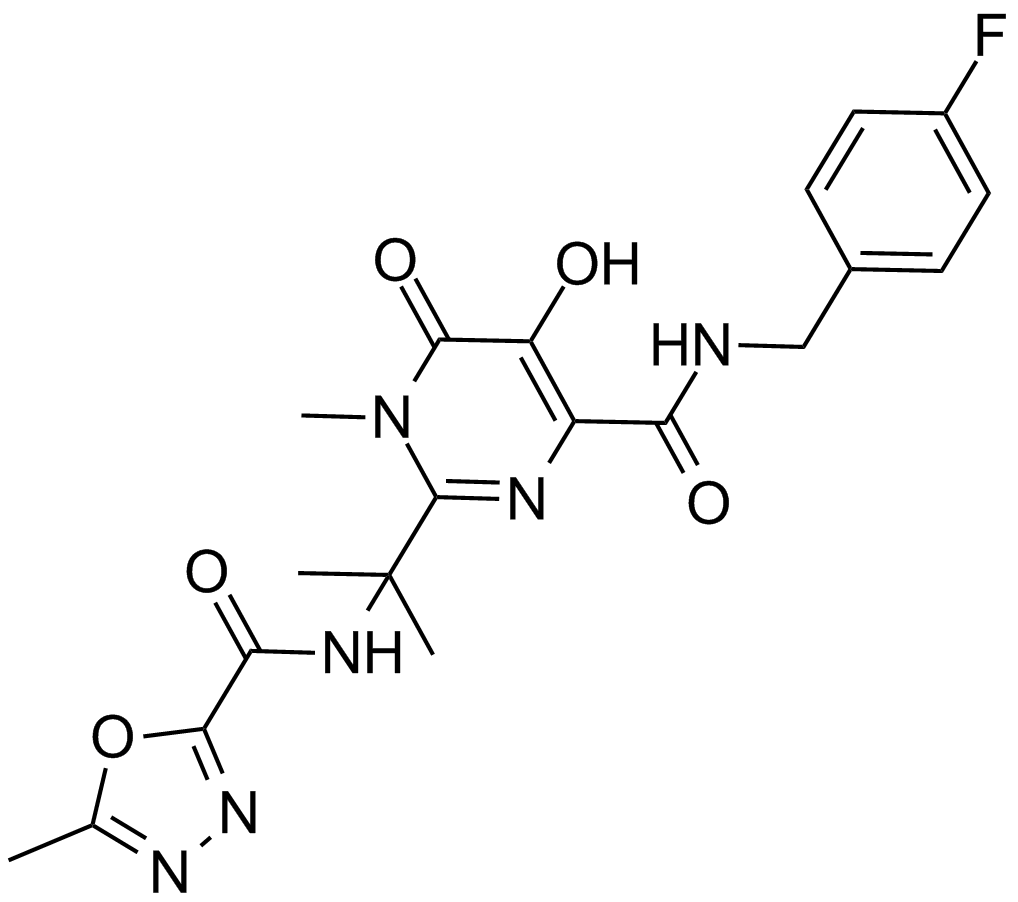 Related Biological Data