Background
Quetiapine Fumarate is a novel atypical antipsychotic used in the treatment of schizophrenia, bipolar I mania, bipolar II depression and bipolar I depression [1]. The antipsychotic effect of quetiapine might be mediated through antagonist activity at dopamine and serotonin receptors. Quetiapine specifically antagonized the D1 and D2 dopamine, the alpha 1 adrenoreceptor and alpha 2 adreno-receptor, and 5-HT1A and 5-HT2 serotonin receptor subtypes[1].
In vitro: Quetiapine has shown affinity for various neurotransmitter receptorsincluding dopamine, serotonin, histamine, and adrenergicreceptors, Quetiapine exihibited binding characteristics at the dopamine-2receptorsimilar to those of clozapine [1].
In vivo: In animal models, Quetiapine exihibited a preclinical profile suggestive of antipsychotic activity with a reduced tendency to cause extrapyramidal symptoms (EPS) and sustained prolactin elevation. Quetiapine altered neurotensin neurotransmission and c-fos expression in limbic but not motor brain regions.In humans, quetiapine exhibited linear pharmacokinetics with a mean terminal half-life of 7 hours.The optimal dosing range for quetiapine was 150 to 750 mg/day, and recent results suggested that once-daily dosing might be suitable for some patients [1].Quetiapine prevented schizophrenia and depression in hippocampal cell proliferation and BDNF expression caused by chronic restraint stress (CRS) in rats in a dose-dependent manner. Quetiapine (5 mg/kg) in combination with venlafaxine (2.5 mg/kg) increaseed hippocampal cell proliferation and prevented BDNF decrease in stressed rats, while each of the drugs exerted mild or no effects [2].In rats subjected to chronic-restraint stress, chronic administration of quetiapine attenuated the decrease in levels of brain-derived neurotrophic factor (BDNF) in the hippocampi. The stress-induced suppression of hippocampal neurogenesis was reversed after post-stress administration of quetiapine (10 mg/kg) for 7 or 21 days, evidenced in the numbers of pCREB-positive and BrdU-labeled cells that were comparable to those in non-stressed rats but higher than those in the vehicle-treated rats [3].
References:
[1]. Nemeroff CB1,Kinkead B,Goldstein J. Quetiapine: preclinical studies, pharmacokinetics, drug interactions, and dosing. J Clin Psychiatry.2002;63Suppl 13:5-11.
[2]. Xu H1,Chen Z,He J,Haimanot S,Li X,Dyck L,Li XM. Synergetic effects of quetiapine and venlafaxine in preventing the chronic restraint stress-induced decrease in cell proliferation and BDNF expression in rat hippocampus.Hippocampus.2006;16(6):551-9.
[3]. Luo C1,Xu H,Li XM. Quetiapine reverses the suppression of hippocampal neurogenesis caused by repeated restraint stress.Brain Res.2005 Nov 23;1063(1):32-9. Epub 2005 Nov 4.
Product Citation
Chemical Properties
| | |
| --- | --- |
| Physical Appearance | A solid |
| Storage | Store at -20°C |
| M.Wt | 883.09 |
| Cas No. | 111974-72-2 |
| Formula | C46H54N6O8S2 |
| Solubility | ≥11.03mg/mL in DMSO |
| Chemical Name | 2-[2-(4-benzo[b][1,4]benzothiazepin-6-ylpiperazin-1-yl)ethoxy]ethanol;(E)-but-2-enedioic acid |
| SDF | Download SDF |
| Canonical SMILES | C1CN(CCN1CCOCCO)C2=NC3=CC=CC=C3SC4=CC=CC=C42.C1CN(CCN1CCOCCO)C2=NC3=CC=CC=C3SC4=CC=CC=C42.C(=CC(=O)O)C(=O)O |
| Shipping Condition | Evaluation sample solution: ship with blue ice. All other available sizes: ship with RT, or blue ice upon request. |
| General tips | For obtaining a higher solubility, please warm the tube at 37°C and shake it in the ultrasonic bath for a while. Stock solution can be stored below -20°C for several months. |
Quality Control
Quality Control & MSDS
View current batch:
Chemical structure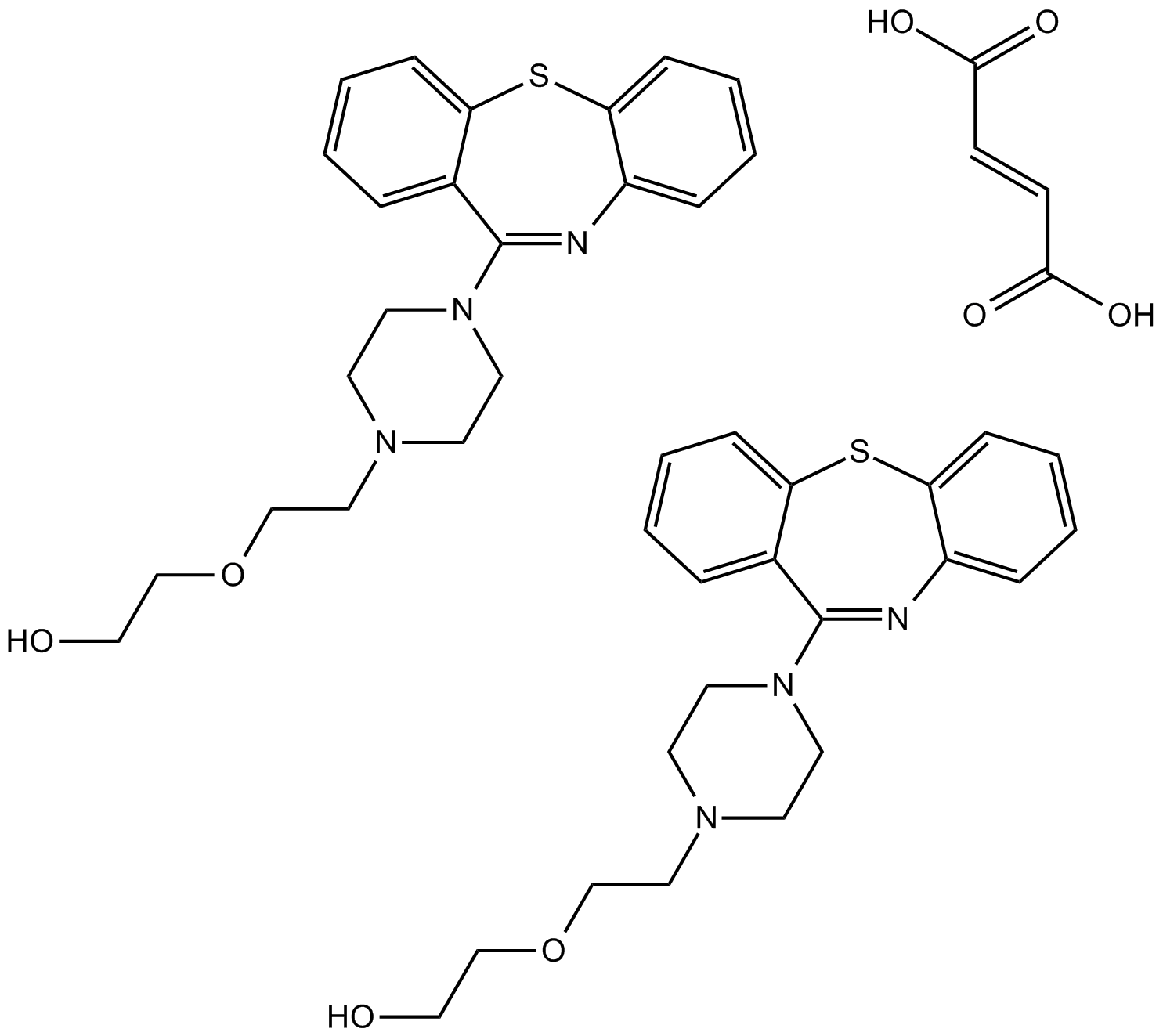 Related Biological Data