Background
Quercetin is an important dietary flavonoid, present in vegetables, fruits, seeds, nuts, tea and red wine. It has various biological functions in terms of tumor prevention. Quercetin is a strong inhibitor of PI3K, NF-κB, and other kinases involved in intracellular signaling. It can also mildly inhibit Akt1/2, and slightly affect PKC, p38 and ERK1/2 [1].
A number of reports have demonstrated that Quercetin possessed anti-inflammatory, anti-oxidant and pro-apoptotic functions in cancer cells and inhibited tumor progress with different mechanisms. Quercetin increased cytosolic Ca2+ levels and disrupted the mitochondrial membrane potential (MMP), which in turn promoted the release of cytochrome c in the cytoplasm, thus activating multiple caspases such as caspase-3, -8 and -9 and subsequently inducing apoptosis via mitochondrial pathway [2]. Quercetin induced cell-cycle arrest and apoptosis, which was associated with the function of p53. Quercetin could promote p53 phosphorylation and therefore stabilize p53 both at the mRNA and protein level [3]. However, several studies investigated that cells with impaired p53 became more sensitive to Quercetin mediated cytotoxicity and apoptosis [4].
In vivo studies showed that administration of Quercetin before the initiation stage of carcinogenesis dramatically reduced various chemical agents induced tumor burden in mice models, including benzo(a)pyrene-induced lung tumor burden, azoxymethane-induced preneoplastic lesions in rat colon and N-nitrosodiethylamine-induced hepatocarcinoma etc. [5].
References:
Quercetin and cancer chemoprevention. Evid Based Complement Alternat Med. 2011;2011:591356. doi: 10.1093/ecam/neq053. Epub 2011 Apr 14.
Food-derived polyphenols inhibit pancreatic cancer growth through mitochondrial cytochrome C release and apoptosis. Int J Cancer. 2002 Apr 10;98(5):761-9.
Stabilization of p53 is involved in quercetin-induced cell cycle arrest and apoptosis in HepG2 cells. Bioscience, Biotechnology and Biochemistry. 2008;72(3):797–804.
Survivin and p53 modulate quercetin-induced cell growth inhibition and apoptosis in human lung carcinoma cells. The Journal of Biological Chemistry. 2004
The effects of quercetin on antioxidant status and tumor markers in the lung and serum of mice treated with benzo(a)pyrene. Biological and Pharmaceutical Bulletin. 2007
Product Citation
Chemical Properties
| | |
| --- | --- |
| Physical Appearance | A solid |
| Storage | Store at RT |
| M.Wt | 302.24 |
| Cas No. | 117-39-5 |
| Formula | C15H10O7 |
| Solubility | insoluble in H2O; ≥15.1 mg/mL in DMSO; ≥3.28 mg/mL in EtOH |
| Chemical Name | 2-(3,4-dihydroxyphenyl)-3,5,7-trihydroxychromen-4-one |
| SDF | Download SDF |
| Canonical SMILES | C1=CC(=C(C=C1C2=C(C(=O)C3=C(C=C(C=C3O2)O)O)O)O)O |
| Shipping Condition | Ship with blue ice, or upon other requests. |
| General tips | For obtaining a higher solubility, please warm the tube at 37°C and shake it in the ultrasonic bath for a while. We do not recommend long-term storage for the solution, please use it up soon. |
Quality Control
Quality Control & MSDS
View current batch:
Chemical structure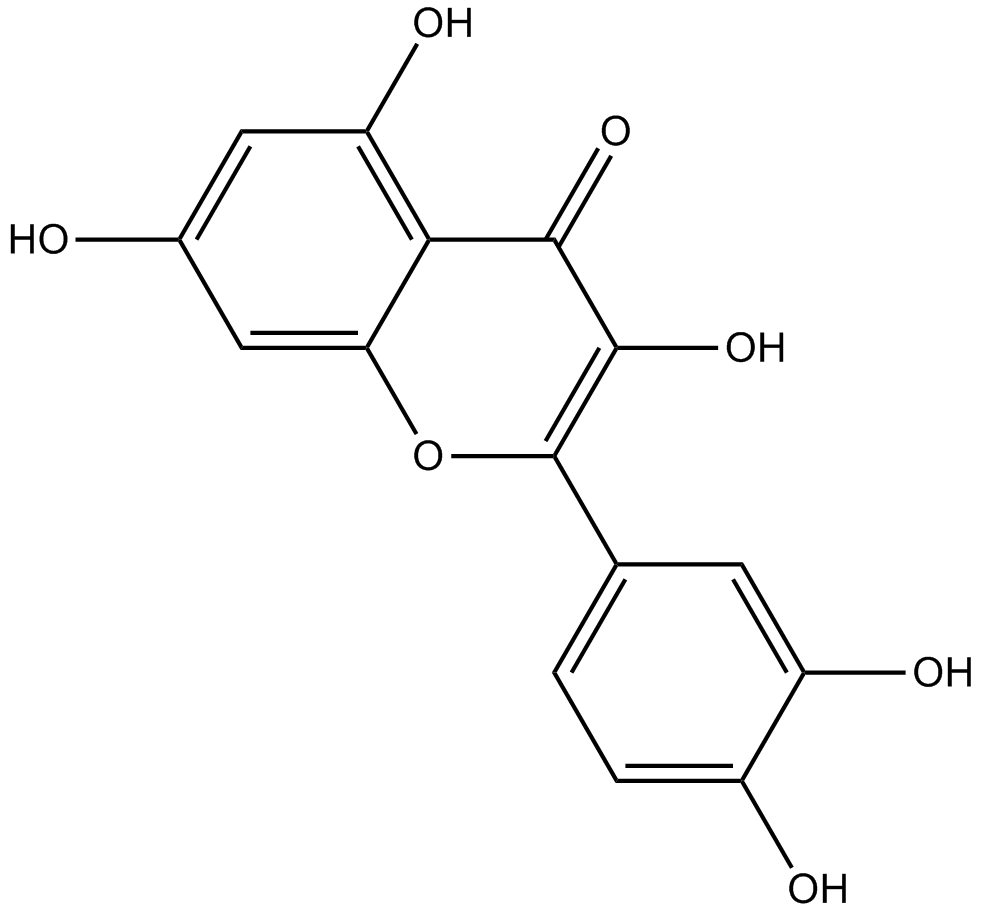 Related Biological Data