Background
PLX-4720, a 7-azaindole derivative discovered by a structure-guided discovery approach, is a potent inhibitor of B-RafV600E, the most frequent oncogenic protein kinase mutation, with the value of 50% inhibition concentration IC50 of 13 nM. PLX-4720 exhibits selective inhibition against B-RafV600E rather than wild type B-Raf (IC50 = 160 nM) as well as a wide range of other kinases, such as FRK, CSK, SRC, FAK, FGFR, and Aurora A (IC50 > 1000 nM for all). PLX-4720 potently inhibits ERK phosphorylation in tumor cell lines harboring B-RafV600E, induces cell cycle arrest and apoptosis in B-RafV600E-positive melanoma cells and causes tumor growth delays in B-RafV600E-dependent tumor xenograft models through oral administration.
Reference
Tsai J, Lee JT, Wang W, Zhang J, Cho H, Mamo S, Bremer R, Gillette S, Kong J, Haass NK, Sproesser K, Li L, Smalley KS, Fong D, Zhu YL, Marimuthu A, Nguyen H, Lam B, Liu J, Cheung I, Rice J, Suzuki Y, Luu C, Settachatgul C, Shellooe R, Cantwell J, Kim SH, Schlessinger J, Zhang KY, West BL, Powell B, Habets G, Zhang C, Ibrahim PN, Hirth P, Artis DR, Herlyn M, Bollag G. Discovery of a selective inhibitor of oncogenic B-Raf kinase with potent antimelanoma activity. Proc Natl Acad Sci U S A. 2008 Feb 26;105(8):3041-3046
Product Citation
Chemical Properties
| | |
| --- | --- |
| Physical Appearance | A solid |
| Storage | Store at 4°C |
| M.Wt | 413.83 |
| Cas No. | 918505-84-7 |
| Formula | C17H14ClF2N3O3S |
| Synonyms | PLX4720, PLX-4720, PLX 4720 |
| Solubility | ≥20.69 mg/mL in DMSO; insoluble in EtOH; insoluble in H2O |
| Chemical Name | N-[3-(5-chloro-1H-pyrrolo[2,3-b]pyridine-3-carbonyl)-2,4-difluorophenyl]propane-1-sulfonamide |
| SDF | Download SDF |
| Canonical SMILES | CCCS(=O)(=O)NC1=C(C(=C(C=C1)F)C(=O)C2=CNC3=NC=C(C=C23)Cl)F |
| Shipping Condition | Ship with blue ice, or upon other requests. |
| General tips | For obtaining a higher solubility, please warm the tube at 37°C and shake it in the ultrasonic bath for a while. We do not recommend long-term storage for the solution, please use it up soon. |
Protocol
Cell experiment: [1]

Cell lines

WM793 cells

Preparation method

The solubility of this compound in DMSO is >10 mM. General tips for obtaining a higher concentration: Please warm the tube at 37 °C for 10 minutes and/or shake it in the ultrasonic bath for a while.Stock solution can be stored below -20°C for several months.

Reaction Conditions

0.5 μM, 96 hours

Applications

Viable cells were identified following 96 h incubation with PLX-4720. Cell viability was further evaluated after re-plating onto non-fibrillar collagen gels, in the continued presence of the drug. Viable cells were identified in ~63% of PLX-4720 treated cultures. These data indicate that melanoma cells harboring a BRAFV600E mutation can survive despite reductions in BRAF activation of the MEK-ERK signaling cascade.

Animal experiment: [2]

Animal models

Athymic nude mice injected with melanoma A375 cells

Dosage form

Intraperitoneal injection, 25–50mg/kg daily

Applications

PLX-4720 decreased tumor growth as single therapy. When combined with the CRM1 inhibitor KPT-276 (75 mg/kg every day), the two inhibitors induced complete tumor regression per RECIST criteria. The difference between both single therapy and the combination therapy was statistically significant. The effect on apoptosis was believed to be the greatest contribution of the combination since it was significantly increased by the drug combination.

Other notes

Please test the solubility of all compounds indoor, and the actual solubility may slightly differ with the theoretical value. This is caused by an experimental system error and it is normal.

References:

[1] Klein R M, Higgins P J. A switch in RND3-RHOA signaling is critical for melanoma cell invasion following mutant-BRAF inhibition. Mol Cancer, 2011, 10: 114.

[2] Fragomeni R A S, Chung H W, Landesman Y, et al. CRM1 and BRAF inhibition synergize and induce tumor regression in BRAF-mutant melanoma. Molecular cancer therapeutics, 2013, 12(7): 1171-1179.
Biological Activity
Description
PLX4720 is a potent and selective inhibitor of B-RafV600E with IC50 of 13 nM, equally potent to c-Raf-1(Y340D and Y341D mutations), 10-fold selectivity for B-RafV600E than wild-type B-Raf.
Targets
B-RafV600E
c-Raf-1Y340D/Y341D
IC50
13 nM
6.7 nM
Quality Control
Quality Control & MSDS
View current batch:
Chemical structure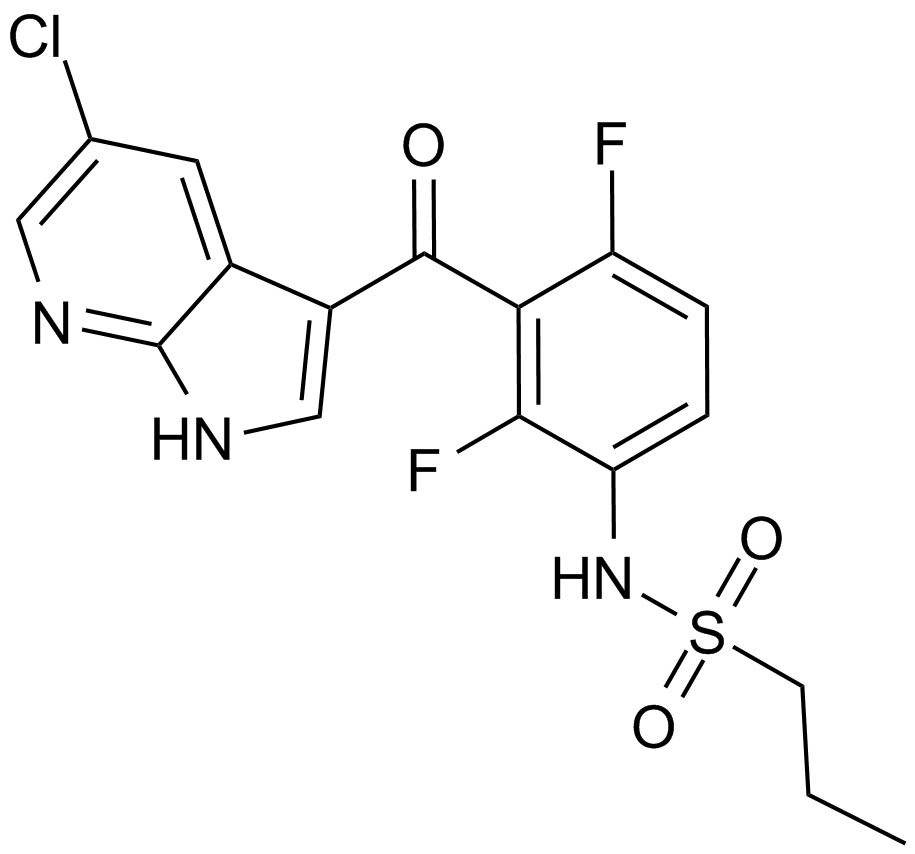 Related Biological Data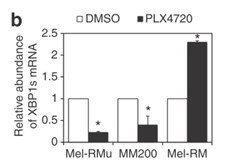 qPCR analysis showing that PLX4720 (3μM) alters the expression of XBP1s mRNA (n=3, mean±SEM; Student's t-test; *P<0.05).