Background
IC50 Value: 20 nM(EC50)[1] PJ34 (hydrochloride) is a novel potent specific inhibitor of PARP-l. PJ34 has been reported to enhance chemotherapeutic effects in certain types of tumors. in vitro: PJ34 inhibited peroxynitrite-induced cell necrosis with EC50 of 20 nM. PJ34 provides cardioprotection by decreasing myocardial infarct size and enhancing postischemic regional and global functional recovery [1]. Treatment with PJ34 increased NIS promoter activity without affecting PARP-1 binding to the promoter sequence, in addition to an increase of histone modification activation marks (H3K9K14ac, H3K4me3) [2]. in vivo: In a model of systemic endotoxemia, PJ34 pretreatment significantly reduced plasma levels of TNF-alpha, IL-1beta and nitrite/nitrate (breakdown products of nitric oxide) production. PJ34 treatment (oral gavage) induced a significant suppression of the inflammatory response in dextran sulfate colitis, multiple low dose streptozotocin diabetes [3]. The PJ34 showed significant reduction on infarct size (37.5%+/-4.5% and 50.5%+/-4.8% of the area at risk) for PJ34 and control pigs groups, respectively, (p < 0.05) [4]. Clinical trial: N/A
Chemical Properties
| | |
| --- | --- |
| Storage | Store at -20°C |
| M.Wt | 295.34 |
| Cas No. | 344458-19-1 |
| Formula | C17H17N3O2 |
| Synonyms | PJ-34;PJ 34 |
| Solubility | Soluble in DMSO |
| Chemical Name | 2-(dimethylamino)-N-(6-oxo-5H-phenanthridin-2-yl)acetamide |
| SDF | Download SDF |
| Canonical SMILES | CN(C)CC(=O)NC1=CC2=C(C=C1)NC(=O)C3=CC=CC=C32 |
| Shipping Condition | Evaluation sample solution: ship with blue ice. All other available sizes: ship with RT, or blue ice upon request. |
| General tips | For obtaining a higher solubility, please warm the tube at 37°C and shake it in the ultrasonic bath for a while. Stock solution can be stored below -20°C for several months. |
Protocol
Cell experiment [1]:

Cell lines

Mouse endothelial cells and human umbilical vein endothelial cells

Preparation method

The solubility of this compound in DMSO is > 10 mM. General tips for obtaining a higher concentration: Please warm the tube at 37 °C for 10 minutes and/or shake it in the ultrasonic bath for a while. Stock solution can be stored below - 20 °C for several months.

Reacting condition

0.1 ~ 3 μM

Applications

In mouse endothelial cells, PJ34 significantly inhibited high glucose-induced PARP activation at the doses of 0.5 and 3 μM, as well as the development of endothelial dysfunction at the dose of 3 μM. Meanwhile, PARP inhibition caused by PJ34 (3 μM) did not alter the degree of NF-κB activation. In human umbilical vein endothelial cells, PJ34 at 1 μM exhibited marked inhibitory effect on high glucose-induced PARP activation.

Animal experiment [2]:

Animal models

MBP-immunized PLSJL mice

Dosage form

10 mg/kg; p.o.; b.i.d.

Applications

In MBP-immunized PLSJL mice, PJ34 inhibited the development of clinical signs of experimental allergic encephalomyelitis (EAE). PJ34 also suppressed the onset of EAE by reducing CNS inflammation and maintaining neurovascular integrity. In addition, PJ34 down-regulated the expression levels of TNF-α and ICAM-1 in the spinal cord tissues.

Other notes

Please test the solubility of all compounds indoor, and the actual solubility may slightly differ with the theoretical value. This is caused by an experimental system error and it is normal.

References:

[1]. Garcia Soriano F, Virág L, Jagtap P, Szabó E, Mabley JG, Liaudet L, Marton A, Hoyt DG, Murthy KG, Salzman AL, Southan GJ, Szabó C. Diabetic endothelial dysfunction: the role of poly(ADP-ribose) polymerase activation. Nat Med. 2001 Jan;7(1):108-13.

[2]. Scott GS, Kean RB, Mikheeva T, Fabis MJ, Mabley JG, Szabó C, Hooper DC. The therapeutic effects of PJ34 [N-(6-oxo-5,6-dihydrophenanthridin-2-yl)-N,N-dimethylacetamide.HCl], a selective inhibitor of poly(ADP-ribose) polymerase, in experimental allergic encephalomyelitis are associated with immunomodulation. J Pharmacol Exp Ther. 2004 Sep;310(3):1053-61.
Biological Activity
PJ34 is a novel potent specific inhibitor of PARP-l/2 with EC50 of 20 nM.
Targets
PARP
IC50
20 nM (EC50)
Quality Control
Quality Control & MSDS
View current batch:
Chemical structure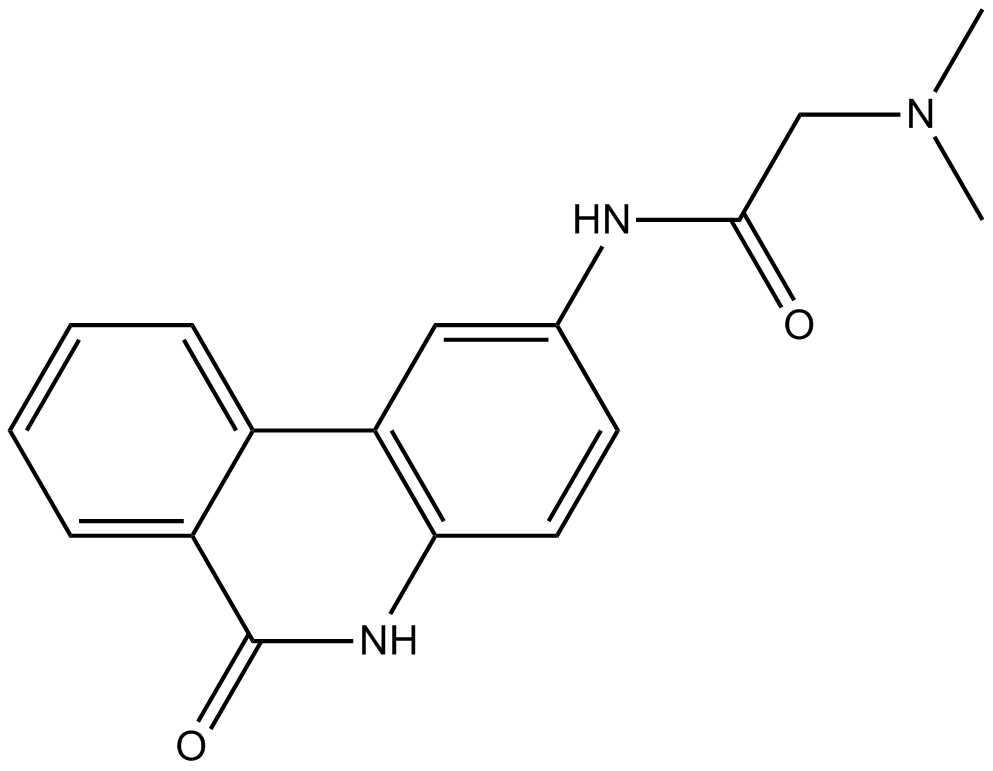 Related Biological Data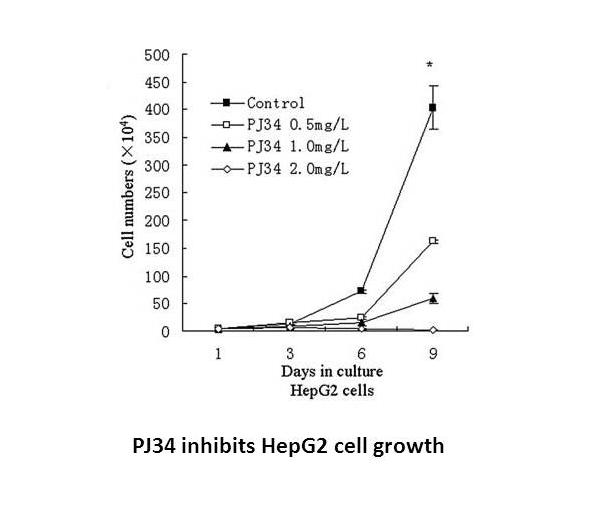 Related Biological Data