Background
Description:
IC50: PHA-793887 is a novel and potent inhibitor of CDK2, CDK5 and CDK7 with IC50 values of 8 nM, 5 nM and 10 nM, respectively.
Cyclin dependent kinases (CDKs) are a family of serine/threonine kinases that, in concert with cyclins (positive regulators) and natural inhibitors (CDKI), control the cell cycle progression.1Deregulation of the activity of CDKs, mainly due to alterations of expression and/or genetic mutations of cyclins, CDKs, CDKIs and other components of the retinoblastoma protein (pRB) pathway, has been reported in more than 90% of human neoplasms.
In vitro: PHA-793887 was found to be cytotoxic for leukemic cell lines in vitro, with IC50 ranging from 0.3 to 7 μM (mean: 2.9 μM), regardless of any specific chromosomal aberration. At these doses, the drug was not cytotoxic for normal unstimulated peripheral blood mononuclear cells or CD34+ hematopoietic stem cells. Moreover, in colony assays PHA-793887 showed very high activity against leukemia cell lines, with an IC50<0.1 μM (mean: 0.08 μM), indicating that it has efficient and prolonged antiproliferative activity. PHA-793887 induced cell-cycle arrest, inhibited Rb and nucleophosmin phosphorylation, and modulated cyclin E and cdc6 expression at low doses (0.2-1 μM) and induced apoptosis at the highest dose (5 μM) [1].
In vivo: PHA-793887 was also effective in vivo in both subcutaneous xenograft and primary leukemic disseminated models that better mimic naturally occurring human disease. Interestingly, in one disseminated model derived from a relapsed Philadelphia-positive acute lymphoid leukemia patient, PHA-793887 showed strong therapeutic activity also when treatment was started after establishment of high disease burden. Thus, PHA-793887 has promising therapeutic activity against acute leukemias in vitro and in vivo [1].
Clinical trial: A first in man, phase I dose-escalation study indicates that although toxicity was acceptable at initial dose levels, PHA-793887 was poorly tolerated at doses≥44 mg/m2. The most frequent events across all dose levels were gastrointestinal or nervous system events. DLTs were experienced by two of three patients at the dose level of 66 mg/m2, and by three of nine patients at the dose level of 44 mg/m2. In all but one patient the DLT was hepatotoxicity; fatal hepatorenal failure was seen in one patient treated at the 44 mg/ m2 dose level. There were no objective responses, but disease stabilization was observed in five patients. Over the dose range investigated, pharmacokinetic studies showed that systemic exposure to PHA-793887 increased with the dose and was time-independent. The study terminated after the enrolment of 19 patients due to the severe hepatic toxicity. These findings shows that PHA-793887 induces severe, dose-related hepatic toxicity, which was not predicted by pre-clinical models and currently precludes its further clinical development [2].
References:
[1] Alzani R, Pedrini O, Albanese C, Ceruti R, Casolaro A, Patton V, Colotta F, Rambaldi A, Introna M, Pesenti E, Ciomei M, Golay J. Therapeutic efficacy of the pan-cdk inhibitor PHA-793887 in vitro and in vivo in engraftment and high-burden leukemia models. Exp Hematol. 2010;38(4):259-269.e2.
[2] Massard C, Soria JC, Anthoney DA, Proctor A, Scaburri A, Pacciarini MA, Laffranchi B, Pellizzoni C, Kroemer G, Armand JP, Balheda R, Twelves CJ. A first in man, phase I dose-escalation study of PHA-793887, an inhibitor of multiple cyclin-dependent kinases (CDK2, 1 and 4) reveals unexpected hepatotoxicity in patients with solid tumors. Cell Cycle. 2011;10(6):963-70.
Product Citation
Chemical Properties
| | |
| --- | --- |
| Physical Appearance | A solid |
| Storage | Store at -20°C |
| M.Wt | 361.48 |
| Cas No. | 718630-59-2 |
| Formula | C19H31N5O2 |
| Solubility | insoluble in H2O; ≥18.05 mg/mL in DMSO; ≥7.73 mg/mL in EtOH |
| Chemical Name | N-[6,6-dimethyl-5-(1-methylpiperidine-4-carbonyl)-1,4-dihydropyrrolo[3,4-c]pyrazol-3-yl]-3-methylbutanamide |
| SDF | Download SDF |
| Canonical SMILES | CC(C)CC(=O)NC1=NNC2=C1CN(C2(C)C)C(=O)C3CCN(CC3)C |
| Shipping Condition | Evaluation sample solution: ship with blue ice. All other available sizes: ship with RT, or blue ice upon request. |
| General tips | For obtaining a higher solubility, please warm the tube at 37°C and shake it in the ultrasonic bath for a while. Stock solution can be stored below -20°C for several months. |
Protocol
Cell experiment [1]:

Cell lines

A2780 cells

Preparation method

The solubility of this compound in DMSO is > 10 mM. General tips for obtaining a higher concentration: Please warm the tube at 37 °C for 10 minutes and/or shake it in the ultrasonic bath for a while. Stock solution can be stored below -20 °C for several months.

Reaction Conditions

0.1 nM ~ 1 μM; 72 hrs

Applications

In A2780 cells, PHA-793887 (1 μM) induced a decrease in the S phase, a subsequent increase of the G1 phase and a slight accumulation of the G2/M phase.

Animal experiment [1]:

Animal models

Mouse xenograft models of human ovarian A2780, colon HCT-116 and pancreatic BX-PC3 carcinoma

Dosage form

10, 20 and 30 mg/kg; i.v.; q.d., for 10 days

Applications

In the human ovarian A2780, colon HCT-116, and pancreatic BX-PC3 carcinoma xenograft models, PHA-793887 (10 ~ 30 mg/kg) significantly inhibited tumor growth.

Other notes

Please test the solubility of all compounds indoor, and the actual solubility may slightly differ with the theoretical value. This is caused by an experimental system error and it is normal.

References:

[1]. Brasca MG, Albanese C, Alzani R, Amici R, Avanzi N, Ballinari D, Bischoff J, Borghi D, Casale E, Croci V, Fiorentini F, Isacchi A, Mercurio C, Nesi M, Orsini P, Pastori W, Pesenti E, Pevarello P, Roussel P, Varasi M, Volpi D, Vulpetti A, Ciomei M. Optimization of 6,6-dimethyl pyrrolo[3,4-c]pyrazoles: Identification of PHA-793887, a potent CDK inhibitor suitable for intravenous dosing. Bioorg Med Chem. 2010 Mar 1;18(5):1844-53.
Biological Activity
Description
PHA-793887 is a novel and potent inhibitor of CDK2, CDK5 and CDK7 with IC50 values of 8 nM, 5 nM and 10 nM, respectively.
Targets
CDK5/p25
CDK2/CyclinA
CDK2/CyclinE
CDK7/CyclinH
CDK1/CyclinB
IC50
5 nM
8 nM
8 nM
10 nM
60 nM
Quality Control
Quality Control & MSDS
View current batch:
Chemical structure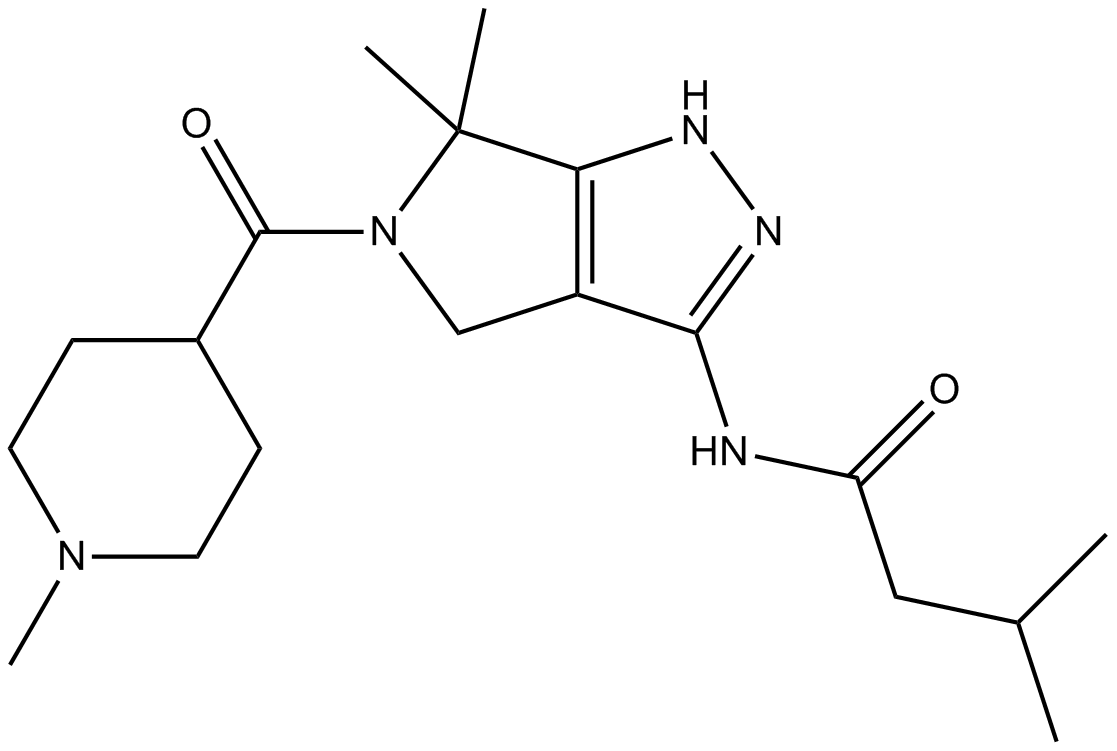 Related Biological Data