PF-03814735
Aurora A/B inhibitor
Sample solution is provided at 25 µL, 10mM.
Publications citing ApexBio Products
Quality Control
Quality Control & MSDS
View current batch:
Chemical structure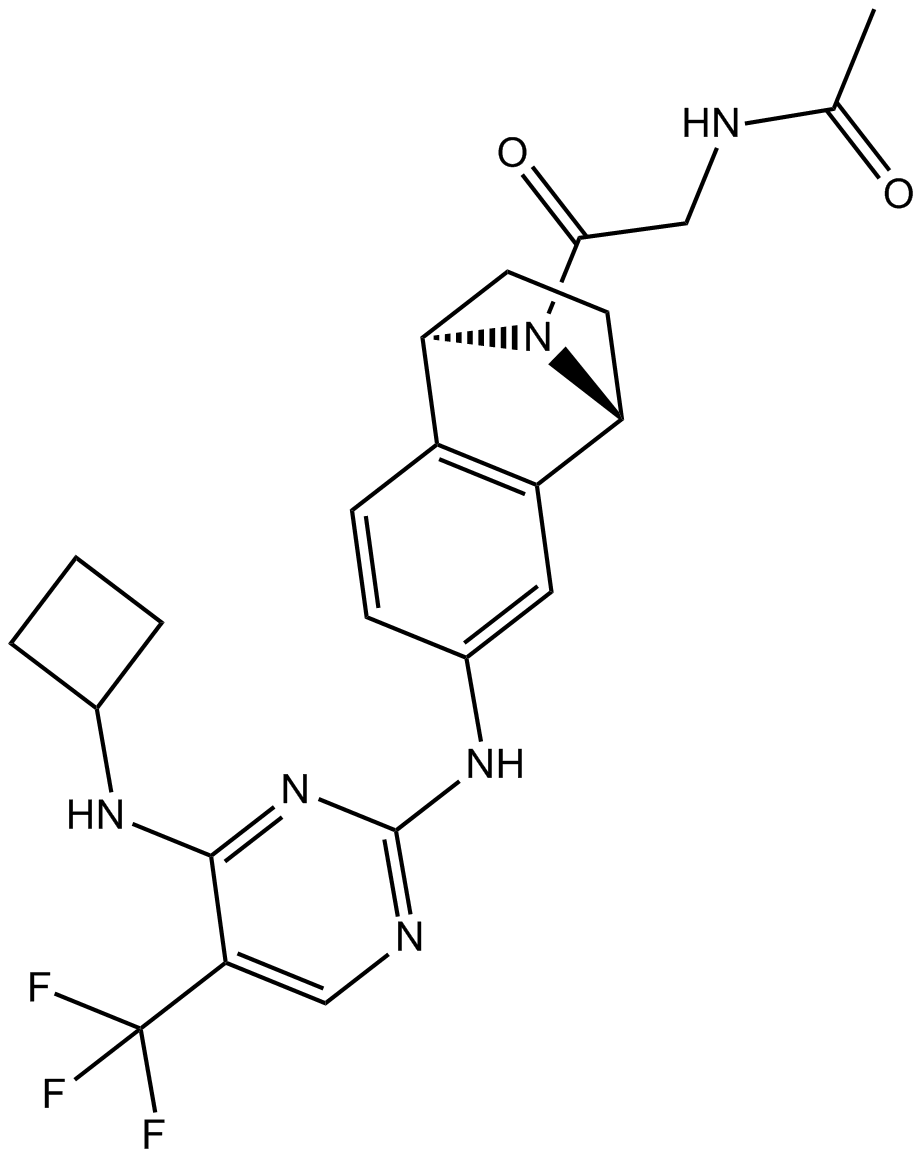 Biological Activity
Description
PF-03814735 is a novel, potent and reversible inhibitor of Aurora A and B with IC50 values of 20 nM and 150 nM, respectively.
Targets
Aurora A
Aurora B
IC50
20 nM
150 nM
Chemical Properties
Cas No.
942487-16-3
SDF
Download SDF
Canonical SMILES
CC(=O)NCC(=O)N1C2CCC1C3=C2C=CC(=C3)NC4=NC=C(C(=N4)NC5CCC5)C(F)(F)F
Formula
C23H25F3N6O2
M.Wt

474.48

Solubility
Soluble in DMSO > 10 mM
Storage
Store at -20°C
General tips
N/A
Shipping Condition
N/A
Background
PF-03814735 is a potent, orally bioavailable, reversible inhibitor of both Aurora1 and Aurora2 kinases with IC50 values of 0.8nM and 5nM, respectively [1].
PF-03814735 is an ATP competitive inhibitor of Aurora kinases. It also shows inhibition of other protein kinases at 100nM, such as Flt1, FAK, TrkA, Met, and FGFR1. The immunofluorescence imaging analysis shows PF-03814735 can inhibit the phosphorylation of Aurora1, Aurora 2 as well as histone H3 in MDA-MB-231 cells. This inhibition is rapid and reversible. The inhibition of phosphorylated histone H3 also occurs in athymic mice bearing HCT-116 xenografts. PF-03814735 induces the formation of polyploid cells and multinucleated cells due to the block in cytokinesis secondary. Moreover, PF-03814735 treatment results in a reduction of cell proliferation in vitro (such as HL-60, A549, and H125) and a inhibition of tumor growth in vivo (human xenograft mouse models, such as A2780 ovarian carcinoma and HCT-116) [1].
References:
[1] Jani JP, Arcari J, Bernardo V, Bhattacharya SK, Briere D, Cohen BD, Coleman K, Christensen JG, Emerson EO, Jakowski A, Hook K, Los G, Moyer JD, Pruimboom-Brees I, Pustilnik L, Rossi AM, Steyn SJ, Su C, Tsaparikos K, Wishka D, Yoon K, Jakubczak JL. PF-03814735, an orally bioavailable small molecule aurora kinase inhibitor for cancer therapy. Mol Cancer Ther. 2010 Apr;9(4):883-94.