Background
Parathyroid hormone (PTH) is the most important endocrine regulator of calcium and phosphorus concentration in extracellular fluid, which is secreted by the chief cell of the parathyroid glands as a polypeptide containing 84 amino acids. It acts to increase the concentration of calcium (Ca2+) in the blood, whereas calcitonin (a hormone produced by the parafollicular cells (C cells) of the thyroid gland) acts to decrease calcium concentration.
PTH acts to increase the concentration of calcium in the blood by acting upon the parathyroid hormone 1 receptor (high levels in bone and kidney) and the parathyroid hormone 2 receptor (high levels in the central nervous system, pancreas, testis, and placenta).
PTH half-life is approximately 4 minutes. [1] Like most other protein hormones, parathyroid hormone is synthesized as a preprohormone. After intracellular processing, the mature hormone is packaged within the Golgi into secretory vesicles, the secreted into blood by exocytosis.
Fig 1. Structure of the PTH protein.
Ref:
1. Bieglmayer C, Prager G, Niederle B (October 2002). "Kinetic analyses of parathyroid hormone clearance as measured by three rapid immunoassays during parathyroidectomy". Clin. Chem. 48 (10): 1731–8.
Product Citation
Chemical Properties
| | |
| --- | --- |
| Physical Appearance | A solid |
| Storage | Store at -20°C |
| M.Wt | 4108.71 |
| Cas No. | 12583-68-5 |
| Formula | C183H288N54O50S2 |
| Synonyms | H2N-Ala-Val-Ser-Glu-Ile-Gln-Phe-Met-His-Asn-Leu-Gly-Lys-His-Leu-Ser-Ser-Met-Glu-Arg-Val-Glu-Trp-Leu-Arg-Lys-Lys-Leu-Gln-Asp-Val-His-Asn-Phe-OH |
| Solubility | ≥410.9mg/mL in DMSO |
| SDF | Download SDF |
| Shipping Condition | Evaluation sample solution: ship with blue ice. All other available sizes: ship with RT, or blue ice upon request. |
| General tips | For obtaining a higher solubility, please warm the tube at 37°C and shake it in the ultrasonic bath for a while. Stock solution can be stored below -20°C for several months. |
Protocol
Cell experiment [1]:

Cell lines

Mouse primary bone marrow stromal cells (BMSCs).

Preparation method

Dissolved in acetic acid [1]. General tips for obtaining a higher concentration: Please warm the tube at 37℃ for 10 minutes and/or shake it in the ultrasonic bath for a while. Stock solution can be stored below -20℃ for several months.

Reaction Conditions

100 ng/ml; 2 h.

Applications

bPTH(1-34) increases RANKL mRNA levels and inhibits osteoprotegerin (OPG) gene expression. bPTH(1-34) also increases the amount of TRACP+ cells.

Animal experiment [2]:

Animal models

C57BL/6 mice.

Dosage form

80 μg/kg/day; 7 or 14 days; injected subcutaneously.

Applications

PTH(1-34) significantly increases the percentage of TN/CD115(+) CD117(high) and TN/CD115(+) CD117(int) cells in bone marrow on day 7. However, PTH(1-34) decreases the amount of TN/CD115(+) CD117(low) cells by 39% on day 7. PTH increases receptor activator of NF-kB ligand (RANKL)- and macrophage colony-stimulating factor (M-CSF)-stimulated in vitro osteoclastogenesis and bone resorption in TN/CD115+ cells.

Other notes

Please test the solubility of all compounds indoor, and the actual solubility may slightly differ with the theoretical value. This is caused by an experimental system error and it is normal.

References:

[1]. Huang JC, Sakata T, Pfleger LL, et al. PTH differentially regulates expression of RANKL and OPG. J Bone Miner Res. 2004, 19(2): 235-244.

[2]. Jacome-Galarza CE, Lee SK, Lorenzo JA, et al. Parathyroid hormone regulates the distribution and osteoclastogenic potential of hematopoietic progenitors in the bone marrow. J Bone Miner Res, 2011, 26(6): 1207-1216.
Quality Control
Quality Control & MSDS
View current batch:
Chemical structure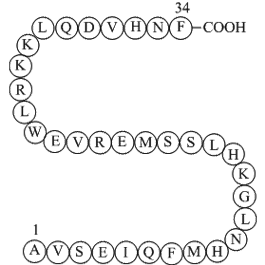 Related Biological Data