Background
IC50: <20nM
Lysine (K)-specific demethylase 1A (KDM1A, aka LSD1) is a key regulator of leukemia stem cell (LSC) potential and is required for MLL-AF9 oncogenic transformation. Inhibition of KDM1A expression or activity overcomes the differentiation block in AML. ORY-1001 is a selective inhibitor of KDM1A.
In vitro: ORY-1001 is an enantiomerically pure KDM1A inhibitor with high selectivity against related FAD dependent aminoxidases. ORY-1001 does not inhibit non-related histone modifiers, and is clean in a CEREP diversity panel. Treatment of THP-1 cells with ORY-1001, results in a time/dose dependent me2H3K4 accumulation at KDM1A target genes and concomitant induction of differentiation markers [1].
In vivo: Daily oral administration of doses < 0.020 mg/kg leads to significantly reduced tumor growth in rodent xenografts. In vivo studies have shown that ORY-1001 presents excellent oral bioavailability, target exposure and activity in vivo [1].
Clinical trial: Oryzon Genomics announced the dosing of the first patient in the extension cohort (Part 2) of its ORY-1001 Phase I clinical trial. The trial will take place in 10 centers in Spain, UK and France.
Reference:
[1] Tamara Maes, I?igo Tirapu, Cristina Mascaró, Alberto Ortega, Angels Estiarte, Nuria Valls, Julio Castro-Palomino, Carlos Buesa Arjol, Guido Kurz; Oryzon Genomics, S. A., Cornella de Llobregat. Preclinical characterization of a potent and selective inhibitor of the histone demethylase KDM1A for MLL leukemia. J Clin Oncol 31, 2013 (suppl; abstr e13543).

Product Citation
Chemical Properties
| | |
| --- | --- |
| Physical Appearance | A solid |
| Storage | Store at -20°C |
| M.Wt | 303.27 |
| Cas No. | 1431326-61-2 |
| Formula | C15H24Cl2N2 |
| Solubility | insoluble in EtOH; ≥23.15 mg/mL in H2O; ≥6.9 mg/mL in DMSO with gentle warming |
| Chemical Name | N1-((1R,2S)-2-phenylcyclopropyl)cyclohexane-1,4-diamine |
| SDF | Download SDF |
| Canonical SMILES | NC(CC1)CCC1N[[email protected]]2[[email protected]](C3=CC=CC=C3)C2 |
| Shipping Condition | Ship with blue ice, or upon other requests. |
| General tips | For obtaining a higher solubility, please warm the tube at 37°C and shake it in the ultrasonic bath for a while. We do not recommend long-term storage for the solution, please use it up soon. |
Quality Control
Quality Control & MSDS
View current batch:
Chemical structure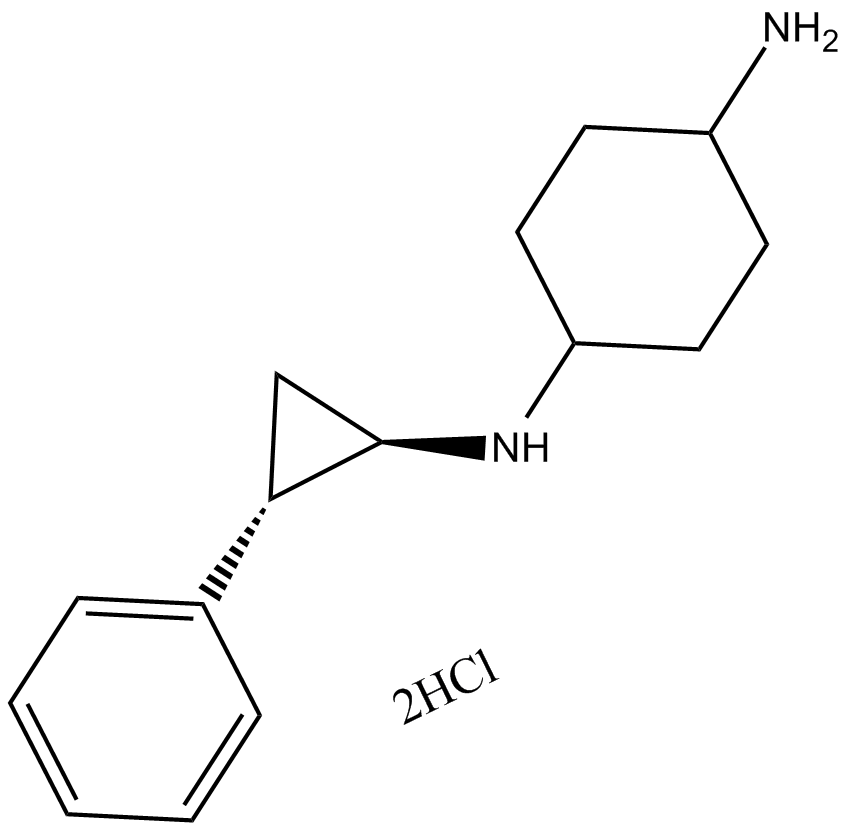 Related Biological Data