Okadaic acid
Protein phosphatase 1 inhibitor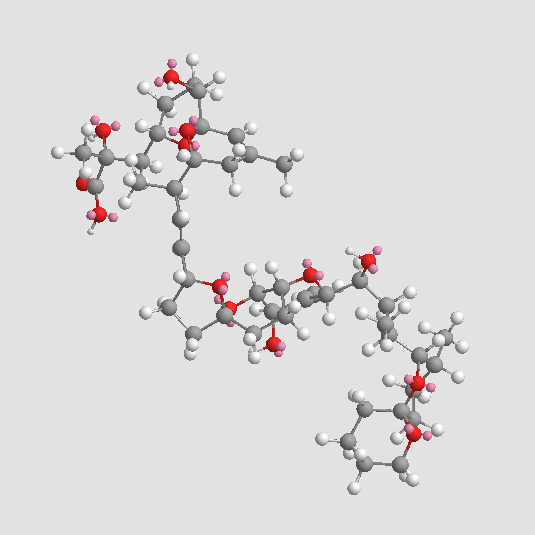 Sample solution is provided at 25 µL, 10mM.
Publications citing ApexBio Products
Quality Control
Quality Control & MSDS
View current batch:
Chemical structure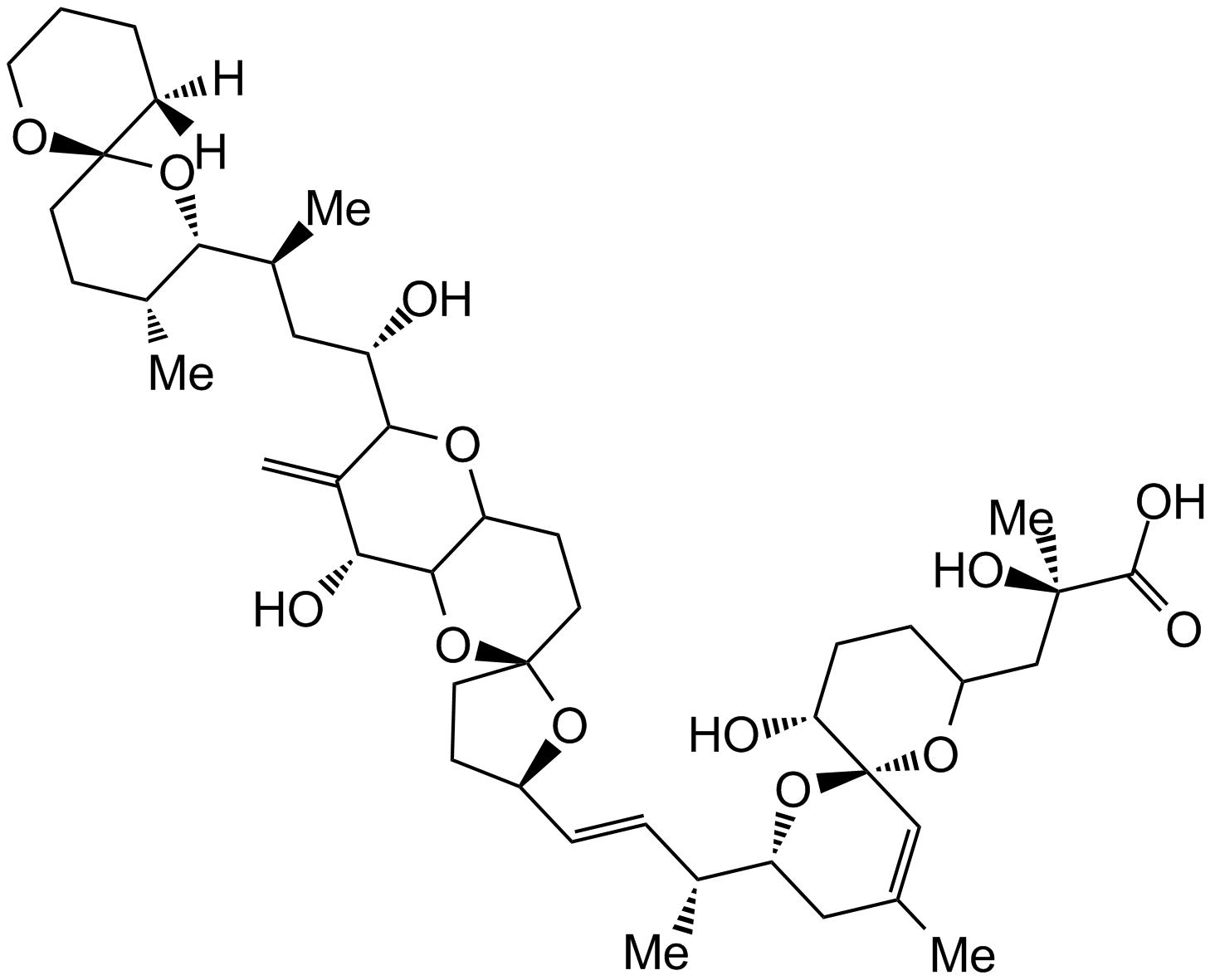 Chemical Properties
Cas No.
78111-17-8
SDF
Download SDF
Chemical Name
9,10-Deepithio-9,10-didehydroacanthifolicin
Canonical SMILES
CC1CCC2(CCCCO2)OC1C(C)CC(C3C(=C)C(C4C(O3)CCC5(O4)CCC(O5)C=CC(C)C6CC(=CC7(O6)C(CCC(O7)CC(C)(C(=O)O)O)O)C)O)O
Formula
C44H68O13
M.Wt

805.01

Solubility
Soluble in DMSO > 10 mM
Storage
Desiccate at -20°C
General tips
N/A
Shipping Condition
N/A
Background
Okadaic acid is a potent inhibitor of protein phosphatase 1/2A with IC50 values of 19 nM and 0.2 nM for protein phosphatase 1 and protein phosphatase 2A, respectively [1].
Protein phosphatase 1 (PP1) and protein phosphatase 2A (PP2A) are two major mammalian serine/threonine protein phosphatases and are activated in response to Ca2+ cascades as well as increased protein kinase A activity [2].
In confluent rabbit lens epithelial cells (RLECs), okadaic acid (100 nM) significantly induced cell apoptosis. Also, okadaic acid induced the expression of p53 and bax, which are necessary for the apoptotic programs. In N/N1003A cells, okadaic acid (10 nM) decreased total phosphatase activity by 20% and mainly inhibited PP-2A activity, while okadaic acid (100 nM) reduced 81% total phosphatase activity and inhibited PP-1 and PP-2A activity [3].
In the rat striatum, okadaic acid (0.005, 0.05 and 0.5 nM) increased Elk-1 and CREB phosphorylation and c-Fos immunoreactivity in a dose-dependant way. Also, okadaic acid (0.05 and 0.5 nM) increased c-fos mRNA expression in a dose-dependent way [2].
References:
[1]. Holmes CF. Liquid chromatography-linked protein phosphatase bioassay; a highly sensitive marine bioscreen for okadaic acid and related diarrhetic shellfish toxins. Toxicon, 1991, 29(4-5): 469-477.
[2]. Choe ES, Parelkar NK, Kim JY, et al. The protein phosphatase 1/2A inhibitor okadaic acid increases CREB and Elk-1 phosphorylation and c-fos expression in the rat striatum in vivo. J Neurochem, 2004, 89(2): 383-390.
[3]. Li DW, Fass U, Huizar I, et al. Okadaic acid-induced lens epithelial cell apoptosis requires inhibition of phosphatase-1 and is associated with induction of gene expression including p53 and bax. Eur J Biochem, 1998, 257(2): 351-361.