Background
Nintedanib (BIBF 1120) is an indolinone-derived oral active, triple angiokinase inhibitor of vascular endothelial growth factor receptor (VEGFR)1-3, fibroblast growth factor receptor (FGFR)1-3 and platelet-derived growth factor receptor (PDGFR)α/β1. It has shown potent antiangiogenic activity at nanomolar (IC50, 20-100 nmol/L) by blocking these receptor-mediated signaling pathways1,2. Nintedanib (BIBF 1120) is in clinical development for the treatment of idiopathic pulmonary fibrosis as these receptors have been shown to be potentially involved in the pathogenesis of pulmonary fibrosis3,4. As a novel angiogenesis inhibitor, it is also being widely evaluated in different cancer models and has displayed significant anti-tumor activities by inhibiting tumor blood vessel formation5-7.
To further evaluate its antitumor effects on multiple tumors, Nintedanib is currently entering several clinical trials, including non-small cell lung cancer8, ovarian cancer6, colorectal cancer7, hepatocellular carcinoma9 and many other solid tumors. In addition, the possibilities of combining Nintedanib therapy with other treatments such as docetaxel10 and afatinib 11are being tested in different tumor models. The most common drug-related adverse events in patients were diarrhea, nausea, vomiting and lethargy7.
References:
[1]Hilberg, F. et al. BIBF 1120: triple angiokinase inhibitor with sustained receptor blockade and good antitumor efficacy. Cancer research 68, 4774-4782, doi:10.1158/0008-5472.CAN-07-6307 (2008).
[2]Roth, G. J. et al. Design, synthesis, and evaluation of indolinones as triple angiokinase inhibitors and the discovery of a highly specific 6-methoxycarbonyl-substituted indolinone (BIBF 1120). Journal of medicinal chemistry 52, 4466-4480, doi:10.1021/jm900431g (2009).
[3]Wollin, L., Maillet, I., Quesniaux, V., Holweg, A. & Ryffel, B. Antifibrotic and Anti-inflammatory Activity of the Tyrosine Kinase Inhibitor Nintedanib in Experimental Models of Lung Fibrosis. The Journal of pharmacology and experimental therapeutics 349, 209-220, doi:10.1124/jpet.113.208223 (2014).
[4]Antoniu, S. A. Nintedanib (BIBF 1120) for IPF: a tomorrow therapy? Multidisciplinary respiratory medicine 7, 41, doi:10.1186/2049-6958-7-41 (2012).
[5]Santos, E. S., Gomez, J. E. & Raez, L. E. Targeting angiogenesis from multiple pathways simultaneously: BIBF 1120, an investigational novel triple angiokinase inhibitor. Investigational new drugs 30, 1261-1269, doi:10.1007/s10637-011-9644-2 (2012).
[6]Wei, X. W., Zhang, Z. R. & Wei, Y. Q. Anti-angiogenic drugs currently in Phase II clinical trials for gynecological cancer treatment. Expert opinion on investigational drugs 22, 1181-1192, doi:10.1517/13543784.2013.812071 (2013).
[7]Mross, K. et al. Phase I study of the angiogenesis inhibitor BIBF 1120 in patients with advanced solid tumors. Clinical cancer research : an official journal of the American Association for Cancer Research 16, 311-319, doi:10.1158/1078-0432.CCR-09-0694 (2010).
[8]Rolfo, C. et al. BIBF 1120/ nintedanib : a new triple angiokinase inhibitor-directed therapy in patients with non-small cell lung cancer. Expert opinion on investigational drugs 22, 1081-1088, doi:10.1517/13543784.2013.812630 (2013).
[9]Tai, W. T. et al. Nintedanib (BIBF-1120) inhibits hepatocellular carcinoma growth independent of angiokinase activity. Journal of hepatology, doi:10.1016/j.jhep.2014.03.017 (2014).
[10]Reck, M. et al. Docetaxel plus nintedanib versus docetaxel plus placebo in patients with previously treated non-small-cell lung cancer (LUME-Lung 1): a phase 3, double-blind, randomised controlled trial. The lancet oncology 15, 143-155, doi:10.1016/S1470-2045(13)70586-2 (2014).
[11]Bouche, O. et al. Phase II trial of weekly alternating sequential BIBF 1120 and afatinib for advanced colorectal cancer. Anticancer research 31, 2271-2281 (2011).
Product Citation
Chemical Properties
| | |
| --- | --- |
| Physical Appearance | A solid |
| Storage | Store at -20°C |
| M.Wt | 539.62 |
| Cas No. | 656247-17-5 |
| Formula | C31H33N5O4 |
| Synonyms | Vargatef |
| Solubility | insoluble in H2O; insoluble in EtOH; ≥5.34 mg/mL in DMSO |
| Chemical Name | methyl (3Z)-3-[[4-[methyl-[2-(4-methylpiperazin-1-yl)acetyl]amino]anilino]-phenylmethylidene]-2-oxo-1H-indole-6-carboxylate |
| SDF | Download SDF |
| Canonical SMILES | CN1CCN(CC1)CC(=O)N(C)C2=CC=C(C=C2)NC(=C3C4=C(C=C(C=C4)C(=O)OC)NC3=O)C5=CC=CC=C5 |
| Shipping Condition | Ship with blue ice, or upon other requests. |
| General tips | For obtaining a higher solubility, please warm the tube at 37°C and shake it in the ultrasonic bath for a while. |
Protocol
Cell experiment: [1]

Cell lines

PLC5, Hep3B, SK-Hep1, HuH7 and HepG2 cells

Preparation method

The solubility of this compound in DMSO is >10 mM. General tips for obtaining a higher concentration: Please warm the tube at 37 °C for 10 minutes and/or shake it in the ultrasonic bath for a while.Stock solution can be stored below -20°C for several months.

Reaction Conditions

20 μM, 48 hours

Applications

Cell viability was determined by MTT assay after treatment for 48 h. Nintedanib significantly induced the accumulation of sub-G1-positive cells in all the tested HCC cells. Further, induction of apoptosis by nintedanib was also demonstrated by DNA fragmentation assay. Nintedanib exhibited a significant ratio of induction of DNA fragmentation at clinically relevant concentrations in a dose-dependent manner for all of the five HCC cell lines.

Animal experiment: [2]

Animal models

Female NOD/SCID mice injected with A459, Calu-6 or H1993 cells

Dosage form

Oral administration, 50 mg/kg 5 days a week

Applications

In A549 xenografts, the single-agent therapy of BIBF 1120 effectively reduced primary tumor size in each setting. For all the three xenografts, a decrease in tumor growth rate was observed across all models, particularly in the combination groups, where the growth curve gradually became linear. End tumor volumes and weights were lower in BIBF 1120 and the combination groups compared to controls, across all models. In A549 and H1993 xenografts, combination was more effective than single agent therapy; however, in Calu-6 xenografts combination therapy was not different from BIBF 1120 single agent therapy.

Other notes

Please test the solubility of all compounds indoor, and the actual solubility may slightly differ with the theoretical value. This is caused by an experimental system error and it is normal.

References:

[1] Tai W T, Shiau C W, Li Y S, et al. Nintedanib (BIBF-1120) inhibits hepatocellular carcinoma growth independent of angiokinase activity. Journal of hepatology, 2014.

[2] Cenik B K, Ostapoff K T, Gerber D E, et al. BIBF 1120 (nintedanib), a triple angiokinase inhibitor, induces hypoxia but not EMT and blocks progression of preclinical models of lung and pancreatic cancer. Molecular cancer therapeutics, 2013, 12(6): 992-1001.
Biological Activity
Description
Nintedanib (BIBF 1120) is a potent inhibitor of triple angiokinase for VEGFR1/2/3, FGFR1/2/3 and PDGFRα/β with IC50 of 34 nM/13 nM/13 nM, 69 nM/37 nM/108 nM and 59 nM/65 nM, respectively.
Targets
VEGFR1/2/3
FGFR1/2/3
PDGFRα/β
IC50
34 nM/13 nM/13 nM
69 nM/37 nM/108 nM
59 nM/65 nM
Quality Control
Quality Control & MSDS
View current batch:
Chemical structure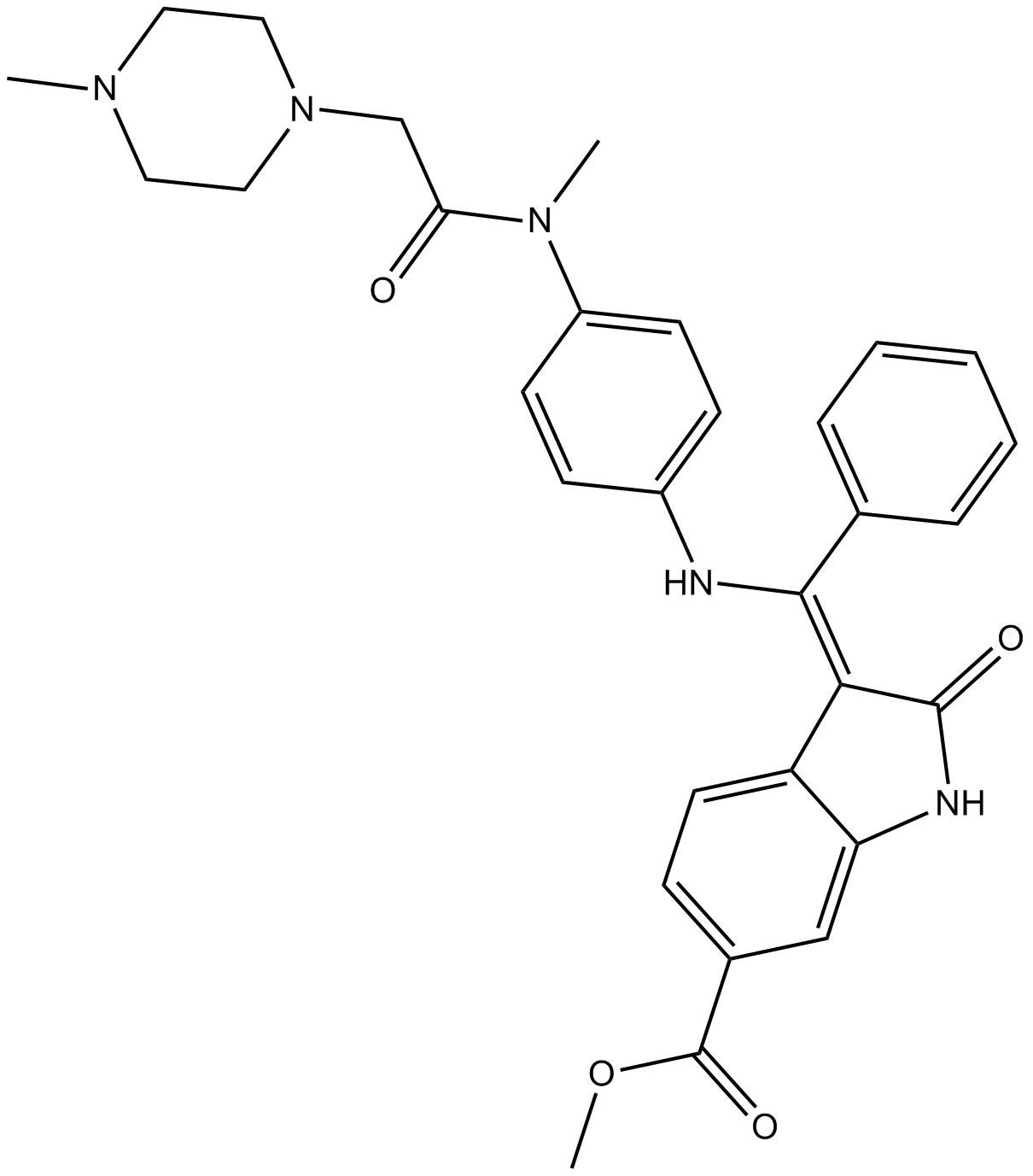 Related Biological Data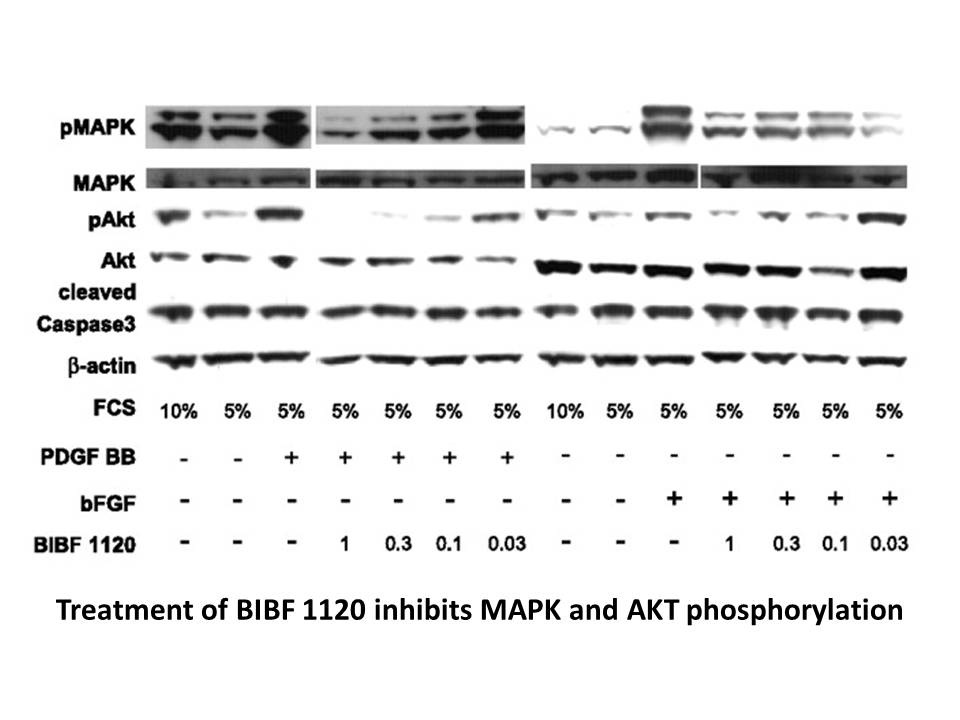 Related Biological Data
Related Biological Data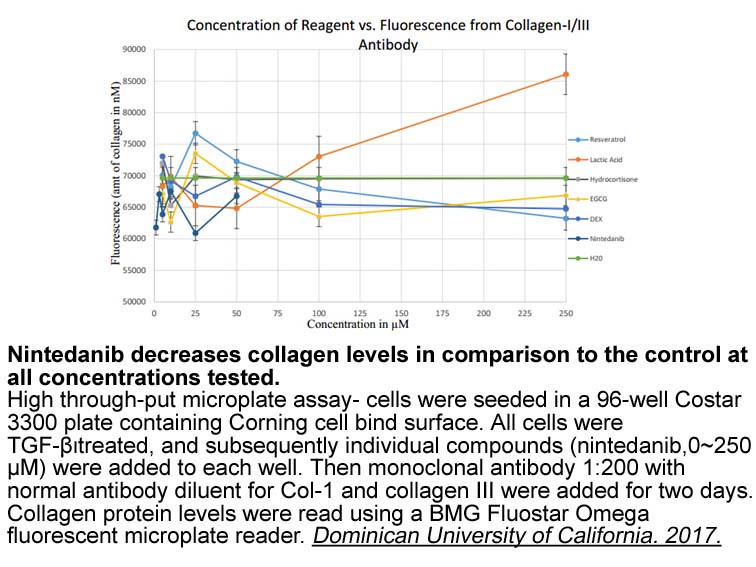 Related Biological Data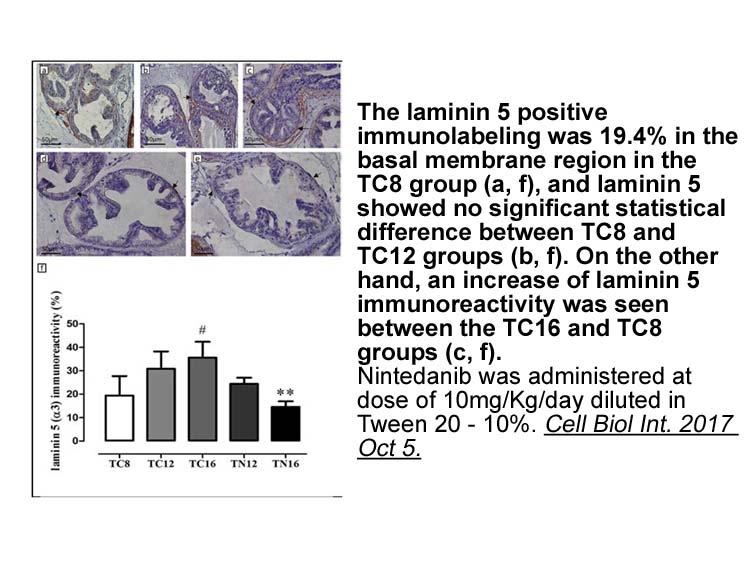 Related Biological Data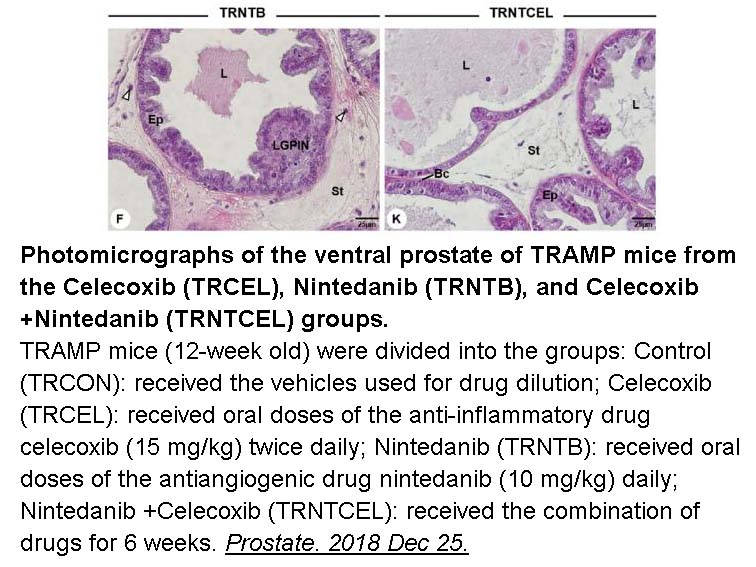 Related Biological Data