Background
Moxifloxacin HCl is anti-infective compound with a broad antibacterial spectrum.[1]
Moxifloxacin is a fourth generation fluoroquinolone antibacterial agent with a broad antibacterial spectrum against Gram positive bacteria and Gram negative bacteria in vitro.[1] The antibacterial activity of moxifloxacin is from the inhibition effect of DNA topoisomerase II and topoisomerase IV which are involved in bacterial DNA replication, transcription, recombination and repair[2]. The oral bioavailability of moxifloxacin is absolutely good which can be up to 90%. There are no many potenti[al drug interactions because that moxifloxacin is not a inhibitor or substrate of the hepatic cytochrome P-450 isoenzyme system. Moxifloxacin had bacteriologic eradication rates about 90–97% and clinical success rates of 88–97%. The MIC90s of moxifloxacin for the ciprofloxacin-susceptible isolates were ≤0.6 μg/mL. The MIC90s of moxifloxacin for enterococci range from 1 to 4 μg/mL. The reported MIC90s of moxifloxacin for Haemophilus parainfluenzae are from 0.03 to 0.125μg/mL. The MIC90s of moxifloxacin for B. fragilisrange 0.25–4 μg/mL and 4 μg/mL for other bacteroides species. [3]
Moxifloxacin also inhibits hPON1 (human serum paraoxonase-1) enzyme activity with Ki value of 2.641±0.004 mM in vitro.[4]
References:
[1].  Cruz LA, Hall R: Enantiomeric purity assay of moxifloxacin hydrochloride by capillary electrophoresis. J Pharm Biomed Anal 2005, 38(1):8-13.
[2].  Kamruzzaman M, Alam AM, Lee SH, Ragupathy D, Kim YH, Park SR, Kim SH: Spectrofluorimetric study of the interaction between europium(III) and moxifloxacin in micellar solution and its analytical application. Spectrochim Acta A Mol Biomol Spectrosc 2012, 86:375-380.
[3].  Culley CM, Lacy MK, Klutman N, Edwards B: Moxifloxacin: clinical efficacy and safety. Am J Health Syst Pharm 2001, 58(5):379-388.
[4].  Turkes C, Soyut H, Beydemir S: Human serum paraoxonase-1 (hPON1): in vitro inhibition effects of moxifloxacin hydrochloride, levofloxacin hemihidrate, cefepime hydrochloride, cefotaxime sodium and ceftizoxime sodium. J Enzyme Inhib Med Chem 2014:1-7.
Product Citation
Chemical Properties
| | |
| --- | --- |
| Physical Appearance | A solid |
| Storage | Store at -20°C |
| M.Wt | 437.89 |
| Cas No. | 186826-86-8 |
| Formula | C21H24FN3O4.HCl |
| Solubility | ≥19.15mg/mL in DMSO, ≥25.4mg/mL in H2O with gentle warming, <2.53 mg/mL in EtOH |
| Chemical Name | 7-[(4aS,7aS)-1,2,3,4,4a,5,7,7a-octahydropyrrolo[3,4-b]pyridin-6-yl]-1-cyclopropyl-6-fluoro-8-methoxy-4-oxoquinoline-3-carboxylic acid;hydrochloride |
| SDF | Download SDF |
| Canonical SMILES | COC1=C2C(=CC(=C1N3CC4CCCNC4C3)F)C(=O)C(=CN2C5CC5)C(=O)O.Cl |
| Shipping Condition | Evaluation sample solution : ship with blue ice.All other available size: ship with RT , or blue ice upon request |
| General tips | For obtaining a higher solubility , please warm the tube at 37 ℃ and shake it in the ultrasonic bath for a while.Stock solution can be stored below -20℃ for several months. |
Quality Control
Quality Control & MSDS
View current batch:
Chemical structure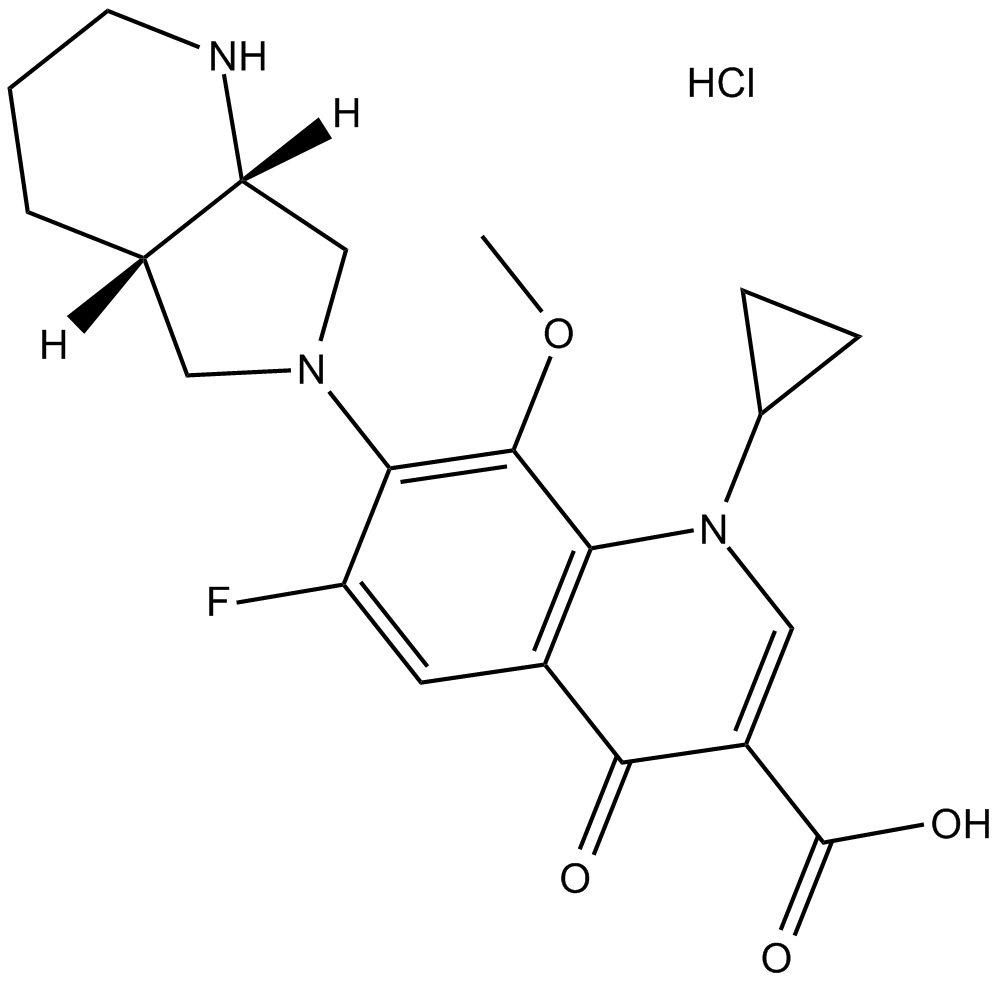 Related Biological Data