MHC class II antigen (45-57) [Homo sapiens]
Major histocompatibility complex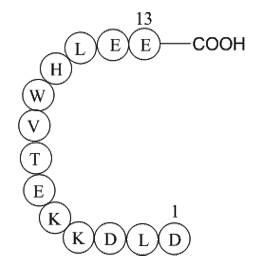 MHC class II antigen (45-57) [Homo sapiens],(C83H126N20O27S), a peptide with the sequence H2N-Asp-Leu-Asp-Lys-Lys-Glu-Thr-Val-Trp-His-Leu-Glu- Glu-OH, MW= 1868.07. MHC (major histocompatibility complex) Class II molecules are found only on antigen-presenting cells and lymphocytes.The antigens presented by class II peptides are derived from extracellular proteins (not cytosolic as in class I); hence, the MHC class II-dependent pathway of antigen presentation is called the endocytic or exogenous pathway.Loading of MHC class II occurs by phagocytosis; extracellular proteins are endocytosed, ingested in lysosomes, and created by the class II MHC molecule prior to the molecule's migration to the cellular membrane(1). MHC class two is formed of two chains, α and β, each having two domains—α1 and α2 and β1 and β2—each chain having a transmembrane domain, α2 and β2, respectively, anchoring the MHC class II molecule to the cell membrane.[5] The peptide-binding groove is formed of the heterodimer of α1 and β1.MHC class II molecules in humans have five to six isotypes. Classic molecules present peptides to CD4+ lymphocytes. Nonclassic molecules, accessories, with intracellular functions, are not exposed on cell membranes, but in internal membranes in lysosomes, normally loading the antigenic peptides onto classic MHC class II molecules(2).
Figure1 Formula of MHC class II antigen (45-57)
Figure2 Schematic representation of MHC class II
Ref:
1. MHC Sequencing Consortium (1999). "Complete sequence and gene map of a human major histocompatibility complex". Nature 401 (6756): 921–923.
2. Abbas; Lichtman A.H. (2009). "Ch.3 Antigen capture and presentation to lymphocytes". Basic Immunology. Functions and disorders of the immune system (3rd ed.).
Chemical Properties
| | |
| --- | --- |
| Physical Appearance | A solid |
| Storage | Store at -20°C |
| M.Wt | 1641.78 |
| Formula | C73H112N18O25 |
| Synonyms | H2N-Asp-Leu-Asp-Lys-Lys-Glu-Thr-Val-Trp-His-Leu-Glu-Glu-OH |
| Solubility | ≥164.2mg/mL in DMSO |
| SDF | Download SDF |
| Shipping Condition | Evaluation sample solution : ship with blue ice.All other available size: ship with RT , or blue ice upon request |
| General tips | For obtaining a higher solubility , please warm the tube at 37 ℃ and shake it in the ultrasonic bath for a while.Stock solution can be stored below -20℃ for several months. |
Quality Control
Quality Control & MSDS
View current batch:
Chemical structure