LY2874455
FGF/FGFR Inhibitor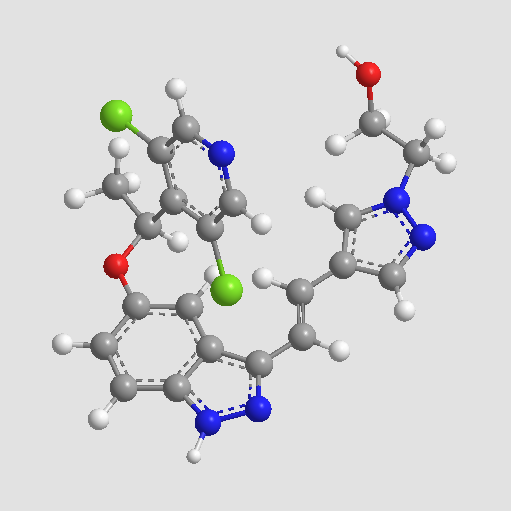 Sample solution is provided at 25 µL, 10mM.
Publications citing ApexBio Products
Related Compound Libraries
Quality Control
Quality Control & MSDS
View current batch:
Chemical structure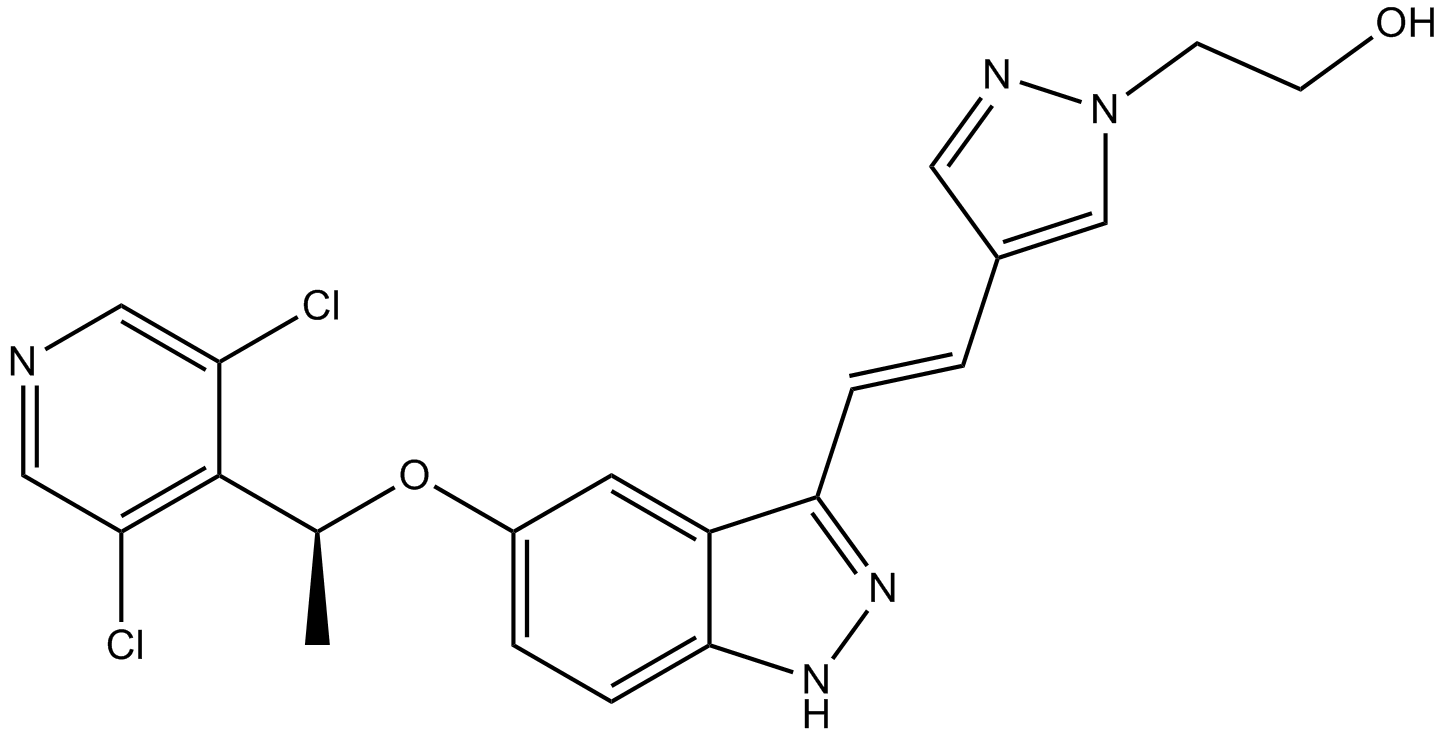 Biological Activity
Description
LY2874455 is a potent, selective, small-molecule inhibitor of fibroblast growth factor receptors (FGFR) with IC50 values of 2.8, 2.6, 6.4 and 6 nM for FGFR1, 2, 3, and 4, respectively.
Targets
FGFR1
FGFR2
FGFR3
FGFR4
IC50
2.8 nM
2.6 nM
6.4 nM
6 nM
Chemical Properties
Cas No.
1254473-64-7
SDF
Download SDF
Synonyms
LY 2874455; LY-2874455
Chemical Name
2-[4-[(E)-2-[5-[(1R)-1-(3,5-dichloropyridin-4-yl)ethoxy]-1H-indazol-3-yl]ethenyl]pyrazol-1-yl]ethanol
Canonical SMILES
CC(C1=C(C=NC=C1Cl)Cl)OC2=CC3=C(C=C2)NN=C3C=CC4=CN(N=C4)CCO
Formula
C21H19Cl2N5O2
M.Wt

444.31

Solubility
>22.2mg/mL in DMSO
Storage
Store at -20°C
General tips
N/A
Shipping Condition
N/A
Background
LY2874455 is a novel and potent FGFR inhibitor with IC50 value of 7 nM [1].
Fibroblast growth factor receptors (FGFRs) are receptors bind ligand of FGF family, which have a intracellular domain with tyrosine kinase activity. The binding of FGF triggers receptor dimerization and thus the activation of tyrosine kinase activity. Activated tyrosine kinase phosphorylates various downstream factors to induce downstream signaling, including FGF substrate 2 (FGS2). This signaling pathway contributes to FGFR-mediated cell proliferation and migration, which are involved in tumor formation and progression.
In HUVECs cell line expressing FGFR1 and RT-112 cell line expressing FGFR3, LY2874455 treatment resulted in inhibition of FGF2 and FGF9 induced Erk phosphorylation, which indicated the inhibitory activity of LY2874455 for FGFR1 and FGFR3 [1]. In SNU-16 and KATO-Ш cell line, the inhibition of FGFR2 phosphorylation was also observed, which indicated a direct inhibition by LY2874455 [2]. Additionally, when several multiple myeloma cancer cell lines were treated with LYS2874455, the cell lines with chromosomal translocation that resulted in overexpression of FGFR3 were significantly more susceptible to the inhibition of LY2874455 [2]. It suggested FGFR was the specific target of LY2874455 inhibition.
In RT-112, SNU-16, OPM-2 and NCI-H460 xenograft tumor model, treatment of LY2874455 twice a day (1.5 mg/kg and 3 mg/kg) resulted in significant dose-dependent reduction of cellular level of phosphorylated FGFR, and also regression of tumor growth. It indicated the inhibitory activity of LY2874455 in vivo [2].
Reference:
[1] Zhao, G S et al. , A Novel, Selective Inhibitor of Fibroblast Growth Factor Receptors That Shows a Potent Broad Spectrum of Antitumor Activity in Several Tumor Xenograft Models. Molecular Cancer Therapeutics. 2011, 10(11): 2200-2210.