Background
LY2228820 is a potent, selective, ATP-competitive small-molecule inhibitor inhibiting α- and β-isoforms of p38 MAPK with IC(50) values of 5.3nM and 3.2 nM, respectively1.
In multiple myeloma (MM) cell lines, LY2228820 enhanced the cytotoxicity of bortezomiba via reducing bortezomib-induced phosphorylation of heat shock protein 27 (HSP27). LY2228820 significantly reduced IL-6 secretion from BM mononuclear cells (BMMNCs) and long term cultured-BM stromal cells (LT-BMSCs). Besides, LY2228820 can also inhibit secretion of macrophage inflammatory protein-1a (MIP-1a) in BMMNCs, CD138+ patient MM cells and normal CD14+ osteoclast cells 2.
Studies in mice implanted with B16-F10 melanoma showed that orally administered LY2228820 can effectively suppress the tumor-phospho-MK2 expression. Treatment of LY2228820 caused a significant tumor growth delay in A549 NSCLC xenograft models1.
References:
1. Campbell RM1, Anderson BD, Brooks NA, Brooks HB, Chan EM, De Dios A, Gilmour R, Graff JR, Jambrina E, Mader M, McCann D, Na S, Parsons SH, Pratt SE, Shih C, Stancato LF, Starling JJ, Tate C, Velasco JA, Wang Y, Ye XS.Characterization of LY2228820 dimesylate, a potent and selective inhibitor of p38 MAPK with antitumor activity. Mol Cancer Ther. 2014 Feb;13(2):364-74.
2. Ishitsuka K1, Hideshima T, Neri P, Vallet S, Shiraishi N, Okawa Y, Shen Z, Raje N, Kiziltepe T, Ocio EM, Chauhan D, Tassone P, Munshi N, Campbell RM, Dios AD, Shih C, Starling JJ, Tamura K, Anderson KC. p38 mitogen-activated protein kinase inhibitor LY2228820 enhances bortezomib-induced cytotoxicity and inhibits osteoclastogenesis in multiple myeloma; therapeutic implications. Br J Haematol. 2008 May;141(5):598-606.
Product Citation
Chemical Properties
| | |
| --- | --- |
| Physical Appearance | A solid |
| Storage | Store at -20°C |
| M.Wt | 612.74 |
| Cas No. | 862507-23-1 |
| Formula | C24H29FN6·2CH4O3S |
| Solubility | ≥30.65 mg/mL in DMSO; ≥45 mg/mL in H2O with ultrasonic; ≥9.9 mg/mL in EtOH with ultrasonic |
| Chemical Name | 5-[2-tert-butyl-4-(4-fluorophenyl)-1H-imidazol-5-yl]-3-(2,2-dimethylpropyl)imidazo[4,5-b]pyridin-2-amine;methanesulfonic acid |
| SDF | Download SDF |
| Canonical SMILES | CC(C)(C)CN1C2=C(C=CC(=N2)C3=C(N=C(N3)C(C)(C)C)C4=CC=C(C=C4)F)N=C1N.CS(=O)(=O)O.CS(=O)(=O)O |
| Shipping Condition | Ship with blue ice, or upon other requests. |
| General tips | For obtaining a higher solubility, please warm the tube at 37°C and shake it in the ultrasonic bath for a while. We do not recommend long-term storage for the solution, please use it up soon. |
Protocol
Cell experiment [1]:

Cell lines

HeLa cells

Preparation method

The solubility of this compound in DMSO is > 30.7 mg/mL. General tips for obtaining a higher concentration: Please warm the tube at 37 ℃ for 10 minutes and/or shake it in the ultrasonic bath for a while. Stock solution can be stored below -20℃ for several months.

Reacting condition

9.8 nM-10 µM, 1 h

Applications

LY2228820 is a potent and selective inhibitor of the α- and β-isoforms of p38 MAPK with IC50 values of 5.3 and 3.2 nmol/L, respectively. In anisomycin-stimulated HeLa cells, LY2228820 efficiently inhibited phosphorylation of p38α MAPK substrate, MK2 (Thr334). LY2228820 also decreased TNF-α secretion induced by LPS/IFN-γ in mouse peritoneal macrophages.

Animal experiment [2]:

Animal models

Athymic nude female mice

Dosage form

Oral administration, 20 and 40 mg/kg,three times daily

Application

LY2228820 reduced hemoglobin content in athymic nude mice. LY2228820 treatment resulted in a significant reduction of VEGF-A-stimulated vascularization in an ear angiogenesis model, indicating LY2228820 treatment impaired neoangiogenesis.

Other notes

Please test the solubility of all compounds indoor, and the actual solubility may slightly differ with the theoretical value. This is caused by an experimental system error and it is normal.

References:

[1]. Campbell R M, Anderson B D, Brooks N A, et al. Characterization of LY2228820 dimesylate, a potent and selective inhibitor of p38 MAPK with antitumor activity[J]. Molecular cancer therapeutics, 2014, 13(2): 364-374.

[2]. Tate C M, Blosser W, Wyss L, et al. LY2228820 dimesylate, a selective inhibitor of p38 mitogen-activated protein kinase, reduces angiogenic endothelial cord formation in vitro and in vivo[J]. Journal of Biological Chemistry, 2013, 288(9): 6743-6753.
Biological Activity
Description
LY2228820 is a novel and potent inhibitor of p38 MAPK with IC50 of 7 nM.
Targets
p38α
IC50
7 nM
Quality Control
Quality Control & MSDS
View current batch:
Chemical structure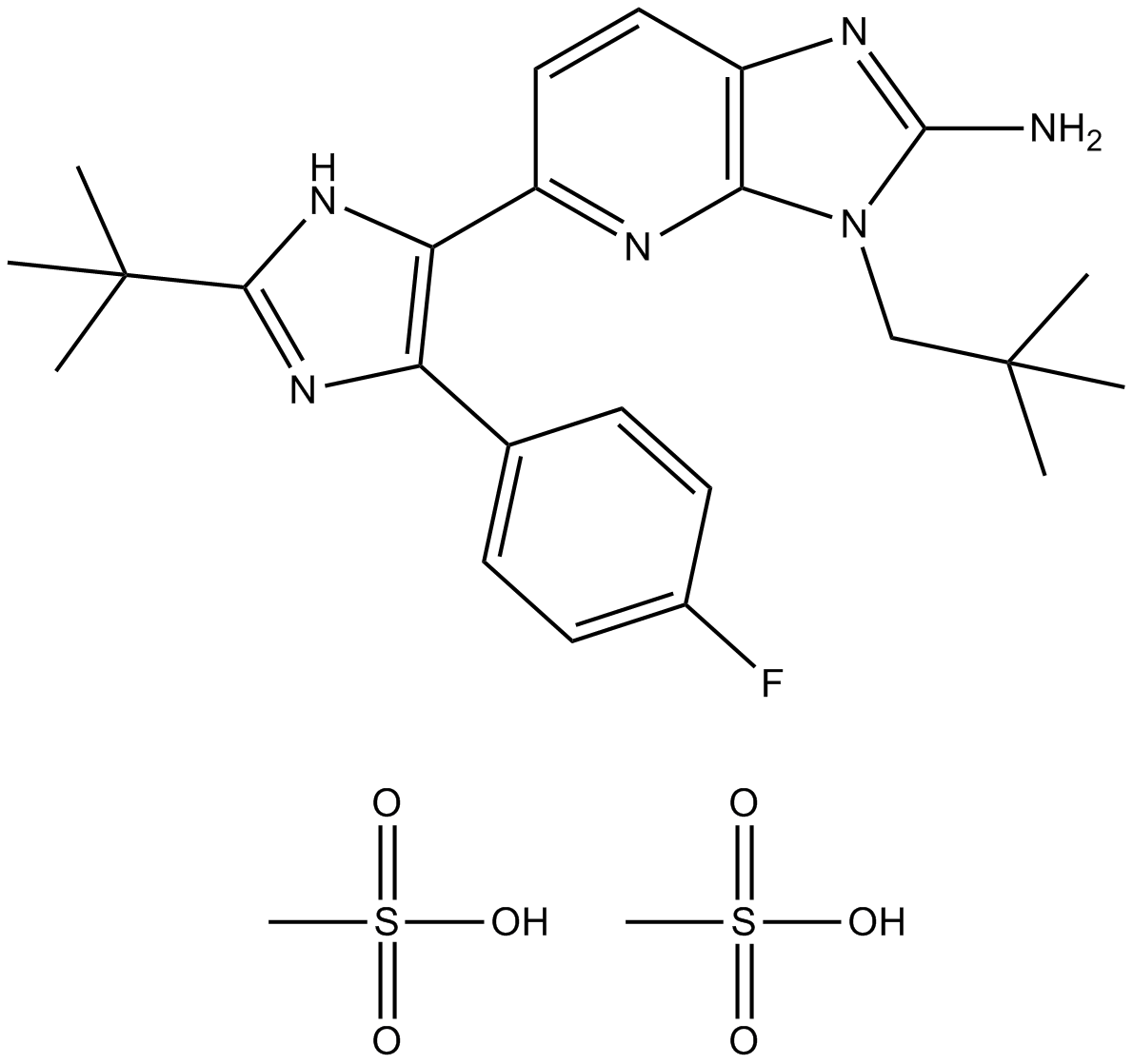 Related Biological Data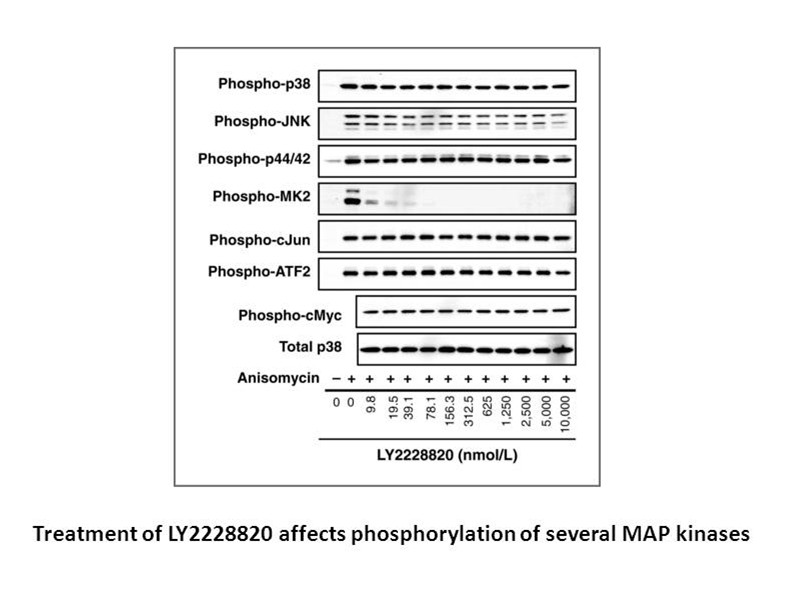 Related Biological Data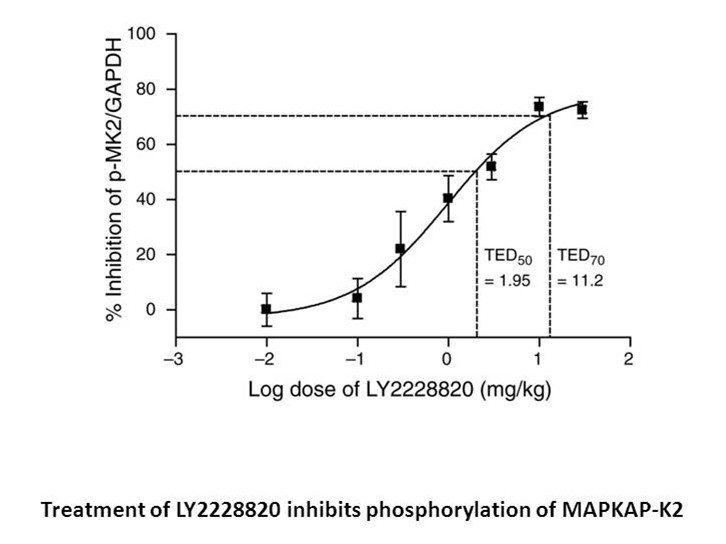 Related Biological Data