LRRK2-IN-1
LRRK2 inhibitor,cell-permeable and ATP competitive
Sample solution is provided at 25 µL, 10mM.
Related Compound Libraries
Quality Control
Quality Control & MSDS
View current batch:
Chemical structure
Related Biological Data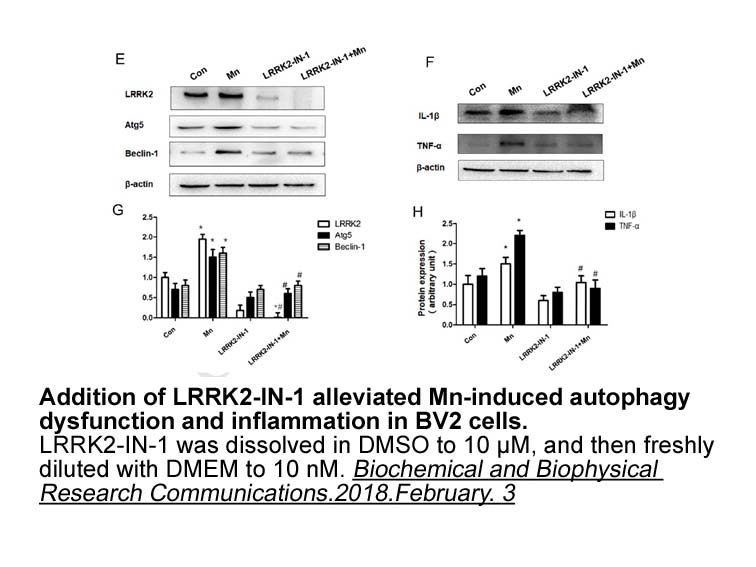 Biological Activity
Description
LRRK2-IN-1 is a potent and selective inhibitor of leucine-rich repeat kinase 2 (LRRK2) with IC50 values of 13 nM and 6 nM for wild-type LRRK2 and G2019S mutant LRRK2, respectively.
Targets
wild-type LRRK2
G2019S mutant LRRK2
IC50
13 nM
6 nM
Chemical Properties
Cas No.
1234480-84-2
SDF
Download SDF
Synonyms
LRRK 2-IN-1
Chemical Name
2-[2-methoxy-4-[4-(4-methylpiperazin-1-yl)piperidine-1-carbonyl]anilino]-5,11-dimethylpyrimido[4,5-b][1,4]benzodiazepin-6-one
Canonical SMILES
CN1CCN(CC1)C2CCN(CC2)C(=O)C3=CC(=C(C=C3)NC4=NC=C5C(=N4)N(C6=CC=CC=C6C(=O)N5C)C)OC
Formula
C31H38N8O3
M.Wt

570.7

Solubility
≥28.55mg/mL in DMSO, ≥57.2mg/mL in EtOH, <2.87mg/mL in H2O
Storage
Store at -20°C
Physical Appearance
A solid
Shipping Condition
Evaluation sample solution : ship with blue ice.All other available size: ship with RT , or blue ice upon request
General tips
For obtaining a higher solubility , please warm the tube at 37 ℃ and shake it in the ultrasonic bath for a while.Stock solution can be stored below -20℃ for several months.
Background
LRRK2-IN-1 is a potent and selective inhibitor of LRRK2 with IC50 value of 13 nM. [1]
LRRK2 (Leucine-rich repeat kinase 2) is also known dardarin. LRRK2 belongs to the leucine-rich repeat kinase family. LRRK2 mostly located in the cytoplasm, however, it also associates with outer membrane of the mitochondrial. LRRK2 interacts with parkin at the C-terminal R2 RING finger domain. Parkin interacted with LRRK2 at the COR domain. LRRK2 mutation will induce apoptotic cell death of neuroblastoma cells. Expression of LRRK2 mutants has a close relationship with autosomal dominant Parkinson's disease. The LRRK2 Gly2019Ser mutation is a common cause of familial Parkinson's disease. The Gly2019Ser mutation has been proved to cause Parkinson's disease, even though it is a small number of LRRK2 mutations. LRRK2 also has relationship with Crohn's disease by genomewide association studies.
LRRK2-IN-1 dose-dependent inhibit the activity of wild-type and G2019S LRRK2 with IC50 of 0.17 and 0.04μM respectively in HEK293 cells stably expressing GFP tagged wild-type or mutated LRRK2.[2] LRRK2-IN-1 inhibits the activity of both wild-type and G2019S mutant LRRK2 with IC 50 values of 13 nM and 6 nM respectively in vitro enzyme assay with 0.1 mM ATP. LRRK2-IN-1 competed with ATP. LRRK2-IN-1 has a selective profile compared with other 442 diverse kinases and it has no inhibition effect with LRRK1. LRRK2-IN-1 induced endogenous LRRK2 phosphorylation in lymphoblastoid cells. LRRK2-IN-1 also induced Ser910/Ser935 dephosphorylation of LRRK2 in mice kidney at 100 mg/kg.[1]
References:
[1].    Deng X, Dzamko N, Prescott A, Davies P, Liu Q, Yang Q, Lee JD, Patricelli MP, Nomanbhoy TK, Alessi DR et al: Characterization of a selective inhibitor of the Parkinson's disease kinase LRRK2. Nat Chem Biol, 7(4):203-205.
[2].    Hermanson SB, Carlson CB, Riddle SM, Zhao J, Vogel KW, Nichols RJ, Bi K: Screening for novel LRRK2 inhibitors using a high-throughput TR-FRET cellular assay for LRRK2 Ser935 phosphorylation. PLoS One, 7(8):e43580.