IPI-504 (Retaspimycin hydrochloride)
Hsp90 inhibitor,novel, potent,selective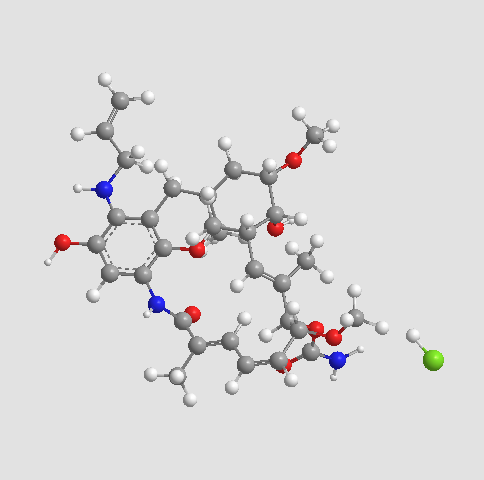 Sample solution is provided at 25 µL, 10mM.
Quality Control
Quality Control & MSDS
View current batch:
Chemical structure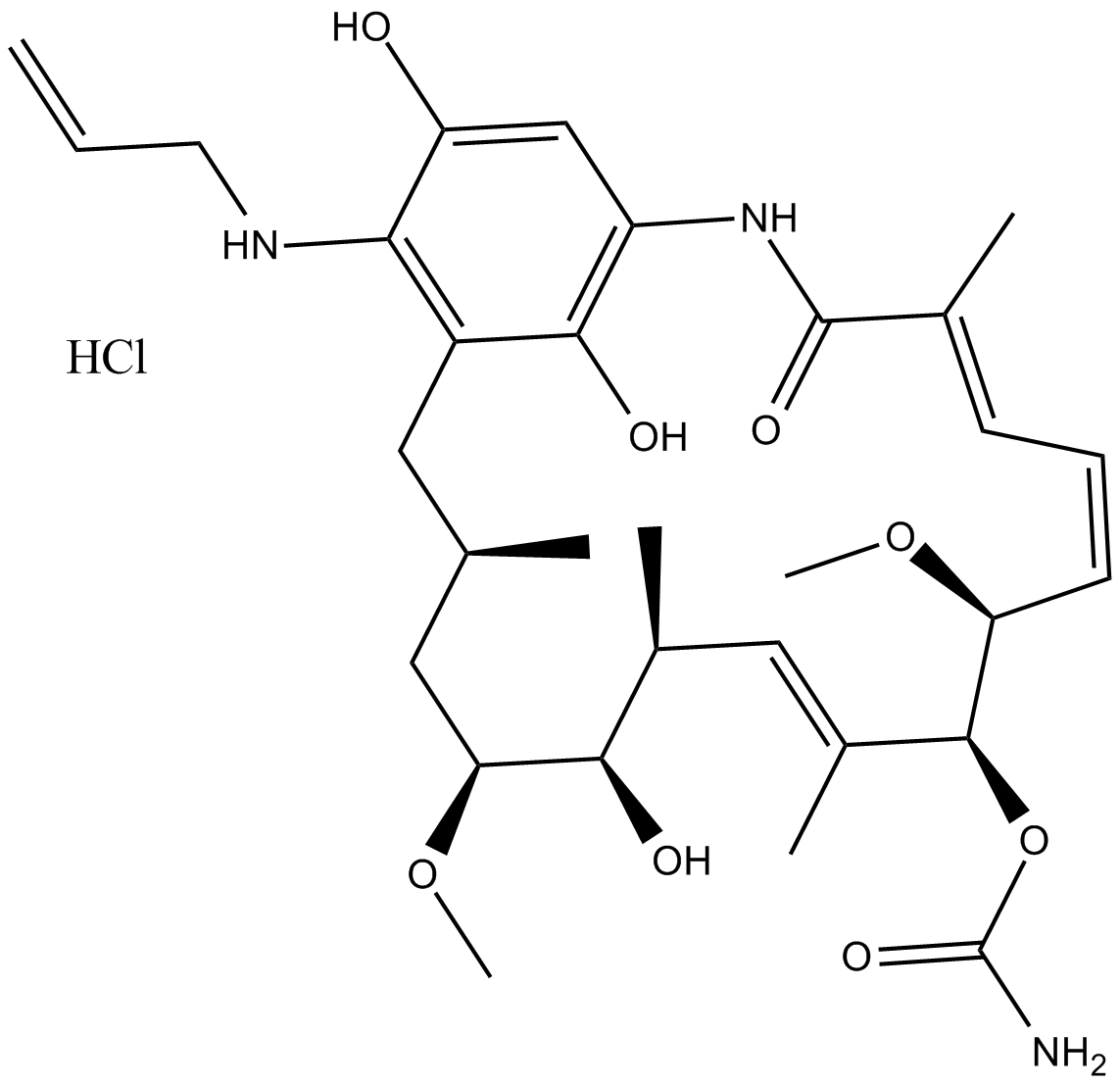 Related Biological Data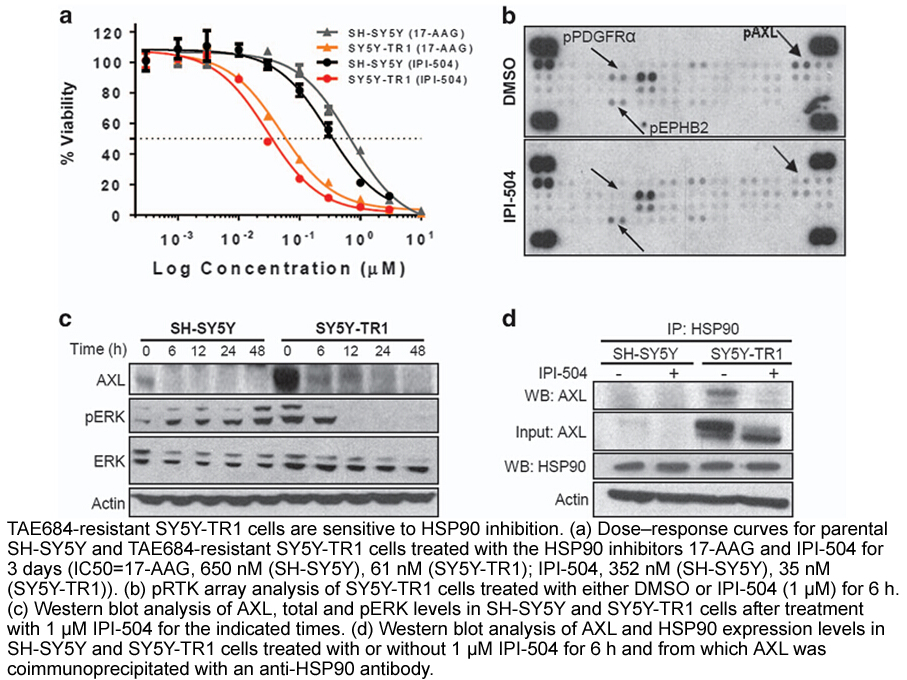 Biological Activity
Description
Retaspimycin Hcl(IPI504 Hcl) is a small-molecule inhibitor of heat shock protein 90 (HSP90) with antiproliferative and antineoplastic activities.
Targets
HSP90
IC50
Chemical Properties
Cas No.
857402-63-2
SDF
Download SDF
Synonyms
IPI 504, IPI504
Chemical Name
[(3R,5S,6R,7S,8E,10S,11S,12Z,14E)-6,20,22-trihydroxy-5,11-dimethoxy-3,7,9,15-tetramethyl-16-oxo-21-(prop-2-enylamino)-17-azabicyclo[16.3.1]docosa-1(22),8,12,14,18,20-hexaen-10-yl] carbamate;hydrochloride
Canonical SMILES
CC1CC(C(C(C=C(C(C(C=CC=C(C(=O)NC2=CC(=C(C(=C2O)C1)NCC=C)O)C)OC)OC(=O)N)C)C)O)OC.Cl
Formula
C31H46ClN3O8
M.Wt

624.2

Solubility
Soluble in DMSO
Storage
Store at -20°C
General tips
For obtaining a higher solubility , please warm the tube at 37 ℃ and shake it in the ultrasonic bath for a while.Stock solution can be stored below -20℃ for several months.
Shipping Condition
Evaluation sample solution : ship with blue ice
All other available size: ship with RT , or blue ice upon request
Background
Retaspimycin hydrochloride (also known as IPI-504), a hydroquinone hydrochloride salt derivative of 17-AAG, is a novel, potent and selective inhibitor of heat shock protein 90(Hsp90) that binds to the amino-terminal ATP/ADP-binding site of Hsp90. As a highly water-soluble version of 17-AAG, IPI-504 (solubility > 200 mg/mL) does not need prior dissolution in organic solvents and hence can be delivered in high concentrations. Once in the systemic circulation, IPI-504 is deprotonated and converted into the free base IPI-504 which is subsequently oxidized to 17-AAG. IPI-504 potently inhibits proliferation in several tumor cell lines with 50% inhibition concentration IC50 values ranging from 10-40 nmol/L and has been used for the treatment of gastrointestinal stromal tumors, soft-tissue sarcomas and non-small cell lung cancer.
Reference
Britt Erika Hanson and David H Vesole. Retaspimycin hydrochloride (IPI-504): a novel heat shock protein inhibitor as an anticancer agent. Expert Opin. Investi. Drugs (2009) 18(9): 1375-1383
David Siegel, Sundar Jagannath, David H. Vesole, Ivan Borello, Amitabha Mazumder, Constantine Mitsiades, Jill Goddard, Joi Dunbar, Emmanuel Normant, Julian Adams, David Grayzel, Kenneth C. Anderson and Paul Richardson. A phase 1 study of IPI-504 (retaspimycin hydrochloride) in patients with relapsed or relapsed and refractory multiple myeloma. Leukemia & Lymphoma, 2011; 52(12): 2308-2315
Ching Ching Leow, Jon Chesebrough, Karen T. Coffman, Christine A. Fazenbaker, John Gooya, David Weng, Steve Coats, Dowdy Jackson, Bahija Jallal and Yong Chang. Antitumor efficacy of IPI-504, a selective heat shock protein 90 inhibitor against human epidermal growth factor receptor 2-positive human xenograft models as a single agent and in combination with trastuzumab or lapatinib. Mol Cancer Ther 2009; 8: 2131-2141