Background
Description:
EC50: 38 nM for anti-proliferative growth effect in 19 of 25 AML cell lines
Lysine specific demethylase 1 (LSD1) is a histone H3K4me1/2 demethylase found in various transcriptional co-repressor complexes. LSD1 can interact with pluripotency factors in human embryonic stem cells and is important for decommissioning enhancers in stem cell differentiation. LSD1 is overexpressed in multiple cancer types and recent studies suggest inhibition of LSD1 reactivates the all-trans retinoic acid receptor pathway in acute myeloid leukemia (AML). GSK2879552 is a novel and irreversible LSD1 inhibitor.
In vitro: Six days of GSK2879552 treatment resulted in potent anti-proliferative growth effects in 19 of 25 AML cell lines representing a range of AML subtypes. Treating for longer time periods revealed sensitivity in all AML cell lines. AML blast colony forming ability was also inhibited in 4 of 5 bone marrow samples derived from primary AML patient samples [1].
In vivo: After 17 days of GSK2879552 treatment, control mice had 80% GFP+ cells in the bone marrow whereas treated mice had only 2.8% GFP positive cells, and the treated animals survived weeks beyond control mice [1].
Clinical trial: A phase I, open-label, multi-center, non-randomized, 2-part first time in human (FTIH) study for GSK2879552 has been condcuted to investigate the effect of GSK2879552 in subjects with relapsed/refractory small cell lung carcinoma.
Reference:
[1] Kimberly Smitheman, Monica Cusan, Yan Liu, Michael Butticello, Melissa Pappalardi, James Foley, Kelly Federowicz, Glenn Van Aller, Jiri Kasparec, Xinrong Tian, Dominic Suarez, Jess Schneck, Jeff Carson, Patrick McDevitt, Thau Ho, Charles McHugh, William Miller, Scott Armstrong, Christine Hann, Neil Johnson, Ryan G.  Kruger, Helai P. Mohammad, Shekhar Kamat. Inhibition of LSD1 for the treatment of cancer. [abstract]. In: Proceedings of the 106th Annual Meeting of the American Association for Cancer Research; 2015 Apr 18-22; Philadelphia, PA. Philadelphia (PA): AACR; Cancer Res 2015;75(15 Suppl):Abstract nr 3513. doi:10.1158/1538-7445.AM2015-3513

Product Citation
Chemical Properties
| | |
| --- | --- |
| Physical Appearance | A solid |
| Storage | Store at -20°C |
| M.Wt | 364.48 |
| Cas No. | 1401966-69-5 |
| Formula | C23H28N2O2 |
| Solubility | insoluble in EtOH; ≥10.14 mg/mL in H2O with ultrasonic; ≥12.8 mg/mL in DMSO |
| Chemical Name | 4-((4-((((1R,2S)-2-phenylcyclopropyl)amino)methyl)piperidin-1-yl)methyl)benzoic acid |
| SDF | Download SDF |
| Canonical SMILES | OC(C1=CC=C(CN2CCC(CN[[email protected]]3([H])C[[email protected]@]3([H])C4=CC=CC=C4)CC2)C=C1)=O |
| Shipping Condition | Ship with blue ice, or upon other requests. |
| General tips | For obtaining a higher solubility, please warm the tube at 37°C and shake it in the ultrasonic bath for a while. We do not recommend long-term storage for the solution, please use it up soon. |
Protocol
Kinase experiment [1]:

LSD1 enzyme assay

LSD1 activity was measured using a horseradish peroxidase (HRP) coupled assay with amplex red as an electron donor. The formation of product over time was measured using fluorescence intensity, Ex 531 nm and Em 595 nm, in a PerkinElmer EnVision plate reader. Final assay conditions were: 5 nM LSD1, 2.5 μM H3K4me2 peptide, 50 mM HEPES pH 7, 1 U/mL of HRP, 1 mM CHAPS, 0.03% dBSA and 10 μM amplex red.

Cell experiment [1]:

Cell lines

SCLC cell lines

Preparation method

The solubility of this compound in DMSO is > 12.8 mg/mL. General tips for obtaining a higher concentration: Please warm the tube at 37 °C for 10 minutes and/or shake it in the ultrasonic bath for a while. Stock solution can be stored below - 20 °C for several months.

Reacting condition

0 ~ 5000 nM; 10 days

Applications

At the 4th day after treatment, GSK2879552 started to significantly inhibit the growth of NCI-H1417 cells in a dose-dependent manner. In a 6-day proliferation assay, the maximal growth inhibition on NCI-H1417 cells was largely below 100%, which implied the effect was predominantly cytostatic. Moreover, GSK2879552 did not cause any cytotoxic response to SCLC cell lines.

Animal experiment [1]:

Animal models

Mice bearing NCI-H526 or NCI-H1417 xenografts

Dosage form

1.5 mg/kg; p.o.

Applications

In mice bearing NCI-H526 or NCI-H1417 xenografts, GSK2879552 significantly inhibited tumor growth with the TGI values of 57% and 83%, respectively. Meanwhile, GSK2879552 did not cause thrombocytopenia at the indicated dose. On the other hand, the results of immunohistochemistry showed that there were 98 percent of SCLC tumors with a very high expression of LSD1, implying the inhibition effect of GSK2879552 on tumor growth might be exerted by targeting LSD1.

Other notes

Please test the solubility of all compounds indoor, and the actual solubility may slightly differ with the theoretical value. This is caused by an experimental system error and it is normal.

References:

[1]. Mohammad HP, Smitheman KN, Kamat CD, Soong D, Federowicz KE, Van Aller GS, Schneck JL, Carson JD, Liu Y, Butticello M, Bonnette WG, Gorman SA, Degenhardt Y, Bai Y, McCabe MT, Pappalardi MB, Kasparec J, Tian X, McNulty KC, Rouse M, McDevitt P, Ho T, Crouthamel M, Hart TK, Concha NO, McHugh CF, Miller WH, Dhanak D, Tummino PJ, Carpenter CL, Johnson NW, Hann CL, Kruger RG. A DNA Hypomethylation Signature Predicts Antitumor Activity of LSD1 Inhibitors in SCLC. Cancer Cell. 2015 Jul 13;28(1):57-69.
Quality Control
Quality Control & MSDS
View current batch:
Chemical structure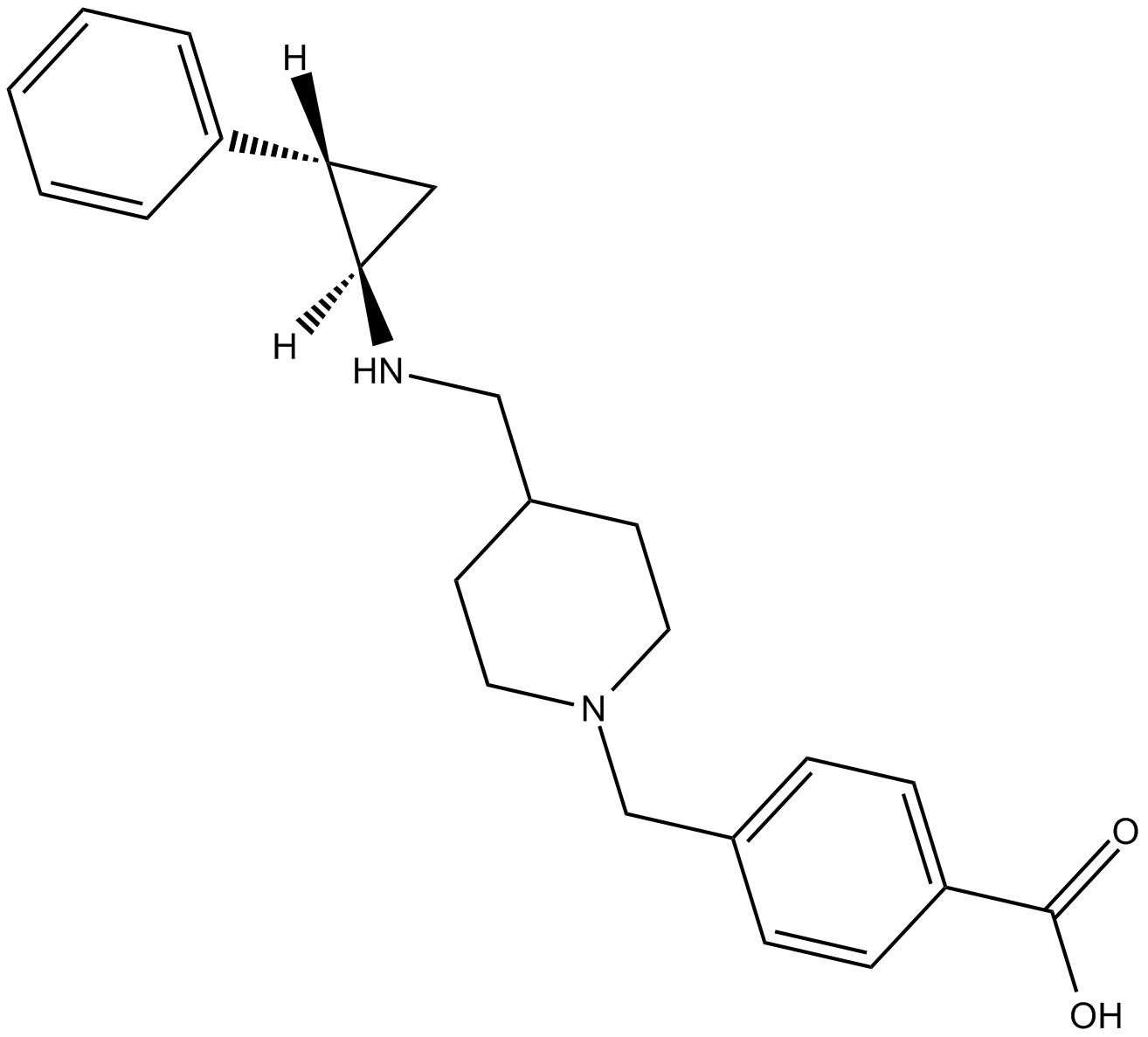 Related Biological Data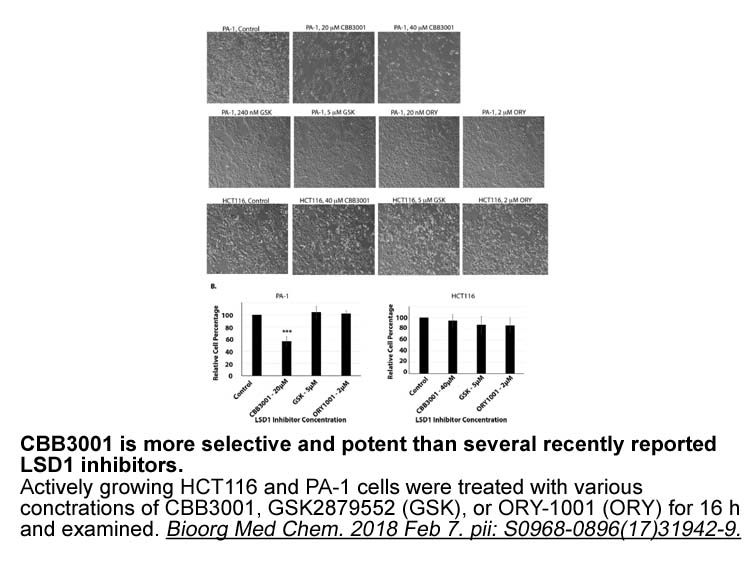 Related Biological Data