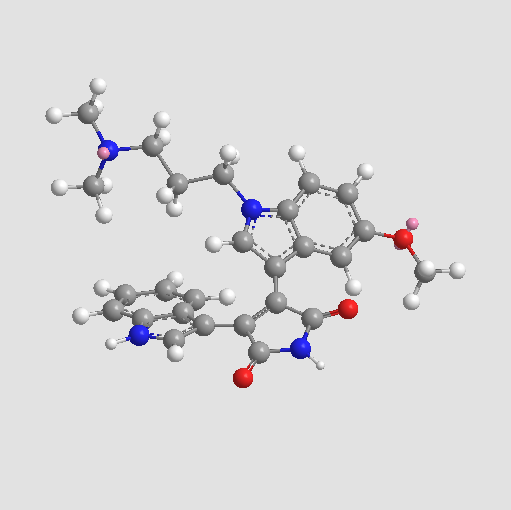 Sample solution is provided at 25 µL, 10mM.
Publications citing ApexBio Products
Quality Control
Quality Control & MSDS
View current batch:
Chemical structure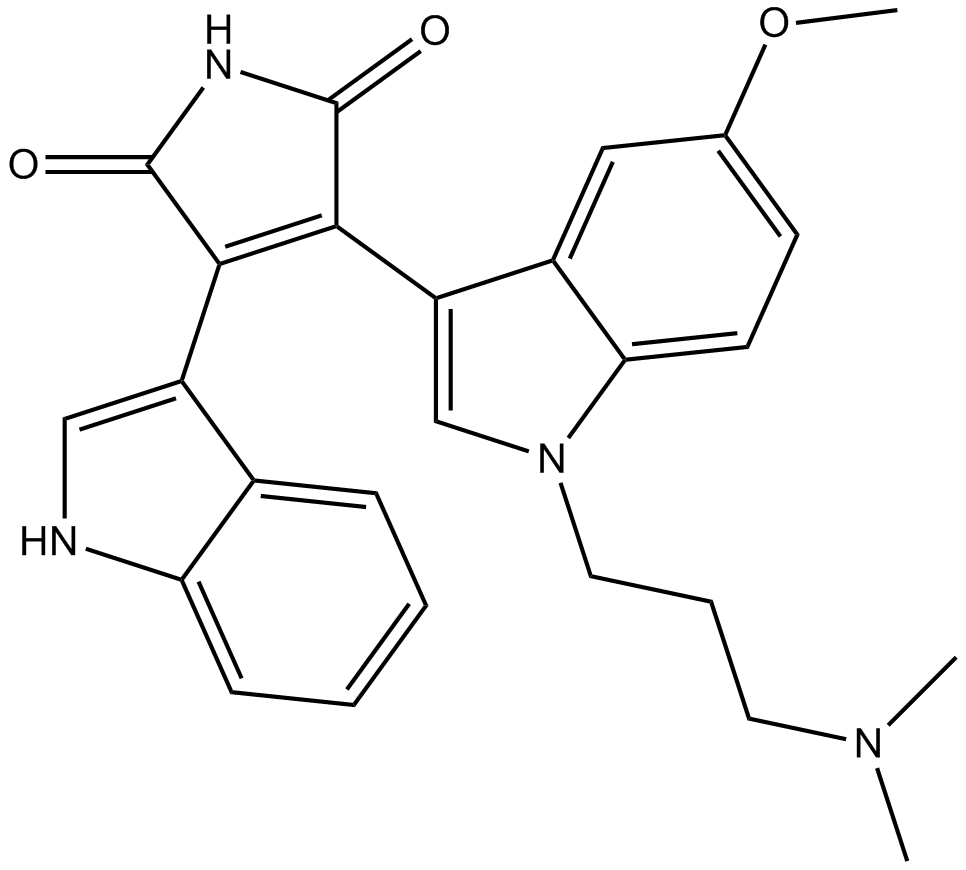 Biological Activity
Description
Go 6983 is an inhibitor of pan-PKC with IC50 values of 7 nM, 7 nM, 6 nM and 10 nM for PKCα, PKCβ, PKCγ and PKCδ, respectively.
Targets
PKCγ
PKCα
PKCβ
PKCδ
PKCζ
PKCμ
IC50
6 nM
7 nM
7 nM
10 nM
60 nM
20 μM
Chemical Properties
Cas No.
133053-19-7
SDF
Download SDF
Synonyms
Goe 6983;Go6983;Go-6983
Chemical Name
3-[1-[3-(dimethylamino)propyl]-5-methoxyindol-3-yl]-4-(1H-indol-3-yl)pyrrole-2,5-dione
Canonical SMILES
CN(C)CCCN1C=C(C2=C1C=CC(=C2)OC)C3=C(C(=O)NC3=O)C4=CNC5=CC=CC=C54
Formula
C26H26N4O3
M.Wt

442.51

Solubility
Soluble in DMSO > 10 mM
Storage
Store at -20°C
General tips
For obtaining a higher solubility , please warm the tube at 37 ℃ and shake it in the ultrasonic bath for a while.Stock solution can be stored below -20℃ for several months.
Shipping Condition
Evaluation sample solution : ship with blue ice
All other available size: ship with RT , or blue ice upon request
Background
Go 6983 is a selective inhibitor of PKCα, PKCβ, PKCγ, PKCδ and PKCμ with IC50 value of 7 nM, 7 nM, 6 nM, 10 nM, and 20 mM, respectively [1].
Protein kinase C (PKC) serves as the receptor for tumor-promoting phorbol esters, which are potent activators of conventional (c) and novel (n) PKCs and has several isotypes: PKCα, PKCβ, PKCγ, PKCδ, PKCη and PKCμ. PKCη is reported progressively increased in MCF-10A (non-tumorigenic breast cancer cells) and promotes breast cancer cell survival [2, 3].
Go 6983 is a potent PKC inhibitor and has a different mechanism with the reported PKC inhibitor Ro-317549. When tested with MCF-7 and T47D cells, Go 6983 showed reversible effect on the down-regulation of PKCαand PKCδ induced by PKC activator PDBu, while decreased the expression of PKCη which up-regulated by PDBu. Further, Go 6983 treatment inhibited the MCF-7 cell survival by inhibiting the expression of PKCη [2]. In ARCcPE cells, PMA treatment promoted the EMT process by up-regulating the expression of PKCs(PKCα, PKCβand PKCγ) which could be significantly inhibited by Go6983 treatment through inhibiting PKCs expression at the dose of 200 nM and completely inhibited at the dose of 1000 nM [3].
In chromaffin cells isolated from female mice, Go 6983 treatment before AP-stimulus protocol reconciled the basal capcacitance values, decreased the capacitance and reduced calcium current density in a PKC dependent manner. To note, these phenomenons were more obvious in female mice compared with male mice [4].
References:
[1]. Gschwendt, M., et al., Inhibition of protein kinase C mu by various inhibitors. Differentiation from protein kinase c isoenzymes. FEBS Lett, 1996. 392(2): p. 77-80.
[2]. Pal, D., S.P. Outram, and A. Basu, Upregulation of PKCeta by PKCepsilon and PDK1 involves two distinct mechanisms and promotes breast cancer cell survival. Biochim Biophys Acta, 2013. 1830(8): p. 4040-5.
[3]. He, H., et al., Phorbol ester phorbol-12-myristate-13-acetate induces epithelial to mesenchymal transition in human prostate cancer ARCaPE cells. Prostate, 2010. 70(10): p. 1119-26.
[4]. Chan, S.A., J. Hill, and C. Smith, Reduced calcium current density in female versus male mouse adrenal chromaffin cells in situ. Cell Calcium, 2012. 52(3-4): p. 313-20.