GDC-0941
PI3K inhibitor,potent and selective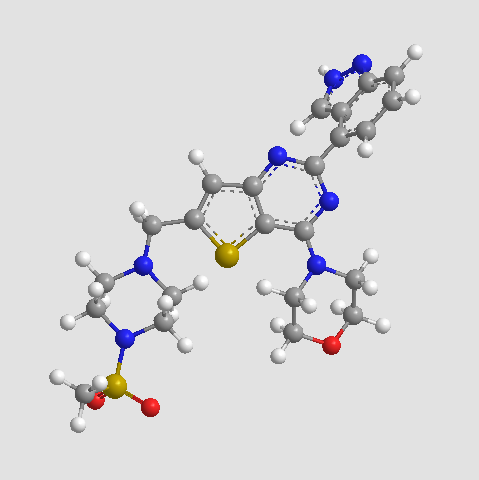 Sample solution is provided at 25 µL, 10mM.
Quality Control
Quality Control & MSDS
View current batch:
Chemical structure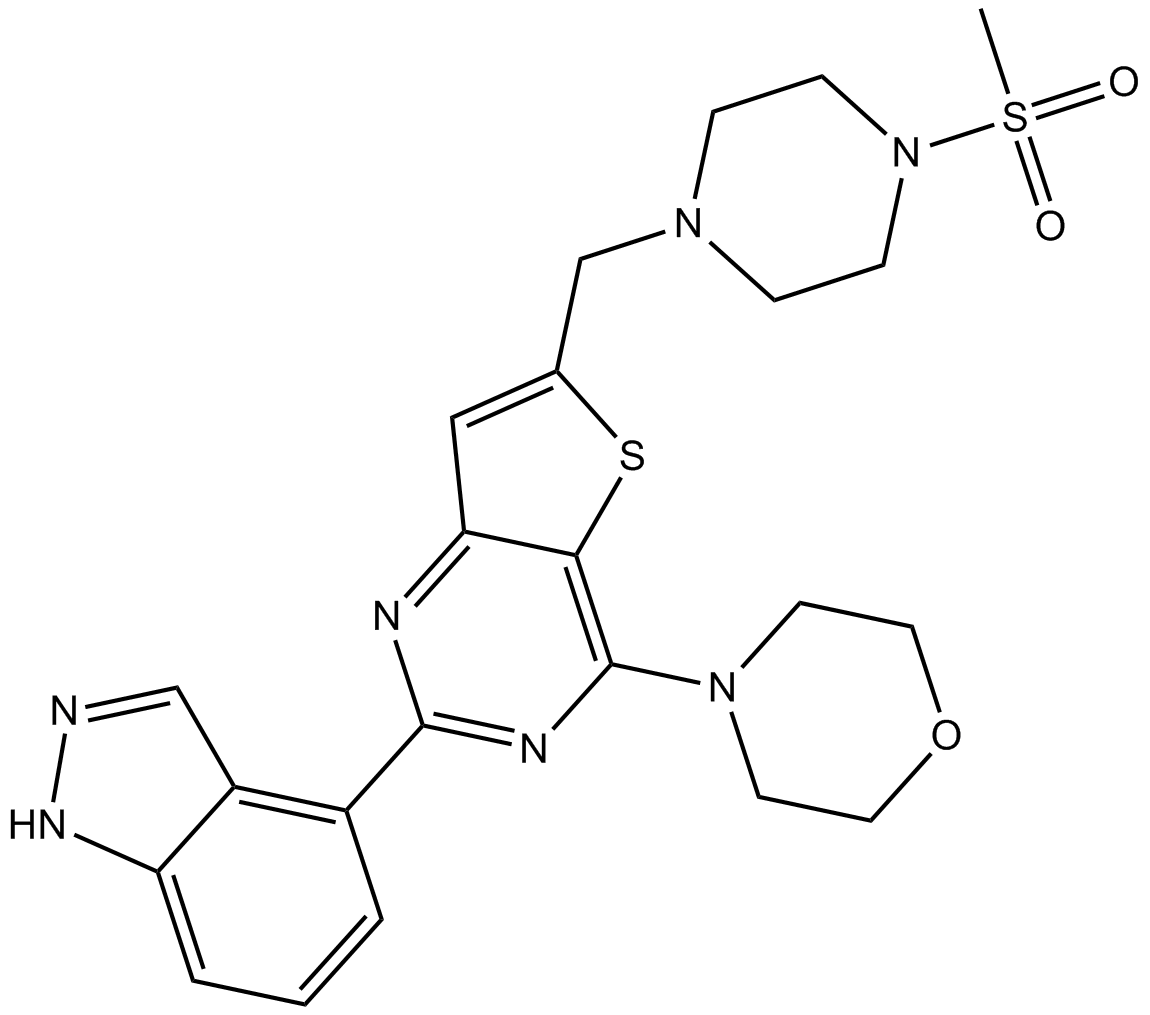 Related Biological Data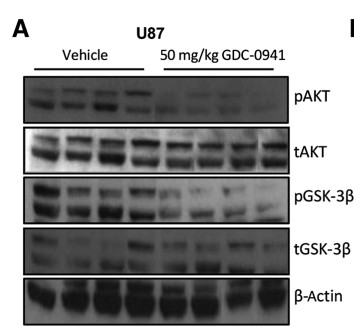 GDC-0941 inhibits PI3K signaling in drug-sensitive U87 tumors. Western blotting data for expression of pAKT, tAKT, pGSK-3β & tGSK-3β in U87. Data are representative of 4 independent mice dosed with vehicle or 50 mg/kg GDC-0941 twice daily for 8 days and were normalized to β-actin.
Related Biological Data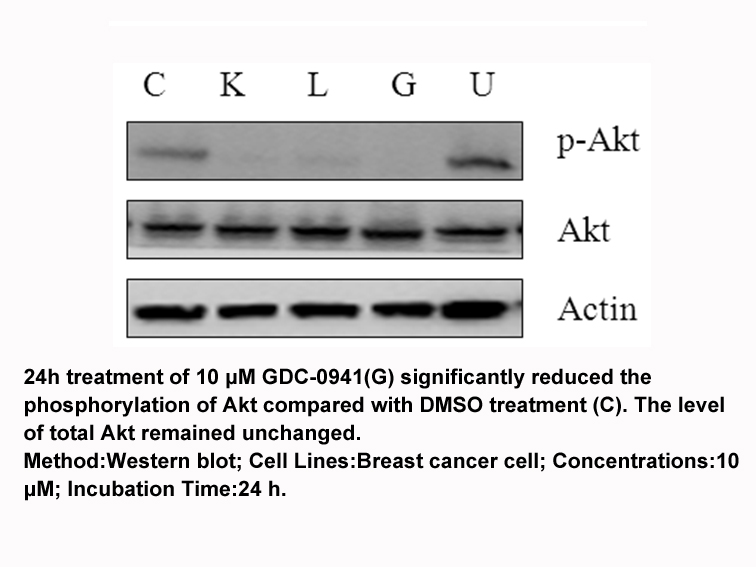 Related Biological Data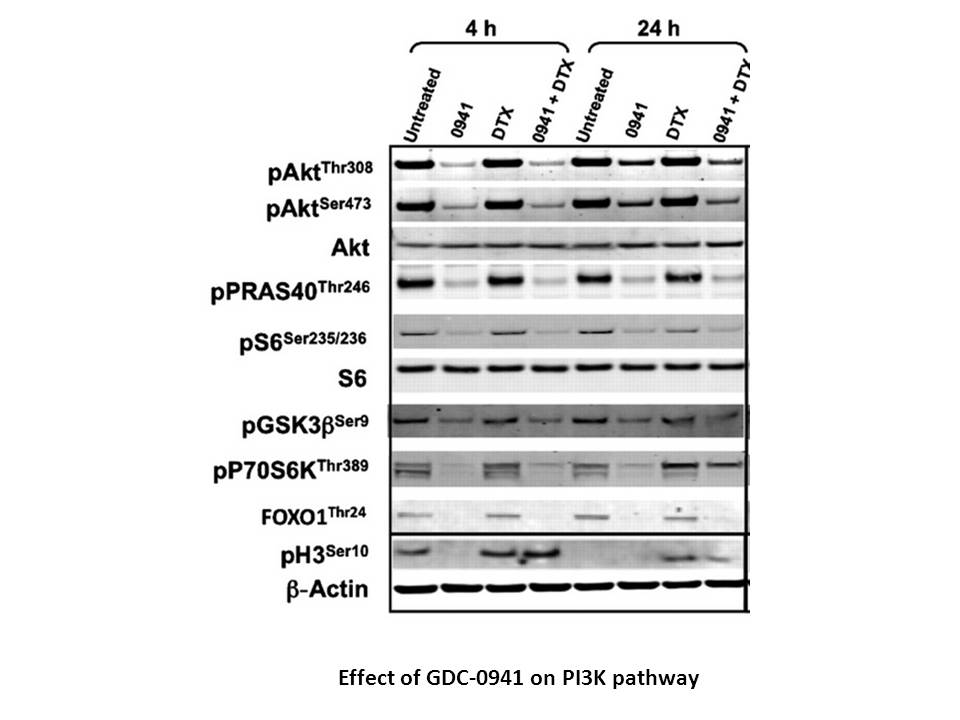 Related Biological Data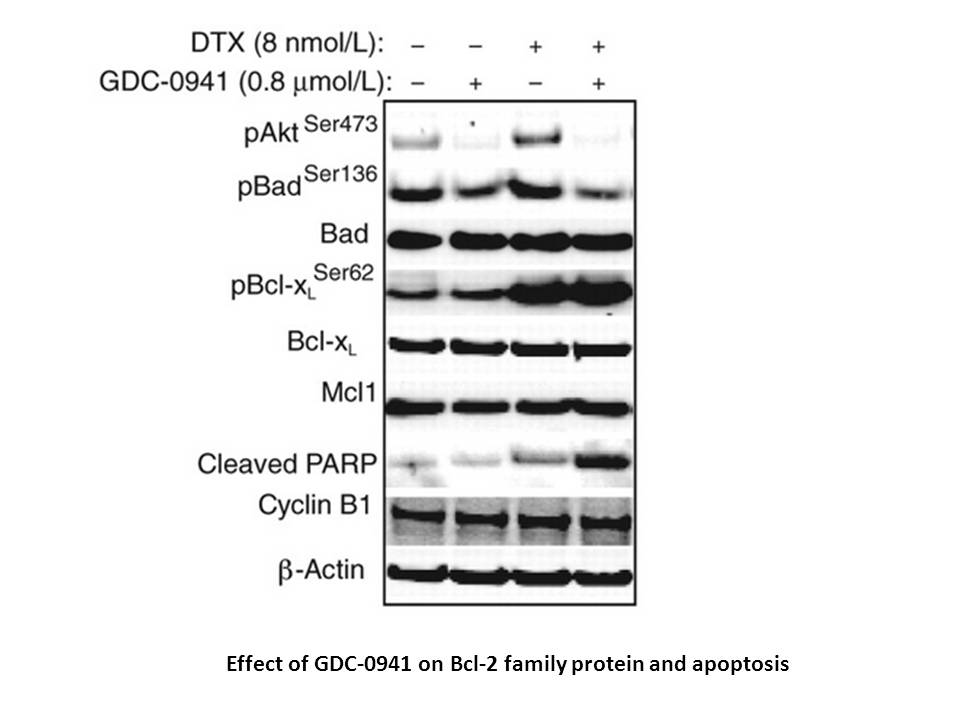 Related Biological Data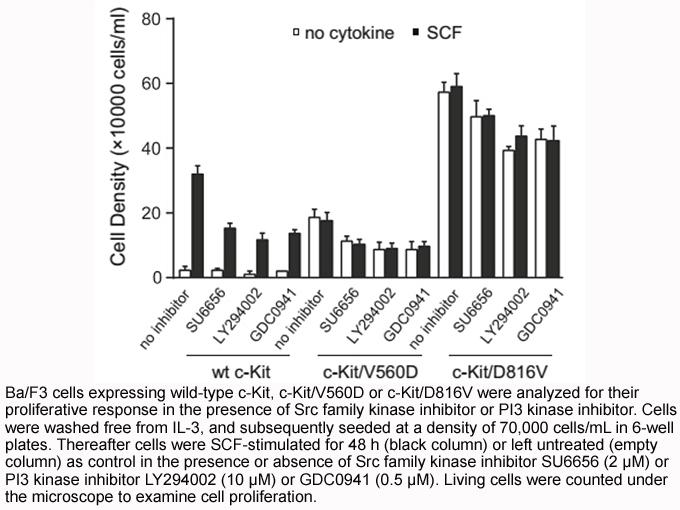 Related Biological Data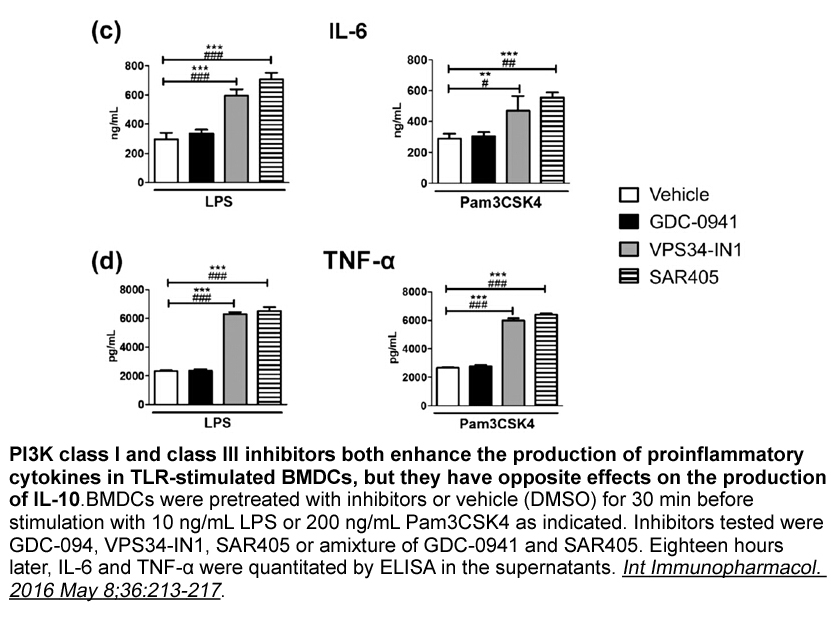 Biological Activity
Description
GDC-0941 is a potent inhibitor of PI3Kα/δ with IC50 of 3 nM, with modest selectivity against p110β (11-fold) and p110γ (25-fold).
Targets
PI3Kα
PI3Kβ
PI3Kδ
PI3Kγ
IC50
3 nM
33 nM
3 nM
75 nM
Chemical Properties
Cas No.
957054-30-7
SDF
Download SDF
Chemical Name
4-[2-(1H-indazol-4-yl)-6-[(4-methylsulfonylpiperazin-1-yl)methyl]thieno[3,2-d]pyrimidin-4-yl]morpholine
Canonical SMILES
CS(=O)(=O)N1CCN(CC1)CC2=CC3=C(S2)C(=NC(=N3)C4=C5C=NNC5=CC=C4)N6CCOCC6
Formula
C23H27N7O3S2
M.Wt

513.64

Solubility
Soluble in DMSO > 10 mM
Storage
Store at -20°C
General tips
For obtaining a higher solubility , please warm the tube at 37 ℃ and shake it in the ultrasonic bath for a while.Stock solution can be stored below -20℃ for several months.
Shipping Condition
Evaluation sample solution : ship with blue ice
All other available size: ship with RT , or blue ice upon request
Background
GDC-0941 is a novel selective class I phosphatidylinositol-3-kinase (PI3K) inhibitor. Activation of PI3K/Akt signaling pathway is frequently associated with tumorigenesis. Deregulation of this pathway occurs frequently with a variety of cancers and may contribute to the resistance to many anticancer agents. [1] Developing novel small molecules that specifically block the PI3K/Akt pathway may inhibit tumor growth. GDC-0941 is designed to bind the ATP-binding pocket of PI3K and to prevent formation of phosphatidylinositol-3, 4, 5-triphosphate (PIP3), a second messenger that transmits PI3K downstream signals. [2, 3] It binds to PI3K in an ATP-competitive manner.
GDC-0941 is a potent small-molecule thieno [3, 2-d] pyrimidine inhibitor of the class I PI3K. It is highly selective against isoforms p110( and p110( with IC50 of 3 nM, and moderately selective against isoforms p110( and p110( with IC50s of 33 nM and 75 nM, respectively.
GDC-0941 inhibits cell proliferation in vitro and in vivo. It causes growth inhibition in a variety of cancer cell lines, including A2780, MDA-MB-361, PC3, and U87MG. [2] It also inhibits the growth of trastuzumab–sensitive and –resistant HER2-amplied cancer cells which harbor p110( mutations or PTEN loss. [4] GDC-0941 also reduces tumor volume in different xenograft models. [4]
GDC-0941 can be taken orally.
References:
[1]Yuan TL, Cantley LC. PI3K pathway alterations in cancer: variations on a theme. Oncogene. 2008;27:5497-5510.
[2]Folkes AJ, Ahmadi K, Alderton WK, et al. The identification of 2-(1H-Indazol-4-yl)-6-(4-methanesulfonyl-piperazin-1-ylmethyl)-4-morpholin-4-yl-thieno[3,2-d]pyrimidine (GDC-0941) as a potent, selective, orally bioavailable inhibitor of class I PI3 kinase for the treatment of cancer. J Med Chem. 2008; 51: 5522-5532.
[3]Knight ZA, Shokat KM. Chemically targeting the PI3K family. Biochem Soc Trans. 2007; 35: 245-249.
[4]Junttila TT, Akita RW, Parsons K, Fields C, Lewis Phillips GD, Friedman LS, Sampath D, Sliwkowski MX. Ligand-independent HER2/HER3/PI3K complex is disrupted by trastuzumab and is effectively inhibited by the PI3K inhibitor GDC-0941. Br J Cancer. 2011; 104(7): 1116-25.