Background
Erlotinib hydrochloride (the trade name Tarceva?) is a directly acting inhibitor of epidermal growth factor receptor (EGFR/HER-1) tyrosine kinase with an IC50 of 2 nM.
Epidermal growth factor receptor (EGFR) is one member of the ErbB family which includes EGFR (ErbB1), ErbB2, ErbB3 and ErbB4. The activation of EGFR is dependent on the binding of peptide growth factors to the receptor. In many carcinomas, the presence of EGFR mutation leads to the activation of EGFP, which causes cell proliferation and other cancer processes [1].
Selective inhibition of EGFR tyrosine kinase by erlotinib hydrochloride leads to the disruption of cancer growth and development which include cell migration, proliferation, angiogenesis, and apoptosis. For instance, erlotinib hydrochloride was shown to induce cell apoptosis and G0/G1 cell cycle arrest in hepatocellular cancer cells, Bxpc-3 and PANC-1 cells, thereby enhancing chemosensitivity towards cytostatics [2, 3].
In addition, this product is widely researched and used for the treatment of human advanced non-small cell lung cancer (NSCLC) [4]. In pancreatic cancer, erlotinib hydrochloride was also reported to exhibit an anti-tumour effect [5].
References:
1.  Melosky B. Review of EGFR TKIs in Metastatic NSCLC, Including Ongoing Trials. Front Oncol 2014,4:244.
2.  Zheng YT, Yang HY, Li T, Zhao B, Shao TF, Xiang XQ, et al. Amiloride sensitizes human pancreatic cancer cells to erlotinib in vitro through inhibition of the PI3K/AKT signaling pathway. Acta Pharmacol Sin 2015,36:614-626.
3.  Huether A, Hopfner M, Sutter AP, Schuppan D, Scherubl H. Erlotinib induces cell cycle arrest and apoptosis in hepatocellular cancer cells and enhances chemosensitivity towards cytostatics. J Hepatol 2005,43:661-669.
4.  Singh N, Jindal A, Behera D. Erlotinib usage after prior treatment with gefitinib in advanced non-small cell lung cancer: A clinical perspective and review of published literature. World J Clin Oncol 2014,5:858-864.
5.  Renouf DJ, Tang PA, Hedley D, Chen E, Kamel-Reid S, Tsao MS, et al. A phase II study of erlotinib in gemcitabine refractory advanced pancreatic cancer. Eur J Cancer 2014,50:1909-1915.
Product Citation
Chemical Properties
| | |
| --- | --- |
| Physical Appearance | A solid |
| Storage | Store at -20°C |
| M.Wt | 429.91 |
| Cas No. | 183319-69-9 |
| Formula | C22H24ClN3O4 |
| Synonyms | Tarceva; CP-358774; OSI-774; NSC 718781 |
| Solubility | insoluble in H2O; insoluble in EtOH; ≥6.44 mg/mL in DMSO with gentle warming |
| Chemical Name | N-(3-ethynylphenyl)-6,7-bis(2-methoxyethoxy)quinazolin-4-amine;hydrochloride |
| SDF | Download SDF |
| Canonical SMILES | COCCOC1=C(C=C2C(=C1)C(=NC=N2)NC3=CC=CC(=C3)C#C)OCCOC.Cl |
| Shipping Condition | Evaluation sample solution: ship with blue ice. All other available sizes: ship with RT, or blue ice upon request. |
| General tips | For obtaining a higher solubility, please warm the tube at 37°C and shake it in the ultrasonic bath for a while. Stock solution can be stored below -20°C for several months. |
Protocol
Cell experiment: [1]

Cell lines

Calu1 cells

Preparation method

The solubility of this compound in DMSO is

Reaction Conditions

1 µM, 24 hours

Applications

Cells were treated with single dose of erlotinib (1 µM, 24 hours), docetaxel (50 nM, 18 hours) or the combination of erlotinib and docetaxel. The greatest cell death was observed in the Txt->OSI-774->media sequence, while the cells treated with the OSI-774->Txt->media sequence resumed proliferation by 72hrs post-treatment. Cleaved PARP and Caspase-3 were detected in the sequence of Txt->OSI-774, and with simultaneous treatment, but not in the sequence of OSI-774->Txt. Further, cleaved PARP and Caspase-3 persisted to 72hrs after the Txt->OSI-774 treatment. These data support the previous results on sub-G1 cells, and molecularly demonstrate an apoptotic response.

Animal experiment: [2]

Animal models

Female, athymic, nu/nu-nuBR nude mice injected with H460a cells

Dosage form

Oral administration, 100mg/kg, daily for 3 weeks

Applications

Erlotinib had significant dose-dependent efficacy. In the 100mg/kg group there was growth inhibition of 61%. The other groups had the following growth inhibition: 25mg/kg: 46%; 12.5mg/kg: 36%; 6.25mg/kg: 28%. There were no partial or complete regressions.

Other notes

Please test the solubility of all compounds indoor, and the actual solubility may slightly differ with the theoretical value. This is caused by an experimental system error and it is normal.

References:

[1] Kimura T, Mahaffey C M, Pryde B J, et al. Apoptotic effects of the docetaxel→ OSI-774 combination in non-small cell lung carcinoma (NSCLC) cells//Proc Am Soc Clin Oncol. 2004, 22: 7143.

[2] Higgins B, Kolinsky K, Smith M, et al. Antitumor activity of erlotinib (OSI-774, Tarceva) alone or in combination in human non-small cell lung cancer tumor xenograft models. Anti-cancer drugs, 2004, 15(5): 503-512.
Biological Activity
Description
Erlotinib HCl (OSI-744) is an inhibitor of EGFR with IC50 of 2 nM, >1000-fold more sensitive for EGFR than human c-Src or v-Abl.
Targets
HER1/EGFR
IC50
2 nM
Quality Control
Quality Control & MSDS
View current batch:
Chemical structure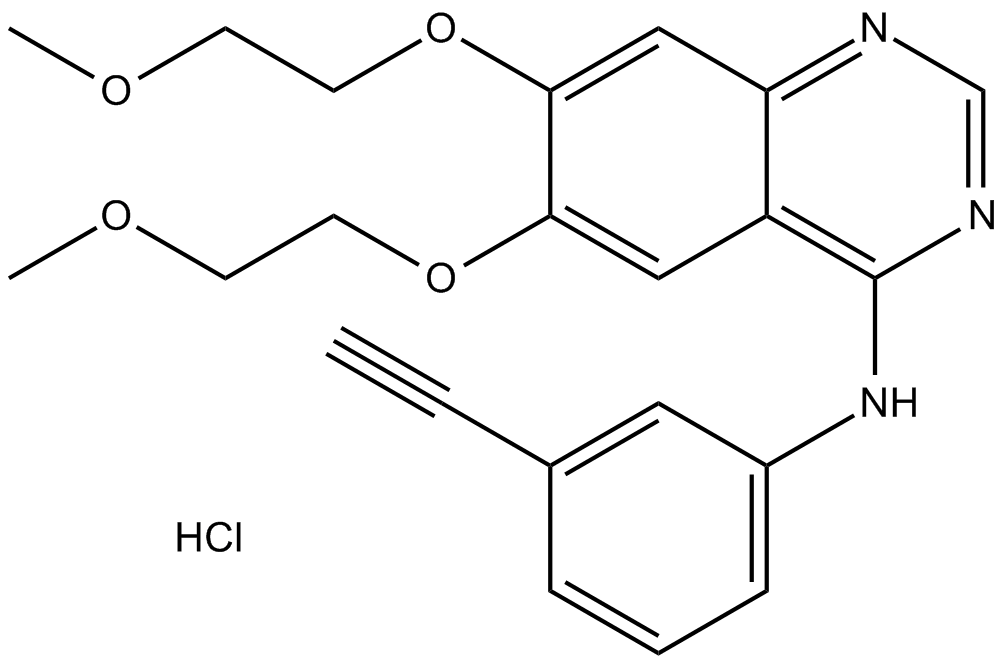 Related Biological Data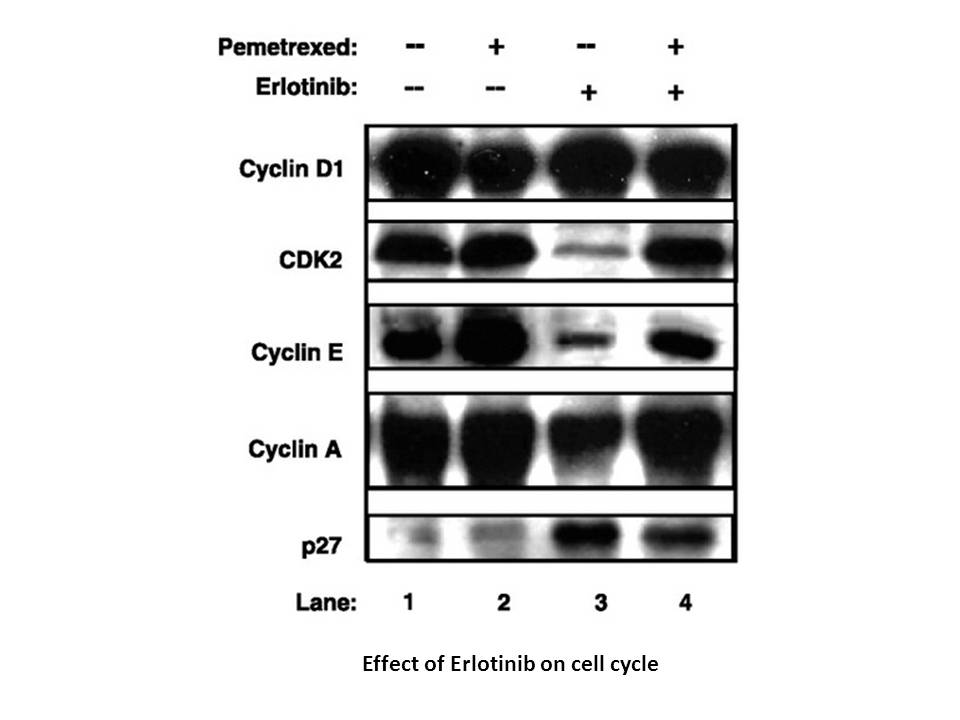 Related Biological Data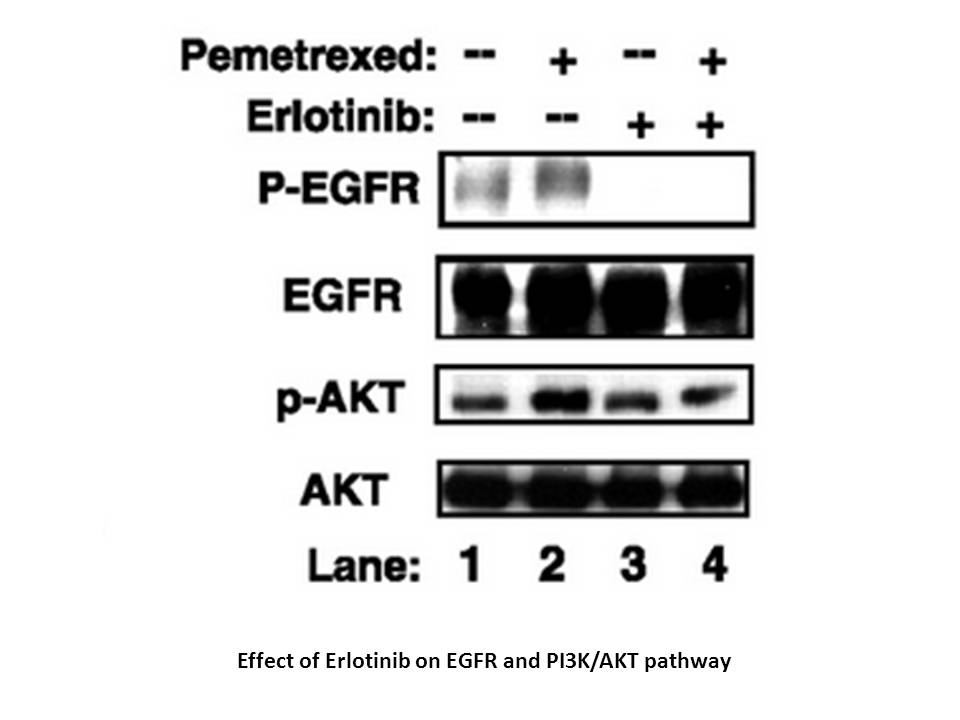 Related Biological Data
Related Biological Data