Background
Entinostat (also known as MS-275 or SNDX-275), a derivative of 2-aminophenyl benzamides, is a potent and orally-available inhibitor of histone deacetylases (HDACs), a family of enzymes associated with a variety of well-characterized cellular oncogenes and tumor suppressors, that potently inhibits class I HDACs, including HDAC1, HDAC3 and HDAC8, with values of 50% inhibition concentration IC50 of 0.368 μM, 0.501 μM and 63.4 μM respectively. Entinostat has been widely investigated for the treatment of cancer, in which results have shown the in vitro anti-proliferative activity of entinostat in a wide range of human cancer cell lines, including breast, colon, lung, myeloma, ovary, pancreas, prostate and leukemia.
Reference
Hess-Stumpp H, Bracker TU, Henderson D, Politz O. MS-275, a potent orally available inhibitor of histone deacetylases--the development of an anticancer agent. Int J Biochem Cell Biol. 2007;39(7-8):1388-405. Epub 2007 Feb 16.
Hess-Stumpp H. Histone deacetylase inhibitors and cancer: from cell biology to the clinic. Eur J Cell Biol. 2005 Mar;84(2-3):109-21.
Product Citation
Chemical Properties
| | |
| --- | --- |
| Physical Appearance | A solid |
| Storage | Store at -20°C |
| M.Wt | 376.4 |
| Cas No. | 209783-80-2 |
| Formula | C21H20N4O3 |
| Synonyms | MS-275,SNDX-275, MS 275, MS-27-275, SNDX275, Histone Deacetylase Inhibitor I, MS27-275 |
| Solubility | ≥18.8mg/mL in DMSO, ≥7.4 mg/mL in EtOH with ultrasonic,insoluble in H2O |
| Chemical Name | pyridin-3-ylmethyl N-[[4-[(2-aminophenyl)carbamoyl]phenyl]methyl]carbamate |
| SDF | Download SDF |
| Canonical SMILES | C1=CC=C(C(=C1)N)NC(=O)C2=CC=C(C=C2)CNC(=O)OCC3=CN=CC=C3 |
| Shipping Condition | Evaluation sample solution: ship with blue ice. All other available sizes: ship with RT, or blue ice upon request. |
| General tips | For obtaining a higher solubility, please warm the tube at 37°C and shake it in the ultrasonic bath for a while. Stock solution can be stored below -20°C for several months. |
Protocol
Cell experiment:[1]

Cell lines

Y79, Weri-Rb1, and Y79-LUC human RB cell lines, and Rb143 primary human RB cells

Preparation method

The solubility of this compound in DMSO is >10 mM. General tips for obtaining a higher concentration: Please warm the tube at 37 °C for 10 minutes and/or shake it in the ultrasonic bath for a while.Stock solution can be stored below -20°C for several months.

Reaction Conditions

Dependent on situations

Applications

TSA, SAHA, and MS-275 dose dependently reduced RB cell survival. TSA and MS-275 showed additive growth-inhibitory effects in combination with carboplatin, etoposide, or vincristine. TSA and MS-275 increased caspase-3/7 activity. MS-275 increased Annexin V membrane translocation and induced G1arrest. Cytotoxicity of MS-275 was dependent on increased reactive oxygen species levels and was reversed by antioxidant pretreatment.

Animal experiment:[1]

Animal models

LHh-Tag transgenic murine model and a rat Y79-LUC ocular xenograft model

Dosage form

LHh-Tag mice were treated every other day for 21 d with 20 mg/kg MS-275; Y79-LUC ocular xenografts mice were treated every other day for 13 d with 20 mg/kg MS-275.

Applications

Intraocular administration of 1μl of 10 μM MS-275 did not alter ocular tissue morphology. Increased acetyl-histone levels confirmed MS-275 delivery to retinal tissue after systemic administration. MS-275 significantly reduced tumor burden in both mouse and rat models of RB.

Other notes

Please test the solubility of all compounds indoor, and the actual solubility may slightly differ with the theoretical value. This is caused by an experimental system error and it is normal.

Phase I experiment:[2]

Target

Patients with solid tumours.

Dosage form

Patients with advanced solid tumours were treated with entinostat orally once weekly and with CRA orally twice daily for 3 weeks in every 4 weeks. The starting dose for entinostat was 4 mg/m2 with a fixed dose of CRA at 1 mg/kg per day. Entinostat dose was escalated by 1 mg/m2 increments.

Applications

A total of 19 patients were enrolled. The maximum tolerated dose (MTD) was exceeded at the entinostat 5 mg/m2 dose level (G3 hyponatremia, neutropenia, and anaemia). Fatigue (G1 or G2) was a common side effect. Entinostat exhibited substantial variability in clearance (147%) and exposure. The combination of entinostat with CRA was reasonably well tolerated. The recommended phase II doses are entinostat 4 mg/m2 once weekly and CRA 1 mg/kg per day. Although no tumour responses were seen, further evaluation of this combination is warranted.

References:

1. Dalgard CL, Van Quill KR, O'Brien JM. Evaluation of the in vitro and in vivo antitumor activity of histone deacetylase inhibitors for the therapy of retinoblastoma. Clin Cancer Res. 2008 May 15;14(10):3113-23.

2. Pili R1, Salumbides B, Zhao M et al. Phase I study of the histone deacetylase inhibitor entinostat in combination with 13-cis retinoic acid in patients with solid tumours. Br J Cancer. 2012 Jan 3;106(1):77-84.
Biological Activity
Description
Entinostat (MS-275) is a strong inhibitor of HDAC1 and HDAC3 with IC50 of 0.51 μM and 1.7 μM, compared with HDACs 4, 6, 8, and 10.
Targets
HDAC1
HDAC3
IC50
0.51 μM
1.7 μM
Quality Control
Quality Control & MSDS
View current batch:
Chemical structure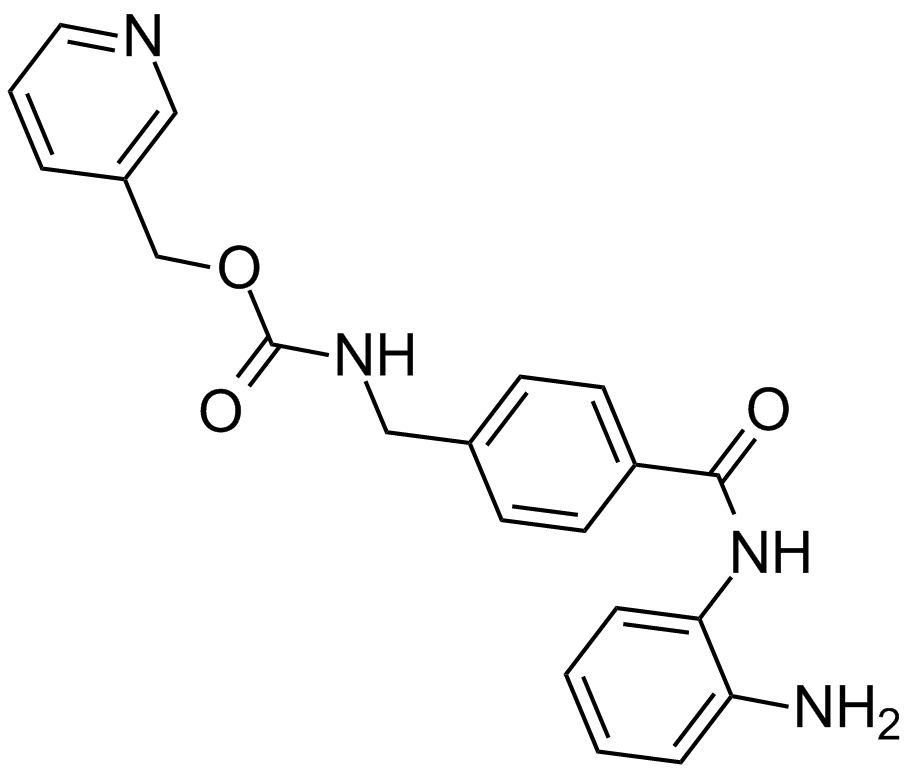 Related Biological Data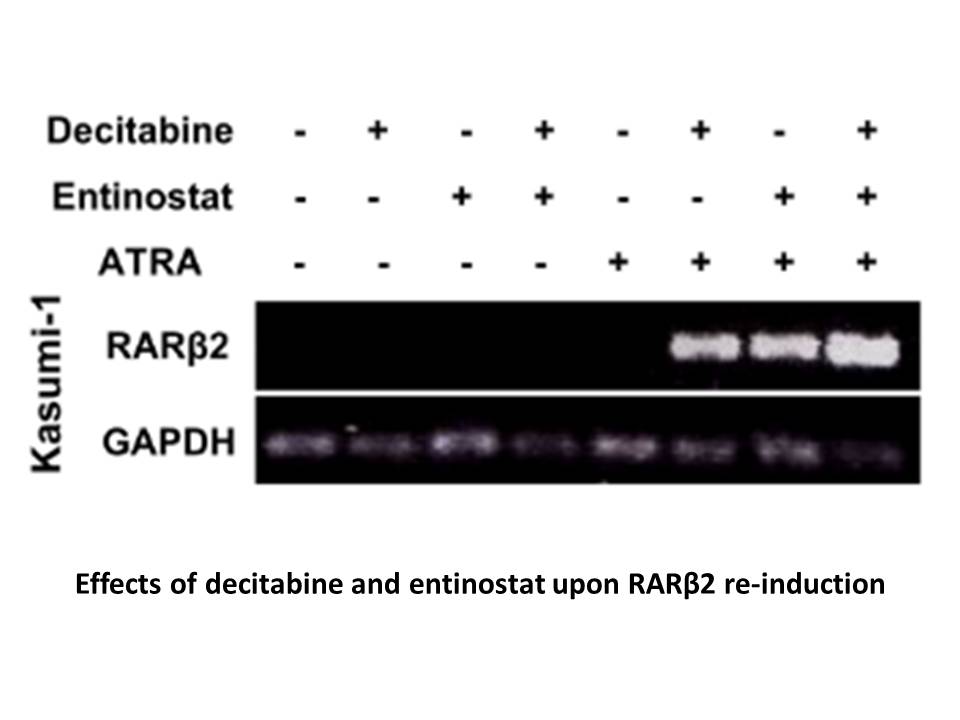 Related Biological Data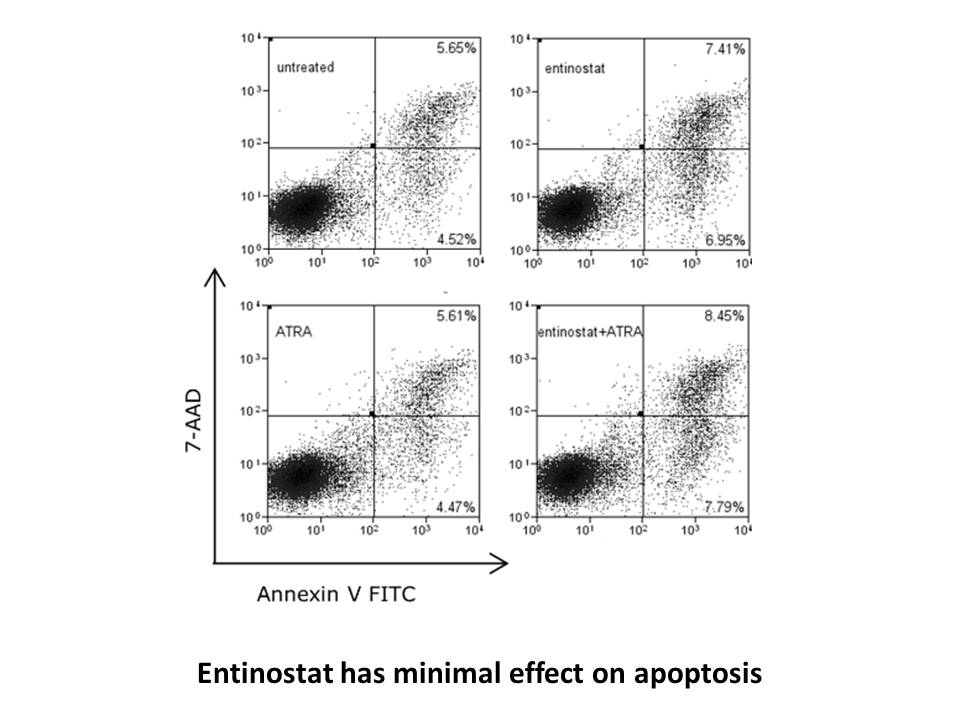 Related Biological Data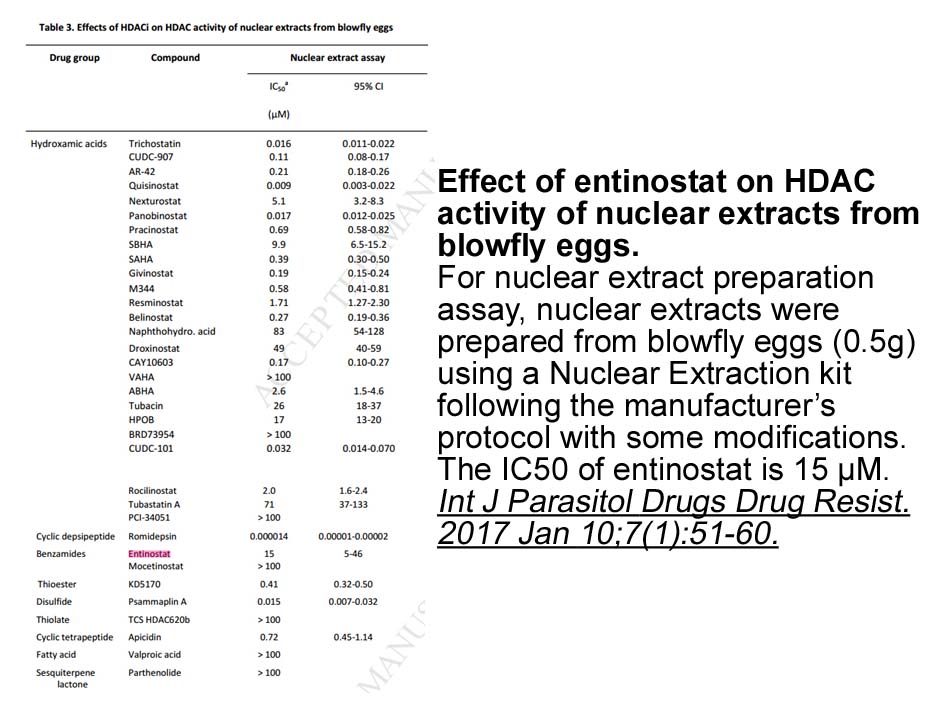 Related Biological Data
Related Biological Data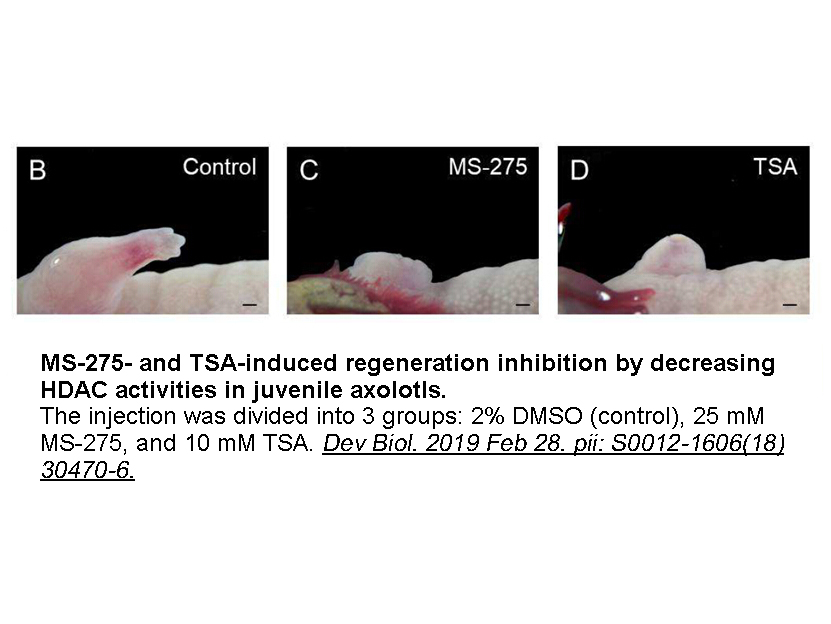 Related Biological Data