Background
Docetaxel, a new taxoid family member originally derived from the needles of the European Yew tree Taxus baccata, is a potent chemotherapeutic agent that acts as a spindle poison to inhibit microtubule dynamics and cell cycle arrest through promoting microtublin assembly and stabilizing the polymers against depolymerization. Docetaxel has demonstrated strong in vivo and in vitro antitumor activities against a broad range of cancers including breast, lung, ovarian, head and neck, and gastric cancers. Previous studies have shown that docetaxel exertss stronger cytotoxicity than other chemotherapeutic agents against ovarian carcinoma cell lines, in which the cytotoxicity of docetaxel is 1.2-2.6 times greater than that of paclitaxel and over 1000 times greater than that of cisplatin or etoposide.
Reference
N Katsumata. Docetaxel: an alternative taxane in ovarian cancer. British Journal of Cancer (2003) 89 (Suppl 3), S9-S15
Product Citation
Chemical Properties
Protocol
Cell experiment [1]:

Cell lines

Nine human gastric cancer cell lines

Preparation method

The solubility of this compound in DMSO is > 10 mM. General tips for obtaining a higher concentration: Please warm the tube at 37 °C for 10 minutes and/or shake it in the ultrasonic bath for a while. Stock solution can be stored below -20 °C for several months.

Reaction Conditions

< 0.00012 ~ > 1.2 μM

Applications

The cytotoxic effect of Docetaxel was relatively greater than that of Paclitaxel in six of the nine cells. The effect of Docetaxel and Paclitaxel on MM-7 and ST-SA-I cells was less than on the other seven cultured cells.

Animal experiment [1]:

Animal models

Mice bearing human gastric cancer xenografts (MKN-28, MKN-45 and KKLS)

Dosage form

3.75, 7.5, 15 or 22 mg/kg; i.v.; three times within a 4-day interval

Applications

Docetaxel dose-dependently inhibited tumour growth. At the doses of 15 and 22 mg/kg, Docetaxel induced complete tumor regression in all mice.

Other notes

Please test the solubility of all compounds indoor, and the actual solubility may slightly differ with the theoretical value. This is caused by an experimental system error and it is normal.

References:

[1]. Tanaka M, Obata T, Sasaki T. Evaluation of antitumour effects of docetaxel (Taxotere) on human gastric cancers in vitro and in vivo. Eur J Cancer. 1996 Feb;32A(2):226-30.
Biological Activity
Description
Docetaxel, an analog of taxol, is an inhibitor of depolymerisation of microtubules by binding to stabilized microtubules.
Targets
Microtubules
IC50
Quality Control
Quality Control & MSDS
View current batch:
Chemical structure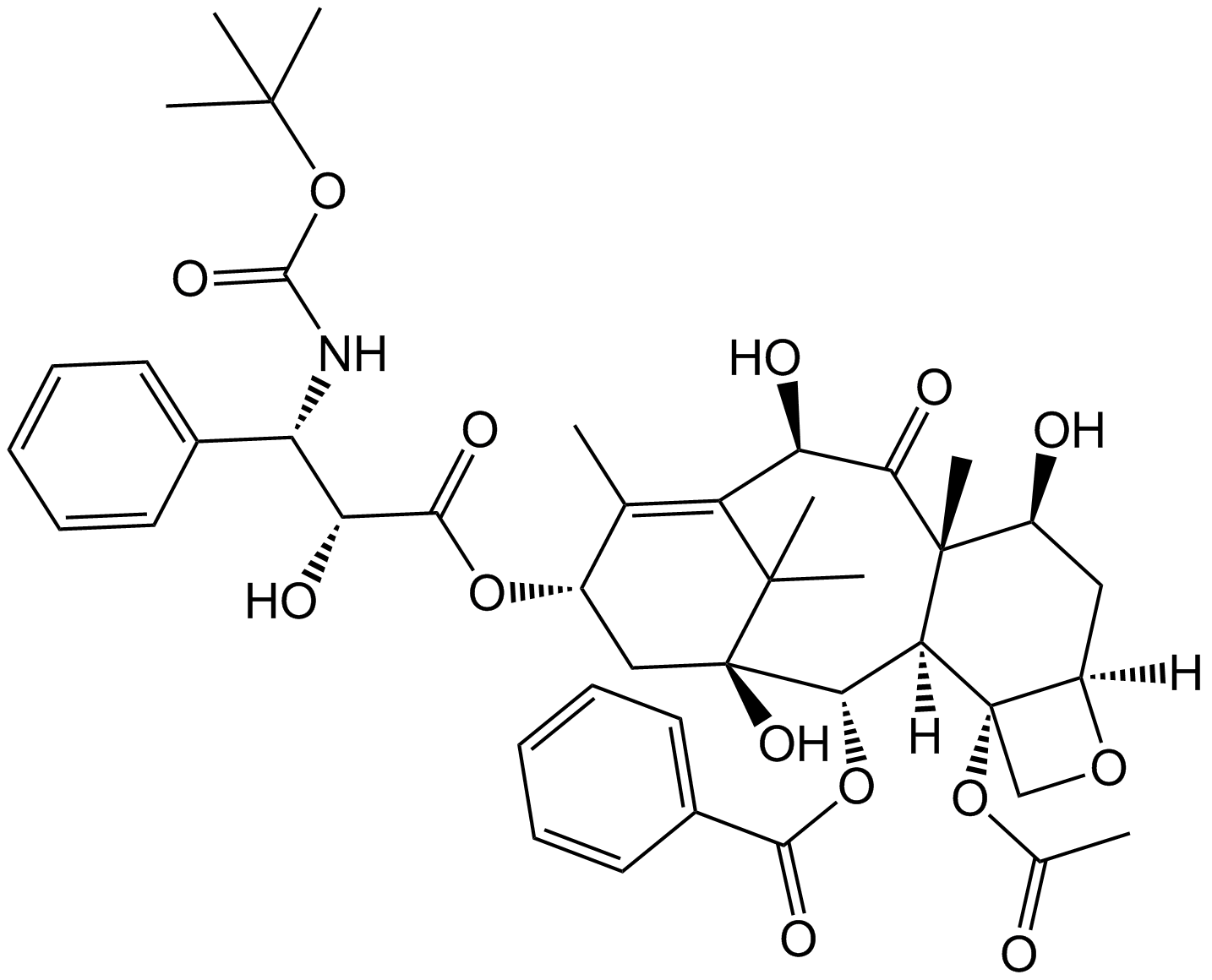 Related Biological Data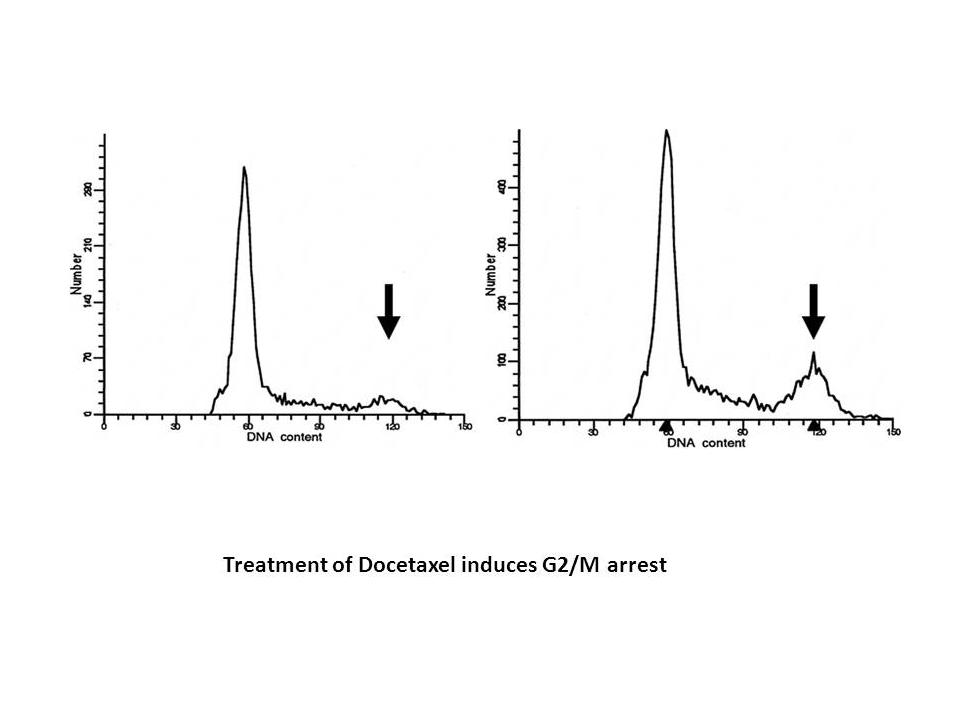 Related Biological Data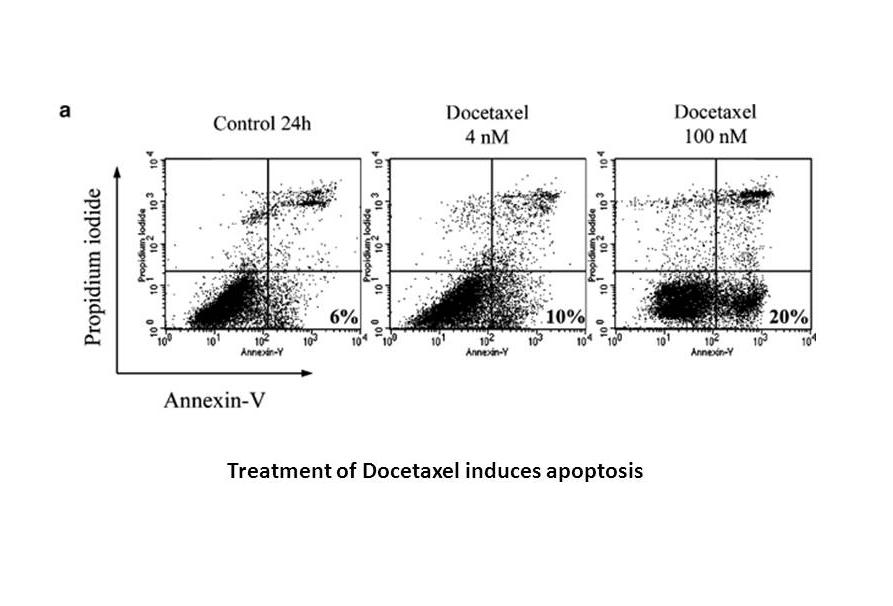 Related Biological Data