DiscoveryProbe™ Endocrinology and Hormones-related Compounds Panel
Sample solution is provided at 25 µL, 10mM.
Click and Customize the Panel
with your own choices of compounds/size/quantities/chemical forms etc.
Publications citing ApexBio Products
HTS Facility Partners
Featured Products of the Panel
Catalog No.
Product Name
Summary
Targets
CAS Number
Smiles
A2150
Andarine
Selective androgen receptor agonist
Endocrinology and Hormones|Androgen Receptor
401900-40-1
C(=O)NC1=CC=C(C=C1)OCC(C)(C(=O)NC2=CC(=C(C=C2)[N+](=O)[O-])C(F)(F)F)O
B1534
AZD1981
CRTh2 antagonist,potent and selective
Endocrinology and Hormones|CRTH2
802904-66-1
CC1=C(C2=C(N1CC(=O)O)C=CC=C2NC(=O)C)SC3=CC=C(C=C3)Cl
A1428
Fulvestrant
Estrogen receptor antagonist,high affinity
Endocrinology and Hormones|Estrogen/progestogen Receptor
129453-61-8
CC12CCC3C(C1CCC2O)C(CC4=C3C=CC(=C4)O)CCCCCCCCCS(=O)CCCC(C(F)(F)F)(F)F
B1518
Erteberel (LY500307)
Erβ agonist, potent and selective
Endocrinology and Hormones|Estrogen/progestogen Receptor
533884-09-2
C1CC2C(C1)C3=C(C=CC(=C3)O)OC2C4=CC=C(C=C4)O
B3238
XCT790
ERRα agonist
Endocrinology and Hormones|Estrogen/progestogen Receptor
725247-18-7
COC1=C(C=CC(=C1)C=C(C#N)C(=O)NC2=NN=C(S2)C(F)(F)F)OCC3=C(C=C(C=C3)C(F)(F)F)C(F)(F)F
A2986
ADL5859 HCl
δ-opioid receptor agonist,selective
Endocrinology and Hormones|Opioid Receptor
850173-95-4
CCN(CC)C(=O)C1=CC=C(C=C1)C2=CC3(CCNCC3)OC4=C2C(=CC=C4)O.Cl
A8456
JTC-801
KOR-3 (NOP) receptor antagonist, high affinity and selective
Endocrinology and Hormones|Opioid Receptor
244218-51-7
CCC1=CC=C(C=C1)OCC2=CC=CC=C2C(=O)NC3=CC4=C(C=C3)N=C(C=C4N)C.Cl
A8019
Perindopril Erbumine
Potent angiotensin-converting enzyme (ACE) inhibitor
Endocrinology and Hormones|RAAS
107133-36-8
CCCC(C(=O)OCC)NC(C)C(=O)N1C2CCCCC2CC1C(=O)O.CC(C)(C)N
Download the Endocrinology and Hormones-related Compounds Panel - XLSX Download the Endocrinology and Hormones-related Compounds Panel - SDF
Quality Control
Related Biological Data
KLK3 (top) and NKX3-1(bottom) expression which were the AR target genes in various resistant clones were analyzed by QPCR. All lines were pretreated with vehicle (−) or doxycycline (+) for 3 days before treatment with DMSO (left) or 10 μmol/L MDV3100 (right) for 24 hours in 10% FCS. TBP was used to normalize expression. Data represent mean ± SEM; n = 3. *, P < 0.05; **, P < 0.01 (Student t test). The F876L mutation is sufficient to induce genetic and phenotypic resistance to MDV3100.
Review (Georgia Regents University)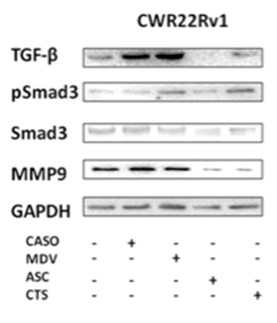 Comparison of different anti-androgen/AR compounds on TGF-β1/Smad3/MMP9 signaling in PCa cells. CWR22Rv1 cells treated with 10 μM CASO, 10 μM MDV, 10 μM ASC, 5 μM CTS, or vehicle for 3 days were harvested. The expressions of TGF-β1, p-Smad3, Smad3, MMP9, and GAPDH were analyzed by Western blot analysis. All of the experiments have been repeated twice independently. *, p< 0.05; **, p < 0.01; ***, p < 0.001. Error bars, S.D. Casodex and MDV3100 enhanced TGF-beta, MMP9 expression in CWR22Rv1 cells. whereas ASC-J9 and CTS treatment did not.
Review (University of Glasgow )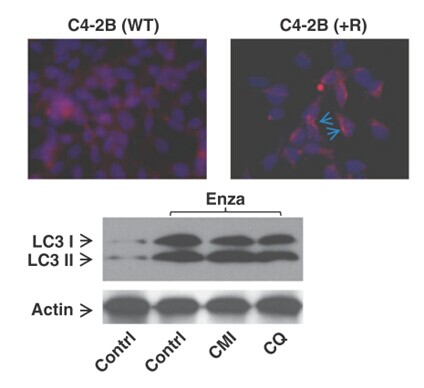 Chronic exposure to ENZA resulted in autophagy. To mimic resistant to ENZA, C4-2B cells were subjected to 20 μM ENZA over a period of 3 months and selected for a sub-population of resistance cells (C4-2B+R). Upper panel showed acridine orange staining of autophagosome acidic vesicles as a marker for autophagy. Lower panel showed LC3-I/II protein expression in parental cells (control) and under chronic ENZA exposure-treated vehicle control, chloroquine (CQ) or CMI. β -Actin was used as the loading control.
Advantages
Available in stock with overnight delivery and free shipping over $500
Cost-effective and competitive price to save your findings
Potent, selective and cell-permeable in inhibiting or activating target molecules
Diverse in chemical structure and route of administration (oral/i.m/i.v injection etc.)
Detailed files describing potency, selectivity and applications etc.
Supported by published data from top peer-reviewed journals
Guaranteed high quality with NMR and HPLC validation
Storage and Shipping Information
Solubility
Soluble in DMSO
Storage
Desiccate at -20°C
Packaging
96 well plate
Form
Powder
General tips
For obtaining a higher solubility , please warm the tube at 37°C and shake it in the ultrasonic bath for a while.Stock solution can be stored below -20°C for several months.
Shipping Condition
Evaluation sample solution : ship with blue ice
All other available size: ship with RT , or blue ice upon request
Background
A wide range of well-characterized bioactive molecules that covers various targets related to endocrinology and hormones, including androgen receptor, estrogen/progestogen receptor and RAAS etc. Facilitate your research towards the insights of diabetes, thyroid disorders and cancer etc. Applicable in cellular assays, animal models and drug screenings etc.