Dabrafenib (GSK2118436)
Inhibitor of BRAF(V600) mutants
Sample solution is provided at 25 µL, 10mM.
Related Compound Libraries
Quality Control
Quality Control & MSDS
View current batch:
Chemical structure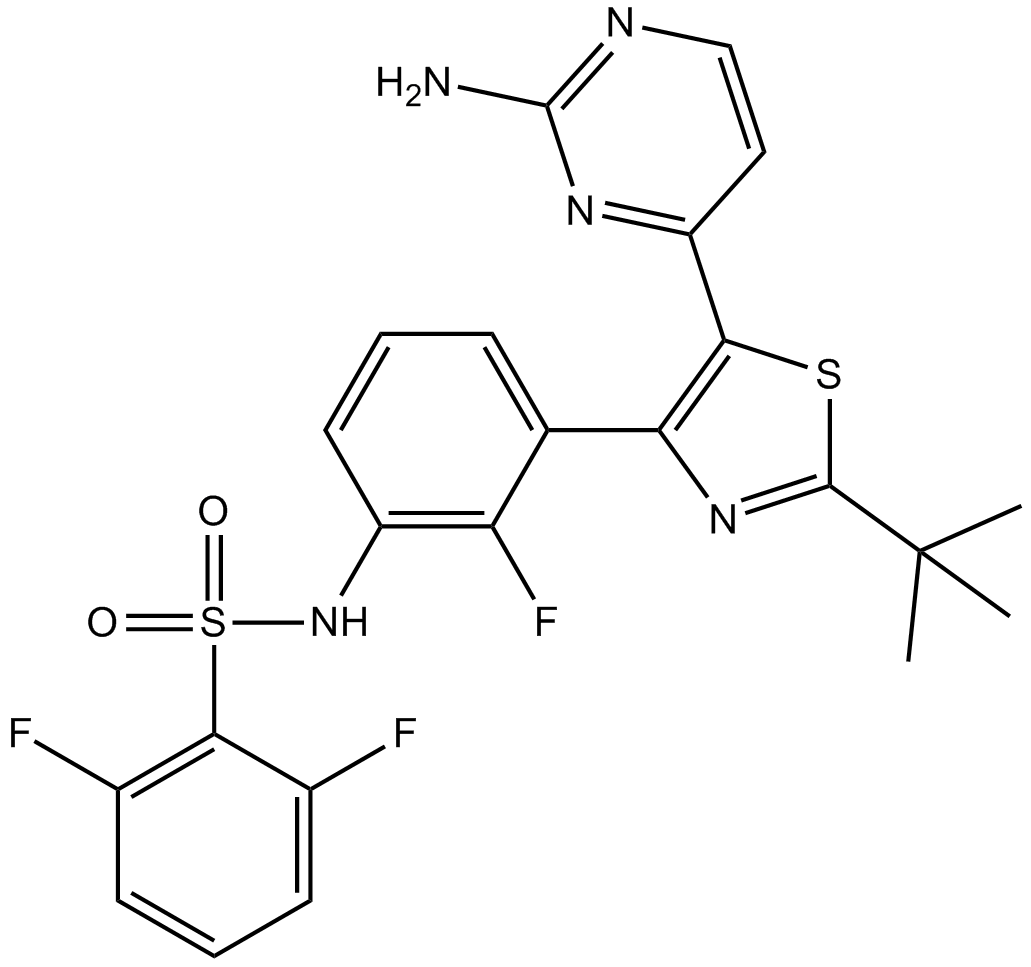 Related Biological Data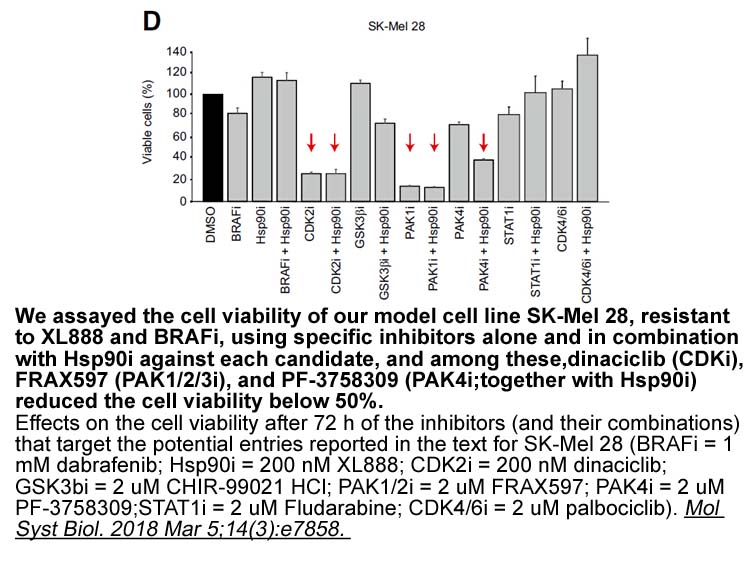 Biological Activity
Description
Dabrafenib (GSK2118436) is a inhibitor of mutant BRAFV600 specific with an IC50 value of 0.8 nM.
Targets
B-Raf (V600E)
B-Raf
C-Raf
IC50
0.8 nM
3.2 nM
5.0 nM
Protocol
Cell experiment [1, 2]:

Cell lines

B-RafV600E-driven melanoma lines, SKMEL28 and A375P F11, and colorectal carcinoma cells Colo205, HT29 cells

Preparation method

The solubility of this compound in DMSO is > 10 mM. General tips for obtaining a higher concentration: Please warm the tube at 37℃ for 10 minutes and/or shake it in the ultrasonic bath for a while. Stock solution can be stored below -20℃ for several months.

Reacting condition

10 μM for 24 h

Applications

Dabrafenib effectively inhibited cell proliferation of B-RafV600E-driven melanoma lines, SKMEL28 and A375P F11 (IC50 = 3 and 8 nM, respectively), and colorectal carcinoma cells Colo205 (IC50 = 7 nM). Moreover, dabrafenib selectively inhibited RIP3 and inhibited RIP3-mediated necroptosis for HT29 cells.

Animal experiment [1, 2]:

Animal models

CD1 nu/nu mice bearing A375P F11 (B-RafV600E) tumors model

Dosage form

0.1, 1, 10, and 100 mg/kg, oral administration, once daily for 14 days or 300 mg/kg, 100 mg/kg dabrafenib (p.o.).

Applications

Dabrafenib dose-dependently inhibited tumor growth and reduced pERK levels in A375P F11 (B-RafV600E) human melanoma tissue in vivo. Additionally, dabrafenib alleviated acetaminophen-induced liver injury in mice.

Other notes

Please test the solubility of all compounds indoor, and the actual solubility may slightly differ with the theoretical value. This is caused by an experimental system error and it is normal.

References:

1. Rheault, T. R., Stellwagen, J. C., Adjabeng, G. M., Hornberger, K. R., Petrov, K. G., Waterson, A. G., Dickerson, S. H., Mook, R. A., Jr., Laquerre, S. G., King, A. J., Rossanese, O. W., Arnone, M. R., Smitheman, K. N., Kane-Carson, L. S., Han, C., Moorthy, G. S., Moss, K. G. and Uehling, D. E. (2013) Discovery of Dabrafenib: A Selective Inhibitor of Raf Kinases with Antitumor Activity against B-Raf-Driven Tumors. ACS Med Chem Lett. 4, 358-362

2. Li, J. X., Feng, J. M., Wang, Y., Li, X. H., Chen, X. X., Su, Y., Shen, Y. Y., Chen, Y., Xiong, B., Yang, C. H., Ding, J. and Miao, Z. H. (2014) The B-Raf(V600E) inhibitor dabrafenib selectively inhibits RIP3 and alleviates acetaminophen-induced liver injury. Cell Death Dis. 5, e1278
Chemical Properties
Cas No.
1195765-45-7
SDF
Download SDF
Synonyms
N/A
Chemical Name
N-[3-[5-(2-aminopyrimidin-4-yl)-2-tert-butyl-1,3-thiazol-4-yl]-2-fluorophenyl]-2,6-difluorobenzenesulfonamide
Canonical SMILES
CC(C)(C)C1=NC(=C(S1)C2=NC(=NC=C2)N)C3=C(C(=CC=C3)NS(=O)(=O)C4=C(C=CC=C4F)F)F
Formula

C23H20F3N5O2S2

M.Wt

519.56

Solubility
>26mg/mL in DMSO
Storage
Store at -20°C
Shipping Condition
Evaluation sample solution : ship with blue ice.All other available size: ship with RT , or blue ice upon request
General tips
For obtaining a higher solubility , please warm the tube at 37 ℃ and shake it in the ultrasonic bath for a while.Stock solution can be stored below -20℃ for several months.
Background
Dabrafenib is a specific inhibitor of BRAF V600 mutants with IC50 values of 0.5nM, 0.6nM and 1.9nM against V600E, V600K and V600D, respectively [1].
BRAF plays a central role in regulating MAPK signaling pathway which regulates cell growth, division and differentiation. The V600E mutation of BRAF increases the kinase activity and is involved in metastatic melanomas. Dabrafenib is an ATP-competitive and reversible inhibitor of BRAF mutants. It potently inhibits BRAFV600E, BRAFV600K and BRAFV600D with IC50 values of 0.5nM, 0.6nM and 1.9nM, respectively. Dabrafenib is currently approved by FDA and is widely used in cancer patients harboring BRAF mutations. It is reported that treatment of dabrafenib shrinks the overall size of brain metastases in patients. It also has an impressive 60% response rate for melanomas outside of the brain. Dabrafenib provides a significant survival benefit in patients with metastatic melanoma [1, 2].
References:
[1] Hong S, Hong S. Overcoming metastatic melanoma with BRAF inhibitors. Archives of pharmacal research, 2011, 34(5): 699-701.
[2] Hong D S, Vence L, Falchook G, et al. BRAF (V600) inhibitor GSK2118436 targeted inhibition of mutant BRAF in cancer patients does not impair overall immune competency. Clinical Cancer Research, 2012, 18(8): 2326-2335.