Background
CX-5461 is a potent and orally bioavailable small-molecule inhibitor of rRNA synthesis that specifically inhibits RNA polymerase (Pol) I-driven transcription with IC50 value of 142 nM. CX-5461 exhibits antiproliferative activity against human pancreatic tumor cells MIA Paca-2, human melanoma cells A375 and colorectal carcinoma cells HCT-116 with EC50 values of 74, 58, and 167 nmol/L, respectively. [1].
CX-5461 was revealed to inhibit Pol I transcription via promoting the stabilization of p53. In addition, CX-5461 has been demonstrated to induce autophagy and senescence but not apoptosis in MIA Paca-2 and A375 cell lines.
In vivo, CX-5461 has shown to suppress tumor volume in both MIA Paca-2 and A375 derived xenograft mice models [1].
References:
[1] Drygin D1, Lin A, Bliesath J, Ho CB, O'Brien SE, Proffitt C, Omori M, Haddach M, Schwaebe MK, Siddiqui-Jain A, Streiner N, Quin JE, Sanij E, Bywater MJ,Hannan RD, Ryckman D, Anderes K, Rice WG. Targeting RNA polymerase I with an oral small molecule CX-5461 inhibits ribosomal RNA synthesis and solid tumor growth. Cancer Res. 2011 Feb 15;71(4):1418-30
Product Citation
Chemical Properties
| | |
| --- | --- |
| Physical Appearance | A solid |
| Storage | Store at -20°C |
| M.Wt | 513.61 |
| Cas No. | 1138549-36-6 |
| Formula | C27H27N7O2S |
| Synonyms | CX 5461;CX5461 |
| Solubility | insoluble in DMSO,insoluble in EtOH,insoluble in H2O |
| Chemical Name | 2-(4-methyl-1,4-diazepan-1-yl)-N-[(5-methylpyrazin-2-yl)methyl]-5-oxo-[1,3]benzothiazolo[3,2-a][1,8]naphthyridine-6-carboxamide |
| SDF | Download SDF |
| Canonical SMILES | CC1=CN=C(C=N1)CNC(=O)C2=C3N(C4=CC=CC=C4S3)C5=C(C2=O)C=CC(=N5)N6CCCN(CC6)C |
| Shipping Condition | Evaluation sample solution: ship with blue ice. All other available sizes: ship with RT, or blue ice upon request. |
| General tips | For obtaining a higher solubility, please warm the tube at 37°C and shake it in the ultrasonic bath for a while. Stock solution can be stored below -20°C for several months. |
Protocol
Cell Experiments: [1]

Cell lines

hTERT-immortalized BJ-hTERT human fibroblasts, Human inflammatory breast cancer cell lines SUM 149PT and SUM 190PT, Human eosinophilic leukemia cell line EOL-1, human B cell precursor leukemia cell line SEM, and human acute monocytic leukemia cell line THP-1

Preparation method

Stored at room temperature as 10 mmol/L stock solutions in 50 mmol/L NaH2PO4?(pH 4.5)

Reacting condition

2 μmol/L, 1 hour

Applications

Treatment of HCT-116, A375, or MIA PaCa-2 with 2 μmol/L CX-5461 resulted in 40% to 60% reduction of the Pol I enzyme association with the rDNA promoter. CX-5461 significantly depleted the binding of Pol I transcription factors (TF) to the rDNA promoter in HCT-116 cells. In dose-response studies, the IC50?for inhibition of DNA synthesis in A375 and MIA PaCa-2 cell lines ranged from 16.8 to 27.9 μmol/L. Treatment of solid tumor cell lines with CX-5461 induced cellular senescence and autophagy through selective inhibition of rRNA synthesis. CX-5461 targets the SL1 transcription factor of the Pol I complex and induces autophagy and senescence among solid tumor cell lines and selectively kills cancer cells relative to normal cells.

Animal experiment: [1]

Animal models

Murine xenograft models of human cancers, pancreatic carcinoma (MIA PaCa-2) and melanoma (A375)

Dosage form

Administered orally (50 mg/kg) either once daily or every 3 day

Application

In murine xenograft models bearing human melanoma cancers (A375), CX-5461 demonstrated significant TGI with TGI equal to 79% on day 32. Human solid tumors grown in murine xenograft models revealed that CX-5461 can be orally administered with favorable pharmacokinetics and an antitumor efficacy. CX-5461 was well tolerated at all tested schedules as judged by the absence of significant changes in animal body weights or overt toxicity.?

Other notes

Please test the solubility of all compounds indoor, and the actual solubility may slightly differ with the theoretical value. This is caused by an experimental system error and it is normal.

References:

1. Drygin D, Lin A, Bliesath J, et al. Targeting RNA polymerase I with an oral small molecule CX-5461 inhibits ribosomal RNA synthesis and solid tumor growth[J]. Cancer research, 2011, 71(4): 1418-1430.
Biological Activity
Description
CX-5461 is an inhibitor of rRNA synthesis with IC50 of 142 nM for Pol I-driven transcription of rRNA,
Targets
Pol I
HCT-116
A375
MIA PaCa-2
IC50
142 nM
167 nM (ED50)
58 nM (ED50)
74 nM (ED50)
Quality Control
Quality Control & MSDS
View current batch:
Chemical structure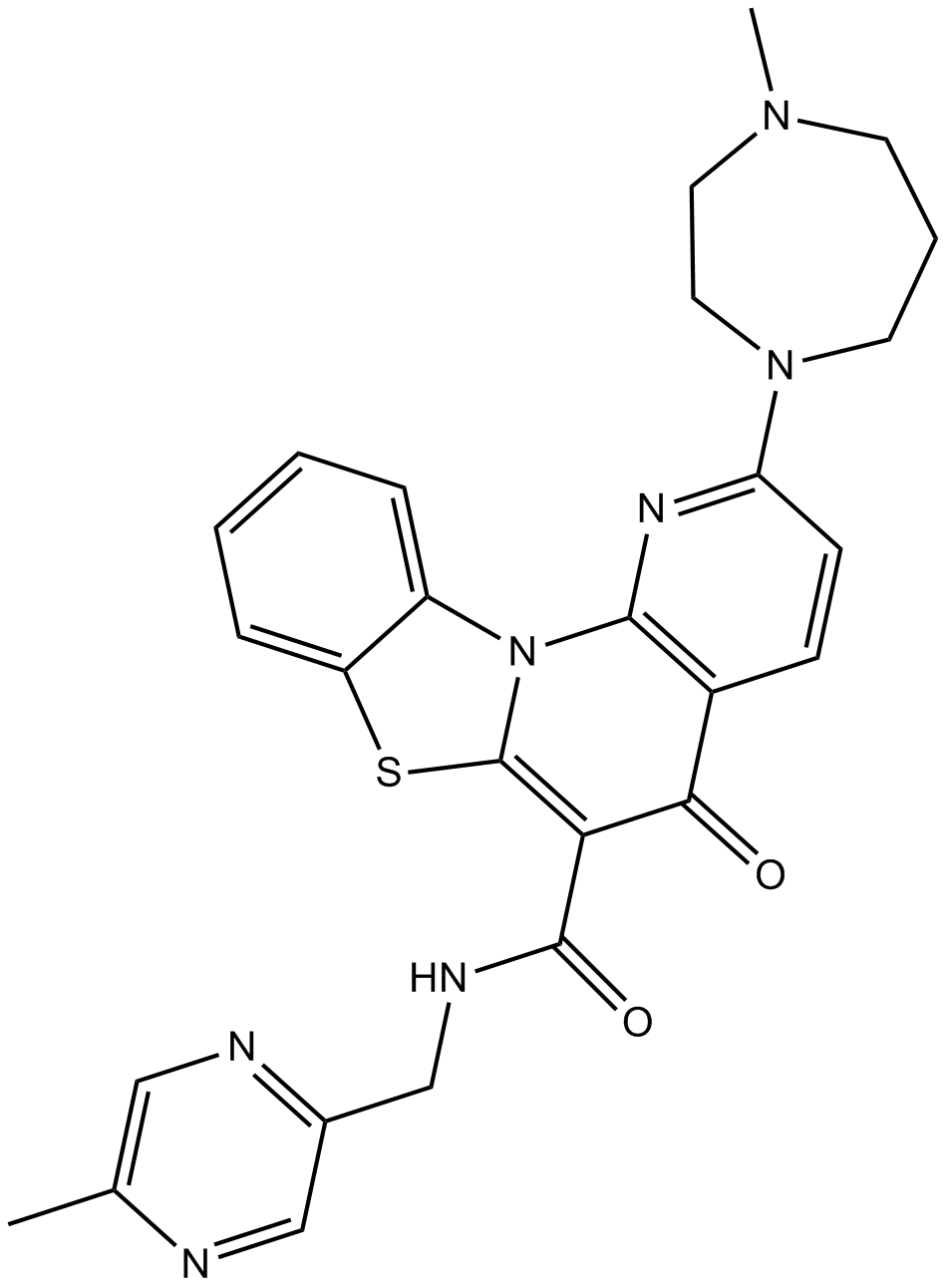 Related Biological Data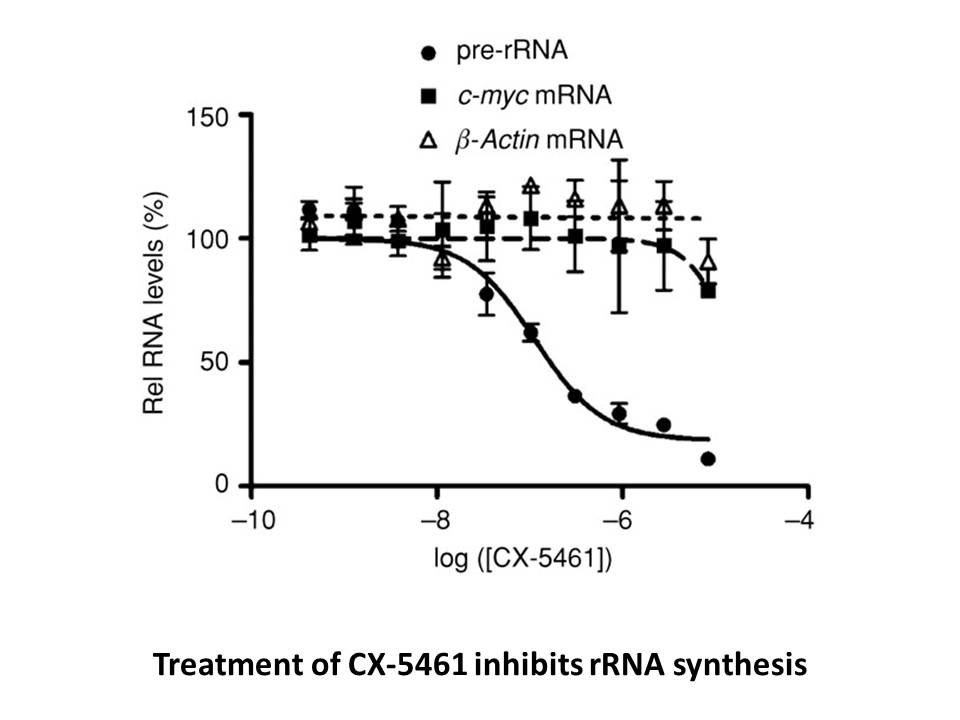 Related Biological Data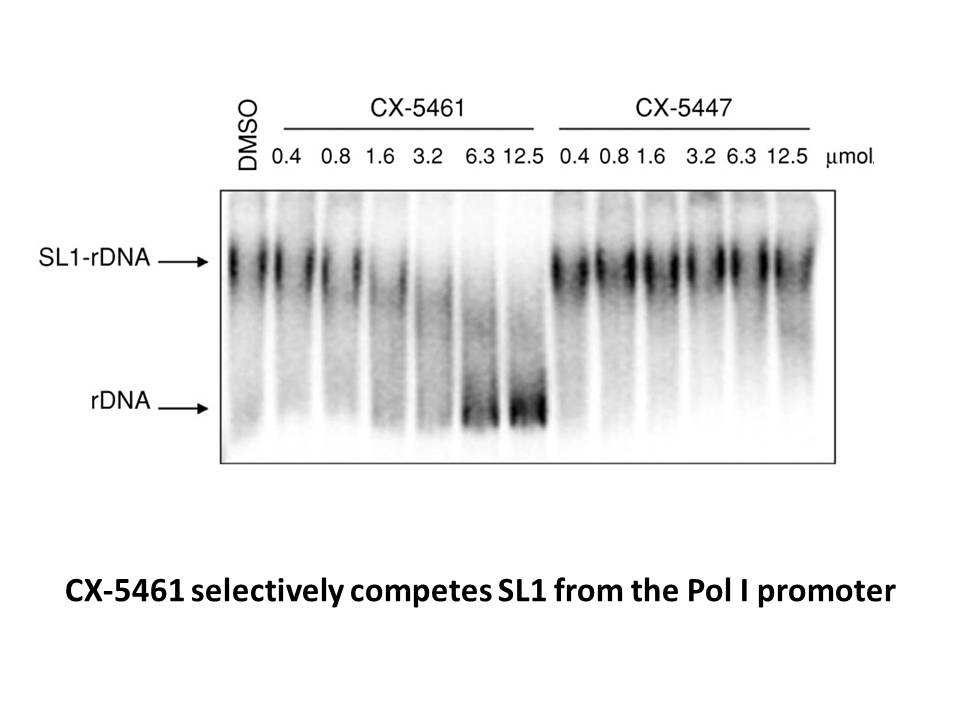 Related Biological Data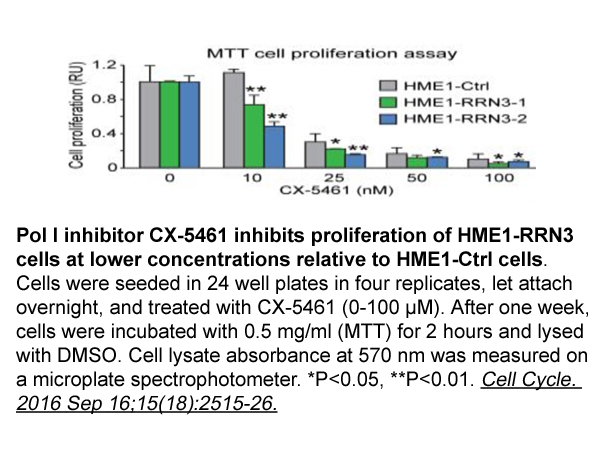 Related Biological Data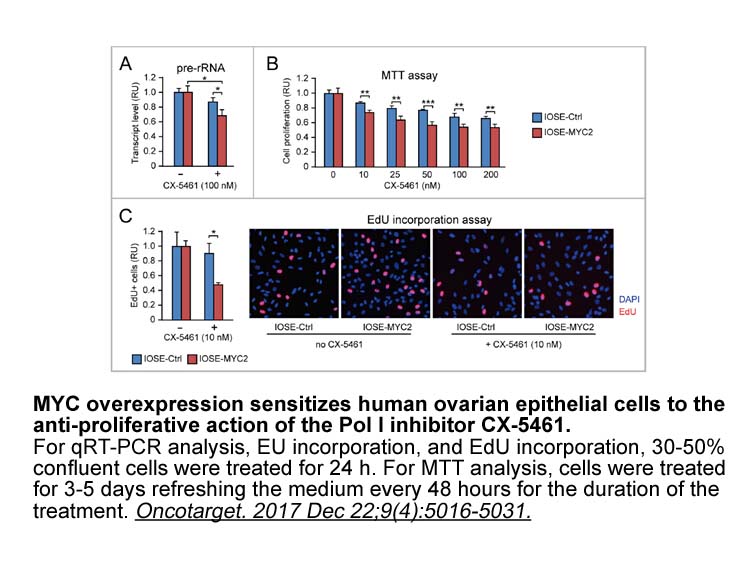 Related Biological Data