Background
Crizotinib is a potent, ATP-competitive, small-molecule and orally available inhibitor of c-Met kinase with a Ki value of 4 nmol/L[1].
Crizotinib has shown to inhibit wild-type c-Met phosphorylation with a mean IC50 value of 11 nmol/L in multiple human endothelial and carcinoma cell lines. Crizotinib has been demonstrated to inhibit cell growth and induce apoptosis in human GTL-16 gastric carcinoma cells. Additionally, crizotinib could inhibit cell migration and invasion induced by HGF in human NCI-H441 lung cancer cells. Moreover, crizotinib has revealed to block cell scattering of MDCK [1].
Crizotinib has been indicated to suppress tumor growth in GTL-16, NCI-H441 NSCLC, Caki-1 RCC, U87MG glioblastoma or PC-3 prostate tumor xenograft mice [1].
References:
[1] Zou HY1, Li Q, Lee JH, Arango ME, McDonnell SR, Yamazaki S, Koudriakova TB, Alton G, Cui JJ, Kung PP, Nambu MD, Los G, Bender SL,Mroczkowski B, Christensen JG. An orally available small-molecule inhibitor of c-Met, PF-2341066, exhibits cytoreductive antitumor efficacy through antiproliferative and antiangiogenic mechanisms. Cancer Res. 2007 May 1;67(9):4408-17.
Product Citation
Chemical Properties
| | |
| --- | --- |
| Physical Appearance | A solid |
| Storage | Store at -20°C |
| M.Wt | 450.34 |
| Cas No. | 877399-52-5 |
| Formula | C21H22Cl2FN5O |
| Synonyms | Crizotinib,PF-2341066, PF02341066, PF 2341066 |
| Solubility | ≥7.5mg/mL in DMSO |
| Chemical Name | 3-[(1R)-1-(2,6-dichloro-3-fluorophenyl)ethoxy]-5-(1-piperidin-4-ylpyrazol-4-yl)pyridin-2-amine |
| SDF | Download SDF |
| Canonical SMILES | CC(C1=C(C=CC(=C1Cl)F)Cl)OC2=C(N=CC(=C2)C3=CN(N=C3)C4CCNCC4)N |
| Shipping Condition | Evaluation sample solution: ship with blue ice. All other available sizes: ship with RT, or blue ice upon request. |
| General tips | For obtaining a higher solubility, please warm the tube at 37°C and shake it in the ultrasonic bath for a while. Stock solution can be stored below -20°C for several months. |
Protocol
Cell experiment [1]:

Cell lines

LLC SP and MP cell lines

Preparation method

The solubility of this compound in DMSO is >10 mM. General tips for obtaining a higher concentration: Please warm the tube at 37 °C for 10 minutes and/or shake it in the ultrasonic bath for a while.Stock solution can be stored below -20°C for several months.

Reaction Conditions

12 h; IC50=21.3 nM (MP cells); cell survival rate of 50.0±0.6%=22.4 nM (SP cells)

Applications

The inhibitory effects of crizotinib on MP cells and SP cells were determined by colony formation assay. The IC50 value of crizotinib for MP cells was 21.3 nM. Of note, the SP cells showed no significant changes after crizotinib treatment. However, the SP cells showed a cell survival rate of 50.0±0.6% following a combined treatment of crizotinib (22.4 nM) and verapamil (500 µM), compared with 105.3±0.4% survival of SP cells treated with crizotinib (22.4 nM) alone. The growth curves obtained demonstrate that crizotinib inhibited the growth of SP and MP cells, and this inhibition was dependent on both concentration and time.

Animal experiment [1]:

Animal models

NU/NU nude mice

Dosage form

intratumoral injection

Applications

Tumorigenicity was examined using immune-deficient mice, into which SP or MP cells of LLC were subcutaneously transplanted. Nonsorted LLC cells formed xenografts in mice at 1x105 cells. Tumor size was significantly decreased in the crizotinib-treated LLC groups (225±29 mm3) compared to the untreated group (PBS: 834±41 mm3) by 40 days after treatment.

Other notes

Please test the solubility of all compounds indoor, and the actual solubility may slightly differ with the theoretical value. This is caused by an experimental system error and it is normal.

References:

[1] Xia P, Gou W F, Zhao S, et al. Crizotinib may be used in lewis lung carcinoma: A novel use for crizotinib[J]. Oncology reports, 2013, 30(1): 139-148.
Biological Activity
Description
Crizotinib (PF-02341066) is a potent inhibitor of c-Met and ALK with IC50 of 11 nM and 24 nM, respectivley.
Targets
c-Met
ALK
IC50
11 nM
24 nM
Quality Control
Quality Control & MSDS
View current batch:
Chemical structure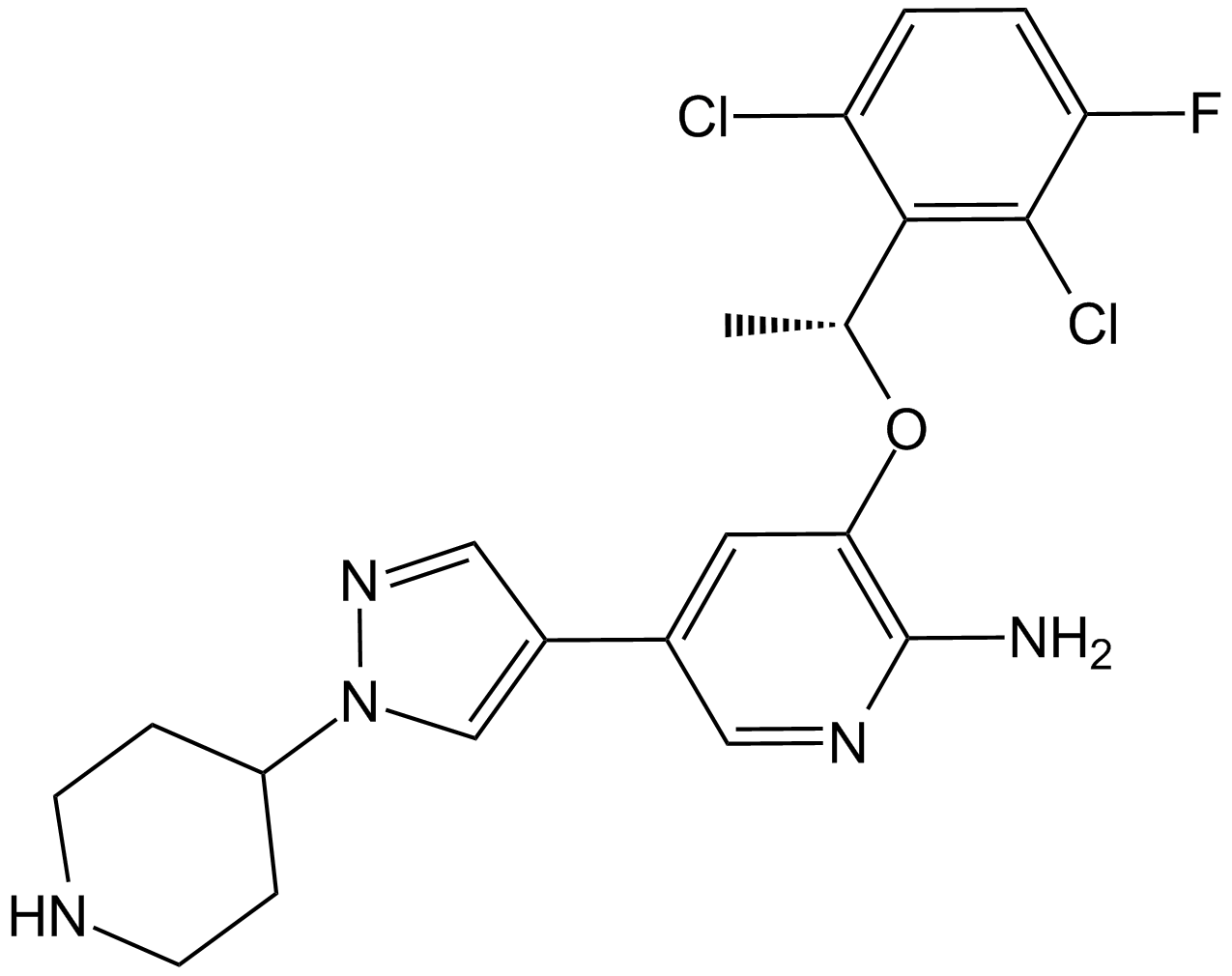 Related Biological Data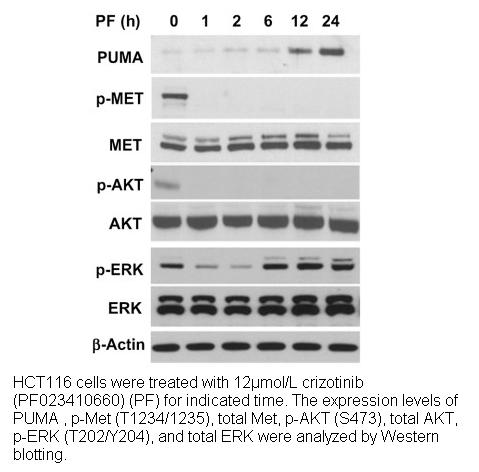 Related Biological Data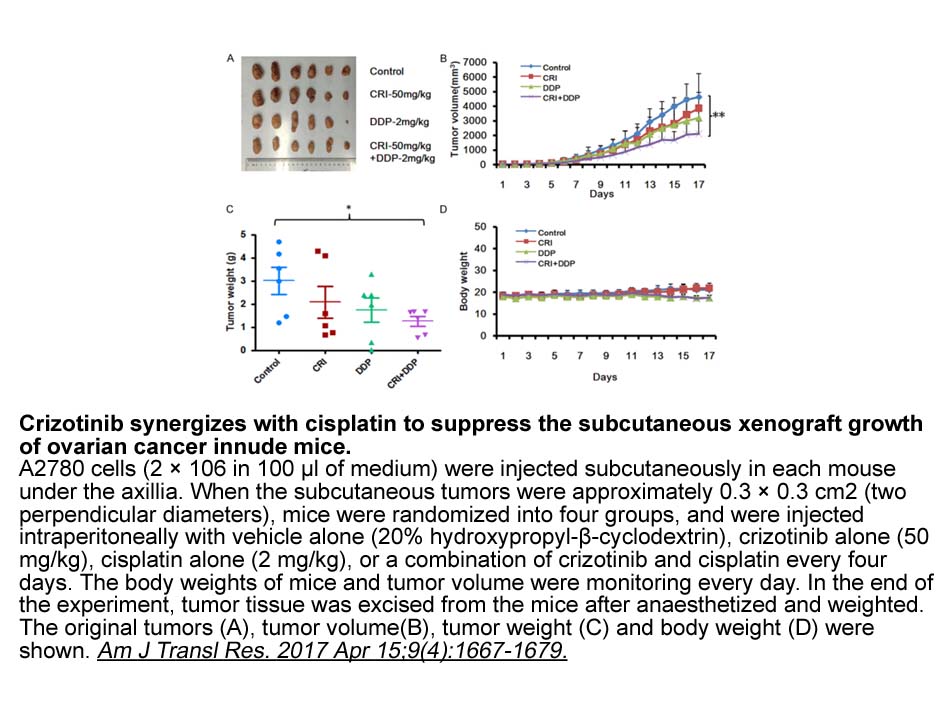 Related Biological Data