Crenolanib (CP-868596)
PDGFR-β inhibitor,potent and selective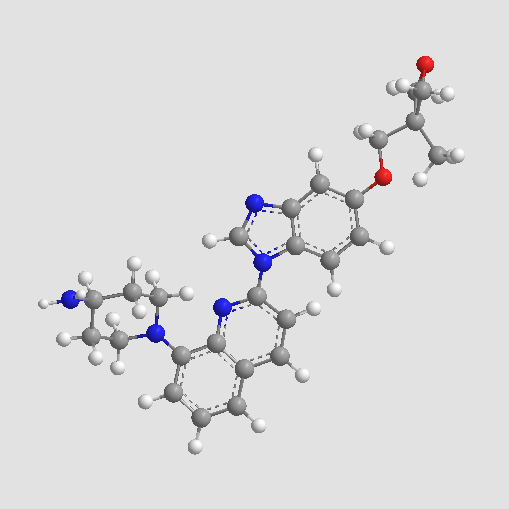 Sample solution is provided at 25 µL, 10mM.
Publications citing ApexBio Products
Related Compound Libraries
Quality Control
Quality Control & MSDS
View current batch:
Chemical structure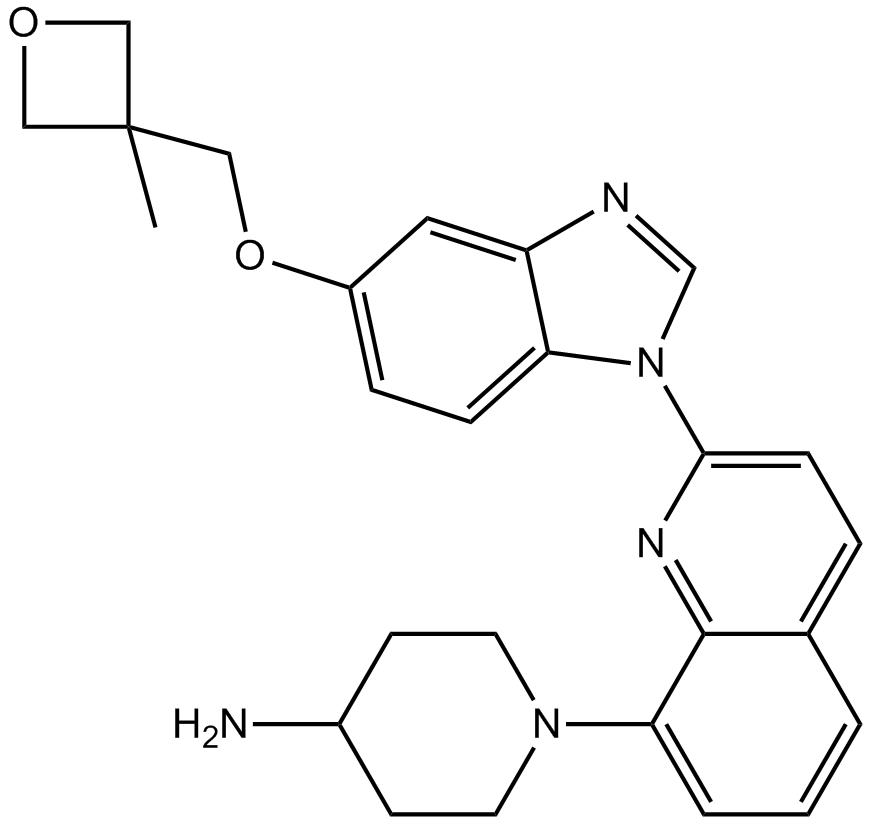 Related Biological Data
Related Biological Data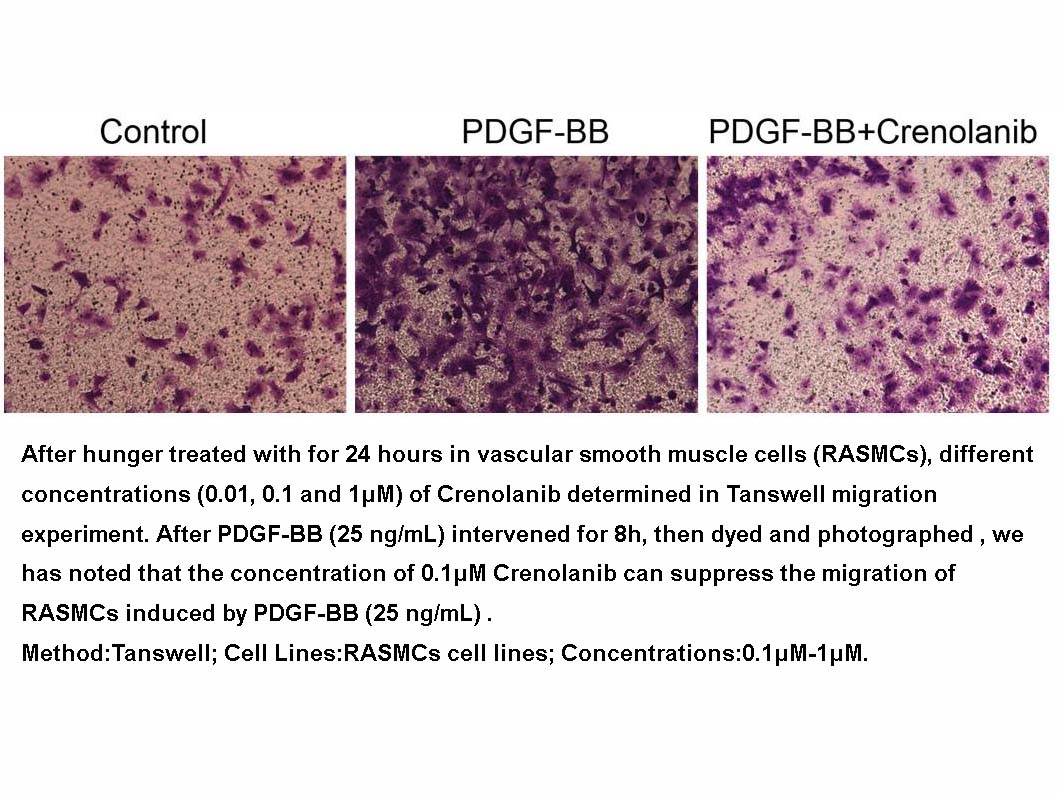 Related Biological Data
Biological Activity
Description
Crenolanib (CP-868596) is a potent and selective inhibitor of PDGFRα/β with Kd of 2.1 nM/3.2 nM.
Targets
PDGFRα
PDGFRβ
IC50
2.1 nM (Kd)
3.2 nM (Kd)
Chemical Properties
Cas No.
670220-88-9
SDF
Download SDF
Synonyms
CP-868596;CP 868596;CP868596
Chemical Name
1-[2-[5-[(3-methyloxetan-3-yl)methoxy]benzimidazol-1-yl]quinolin-8-yl]piperidin-4-amine
Canonical SMILES
CC1(COC1)COC2=CC3=C(C=C2)N(C=N3)C4=NC5=C(C=CC=C5N6CCC(CC6)N)C=C4
Formula
C26H29N5O2
M.Wt

443.54

Solubility
>22.2mg/mL in DMSO
Storage
Store at -20°C
General tips
N/A
Shipping Condition
N/A
Background
Crenolanib (CP-868596) is a potent, specific, and orally available inhibitor of PDGFRα, PDGFRβ and FLT3 with inhibitor-binding constant (Kd) of 3.2, 2.1, and 0.74 nM, respectively [1].
It has been shown that crenolanib is more potent than quizartinib and sorafenib at blocking FLT3 autophosphorylation and causing cytotoxicity [2]. Crenolanib is confirmed to be100-fold more potent than imatinib at suppressing D842V mutation. In addition, it has been reported that crenolanib inhibits PDGFRα D842V mutation rather than V561D mutation, with IC50 value of 10 nM [1]. In EOL-1 cells, crenolanib also inhibits the FIP1L1-PDGFRA fusion kinase activity (IC50=1 nM) and cell proliferation (IC50= 0.2 pM)[1].
References:
[1] Heinrich MC1, Griffith D, McKinley A, Patterson J, Presnell A, Ramachandran A, Debiec-Rychter M.

Crenolanib inhibits the drug-resistant PDGFRA D842V mutation associated with imatinib-resistant gastrointestinal stromal tumors. Clin Cancer Res. 2012 Aug 15;18(16):4375-84.
[2] Galanis A1, Ma H, Rajkhowa T, Ramachandran A, Small D, Cortes J, Levis M. Crenolanib is a potent inhibitor of FLT3 with activity against resistance-conferring point mutants. Blood. 2014 Jan 2;123(1):94-100.