Background
Cediranib (also known as AZD2171) is a highly potent KDR tyrosine kinase inhibitor that ATP-competitively inhibits recombinant KDR tyrosine kinase as well as other members of vascular endothelial growth factor receptor (VEGFR) family, including Flt-1 (VEGFR-1) and Flt-4 (VEGFR-3) with the half maximal inhibition concentration IC50 values of <0.001 μmol/L, 0.005 μmol/L and <0.003 μmol/L respectively [1].
Cediranib also potently inhibits a few members of platelet-derived growth factor receptor (PDGFR) family, including c-Kit, PDGFR-β, PDGFR-α, CSF-1R and Flt-3, with IC50 values of 0.002 μmol/L, 0.005 μmol/L, 0.036 μmol/L, 0.11 μmol/L anf > 1 μmol/L respectively due to their similar structure to VEGFR family members [1].
References:
[1] Wedge SR, Kendrew J, Hennequin LF, Valentine PJ, Barry ST, Brave SR, Smith NR, James NH, Dukes M, Curwen JO, Chester R, Jackson JA, Boffey SJ, Kilburn LL, Barnett S, Richmond GH, Wadsworth PF, Walker M, Bigley AL, Taylor ST, Cooper L, Beck S, Jürgensmeier JM, Ogilvie DJ. AZD2171: a highly potent, orally bioavailable, vascular endothelial growth factor receptor-2 tyrosine kinase inhibitor for the treatment of cancer. Cancer Res. 2005 May 15;65(10):4389-400.

Chemical Properties
| | |
| --- | --- |
| Physical Appearance | A solid |
| Storage | Store at -20°C |
| M.Wt | 450.51 |
| Cas No. | 288383-20-0 |
| Formula | C25H27FN4O3 |
| Solubility | ≥22.5mg/mL in DMSO |
| Chemical Name | 4-[(4-fluoro-2-methyl-1H-indol-5-yl)oxy]-6-methoxy-7-(3-pyrrolidin-1-ylpropoxy)quinazoline |
| SDF | Download SDF |
| Canonical SMILES | CC1=CC2=C(N1)C=CC(=C2F)OC3=NC=NC4=CC(=C(C=C43)OC)OCCCN5CCCC5 |
| Shipping Condition | Evaluation sample solution: ship with blue ice. All other available sizes: ship with RT, or blue ice upon request. |
| General tips | For obtaining a higher solubility, please warm the tube at 37°C and shake it in the ultrasonic bath for a while. Stock solution can be stored below -20°C for several months. |
Biological Activity
Description
Cediranib is a highly potent inhibitor of VEGFR with IC50 value of <1 nM.
Targets
VEGFR2/KDR
c-Kit
VEGFR3/FLT4
VEGFR1/FLT1
PDGFRβ
FGFR1
IC50
0.5 nM
2 nM
≤3 nM
5 nM
5 nM
26 nM
Quality Control
Quality Control & MSDS
View current batch:
Chemical structure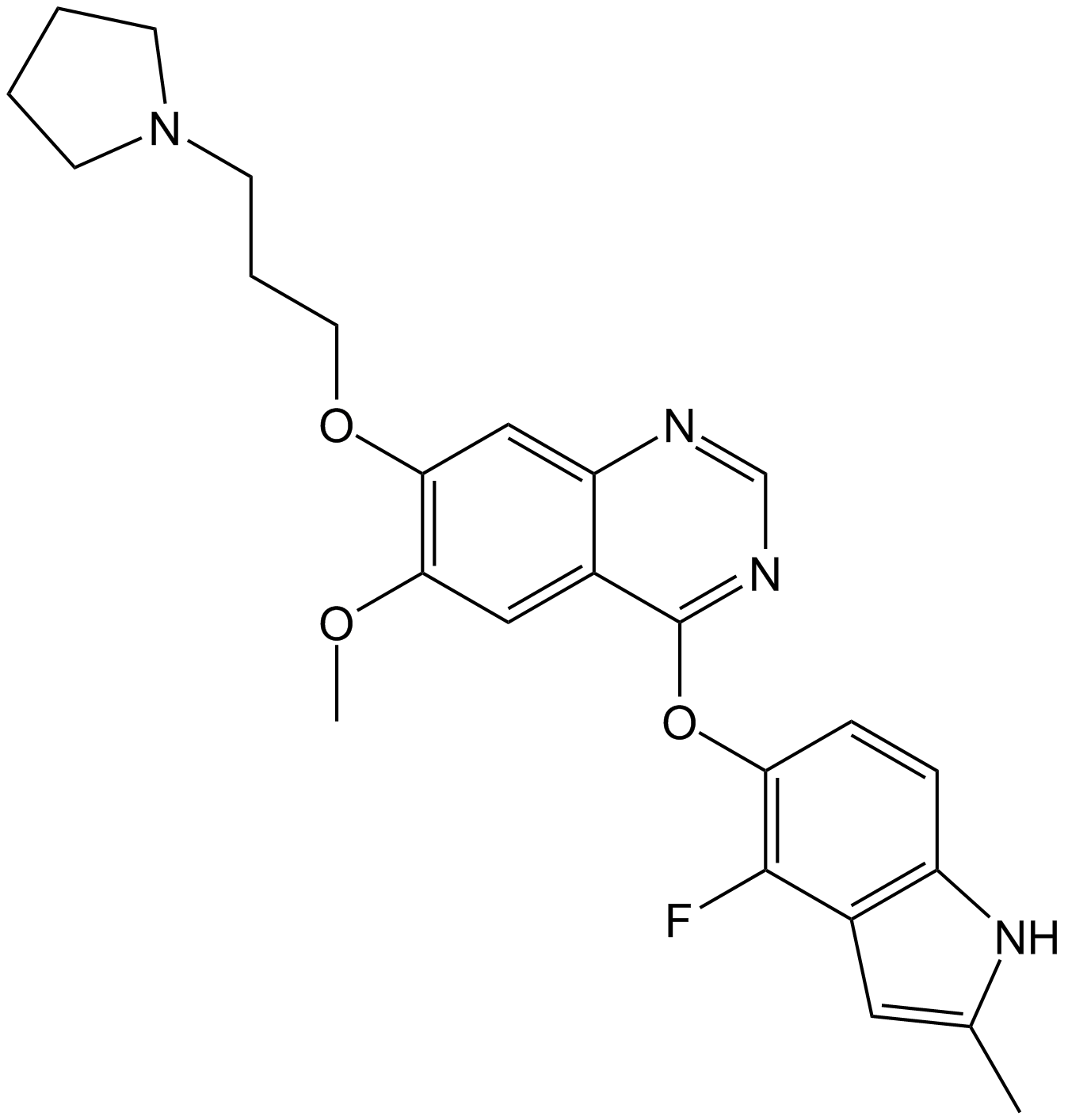 Related Biological Data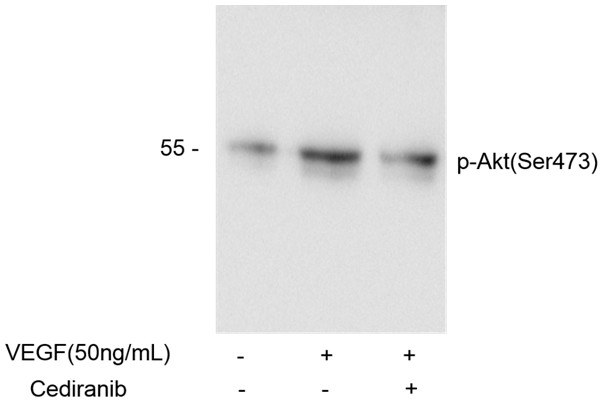 PI3K/Akt is the downstream pathway of VEGFR. As an inhibitor of VEGFR, cediranib can inhibit the VEGF induced phosphorylation of Akt (Ser473) without influencing the cell status at concentration of 100nM.
Method:WB; Cell Lines:HUVECs; Concentrations:100nM; Incubation Time:90min.