Background
PARP1/2 inhibitors are a class of anticancer agents that target tumor-specific defects in DNA repair. BMN 673 is a highly potent PARP1/2 inhibitor.
In vitro: BMN 673 is a potent PARP1/2 inhibitor, but it does not inhibit other enzymes that we have tested. BMN673 exhibits selective antitumor cytotoxicity and elicits DNA repair biomarkers at much lower concentrations than earlier generation PARP1/2 inhibitors. BMN 673 targeted tumor cells with BRCA1, BRCA2, or PTEN gene defects selectively with 20- to more than 200-fold greater potency than existing PARP1/2 inhibitors in vitro [1].
In vivo: BMN 673 is readily orally bioavailable, with more than 40% absolute oral bioavailability in rats when dosed in CMC. Orally BMN 673 elicited remarkable antitumor activity in mice; xenografted tumors that carry defects in DNA repair due to BRCA mutations or PTEN deficiency were profoundly sensitive to oral BMN 673 treatment at well-tolerated doses. Synergistic antitumor effects were also found when BMN 673 was combined with temozolomide, SN38, or platinum drugs [1].
Clinical trial: Pharmacokinetics (PK), pharmacodynamics (PD), safety and anti-tumor activity of BMN 673 were evaluated in a 2-stage dose-escalation study with 3-6 patients (pts)/dose level. Results showed BMN 673 was well tolerated with impressive anti-tumor activity in pts with BRCA mut with a single agent recommended Phase II trial dose of 1000 μg/d due to dose-limiting thrombocytopenia.
Reference:
[1] Shen Y, Rehman FL, Feng Y, Boshuizen J, Bajrami I, Elliott R, Wang B, Lord CJ, Post LE, Ashworth A. BMN 673, a novel and highly potent PARP1/2 inhibitor for the treatment of human cancers with DNA repair deficiency. Clin Cancer Res. 2013;19(18):5003-15.
Chemical Properties
| | |
| --- | --- |
| Physical Appearance | A solid |
| Storage | Store at -20°C |
| M.Wt | 380.35 |
| Cas No. | 1207456-00-5 |
| Formula | C19H14F2N6O |
| Synonyms | (8R,9S)-BMN-673 |
| Solubility | ≥38 mg/mL in DMSO with gentle warming; insoluble in H2O; ≥15.03 mg/mL in EtOH with gentle warming and ultrasonic |
| Chemical Name | (8R,9S)-5-fluoro-8-(4-fluorophenyl)-9-(1-methyl-1H-1,2,4-triazol-5-yl)-8,9-dihydro-2H-pyrido[4,3,2-de]phthalazin-3(7H)-one |
| SDF | Download SDF |
| Canonical SMILES | O=C1C2=CC(F)=CC(N[[email protected]@H](C3=CC=C(F)C=C3)[[email protected]@H]4C5=NC=NN5C)=C2C4=NN1 |
| Shipping Condition | Evaluation sample solution: ship with blue ice. All other available sizes: ship with RT, or blue ice upon request. |
| General tips | For obtaining a higher solubility, please warm the tube at 37°C and shake it in the ultrasonic bath for a while. Stock solution can be stored below -20°C for several months. |
Biological Activity
BMN 673 is a novel PARP inhibitor with IC50 of 0.58 nM(PARP1). It does not inhibit PARG and is highly sensitive to PTEN mutation.
Targets
PARP
IC50
0.58 nM
Quality Control
Quality Control & MSDS
View current batch:
Chemical structure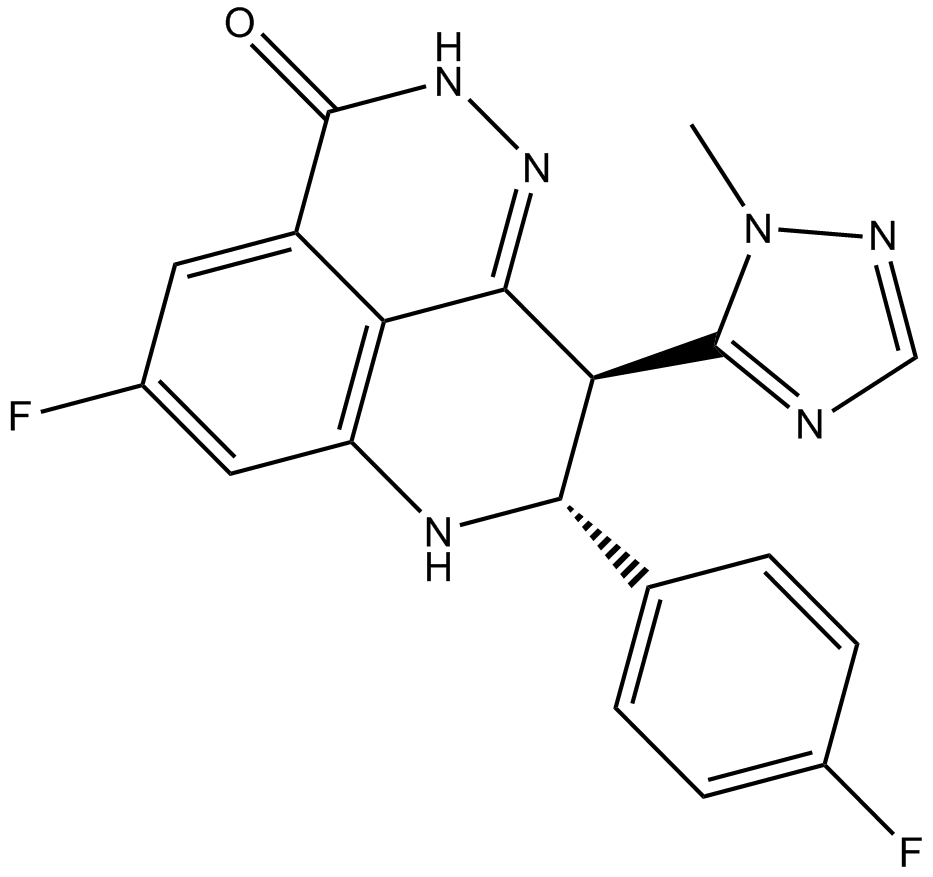 Related Biological Data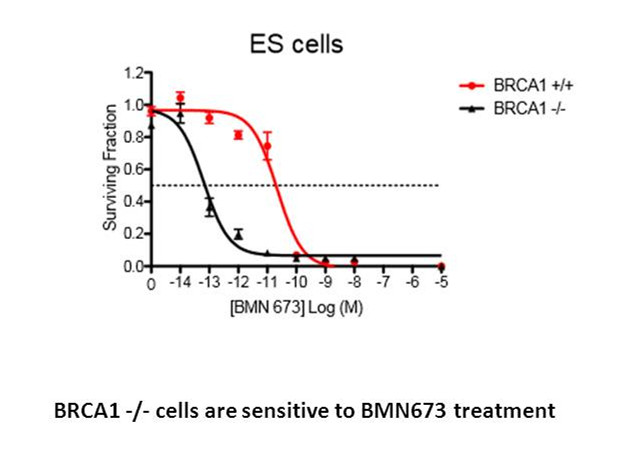 Related Biological Data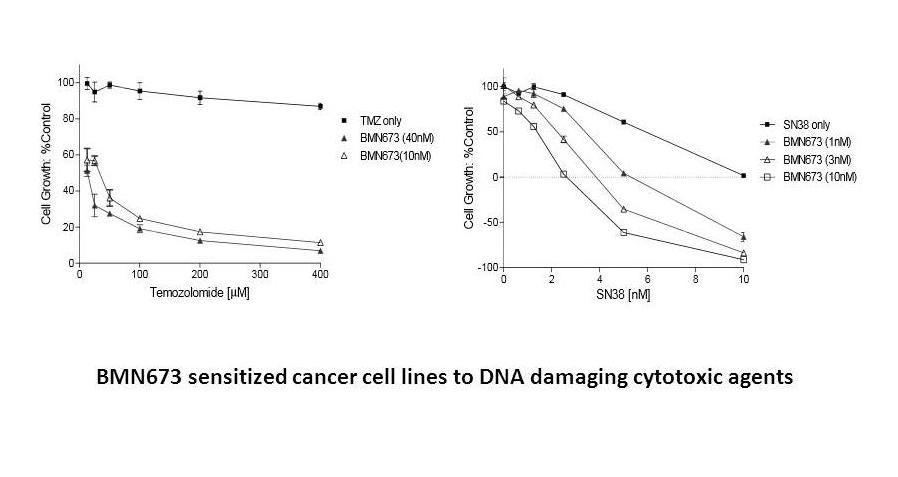 Related Biological Data