Background
EC50: 18 nM for TNF-α in THP-1 cells
The signal transduction pathway leading to the production of TNF-α from stimulated inflammatory cells, while not fully understood, has been shown to be partially regulated by p38 mitogen activated protein (MAP) kinase. The p38 MAP kinase plays a crucial role in regulating the production of proinflammatory cytokines. Blocking this kinase may offer an effective therapy for the treatment of many inflammatory diseases. BIRB 796 is a highly potent inhibitor of p38 MAPK.
In vitro: BIRB 796 is a picomolar inhibitor of human p38 MAP kinase with a 12,000-fold increase in binding affinity. Moreover, BIRB 796 behavors as one of the most potent and slowest dissociating human p38 MAP kinase inhibitors now known [1].
In vivo: In a LPS-stimulated TNF-α synthesis mouse model, a 65% inhibition of TNF-α synthesis was observed when BIRB 796 was dosed orally at 10 mg/kg. In a model of established collagen-induced arthritis using B10.RIII mice, BIRB 796 showed a 63% inhibition of arthritis severity when dosed orally at 30 mg/kg qd [2].
Clinical trial: No clinical efficacy (Crohn's Disease Endoscopic Index of Severity) was seen for BIRB 796 in comparison with placebo. A significant and dose-dependent decrease of C-reactive protein level was seen transiently after BIRB 796 after 1 week with a return to baseline level over time [3].
References:
[1] Pargellis C, Tong L, Churchill L, Cirillo PF, Gilmore T, Graham AG, Grob PM, Hickey ER, Moss N, Pav S, Regan J.  Inhibition of p38 MAP kinase by utilizing a novel allosteric binding site. Nat Struct Biol. 2002 Apr;9(4):268-72.
[2] Regan J, Breitfelder S, Cirillo P, Gilmore T, Graham AG, Hickey E, Klaus B, Madwed J, Moriak M, Moss N, Pargellis C, Pav S, Proto A, Swinamer A, Tong L, Torcellini C.  Pyrazole urea-based inhibitors of p38 MAP kinase: from lead compound to clinical candidate. J Med Chem. 2002 Jul 4;45(14):2994-3008.
[3] Schreiber S, Feagan B, D'Haens G, Colombel JF, Geboes K, Yurcov M, Isakov V, Golovenko O, Bernstein CN, Ludwig D, Winter T, Meier U, Yong C, Steffgen J; BIRB 796 Study Group.  Oral p38 mitogen-activated protein kinase inhibition with BIRB 796 for active Crohn's disease: a randomized, double-blind, placebo-controlled trial. Clin Gastroenterol Hepatol. 2006 Mar;4(3):325-34.

Product Citation
Chemical Properties
| | |
| --- | --- |
| Physical Appearance | A solid |
| Storage | Store at -20°C |
| M.Wt | 527.66 |
| Cas No. | 285983-48-4 |
| Formula | C31H37N5O3 |
| Solubility | ≥26.4mg/mL in DMSO, ≥11.24 mg/mL in EtOH with ultrasonic,insoluble in H2O |
| Chemical Name | 1-[5-tert-butyl-2-(4-methylphenyl)pyrazol-3-yl]-3-[4-(2-morpholin-4-ylethoxy)naphthalen-1-yl]urea |
| SDF | Download SDF |
| Canonical SMILES | CC1=CC=C(C=C1)N2C(=CC(=N2)C(C)(C)C)NC(=O)NC3=CC=C(C4=CC=CC=C43)OCCN5CCOCC5 |
| Shipping Condition | Evaluation sample solution : ship with blue ice.All other available size: ship with RT , or blue ice upon request |
| General tips | For obtaining a higher solubility , please warm the tube at 37 ℃ and shake it in the ultrasonic bath for a while.Stock solution can be stored below -20℃ for several months. |
Protocol
Cell experiment: [1]

Cell lines

MM.1S cells

Preparation method

The solubility of this compound in DMSO is >10 mM. General tips for obtaining a higher concentration: Please warm the tube at 37 °C for 10 minutes and/or shake it in the ultrasonic bath for a while.Stock solution can be stored below -20°C for several months.

Reaction Conditions

400 nM, 24 hours

Applications

BIRB 796 inhibited baseline and Dex-induced phosphorylation of both p38 MAPK and Hsp27 in MM.1S cells. Although MM.1S cell proliferation was strongly inhibited by Dex alone at 24–72 h, BIRB 796 significantly enhanced its growth inhibition. Cell cycle profiling suggests that BIRB 796 augmented Dex-mediated growth inhibition by enhancing apoptosis (Sub-G1 portion: control = 6.1%, BIRB 796 alone = 8.0%, Dex alone = 34.7%, BIRB 796 plus Dex = 45.7%).

Animal experiment: [2]

Animal models

Male Crlj:CD1(ICR)mice

Dosage form

Oral administration; 250, 500 or 1000 mg/kg

Applications

To characterize the mechanism(s) responsible for the hepatotoxicy, a toxicogenomic analysis was performed using total RNA prepared from the liver from mice treated with BIRB-796. A variety of genes were up-regulated or down-regulated by BIRB‐796 at all dosages (250, 500 and 1000 mg kg−1), including the genes of Alpha-2-HS-glycoprotein, Apolipoprotein A-IV, CD5 antigen-like, Cathepsin S and so on.

Other notes

Please test the solubility of all compounds indoor, and the actual solubility may slightly differ with the theoretical value. This is caused by an experimental system error and it is normal.

References:

[1] Yasui H, Hideshima T, Ikeda H, et al. BIRB 796 enhances cytotoxicity triggered by bortezomib, heat shock protein (Hsp) 90 inhibitor, and dexamethasone via inhibition of p38 mitogen-activated protein kinase/Hsp27 pathway in multiple myeloma cell lines and inhibits paracrine tumour growth. British journal of haematology, 2007, 136(3): 414-423.

[2] Iwano S, Asaoka Y, Akiyama H, et al. A possible mechanism for hepatotoxicity induced by BIRB-796, an orally active p38 mitogen-activated protein kinase inhibitor. Journal of Applied Toxicology, 2011, 31(7): 671-677.
Biological Activity
Description
BIRB 796 (Doramapimod) is a highly selective p38α inhibitor of MAPK with Kd of 0.1 nM, 330-fold greater selectivity versus JNK2, weak inhibition for c-RAF, Fyn and Lck, insignificant inhibition of ERK-1, SYK, IKK2, ZAP-70, EGFR, HER2, PKA, PKC, PKCα/β/γ.
Targets
p38α MAPK
IC50
0.1 nM (Kd)
Quality Control
Quality Control & MSDS
View current batch:
Chemical structure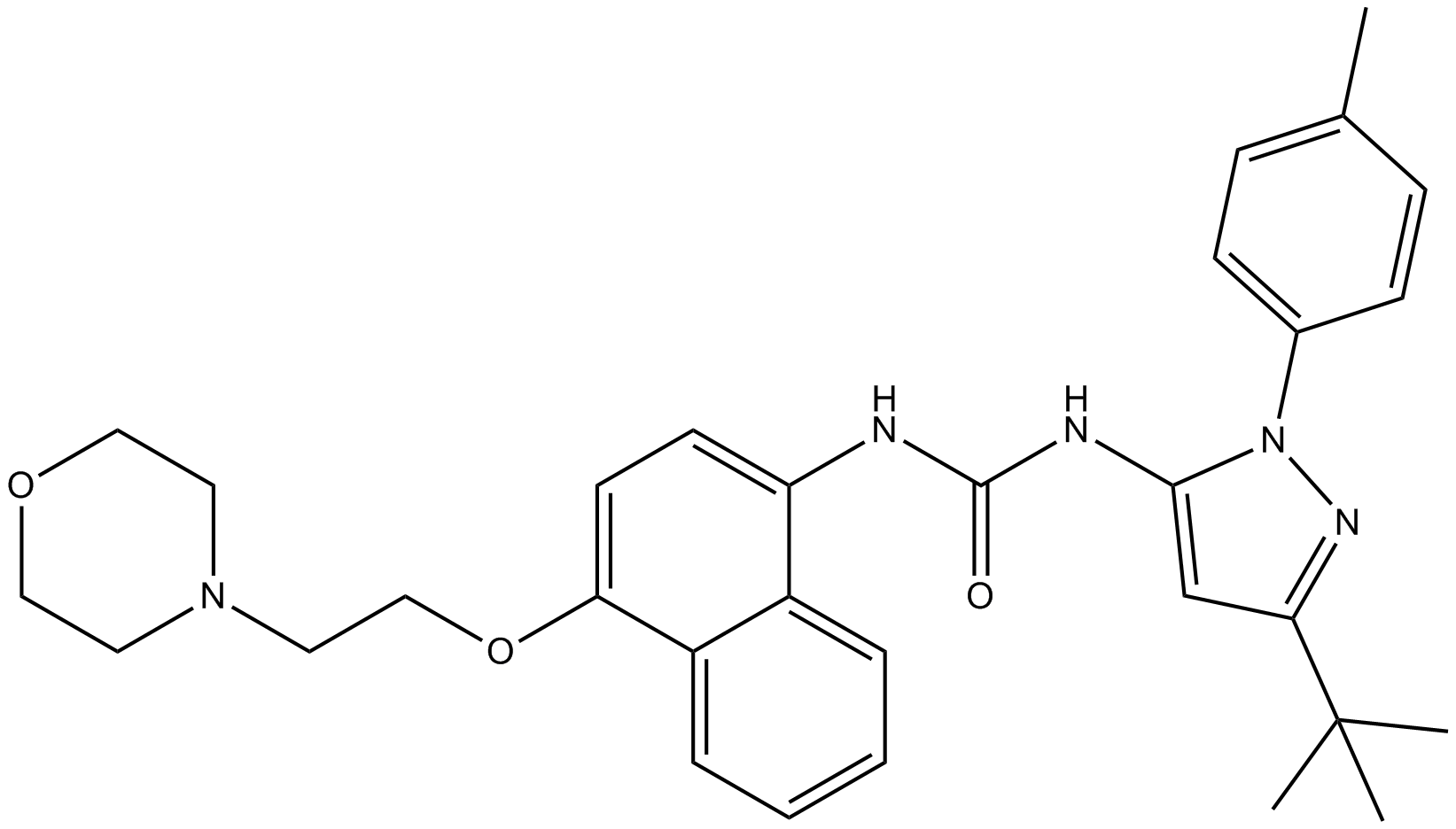 Related Biological Data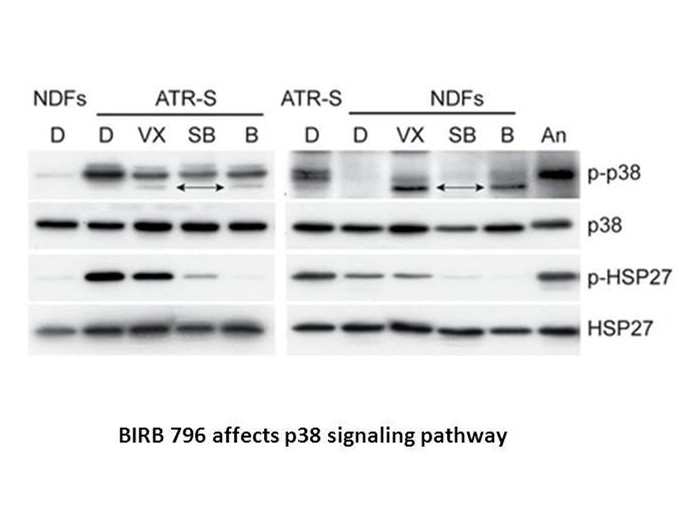 Related Biological Data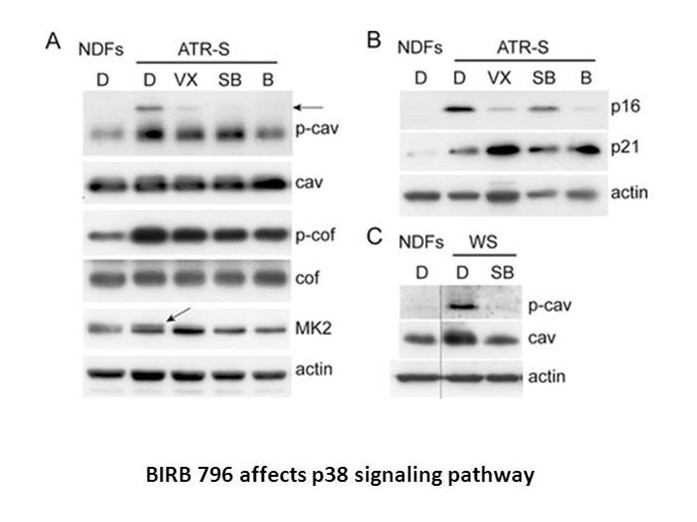 Related Biological Data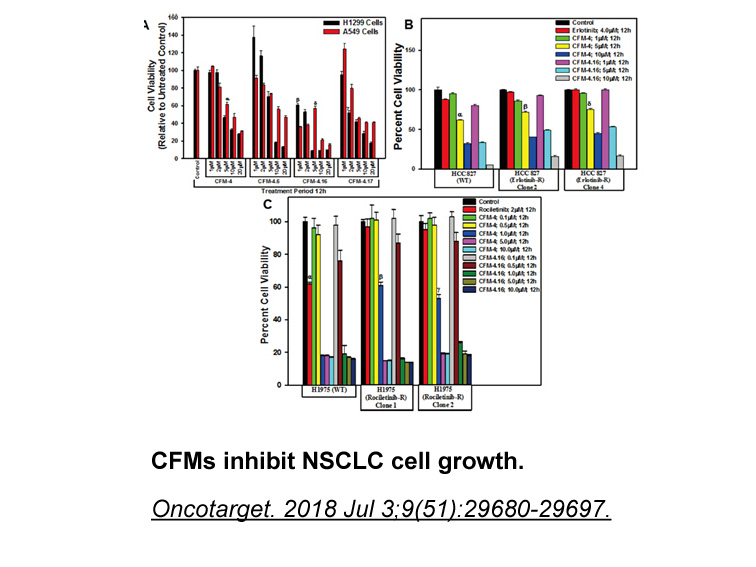 Related Biological Data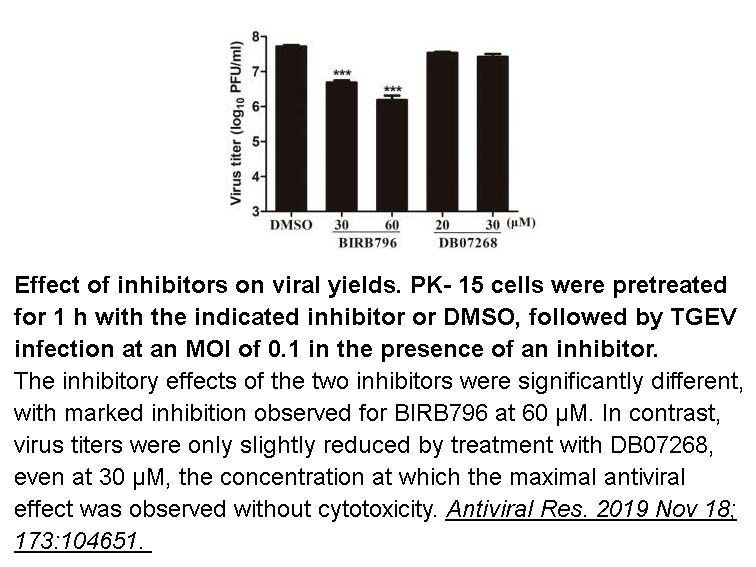 Related Biological Data