Related Biochemicals
Related Antibodies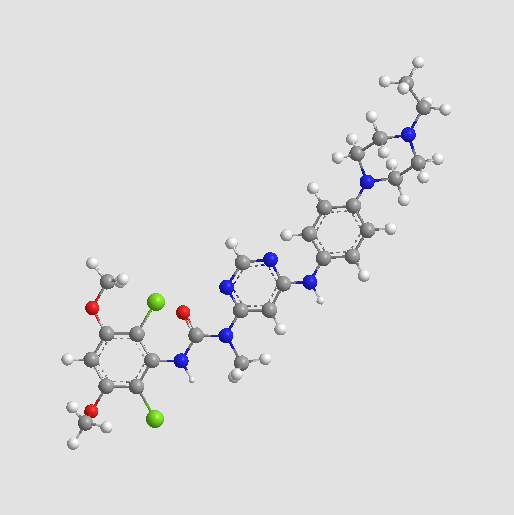 Sample solution is provided at 25 µL, 10mM.
Quality Control
Quality Control & MSDS
View current batch:
Chemical structure
Related Biological Data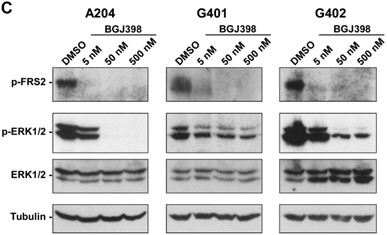 Immunoblot analysis of p-FRS2 and p-ERK1/2 in MRT lines treated with DMSO or NVP-BGJ398 for 40 min as indicated. Total ERK1/2 and b-Tubulin expression was used to monitor equal loading.
Biological Activity
Description
BGJ398 (NVP-BGJ398) is a potent and selective inhibitor of FGFR for FGFR1/2/3 with IC50 of 0.9 nM/1.4 nM/1 nM, >40-fold selective for FGFR versus FGFR4 and VEGFR2, and little activity to Abl, Fyn, Kit, Lck, Lyn and Yes.
Targets
FGFR1
FGFR2
FGFR3
FGFR4
IC50
0.9 nM
1.4 nM
1 nM
60 nM
Chemical Properties
Cas No.
872511-34-7
SDF
Download SDF
Synonyms
BGJ398,BGJ-398
Chemical Name
3-(2,6-dichloro-3,5-dimethoxyphenyl)-1-[6-[4-(4-ethylpiperazin-1-yl)anilino]pyrimidin-4-yl]-1-methylurea
Canonical SMILES
CCN1CCN(CC1)C2=CC=C(C=C2)NC3=CC(=NC=N3)N(C)C(=O)NC4=C(C(=CC(=C4Cl)OC)OC)Cl
Formula
C26H31Cl2N7O3
M.Wt

560.48

Solubility
Soluble in DMSO
Storage
Store at -20°C
Shipping Condition:
Evaluation sample solution : ship with blue ice
All other available size: ship with RT , or blue ice upon request
Background
NVP-BGJ398 is a potent, selective, and orally bioavailable inhibitor of the FGFR tyrosine kinases. NVP-BGJ398 is a small molecular with the formula of C26H31Cl2N7O3 and Molecular Weight of 560. The fibroblast growth factor receptor 1 (FGFR1), FGFR2, FGFR3, and FGFR4, encompasses the receptors for 18 different FGF ligands. These ligand–receptor combinations regulate a broad spectrum of signaling during development and in normal growth control. BGJ398 inhibits the cell proliferation and induces apoptosis in cancer cells and suppresses tumor growth in xenograft model.
References:
1. Fibroblast Growth Factor Receptors as Novel Therapeutic Targets in SNF5-Deleted Malignant Rhabdoid Tumors. S Wöhrle, A Weiss, M Ito, A Kauffmann, M Murakami. PLOS ONE. 2013
2. Rescue screens with secreted proteins reveal compensatory potential of receptor tyrosine kinases in driving cancer growth. F Harbinski, VJ Craig, S Sanghavi, D Jeffery, L Liu. Cancer Discovery, 2012