BGJ398
FGFR inhibitor ,potent and selective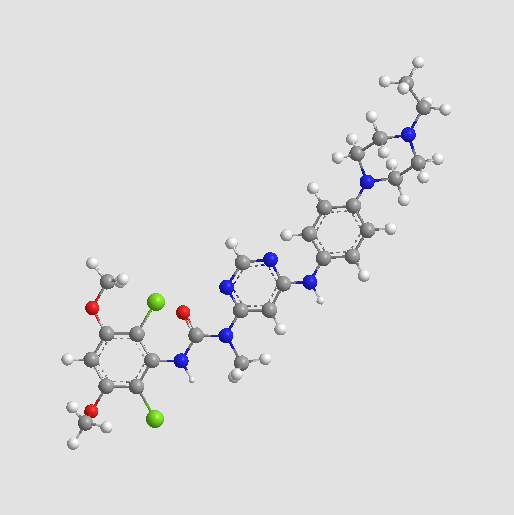 Sample solution is provided at 25 µL, 10mM.
Publications citing ApexBio Products
Related Compound Libraries
Quality Control
Quality Control & MSDS
View current batch:
Chemical structure
Related Biological Data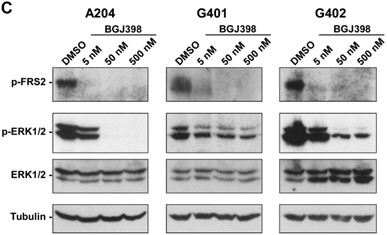 Immunoblot analysis of p-FRS2 and p-ERK1/2 in MRT lines treated with DMSO or NVP-BGJ398 for 40 min as indicated. Total ERK1/2 and b-Tubulin expression was used to monitor equal loading.
Biological Activity
Description
BGJ398 (NVP-BGJ398) is a potent and selective inhibitor of FGFR for FGFR1/2/3 with IC50 of 0.9 nM/1.4 nM/1 nM, >40-fold selective for FGFR versus FGFR4 and VEGFR2, and little activity to Abl, Fyn, Kit, Lck, Lyn and Yes.
Targets
FGFR1
FGFR2
FGFR3
FGFR4
IC50
0.9 nM
1.4 nM
1 nM
60 nM
Protocol
Cell experiment: [1]

Cell lines

AN3CA, MFE296, MFE280, SNGM and HEC1A cells

Preparation method

The solubility of this compound in DMSO is <10 mM. General tips for obtaining a higher concentration: Please warm the tube at 37 °C for 10 minutes and/or shake it in the ultrasonic bath for a while.Stock solution can be stored below -20°C for several months.

Reaction Conditions

0.5 μM, 72 hours

Applications

Exposure of AN3CA, MFE296, and MFE280 cells to the inhibitor led to a significant increase in the fraction of cells in G0–G1 arrest and to a significant increase in the fraction of cells undergoing apoptosis, when compared with untreated controls. In contrast, NVP-BGJ398 treatment did not alter the fractions of cells in G0–G1 arrest in the FGFR2 wild-type endometrial cancer cell lines SNGM or HEC1A in vitro. Moreover, NVP-BGJ398 treatment had no effect on apoptosis in the FGFR2 wild-type endometrial cancer cell line HEC1A.

Animal experiment: [1]

Animal models

Nude mice bearing AN3CA, MFE296, SNGM or HEC1A xenografts

Dosage form

Oral administration, 30 or 50 mg/kg, daily

Applications

NVP-BGJ398 significantly delayed the growth of FGFR2-mutated endometrial cancer xenograft tumors. In contrast, NVP-BGJ398 had no in vivo inhibitory effects in the long-term study using the FGFR2 wild-type endometrial cancer cell line SNGM, but surprisingly did show in vivo activity in HEC1A cells by delaying tumor growth in these cells.

Other notes

Please test the solubility of all compounds indoor, and the actual solubility may slightly differ with the theoretical value. This is caused by an experimental system error and it is normal.

References:

[1] Konecny G E, Kolarova T, O'Brien N A, et al. Activity of the fibroblast growth factor receptor inhibitors dovitinib (TKI258) and NVP-BGJ398 in human endometrial cancer cells. Molecular cancer therapeutics, 2013, 12(5): 632-642.
Chemical Properties
Cas No.
872511-34-7
SDF
Download SDF
Synonyms
BGJ398,BGJ-398
Chemical Name
3-(2,6-dichloro-3,5-dimethoxyphenyl)-1-[6-[4-(4-ethylpiperazin-1-yl)anilino]pyrimidin-4-yl]-1-methylurea
Canonical SMILES
CCN1CCN(CC1)C2=CC=C(C=C2)NC3=CC(=NC=N3)N(C)C(=O)NC4=C(C(=CC(=C4Cl)OC)OC)Cl
Formula
C26H31Cl2N7O3
M.Wt

560.48

Solubility
>2mg/mL in DMSO
Storage
Store at -20°C
General tips
No
Shipping Condition
No
Background
NVP-BGJ398 is a potent, selective, and orally bioavailable inhibitor of the FGFR tyrosine kinases. NVP-BGJ398 is a small molecular with the formula of C26H31Cl2N7O3 and Molecular Weight of 560. The fibroblast growth factor receptor 1 (FGFR1), FGFR2, FGFR3, and FGFR4, encompasses the receptors for 18 different FGF ligands. These ligand–receptor combinations regulate a broad spectrum of signaling during development and in normal growth control. BGJ398 inhibits the cell proliferation and induces apoptosis in cancer cells and suppresses tumor growth in xenograft model.
References:
1. Fibroblast Growth Factor Receptors as Novel Therapeutic Targets in SNF5-Deleted Malignant Rhabdoid Tumors. S Wöhrle, A Weiss, M Ito, A Kauffmann, M Murakami. PLOS ONE. 2013
2. Rescue screens with secreted proteins reveal compensatory potential of receptor tyrosine kinases in driving cancer growth. F Harbinski, VJ Craig, S Sanghavi, D Jeffery, L Liu. Cancer Discovery, 2012