Background
AZD8055 is a selective inhibitor of mTOR kinase with IC50 of 0.8 nM [1]. It competes with ATP at the ATP-binding cleft of mTOR. AZD8055 showed ~1000 fold selectivity against closely related kinases PI3K isoforms and ATM/DNA-PK [1]. Furthermore, it had no significant activity against a panel of 260 kinases at 10 μM [1].
AZD8055 has shown potential anti-tumor activity in preclinical studies.
mTOR phosphorylates and activates transcription factors which in turn regulate cell growth, proliferation, motility, and survival. AZD8055 inhibited downstream signaling of both mTORC1 and mTORC2 complexes [1]. It inhibited proliferation in cell lines of lung, cervical and laryngeal cancer, as well as acute myeloid leukemia [1-4]. Studies in xenograft models showed that AZD8055 reduced tumor growth of glioblastoma, breast, lung, colon, prostate, uterine, and head and neck cancer [1, 5]. In addition, AZD8055 enhanced the efficacy of HDAC inhibitors and MEK inhibitors [6-8]. AZD8055 has been tested in phase I clinical trials with minimal clinical benefit [9, 10].
References:
[1]Chresta CM, Davies BR, Hickson I et al. AZD8055 is a potent, selective, and orally bioavailable ATP-competitive mammalian target of rapamycin kinase inhibitor with in vitro and in vivo antitumor activity. Cancer Res 2010; 70: 288-298.
[2]Li S, Li Y, Hu R et al. The mTOR inhibitor AZD8055 inhibits proliferation and glycolysis in cervical cancer cells. Oncol Lett 2013; 5: 717-721.
[3]Willems L, Chapuis N, Puissant A et al. The dual mTORC1 and mTORC2 inhibitor AZD8055 has anti-tumor activity in acute myeloid leukemia. Leukemia 2012; 26: 1195-1202.
[4]Zhao L, Teng B, Wen L et al. mTOR inhibitor AZD8055 inhibits proliferation and induces apoptosis in laryngeal carcinoma. Int J Clin Exp Med 2014; 7: 337-347.
[5]Li Q, Song XM, Ji YY et al. The dual mTORC1 and mTORC2 inhibitor AZD8055 inhibits head and neck squamous cell carcinoma cell growth in vivo and in vitro. Biochem Biophys Res Commun 2013; 440: 701-706.
[6]Shao H, Gao C, Tang H et al. Dual targeting of mTORC1/C2 complexes enhances histone deacetylase inhibitor-mediated anti-tumor efficacy in primary HCC cancer in vitro and in vivo. J Hepatol 2012; 56: 176-183.
[7]Holt SV, Logie A, Davies BR et al. Enhanced apoptosis and tumor growth suppression elicited by combination of MEK (selumetinib) and mTOR kinase inhibitors (AZD8055). Cancer Res 2012; 72: 1804-1813.
[8]Renshaw J, Taylor KR, Bishop R et al. Dual blockade of the PI3K/AKT/mTOR (AZD8055) and RAS/MEK/ERK (AZD6244) pathways synergistically inhibits rhabdomyosarcoma cell growth in vitro and in vivo. Clin Cancer Res 2013; 19: 5940-5951.
[9]Asahina H, Nokihara H, Yamamoto N et al. Safety and tolerability of AZD8055 in Japanese patients with advanced solid tumors; a dose-finding phase I study. Invest New Drugs 2013; 31: 677-684.
[10]Naing A, Aghajanian C, Raymond E et al. Safety, tolerability, pharmacokinetics and pharmacodynamics of AZD8055 in advanced solid tumours and lymphoma. Br J Cancer 2012; 107: 1093-1099.
Product Citation
Chemical Properties
| | |
| --- | --- |
| Physical Appearance | A solid |
| Storage | Store at -20°C |
| M.Wt | 465.54 |
| Cas No. | 1009298-09-2 |
| Formula | C25H31N5O4 |
| Solubility | ≥23.3 mg/mL in DMSO; insoluble in H2O; insoluble in EtOH |
| Chemical Name | [5-[2,4-bis[(3S)-3-methylmorpholin-4-yl]pyrido[2,3-d]pyrimidin-7-yl]-2-methoxyphenyl]methanol |
| SDF | Download SDF |
| Canonical SMILES | CC1COCCN1C2=NC(=NC3=C2C=CC(=N3)C4=CC(=C(C=C4)OC)CO)N5CCOCC5C |
| Shipping Condition | Evaluation sample solution: ship with blue ice. All other available sizes: ship with RT, or blue ice upon request. |
| General tips | For obtaining a higher solubility, please warm the tube at 37°C and shake it in the ultrasonic bath for a while. Stock solution can be stored below -20°C for several months. |
Protocol
Cell experiment: [1]

Cell lines

TamR and MCF7-X cells

Preparation method

The solubility of this compound in DMSO is >10 mM. General tips for obtaining a higher concentration: Please warm the tube at 37 °C for 10 minutes and/or shake it in the ultrasonic bath for a while.Stock solution can be stored below -20°C for several months.

Reaction Conditions

100 nM, 3 days

Applications

The impact of AZD8055 on TamR and MCF-7-X cell proliferation was monitored using MIB1 Ki67 staining. Three days treatment with 50 nM AZD8055 reduced Ki67 staining in both TamR and MCF7-X cells and after treatment with 100 nM 40% to 50% of all cells were deemed negative for MIB1 indicating a significant exit from the cell cycle.

Animal experiment: [2]

Animal models

Female C57BL/6 mice

Dosage form

Intraperitoneal injection, 10 mg/kg

Applications

Overnight fasted mice were intraperitoneal-injected with either vehicle or AZD8055. 3 h after AZD8055 injection additional blood was sampled for plasma insulin and fatty acids (FA) determinations. Glucose levels in AZD8055 injected mice were elevated 3 and 6 h after drug injection but were similar to control mice at 24 h after drug injection. Along with elevated glucose levels at 3 h, AZD8055 treated mice had 3-fold higher plasma insulin levels and lower plasma FAs.

Other notes

Please test the solubility of all compounds indoor, and the actual solubility may slightly differ with the theoretical value. This is caused by an experimental system error and it is normal.

References:

[1] Jordan NJ, Dutkowski CM, Barrow D, Mottram HJ, Hutcheson IR, Nicholson RI, Guichard SM, Gee JM. Impact of dual mTORC1/2 mTOR kinase inhibitor AZD8055 on acquired endocrine resistance in breast cancer in vitro. Breast Cancer Res. 2014 Jan 23;16(1):R12.

[2] Kleinert M, Sylow L, Fazakerley DJ, Krycer JR, Thomas KC, Oxbøll AJ, Jordy AB, Jensen TE, Yang G, Schjerling P, Kiens B, James DE, Ruegg MA, Richter EA. Acute mTOR inhibition induces insulin resistance and alters substrate utilization in vivo. Mol Metab. 2014 Jun 27;3(6):630-41.
Biological Activity
Description
AZD8055 is a novel ATP-competitive inhibitor of mTOR with IC50 of 0.8 nM with excellent selectivity (∼1,000-fold) against PI3K isoforms and ATM/DNA-PK.
Targets
mTOR (full length)
mTOR (truncated)
IC50
0.8 nM
0.13 nM
Quality Control
Quality Control & MSDS
View current batch:
Chemical structure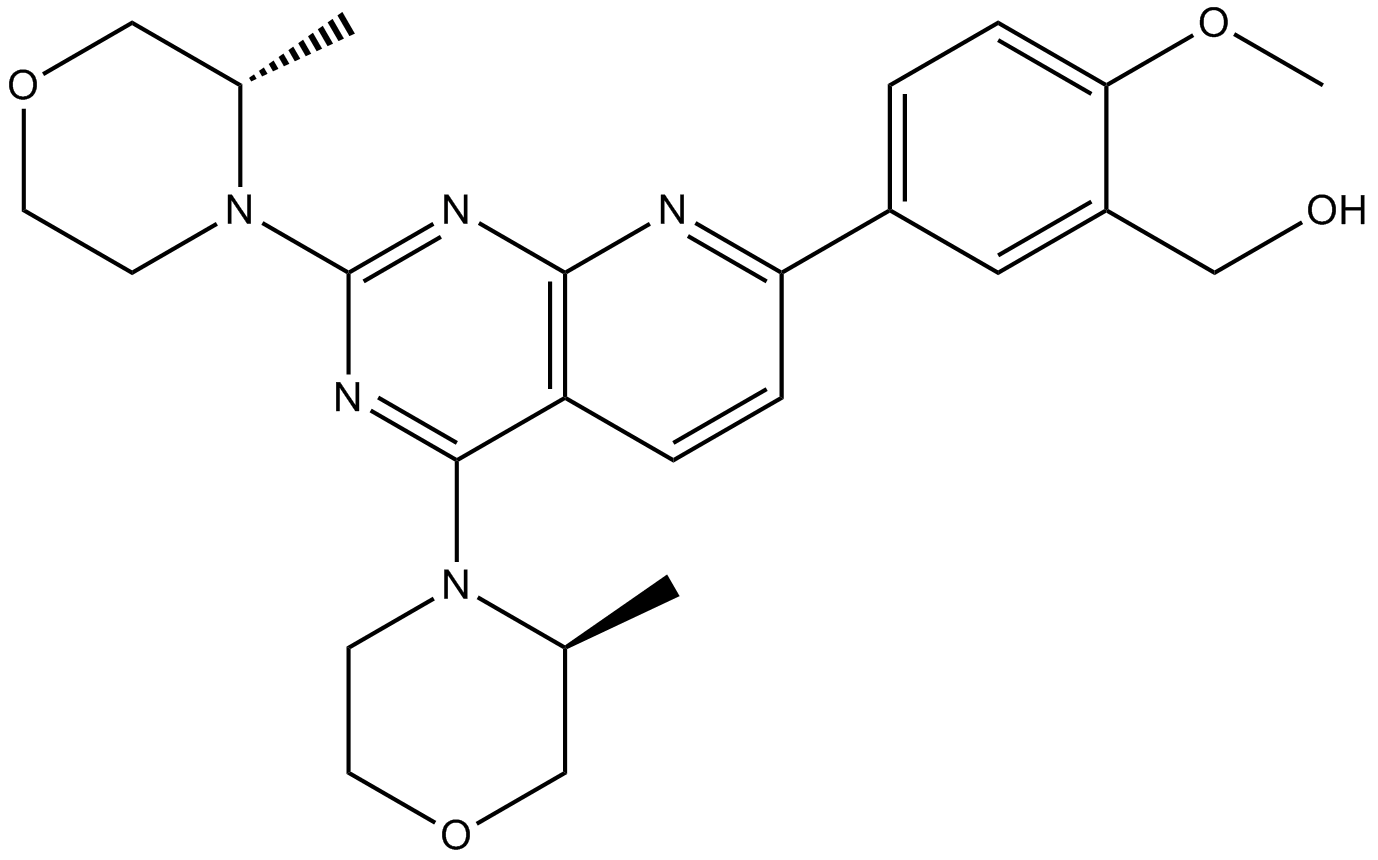 Related Biological Data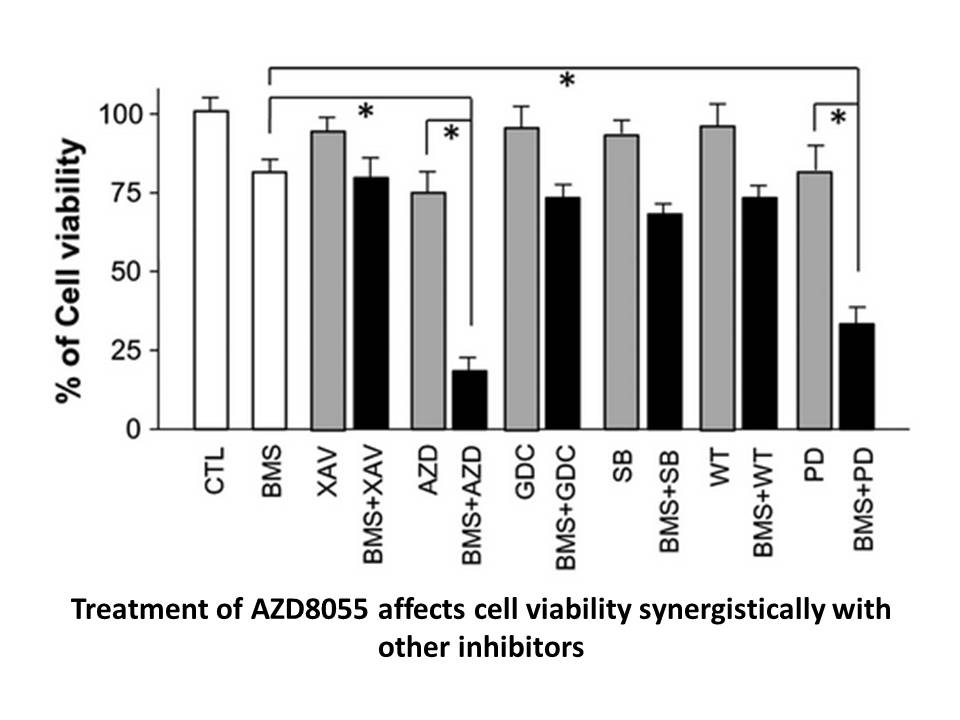 Related Biological Data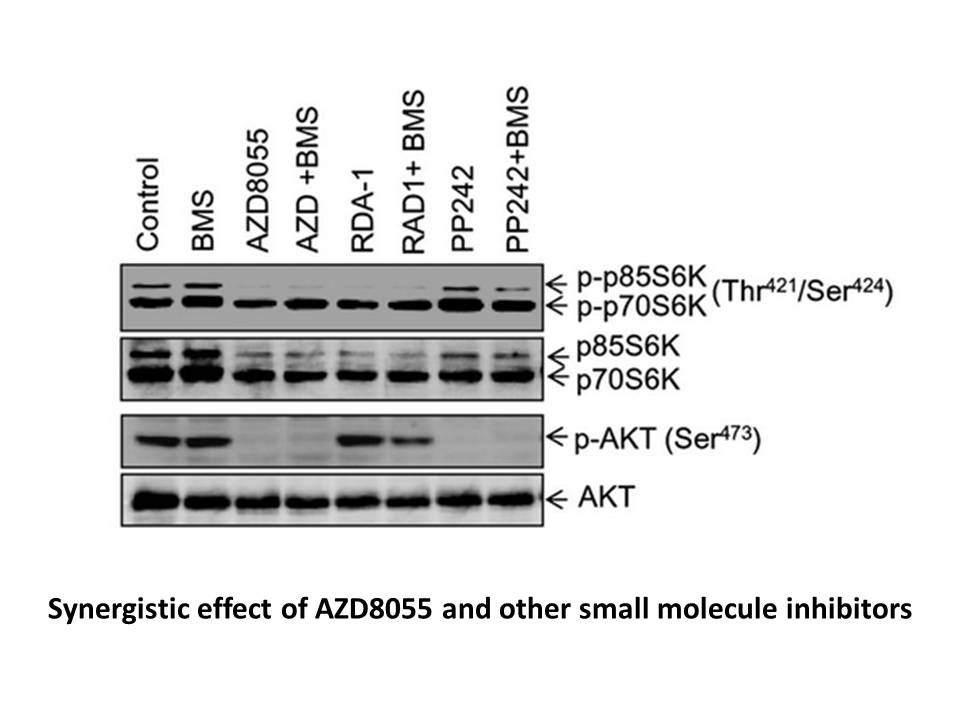 Related Biological Data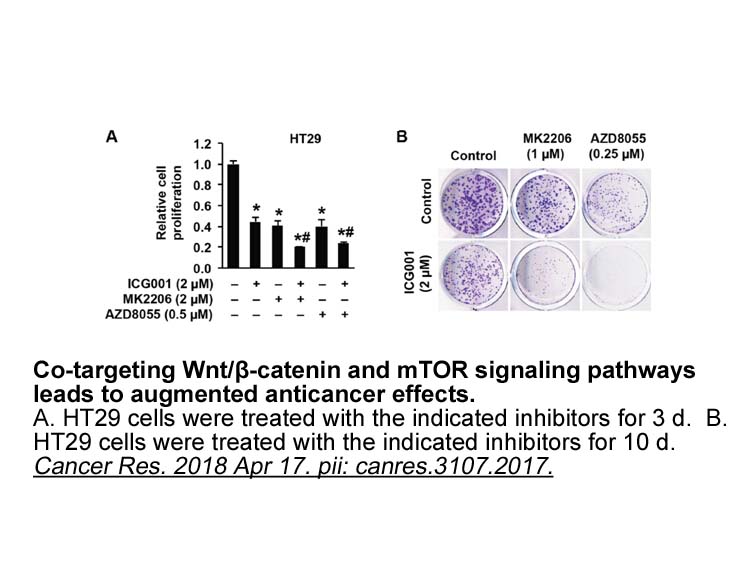 Related Biological Data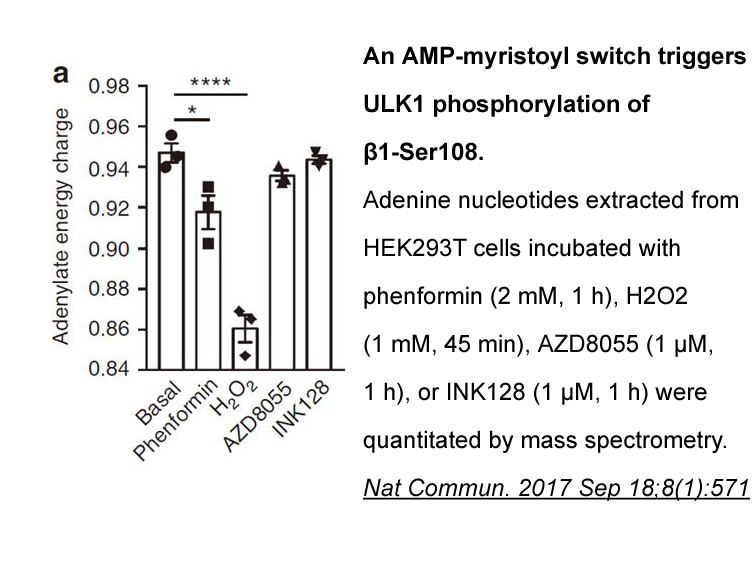 Related Biological Data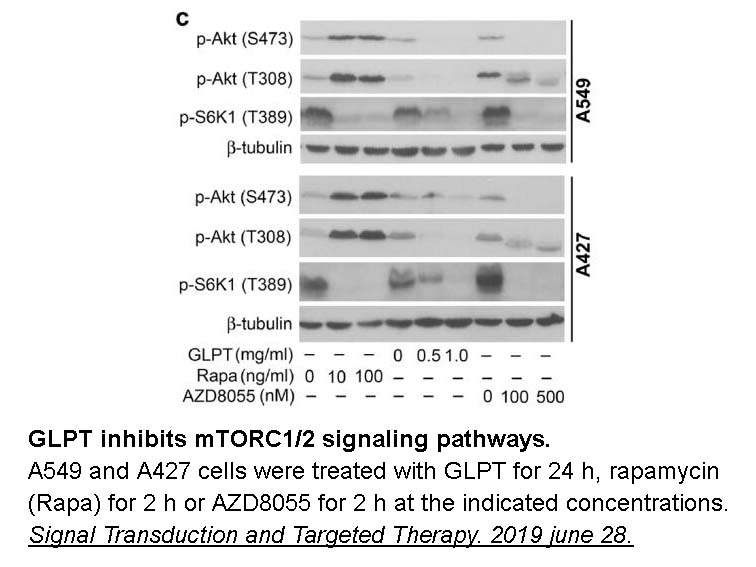 Related Biological Data