AZD2461
Novel PARP inhibitor
Sample solution is provided at 25 µL, 10mM.
Publications citing ApexBio Products
Related Compound Libraries
Quality Control
Quality Control & MSDS
View current batch:
Chemical structure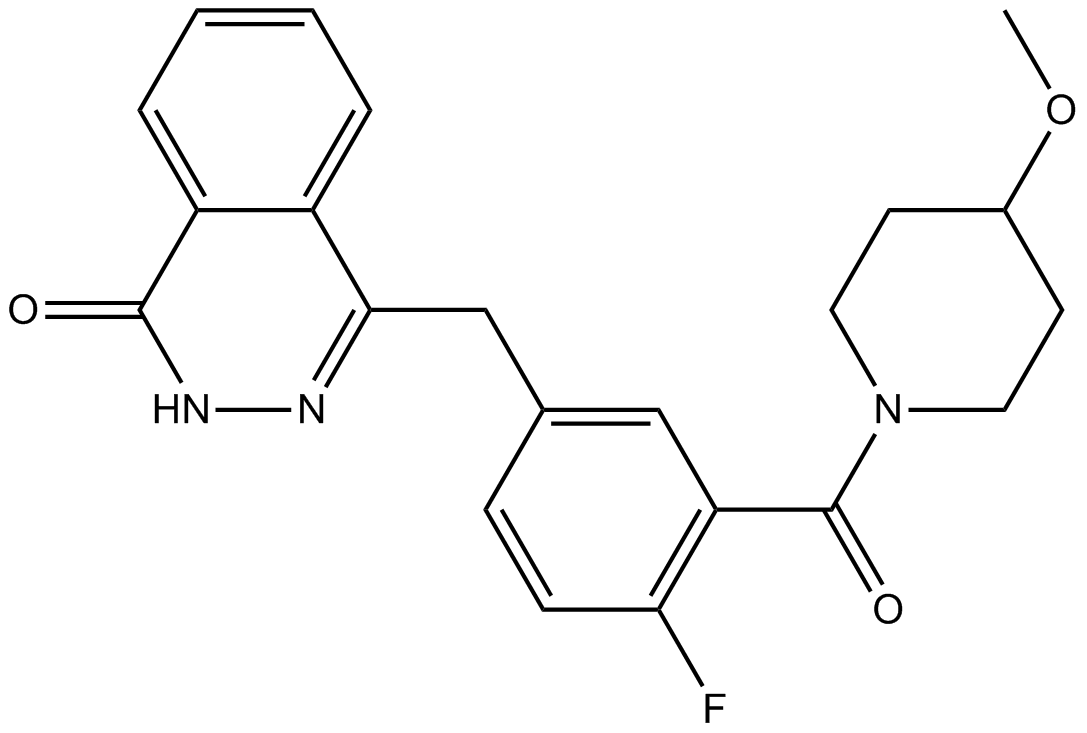 Biological Activity
Description
AZD2461 is a novel inhibitor of PARP.
Targets
PARP
IC50
Chemical Properties
Cas No.
1174043-16-3
SDF
Download SDF
Chemical Name
4-[[4-fluoro-3-(4-methoxypiperidine-1-carbonyl)phenyl]methyl]-2H-phthalazin-1-one
Canonical SMILES
COC1CCN(CC1)C(=O)C2=C(C=CC(=C2)CC3=NNC(=O)C4=CC=CC=C43)F
Formula
C22H22FN3O3
M.Wt

395.43

Solubility
>16.35mg/mL in DMSO
Storage
Store at -20°C
General tips
N/A
Shipping Condition
N/A
Background
AZD2461 is a novel PARP inhibitor with IC50 value of 5nM [1].
Poly (ADP-ribose) polymerase (PARP) is a family of proteins involved in a number of cellular processes involving mainly DNA repair and programmed cell death [1].
In SKBR-3 line and MCF-7 line, AZD2461 was cytotoxic and reduced numbers of viable cells in a concentration- and time-dependent manner. Also, through inhibiting PARP-1, AZD2461 increased MCF-7 cells and SKBR-3 cells in the G2 phase at the expense of proportions in the S- phase, respectively [2].
In order to investigate whether long-term dosing of AZD2461 would be capable of causing eradication or chronic suppression of KB1P tumors, which acquired Pgp-mediated resistance, we tested the response of KB1P tumors to the novel AZD2461. Both AZD2461 and olaparib completely inhibited the PARP activity for several hours, and 24 hours after treatment the amount of PAR returned to baseline levels. These data show that AZD2461 is a novel PARPi with potential to bypass Pgp-mediated resistance to olaparib. With short-term treatment, AZD2461 induces loss of 53BP1 expression in mice with KB1P tumors. Long-term AZD2461 treatment is well tolerated and doubled the median relapse-free survival [1].
Reference:
[1]. Jaspers JE, Kersbergen A, Boon U, et al. Loss of 53BP1 Causes PARP Inhibitor Resistance in Brca1-Mutated Mouse Mammary Tumors. Cancer Discov, 2013, 3(1): 68-81.
[2]. Węsierska GJ, Heinzl S. Interactions Between Ataxia Telangiectasia Mutated Kinase Inhibition, Poly(ADP-ribose) Polymerase-1 Inhibition and BRCA1 Status in Breast Cancer Cells. J Cancer Prev. 2014, 19(2): 125–136.